When I have a lazy morning, I love to make waffles or crepes. Over the Easter weekend, I whipped up a batch of crepes and documented the process on my first Instagram story. Since those stories only last for a short period of time, I thought I'd more permanently document the recipe here.
I've tried several recipes, and while everything has turned out well, I find this crepe recipe from Bonnie Stern to be one of the quickest and easiest.
Ingredients:
3 eggs
1 1/4 cups milk
1/2 tsp. kosher salt
2 tbsp. vegetable oil or melted butter
3/4 cup all-purpose flour
1 tbsp. butter
Steps:
1. In a blender or food processor combine eggs, milk, salt, oil, flour and salt. Blend about 10 seconds until smooth. Place batter in a bowl and cover with plastic wrap. Let batter rest at room temperature about 1/2 hour or in the refrigerator for a few hours. If batter is too thick, thin with a little water. It should be the consistency of unwhipped whipping cream.
2. To make crepes heat an 8″ or 9″ non-stick pan. Brush pan with butter. Pour a scant 1/4 cup batter into pan and swirl to coat bottom of pan. Allow to cook 1 to 2 minutes on medium or medium high heat until browned on the bottom (you can lift up one side to check) and turn by slipping a long, thin spatula under the middle and flipping it over. Cook second side about one minute. Second side will not brown as nicely as the first. Stack crepes as they are made. Depending on your pan and your stove, it might take a few tries to get the crepes the way you like them but you can always eat the trial ones! Makes 10 to 12 crepes
Note: This recipe is published in Bonnie Stern's Essentials of Home Cooking as well as in the National Post.
Here's my crepe photo diary: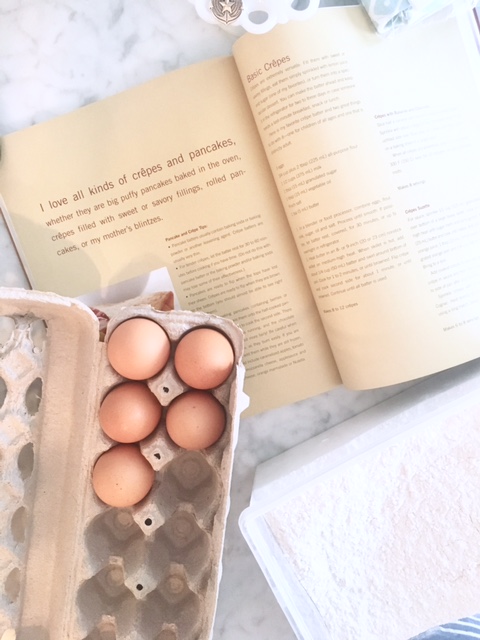 getting ingredients ready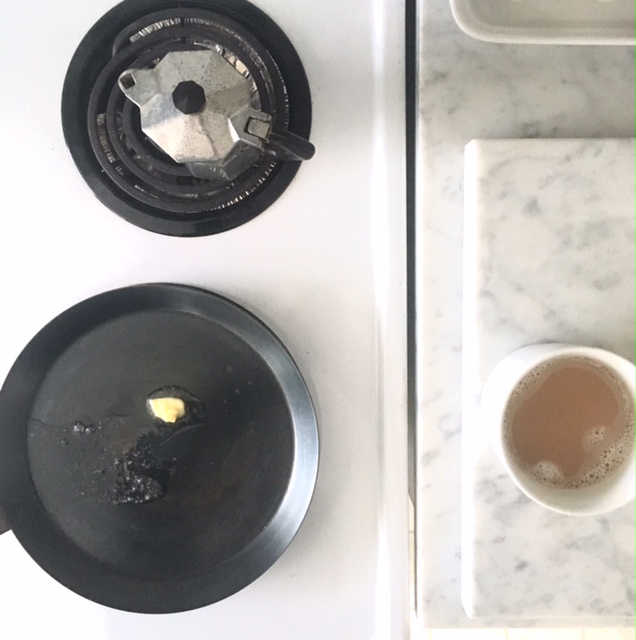 buttering the pan
pouring in the first bit of batter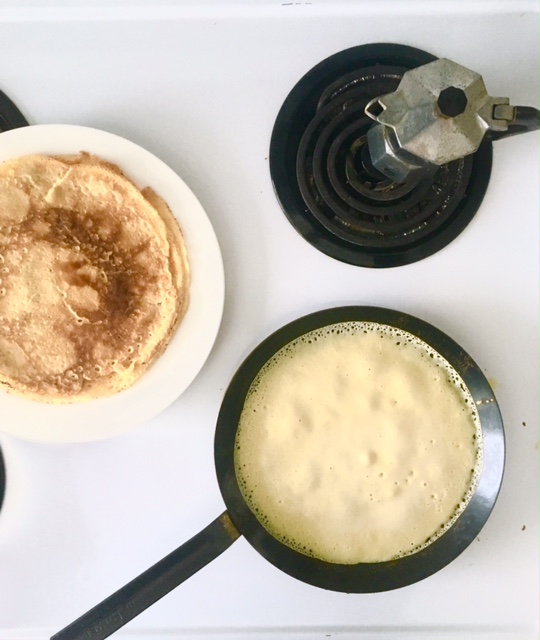 getting ready to flip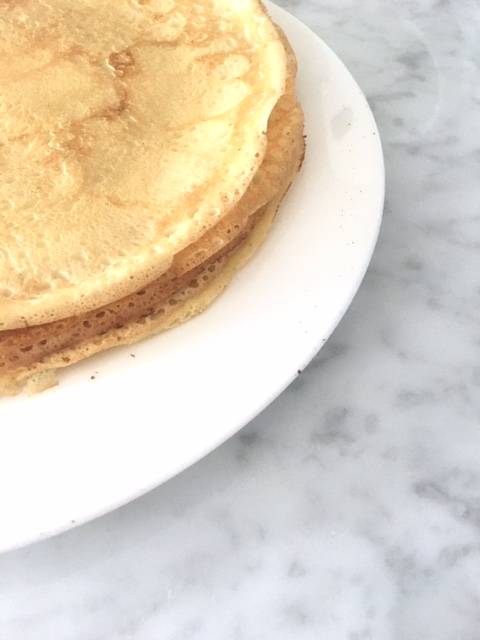 stacking crepes high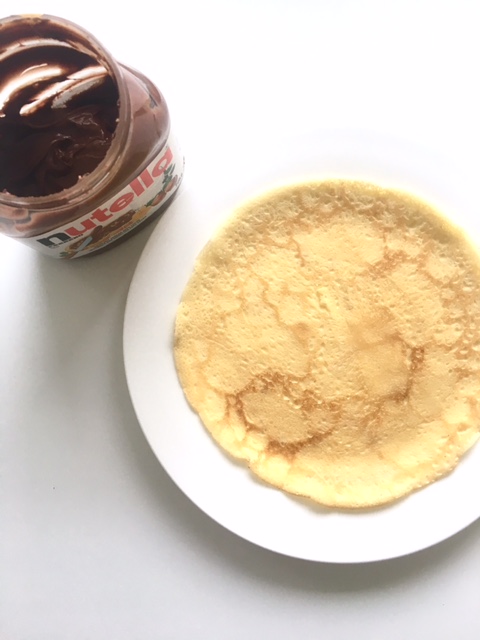 reaching for Nutella
 And how do I eat them? Well, since I'm a Nutella-holic, I usually have Nutella with my first crepe of the bunch. I also really like the classic sugar + lemon crepe. If you're into more healthy options, I like mixing eggs and spinach and folding a crepe over the mixture. You could use this crepe recipe for both savory and sweet crepes.
Oh – and one last thing, I use a de Buyer crepe pan that I picked up at Bradshaws in Stratford. And I seasoned it, too.
Save