When I was in Toronto on the weekend, my friend and I picked up a pair of éclairs from Nugateau – a sweet éclair-focused patisserie. In fact, Nugateau is Canada's first all-éclair patisserie. As soon as I entered the shop, I was reminded of the classic French patisserie with colourful pastel creations. Every piece of dessert was so beautiful.
I had experienced Nugateau at the Terroir Symposium last spring, but this was my first time I was able to see all the creations in person. It was delightful!
We picked up the Pistachio Royal and Rosabelle. It was hard to take the first bite because I didn't want to mess up the design. But the éclair was delicious, so you know I couldn't wait all that long! Because the Nugateau éclairs are made with high quality ingredients, and no artificial flavours are used, their taste is rich and distinct.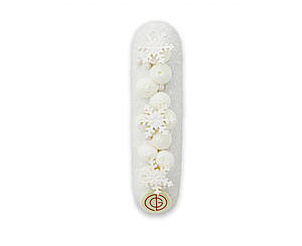 I love the idea of bringing the French patisserie to Canada, don't you? And for those of you who love éclairs, definitely make a stop into Nugateau on your next trip to Toronto.