Yesterday, I took you on a tour of my Cloister room and the main house at Langdon Hall. Today, I'm highlighting all the delicious food I consumed during my stay. Warning – you'll likely want to make a dining reservation as soon as you see these photos.
Langdon Hall has received numerous awards and accolades for its cuisine (and accommodations, too). For example, it has held the CAA/AAA Five Diamond Restaurant award for ten consecutive years. Under the direction of head chef, Chef Jason Bangerter, Langdon Hall's team of chefs create dishes that are made from local ingredients, including treats right from Langdon Hall's own gardens. From its pastries to its country breakfast to its fine dining options, everything that is served at Langdon Hall is top-of-the-top.
A White Welcome
Waiting for me in my room was a bottle of wine and a beautiful tray of white goodies. White! For me! Just perfect! A white plate was covered with white mushroom meringues and white macarons.
Soon after I checked in to my suite, I met my host, Kate, for afternoon tea in the bright white Orchard Room. Oh, this room was made for me! The walls are made of windows,  the tables were dressed all in white, and the beamed ceiling had me staring. The view is amazing, too. You can see some of these things in the photos below.
Afternoon tea began with a generous glass of champagne, and Kate and I toasted to my return visit to Langdon Hall as well as the new year! I then opted for the Cassis tea (yum!), and our individual treats were brought over soon after tea was poured. The three-tiers contained a selection of mini-sandwiches (my favourite was the egg salad in the croissant), two scones, and a selection of bite-sized desserts (I really liked the quince macarons, but the cheese cake was my favourite) prepared under the direction of Head Pastry Chef Rachel Nicholson.
Even if you do not stay overnight at Langdon Hall, you can still make the drive for Afternoon Tea. It would be such a special way to celebrate or just be spoiled on any random weekend.
If you book a stay at Langdon Hall, I highly recommend adding the breakfast to your reservation package. The food is high in quality, beautifully presented, and abundant. Service is friendly and attentive, and the dining room is gorgeous. Nothing is rushed, and care is taken to ensure a memorable dining experience.
The coffee is from local brewers Monigram, and the serving platters and flower pots are from Cambridge potters Hillborn. I commend Langdon Hall for its commitment to working with community partners. These details do not go unnoticed!
As I was sipping my latte, and before my meal arrived, a server came to my table with a surprise from the kitchen.  (A surprise? For moi? I love surprises!) Head Chef Jason and one of his sous-chefs, Chef Andrew, had prepared an egg and truffle amuse-bouche for me. (For me!) Chef Jason did not want me to leave Langdon Hall without trying some truffle (his fave), and seeing as I had no room in my belly for anything the previous night (after eating three tiers of goodness at afternoon tea), it was decided that I should indulge during breakfast. Good idea, Chefs! #trustthechef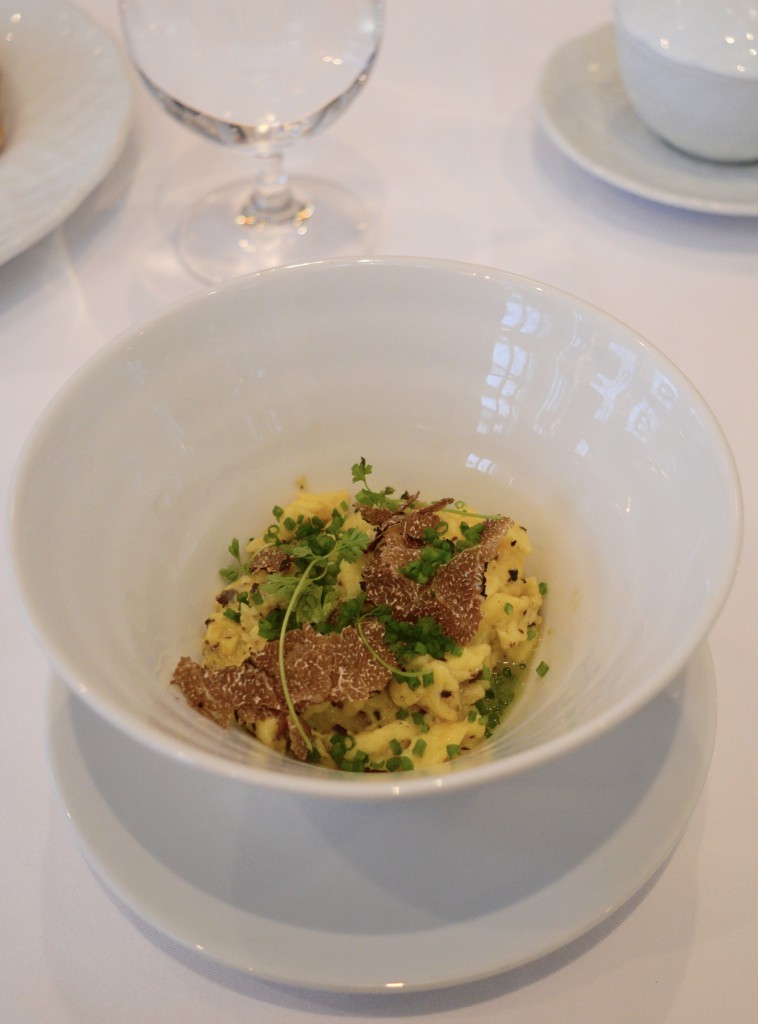 Oh, geez, was this ever good! It smelled delicious, looked delicious, and tasted delicious! A feast for the senses!

While I was very tempted to order the pain perdu for my main meal (dang it – I have such a sweet tooth), I opted for one of Langdon Hall's popular breakfast items – the lobster omelette.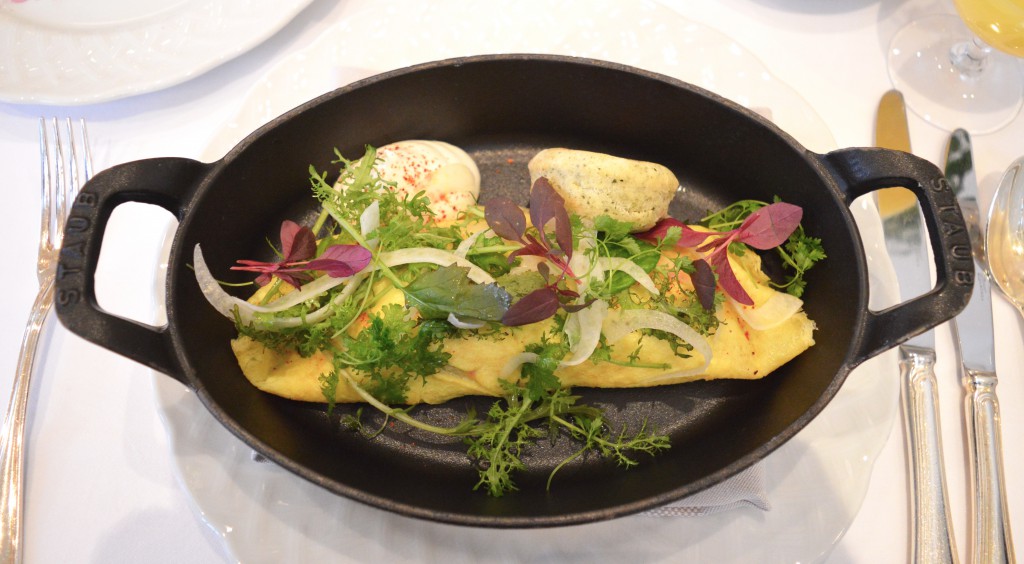 Yes, this was as good as it looks! And, yes, I finished it all (and even had a croissant "for dessert").

Service
The staff's attention to detail surpassed any expectations that I had before my arrival. My table, for example, was the only one (or one of very few) that had a white rose plant on it (the other tables had colourful rose plants). A white rose plant for White Cabana? Whether this was a coincidence, I'm not so sure. It would be just like Langdon Hall's team to pay attention to something like this.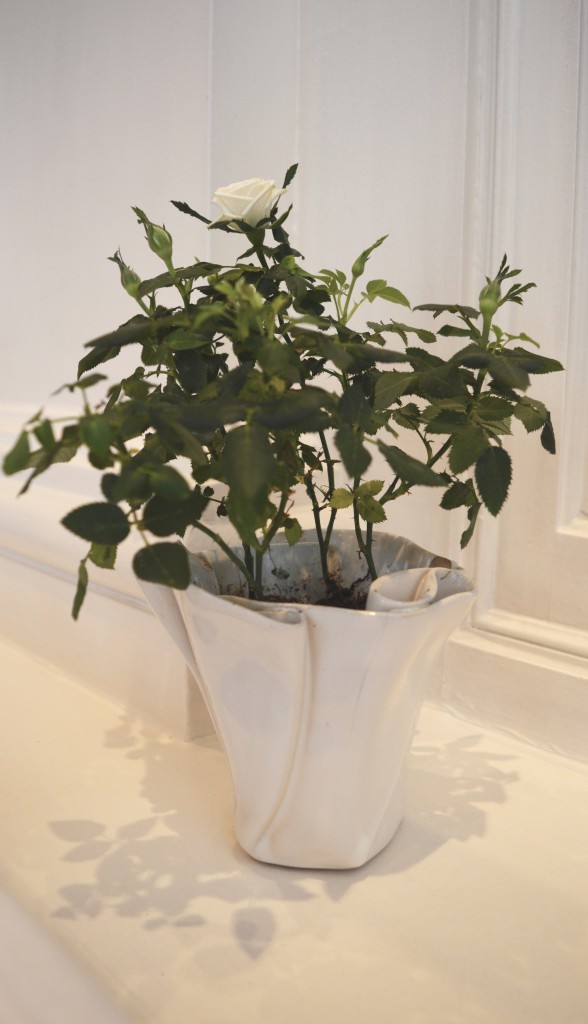 I had the pleasure of meeting Chef Jason Bangerter, and I think it's pretty common to see him mingling with guests in the dining room. He has achieved much success in Ontario and abroad and was recently awarded Relais & Chateaux's Rising Chef Trophy.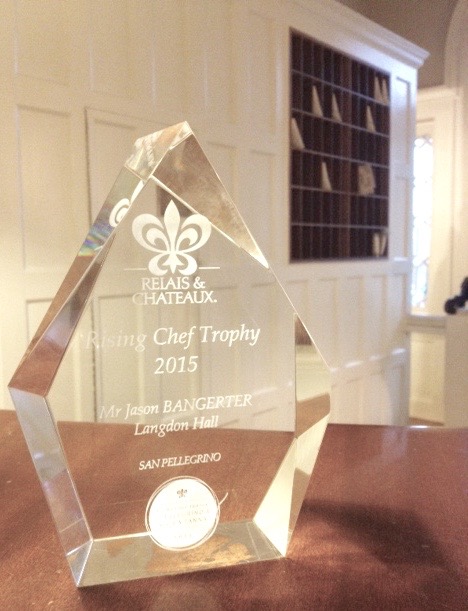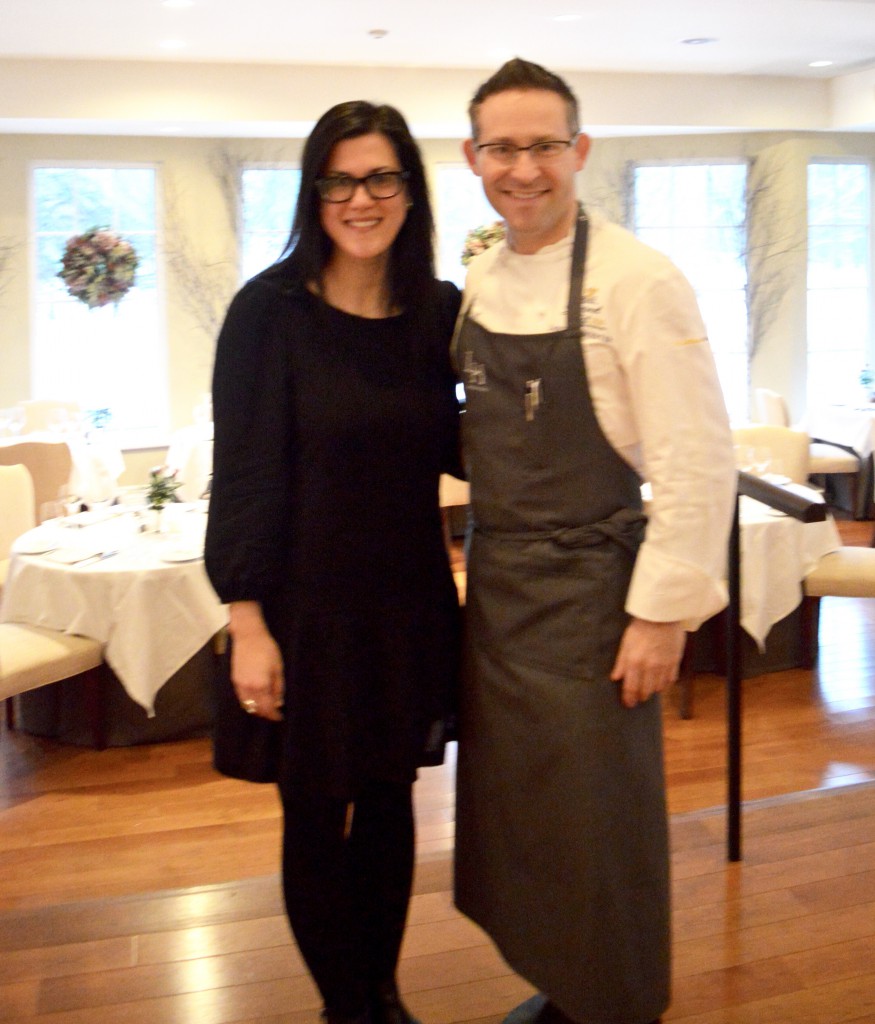 Here I am with Head Chef Jason Bangerter in the main dining room.
As I hope you can see, the cuisine at Langdon Hall is top-notch and the staff make the dining experience is of the highest quality. There's something for everyone, and even if you don't stay over night, you can still enjoy a meal at this gorgeous hotel.
I'd like to end this two-part Langdon Hall review by extending a warm thanks to my host, Kate, for ensuring my stay was one to remember!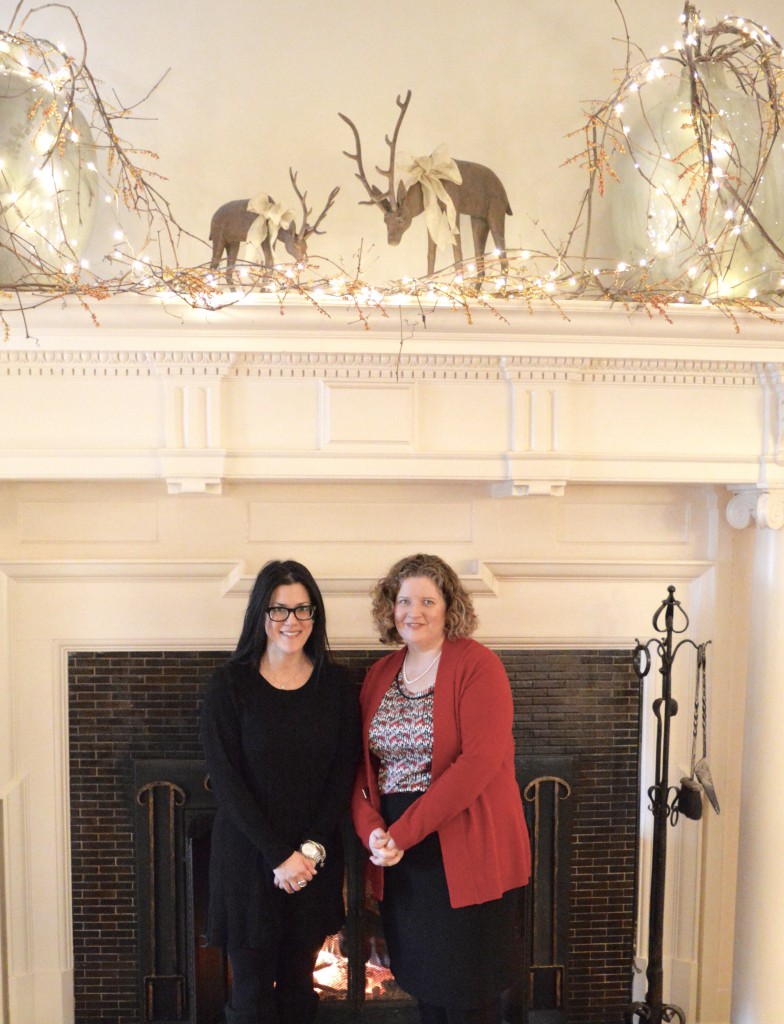 See you again soon, Langdon Hall! I won't be able to stay away for too long!
Note: Part 1: A luxurious stay at Langdon Hall.
Photos by me. I received a discount on my stay. All opinions are my own.