You may be tired of listening to me talk about how I lack understanding of anything related to beauty, but…
I have learned something about nails, and I thought I'd pass on the info.
Up until I was in my 20s, I was a nail biter. It was a struggle to stop, but eventually I did.  I mostly became disgusted by nail biting and I used acrylic nails to help prevent me from biting my own nails. Now, I do my best to keep my nails strong and healthy. I get manicures a few times a year, and in between sessions, I do my own polish application.
I've been veering toward Essie polish for a few years now because I like the colour selections and quality. On a recent trip to the drug store, Essie polishes were on sale so in addition to picking up a new colour, I purchased the Gel Setter Top Coat. This product claimed to extend the wear of the polish, to work with normal polish, and to be easily removed with basic nail polish remover. I added it to my cart, and hoped for the best.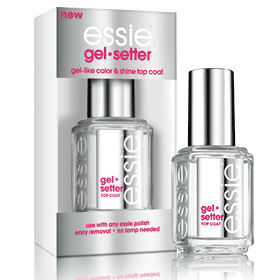 People. This gel setter top coat is fantastic! I can get at least 4 days with no chips, and, more importantly, my polish is shiny for the length of wear! Who knew!? And this is with doing many loads of dishes, lots of keyboard typing, and daily chores. It makes me happy, so I was eager to share the discovery with all of you in case you're looking for a new top coat.
p.s. When I paint my nails, I use Essie's grow stronger base coat, two coats of polish (usually Essie), and (now) the gel setter top coat. I'm also a fan of the good to go top coat and I sometimes use the quick-e top coat, too.
Save
Save
Save
Save