As I've said before, our house needs very little in terms of renovations. Our largest renovation projects would be the kitchen and the backyard. And even then, the renovations aren't essential…they'd just make me enjoy our house even more than I already do! 🙂 So the projects we've been slowly doing at the house are small tweaks to increase functionality and aesthetic.
One of the spaces that I've spent a bit of time working to improve is our main floor powder room. It was a white box that I knew could get even whiter.
Here's what the space looked like when we moved in: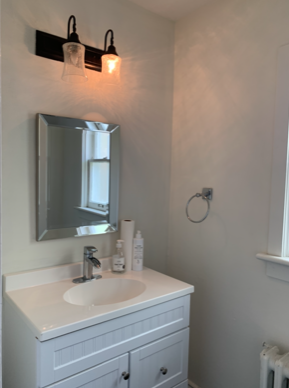 The bathroom was white and bright, but the light fixture was broken, the mirror was small, and the towel ring wasn't my aesthetic.
We didn't want to put too much money and effort into a massive renovation (like installing a custom vanity), but I knew we could do a few things to make it nicer. So we did!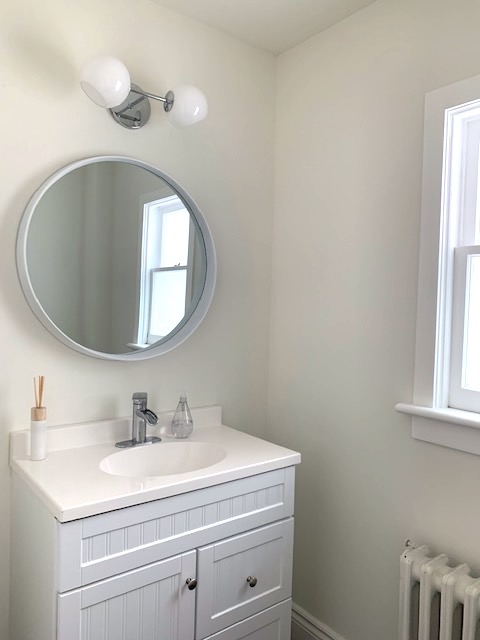 One of the best things I did was to repaint the walls. They weren't in the best shape, so I patched up a lot of holes, smoothed out a few gouges, and gave the whole room a fresh coat of white paint (leftover Benjamin Moore Simply White). The new paint job – like so many people often say – made a world of difference to this room. Magic!
Beyond the painting, I polished the window hardware (more magic!), hung a round mirror, and installed a modern light.
Seeing the before and progress photos makes me grin. A few tweaks has made a huge difference in the function and aesthetic of this space.
That said, the room transformation isn't quite complete. The towel bar and toilet roll holder will arrive next month, and we have to decide on art. I'll be happy to share more photos when all the pieces are in place.