My pasta needs this pot.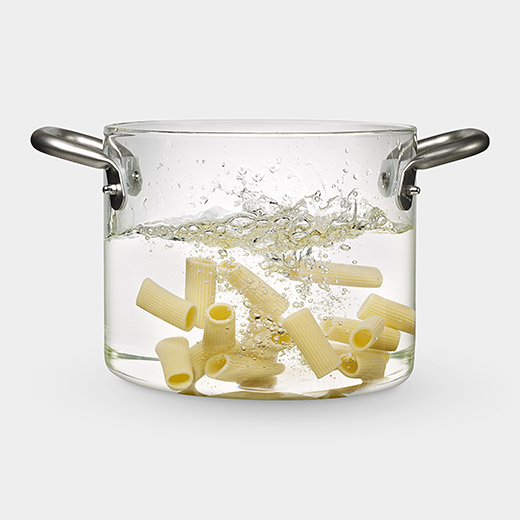 glass pot by Massimo Castagna, $200, MoMA
Remember when I first attempted making fresh pasta with my KitchenAid stand mixer and pasta attachments? I started with the recipe that was in the KitchenAid recipe book. I failed. It was horrible. I then tried out my mom's very vague recipe and it worked perfectly. Well, some of my family members thought I shouldn't have been so harsh on the KitchenAid recipe and that, surely, it was my fault and I did something wrong. (I followed the recipe exactly, but noone seemed to want to take my side.) Anyway, when my parents were over last weekend, I tried the KA recipe again (under my mom's supervision). The recipe calls for: 4 large eggs, 3.5 cups all-purpose flour, and 1 tbsp water. My mom suggested that I reduce the amount of flour by 1/2 a cup. So I did. I followed the exact recipe but I only used 3 cups of flour. I let the stand mixer do its job, and me and my mom watched over the bowl. I could tell something wasn't right. After a bit of mixing, I dumped the dough out onto the counter and I knew it wasn't right. It didn't feel like it was supposed to feel. My mom was pretty surprised ("but you followed the recipe, you reduced the flour", she said). At this point, I added a bit more water, then a lot more water, then more flour. It wasn't coming together the way it should have. I gave up. I left my mom to knead the dough for maybe another 5-10 minutes. There was a lot of kneading involved. In the meantime, I started a new batch with her trusted (and very vague) recipe. It worked out perfectly. She was still kneading the original batch of dough, while I was done with my new batch.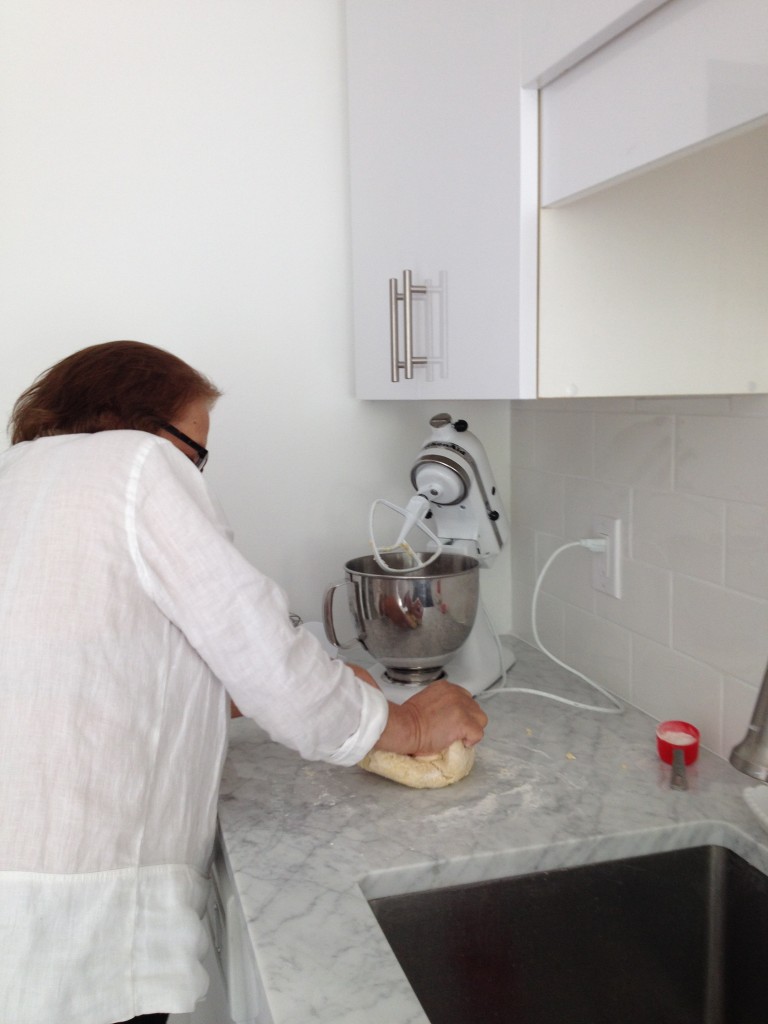 here's mom hard at work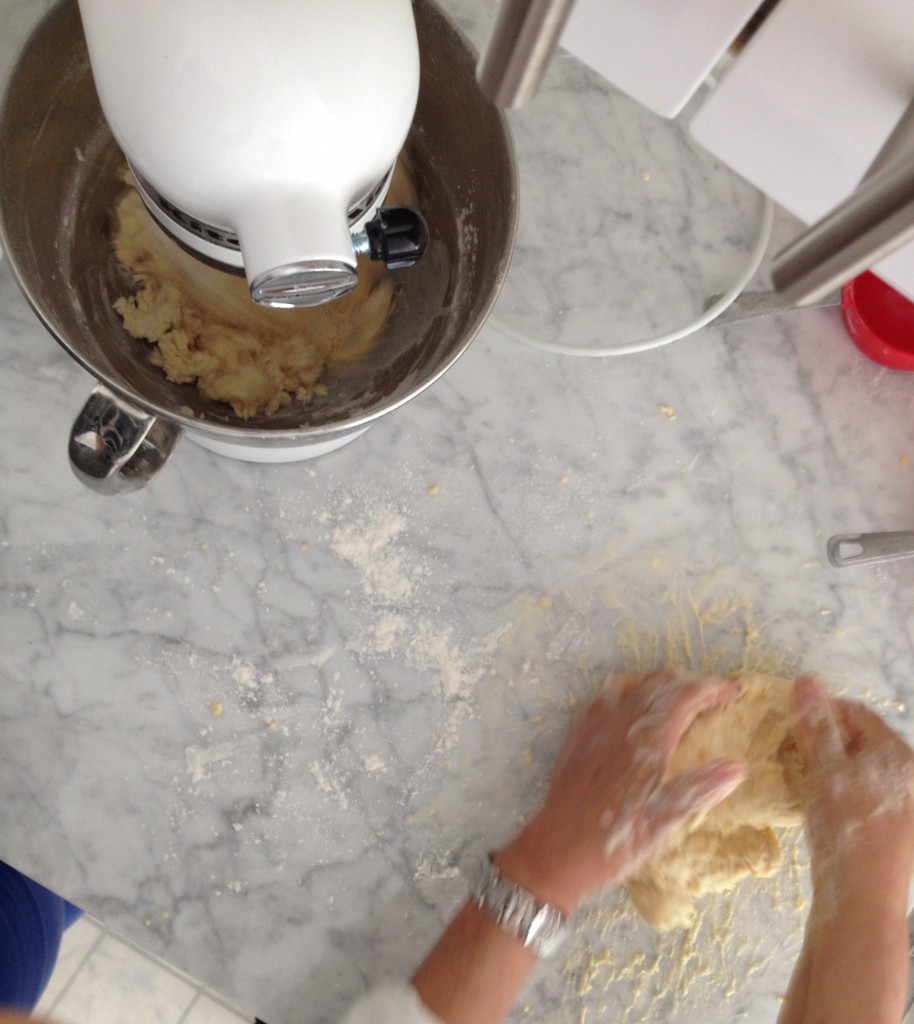 here's mom still trying to fix the broken dough, my new version is in the mixer
dough 2.0 is done and mom is still kneading dough 1.0
I tried to measure her recipe this time and it's something like this: Р1 egg per person Р3/4 cup of flour per egg Рa bit of water (I think I may have used about 1 tbsp) Рa bit of salt (I might have used 1 tsp) Dump all the ingredients into the bowl with the paddle attachment. Mix for 2 minutes. Dump the dough out onto the counter and knead for 1 minute. After Mom finally got the first version of dough to the right texture, I got to work with the pasta attachments. First, I used the flat one to stretch out long flat pieces of pasta. I set the knob on the cutter to position 1 and then worked my way to number 5. I set the mixer speed to 3 or 4 and the whole process was quick and easy.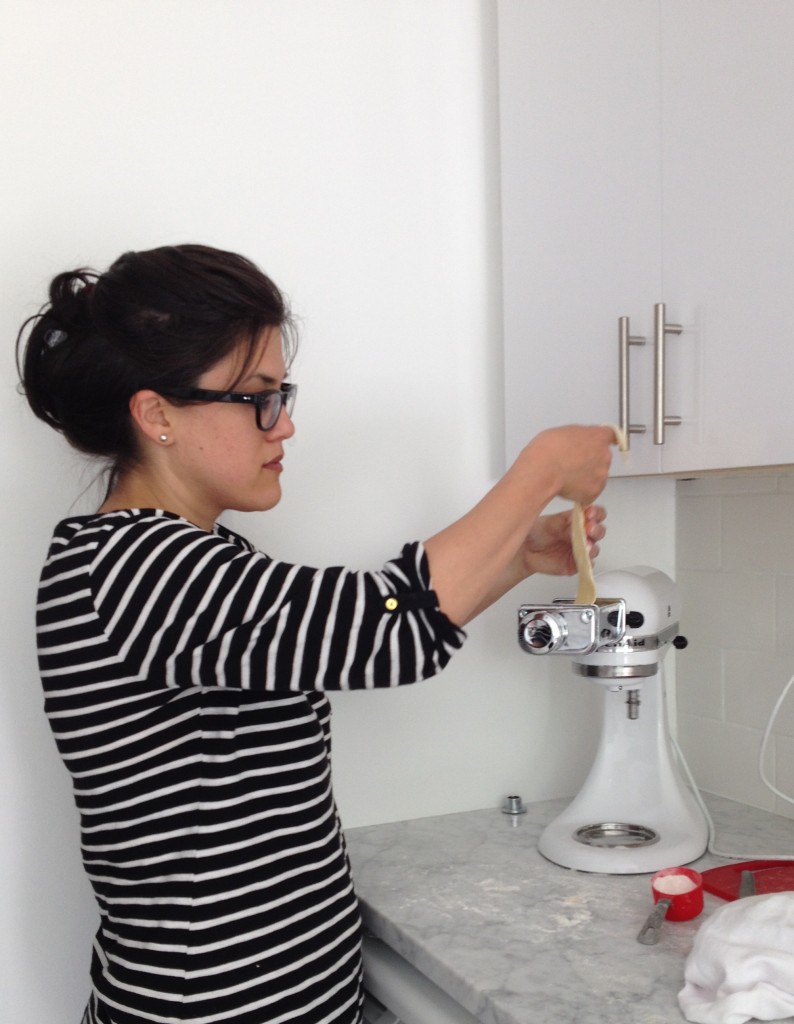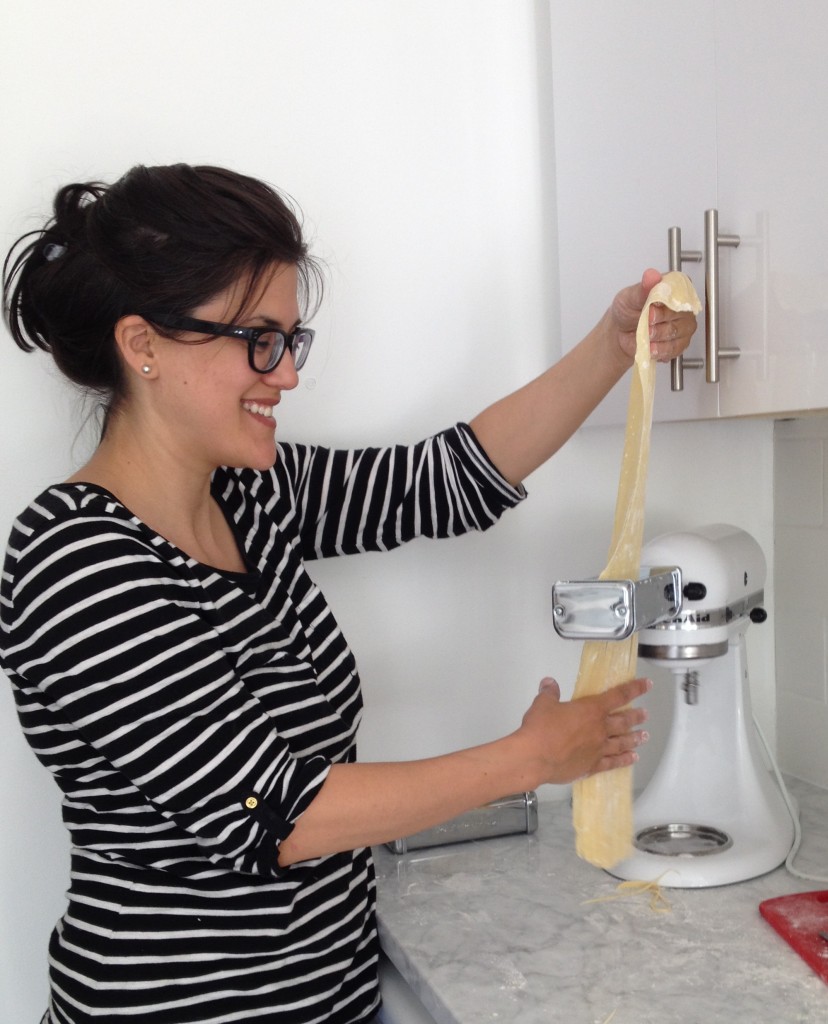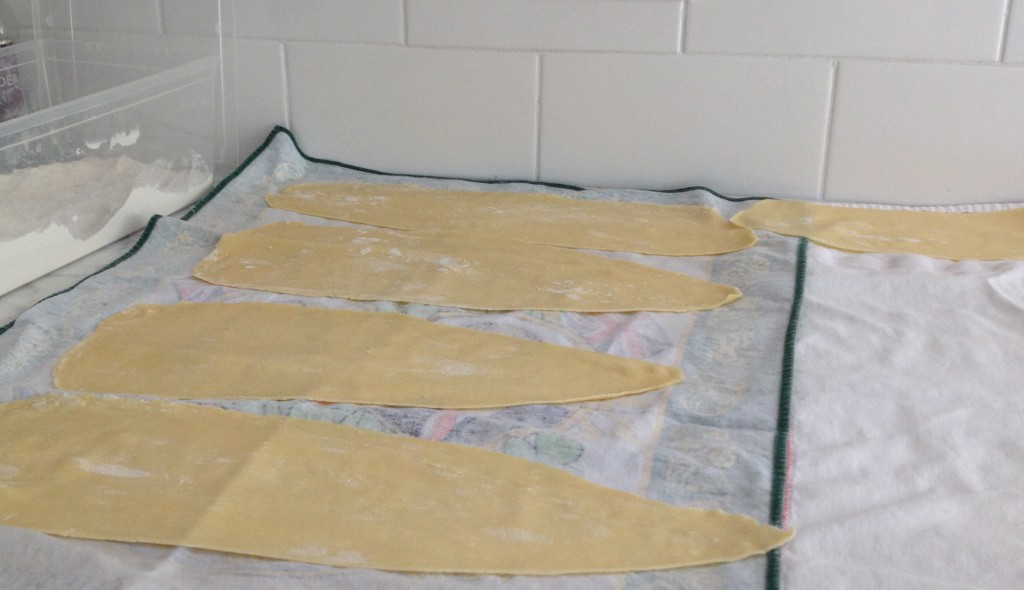 When all the dough had been passed through the smooth stretcher attachment, I attached the fettucini (and then the spaghetti) cutter to the mixer (quick and easy) so that I could pass the long sheets of pasta through to make the noodles. I floured the pasta sheets before passing them through the cutter.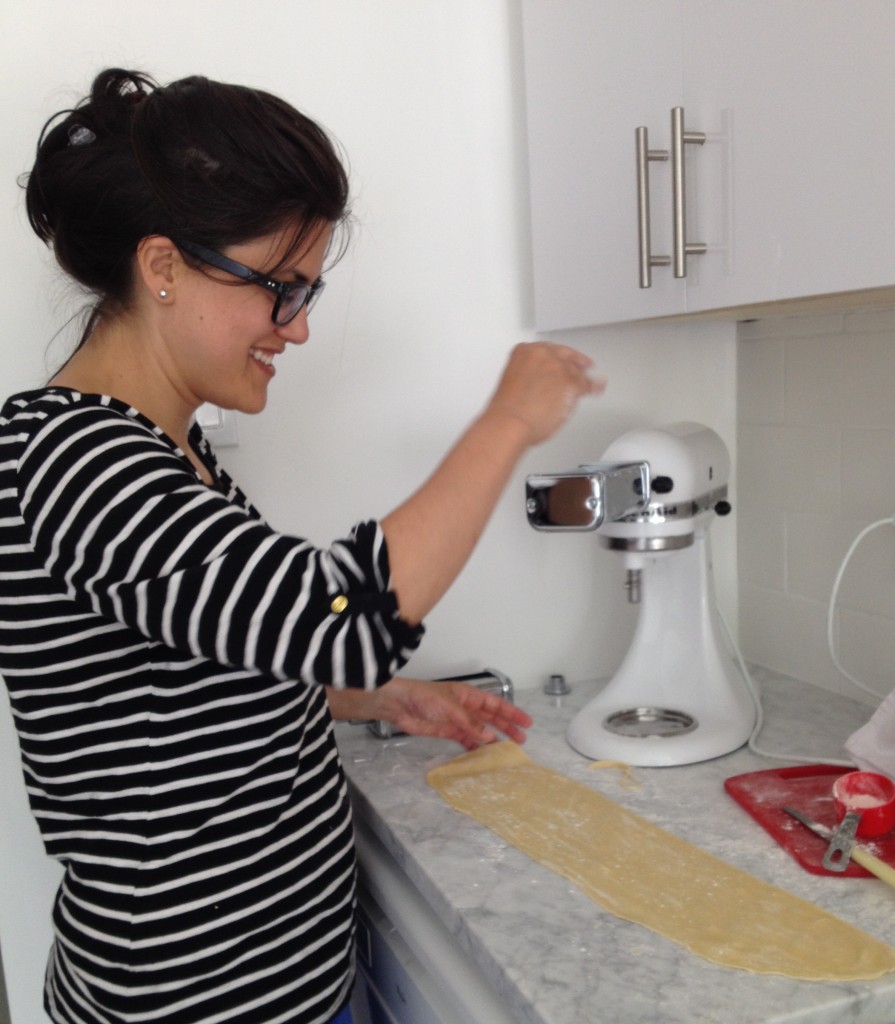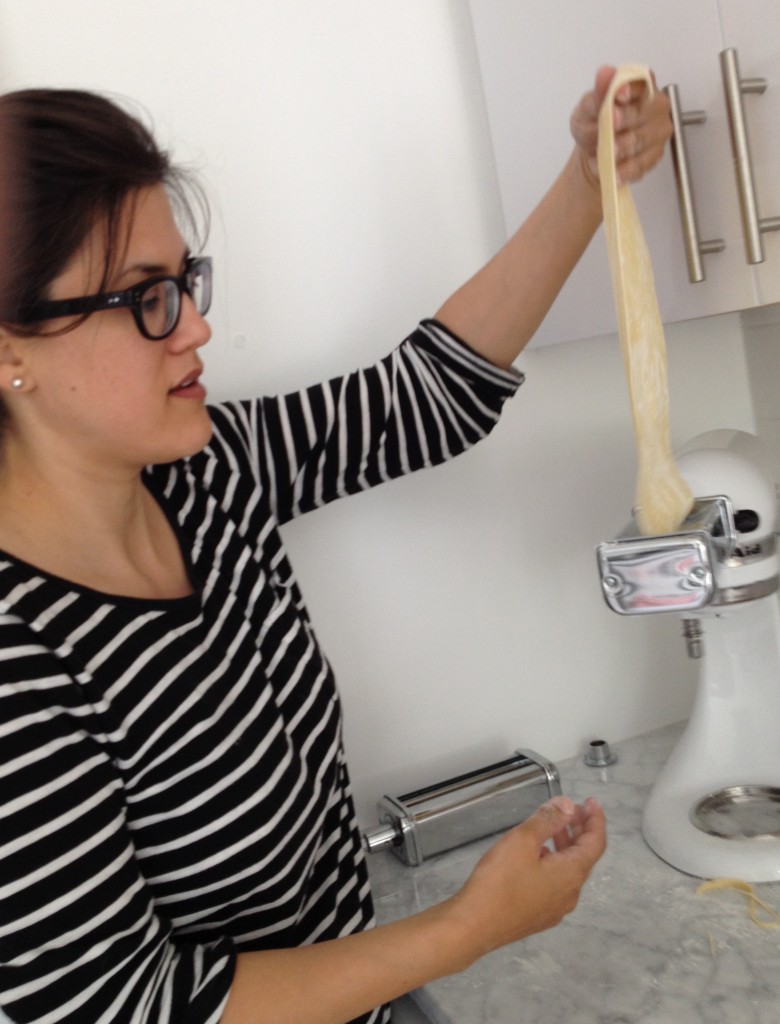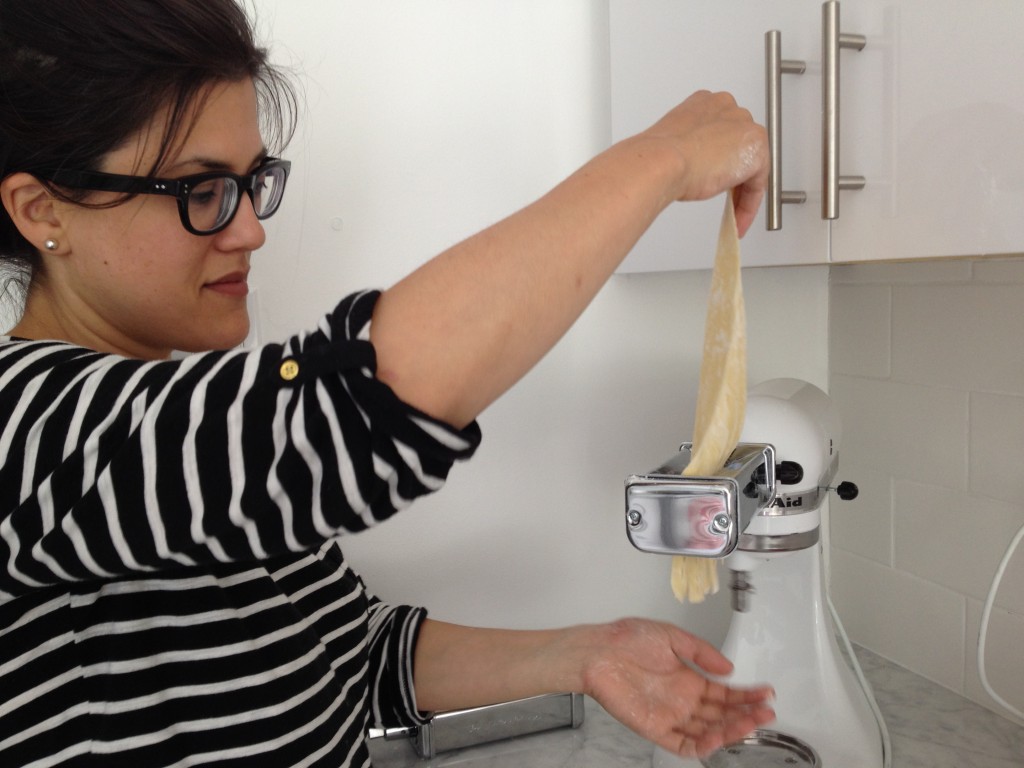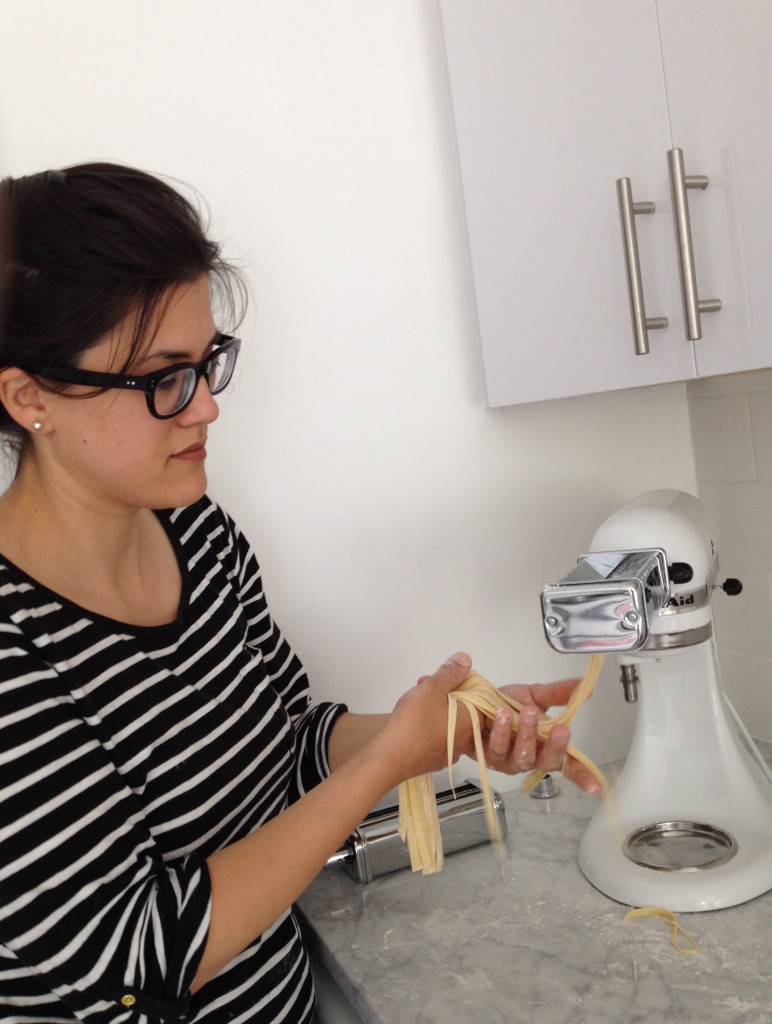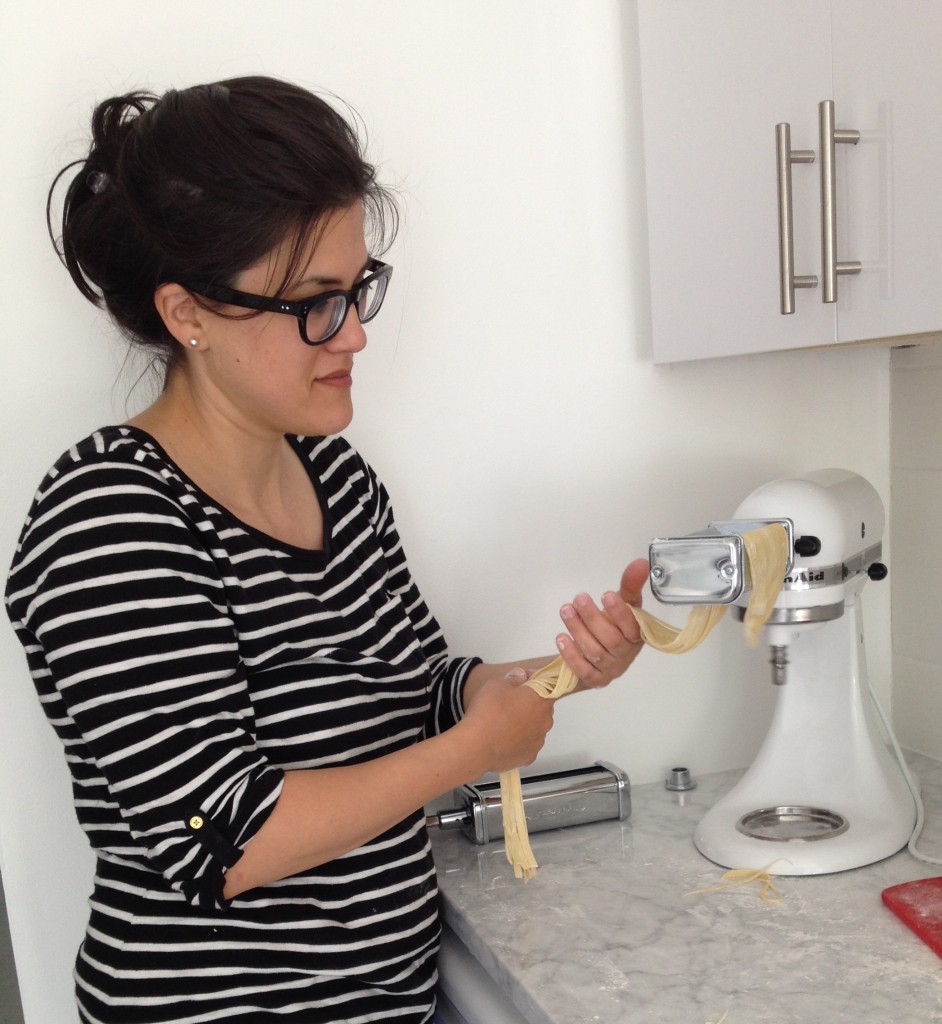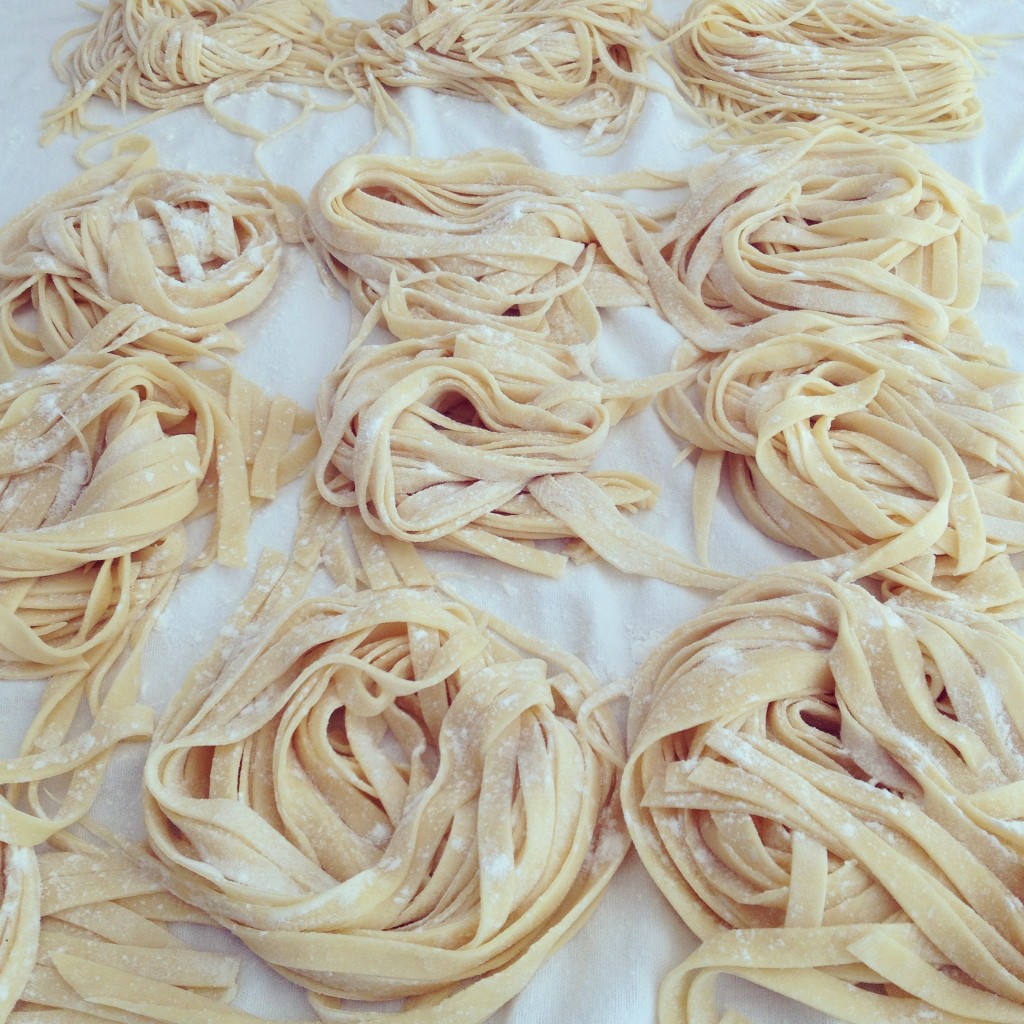 I like twisting the pasta into round spirals, but I flour the heck out of them before doing this to avoid sticky strips. The pasta (both versions) turned out very well, and it was delicious paired with fresh tomato sauce (I tried my mom's sauce recipe, which she thought was almost as good as hers…tough crowd). In the end, neither of us¬†are sure of the amount of ingredients that my mom¬†used to adjust the KitchenAid dough, but if I try the recipe again, I'll start with 2 cups of flour and add more as needed. KitchenAid sent over another version of the recipe when they heard I was in pasta-making distress (via Twitter, naturally), so I may give that one a try too.
Thanks, Mom, for your help and for snapping some great photos!