If you've ever seen my house in person or really paid attention to my stories here on White Cabana, you probably know that I dislike my upstairs bathroom. It's huge. It has a corner jacuzzi tub that I rarely use and the smallest corner shower. When I bought my house five years ago, I did a quick reno – removed the shiny grey wallpaper, painted the 80s wood trim on the cabinet, and replaced the counter, sink, faucet, and lighting. I also tried to draw the eye up from the grey tub and linoleum floor by crafting a giant inkblot art wall.
This was a good mini makeover, and it's still serving me pretty well. And since I've spent my renovation budget on other things in my home – painting, tiling, doors, trim, and my laundry room – there has been no room in my renovation budget for the big bathroom.
So I've had to continue to get creative. With input from other creative people, of course!
When my sister was over a couple of weeks ago, she encouraged me to rip out the disgusting shower door and replace it with a pretty curtain. Just rip it out. Sure.
Yup. I thought this was a manageable DIY task.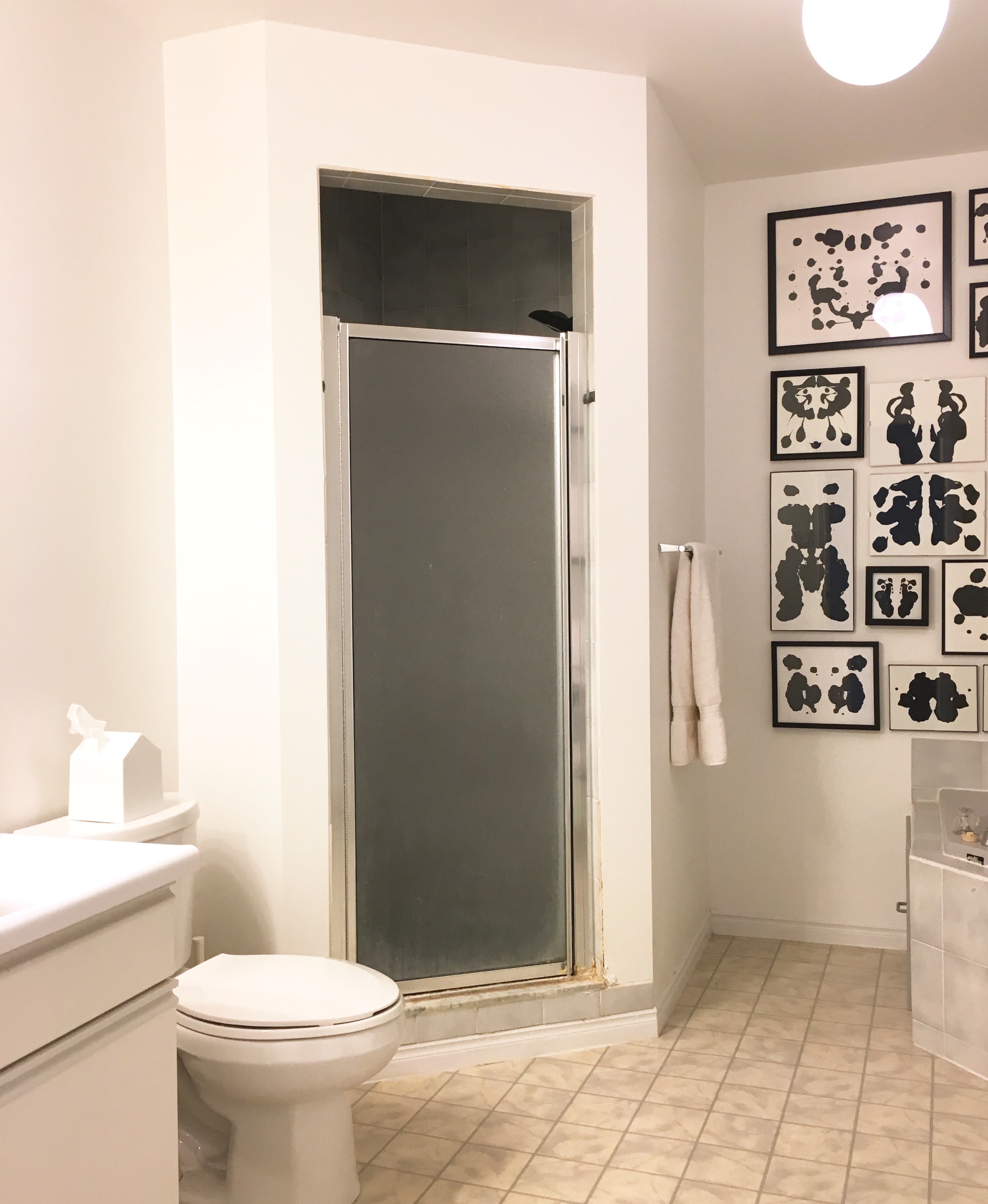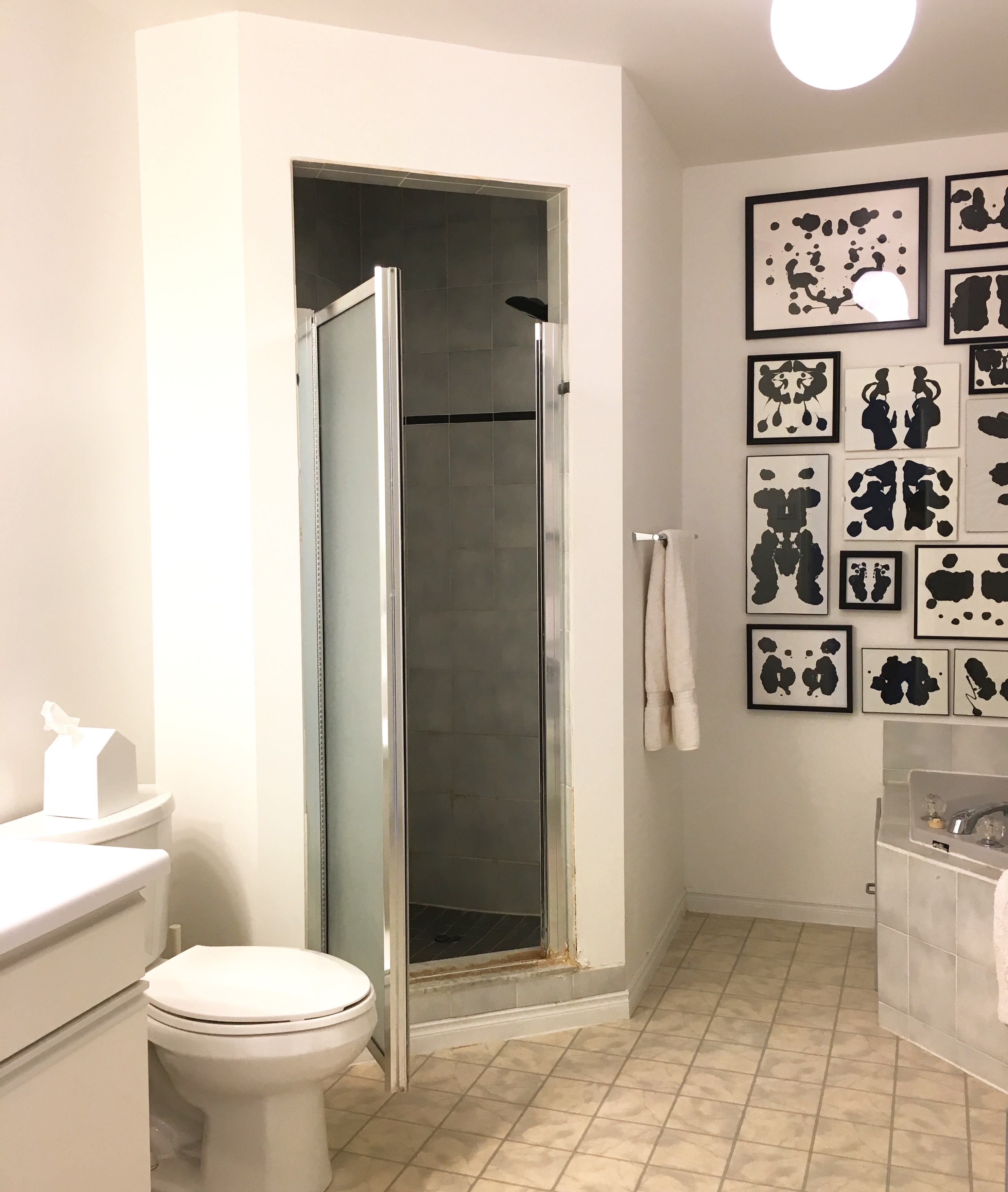 The Before
So, one morning, when I was still in my pajamas, I took out my tools and started removing a dozen or so screws. I chiseled, hammered, pushed, and pulled the door and frame out of place. It was gratifying.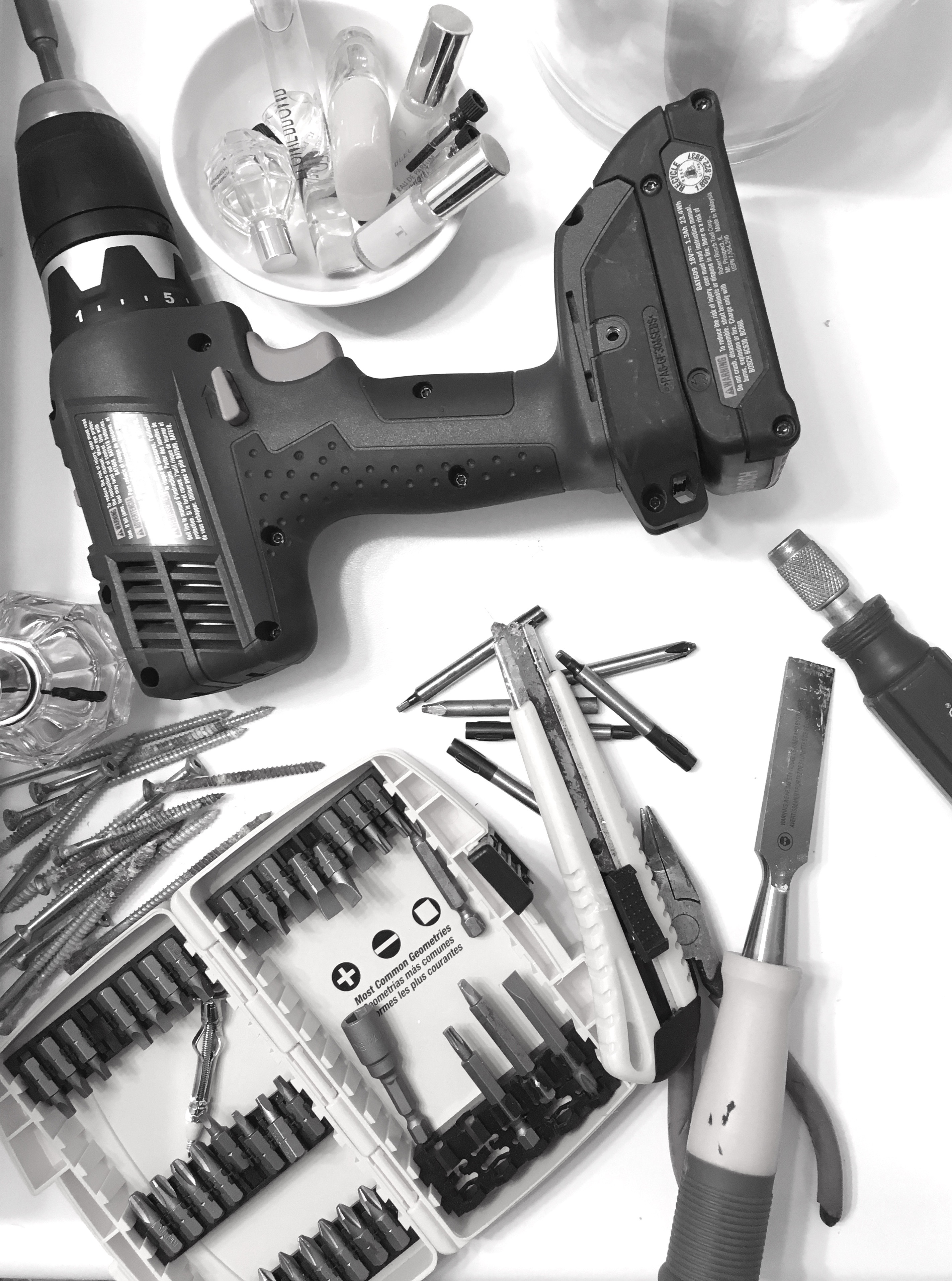 The Tools (perfume optional)
I then scrubbed the built-up gunk off of the marble step. This made a huge difference. I felt like I had a brand new shower.
I filled all the old shower door screw holes with silicone, hung a shower curtain tension rod, and added a pretty curtain. Done and done.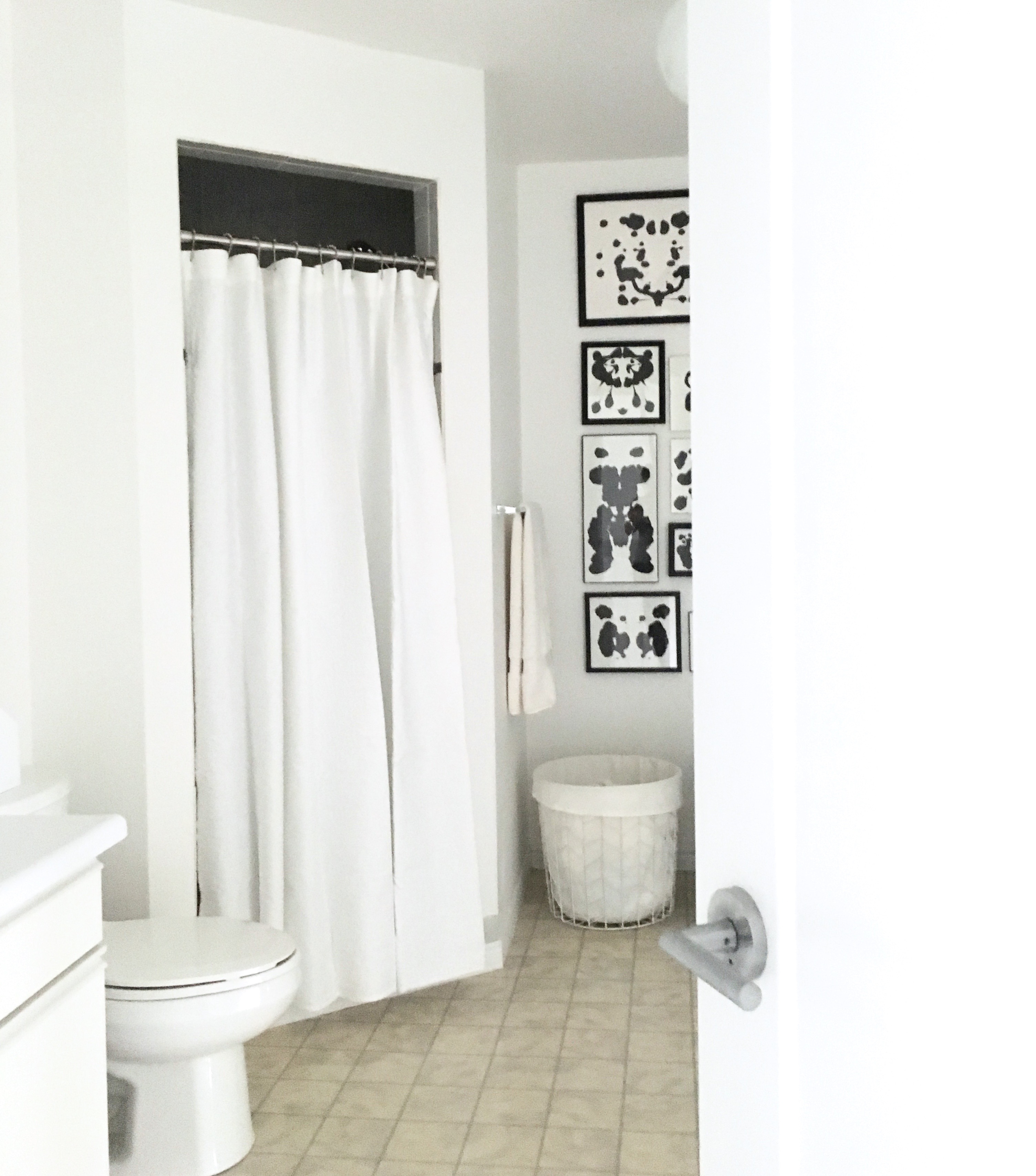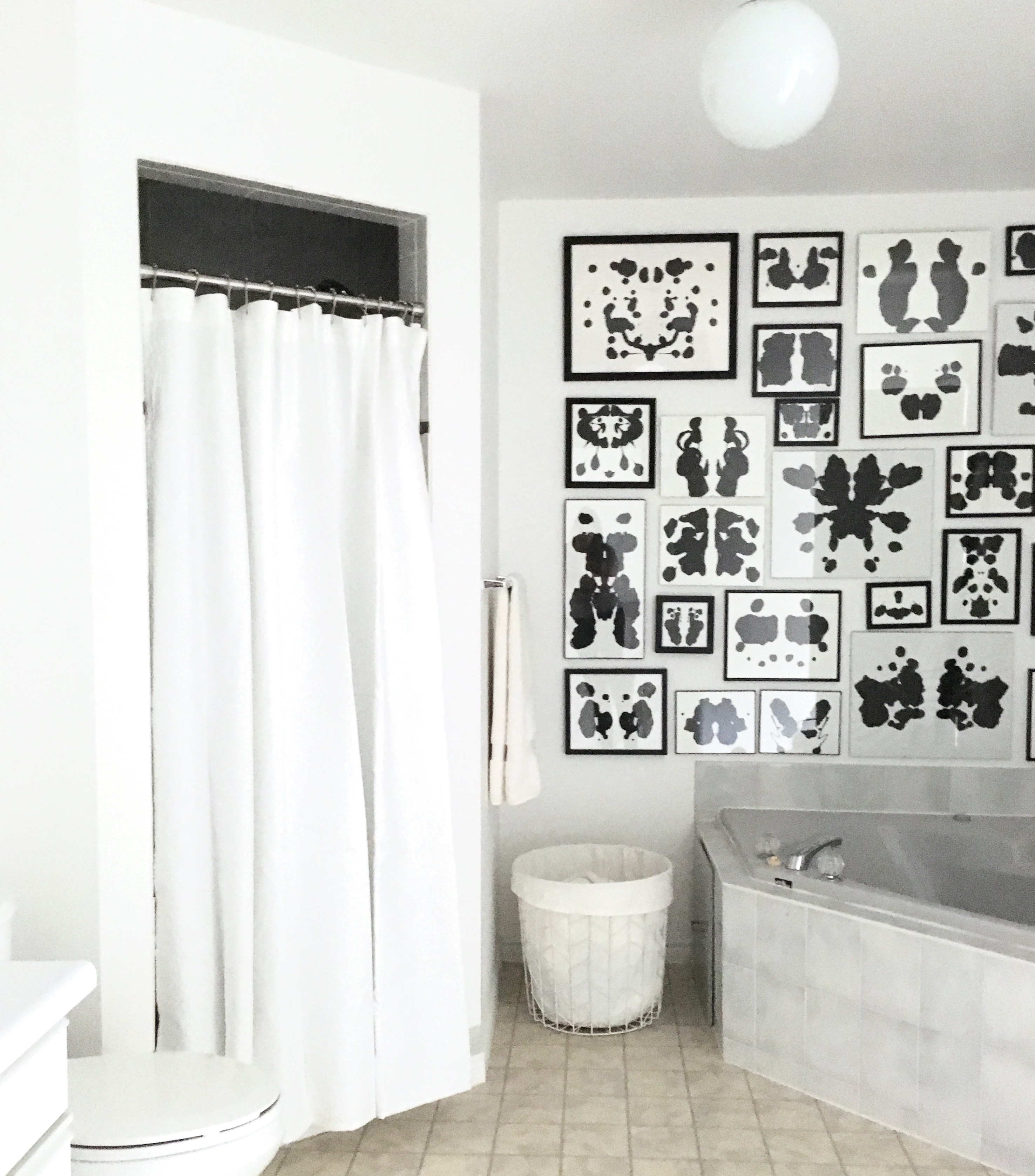 The After
This was an easy DIY that has made a big difference. The whole project cost about $50 (for the rod, shower rings, shower curtain and liner). Yes, I still dislike the corner shower, but at least I don't have a dirty door to look at every day. Much improved!