I have spent more time in school than out of school, so please believe me when I tell you that these are some of the most essential back-to-school items. Pretty much any age group would make good use of these items, I'd say.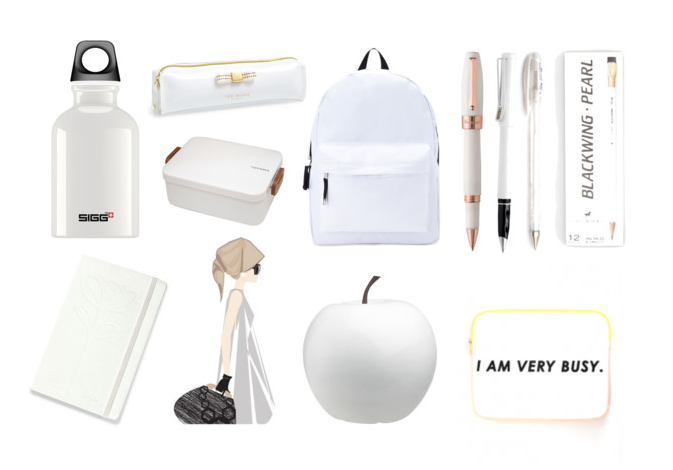 1. Water bottle. I have a few reusable water bottles that I bring to school/work every day. A lot of university campuses now have good drinking fountains and water-filling stations, so there's no excuse not to drink water all day long to stay hydrated.
2. Reusable lunch box/bag. I always pack a lunch because I get bored of university cafeterias and the quick grab-and-go meals at Starbucks or elsewhere are too expensive and high in calories.
3. A pencil case. I carry my pens and pencils in a small case so that they're easy to find and won't make a mess in my purse/tote/backpack.
4. Backpack. Speaking of backpacks, I don't actually have one yet. I'm still looking for one that is lightweight and comfortable. I'm going to start this school year with my lightweight and washable HBC striped tote.
5. Pens and pencils. Although I love my computer, I take a lot of my notes by hand. Pens and pencils are a must. I always have a Sharpie or two nearby as well. Highlighters, on the other hand, I rarely use. Last year, I was given some Palomino pencils and I still make good use of them, They look so darn good!
6. Notebooks. Did you notice the plural? Yes, I stay organized by using a variety of notebooks. Each notebook has a job Рwork, home renos, school, etc. Most of my notebooks are Jordi Labanda or Moleskine, but I'm open to using basically anything that is cute and has nice paper (they are often black or white, but not always). I prefer lined notebooks, but I think unlined notebooks are great for people who want to really spread out over the pages. My writing is nowhere near neat, so I need the lines to help keep me steady.
7. An apple. Okay, the CB2 apple above is just for decor. But, still. It's traditional. Eat one. Draw one. Take an Instagram picture of one. Bring one to a teacher.
8. Laptop and protective sleeve. I think I would be lost without my laptop. I keep mine protected in a basic MEC sleeve, but I really have my eye on this one from Ban.do.
These are the basic back-to-school necessities. A computer, phone, coffee mug, earplugs, library card, file folders, binders, etc. are additional items that come in handy and help me stay organized and focused.
Who is ready to learn something new this school year?
Details of items available at Polyvore.