Today's the day! It's the One Room Challenge final reveal day!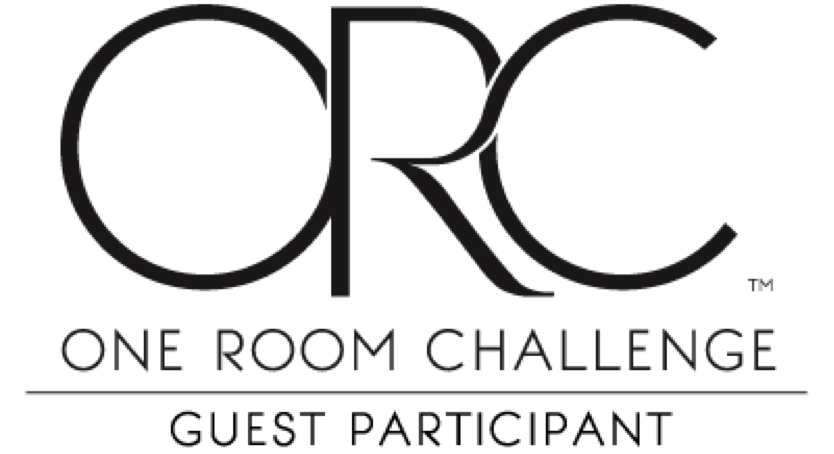 So, without even a moment more of pause, let me welcome you in to my new laundry/bathroom combo room!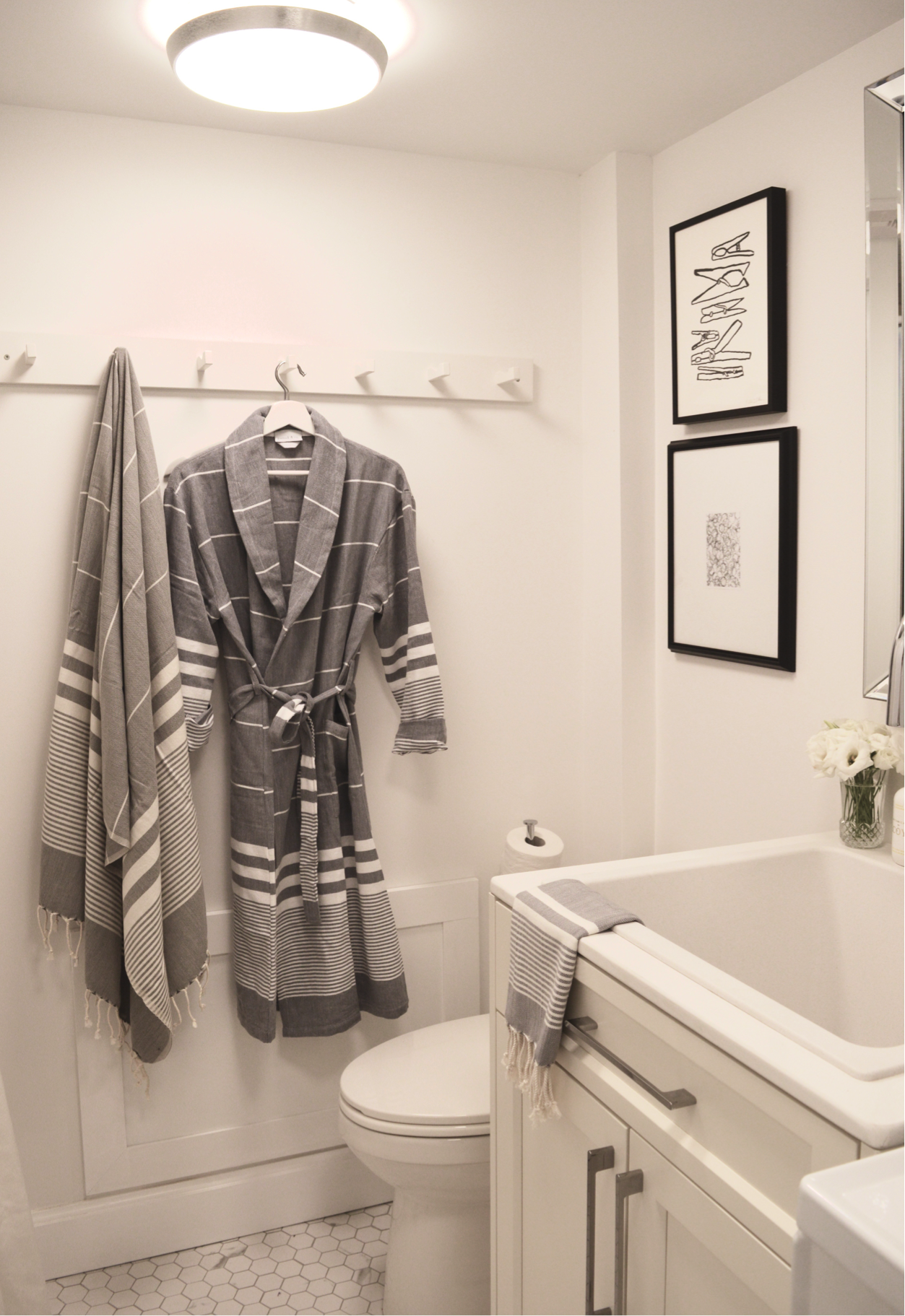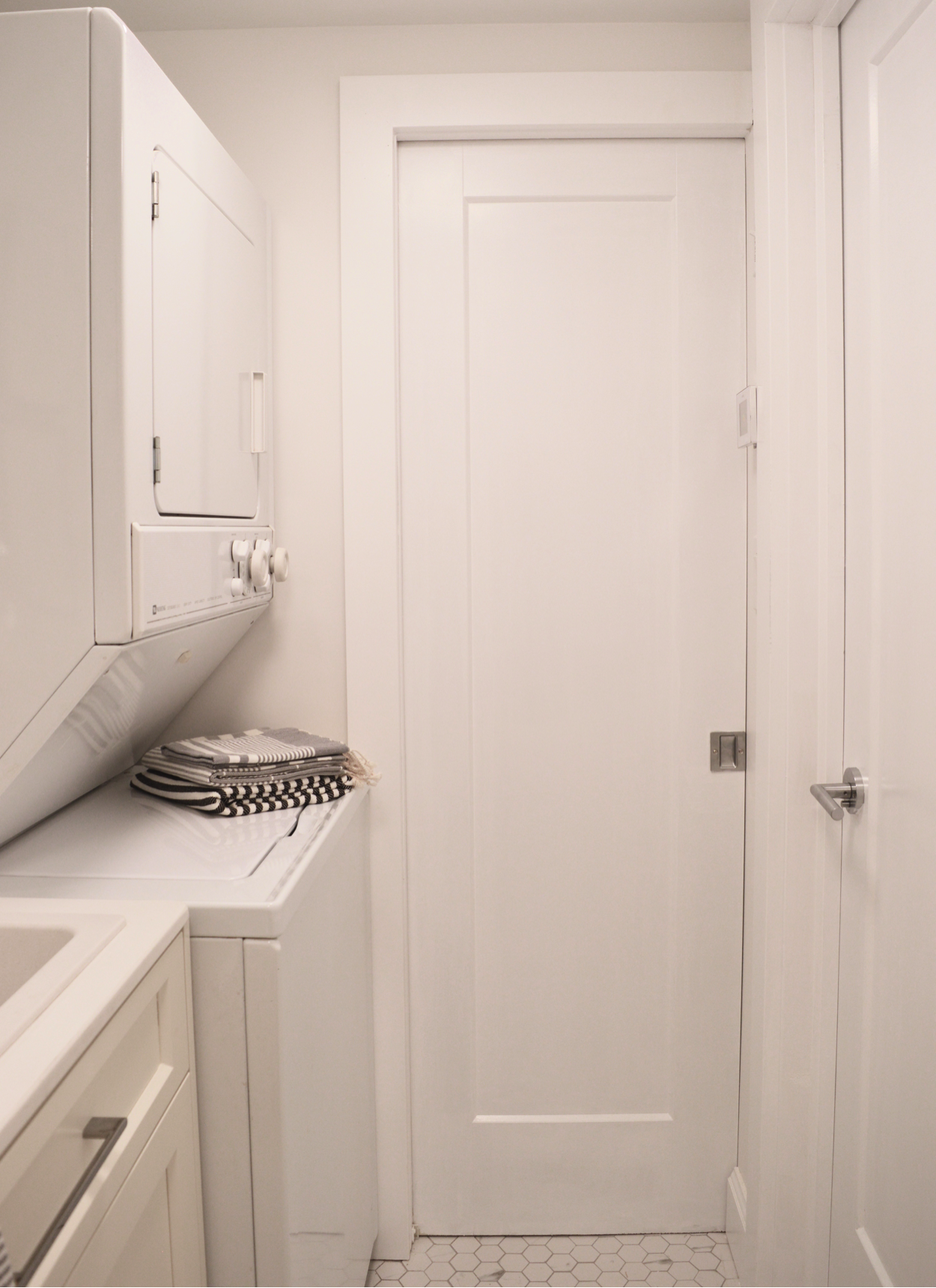 And before I share more photos, let's have a look at the before photos of the space. (Note: You can see more photos in this Week 1 post.)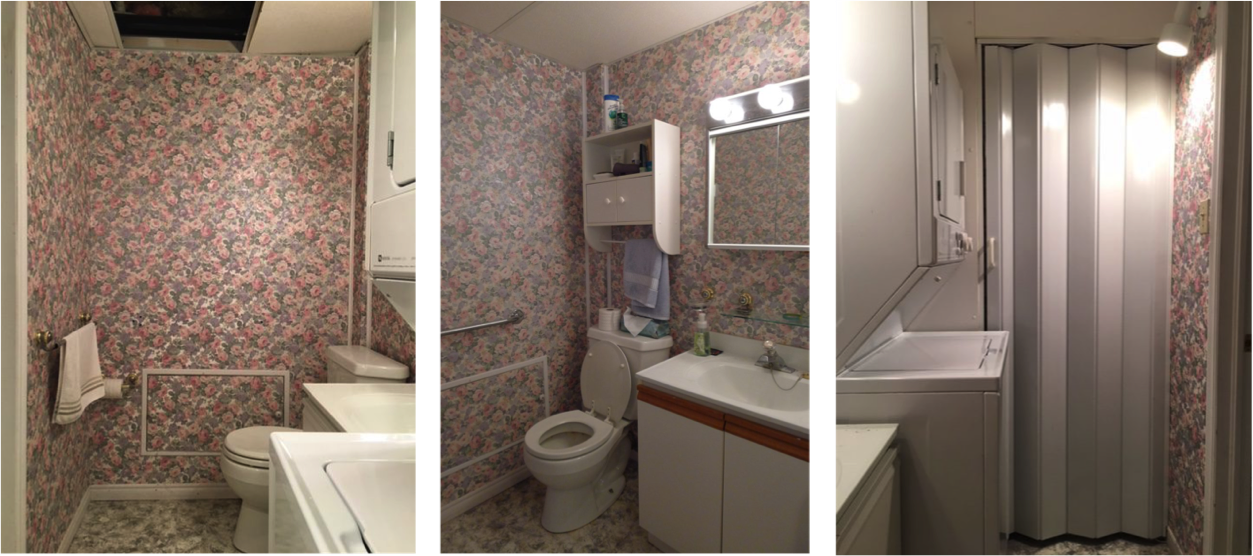 I'm so excited to share these after photos with you. The last six weeks have been full of mess, clean-up, shopping, and styling. I'm beyond thrilled with the end result, and I am so grateful for the team of experts who helped me transform this space. I now have a bright space for laundry days, and my guests have a beautiful white bathroom to enjoy while they visit.
As I showed you over the last six weeks, we completely gutted this space. No surface was left untouched, and nothing from the original room remained. Everything is new – from plumbing to studs to tiles to accessories. This space needed an overhaul, and that's exactly what it got!
I've always called this space small but mighty. I demand a lot from this space in terms of functionality, and the changes my construction team and I made have definitely improved every aspect of the space. It's a combo room – laundry plus bathroom – so it's really going to be put to work!
I am absolutely loving having a large laundry sink. After five years with a bathroom vanity sink, this change is a big one. I was lucky to work with Blanco on this project, and the company generously provided me with the durable Liven laundry sink. The Silgranit material is supposed to be "exceptionally resistant to heat, scratches, and impact," which is exactly what I need.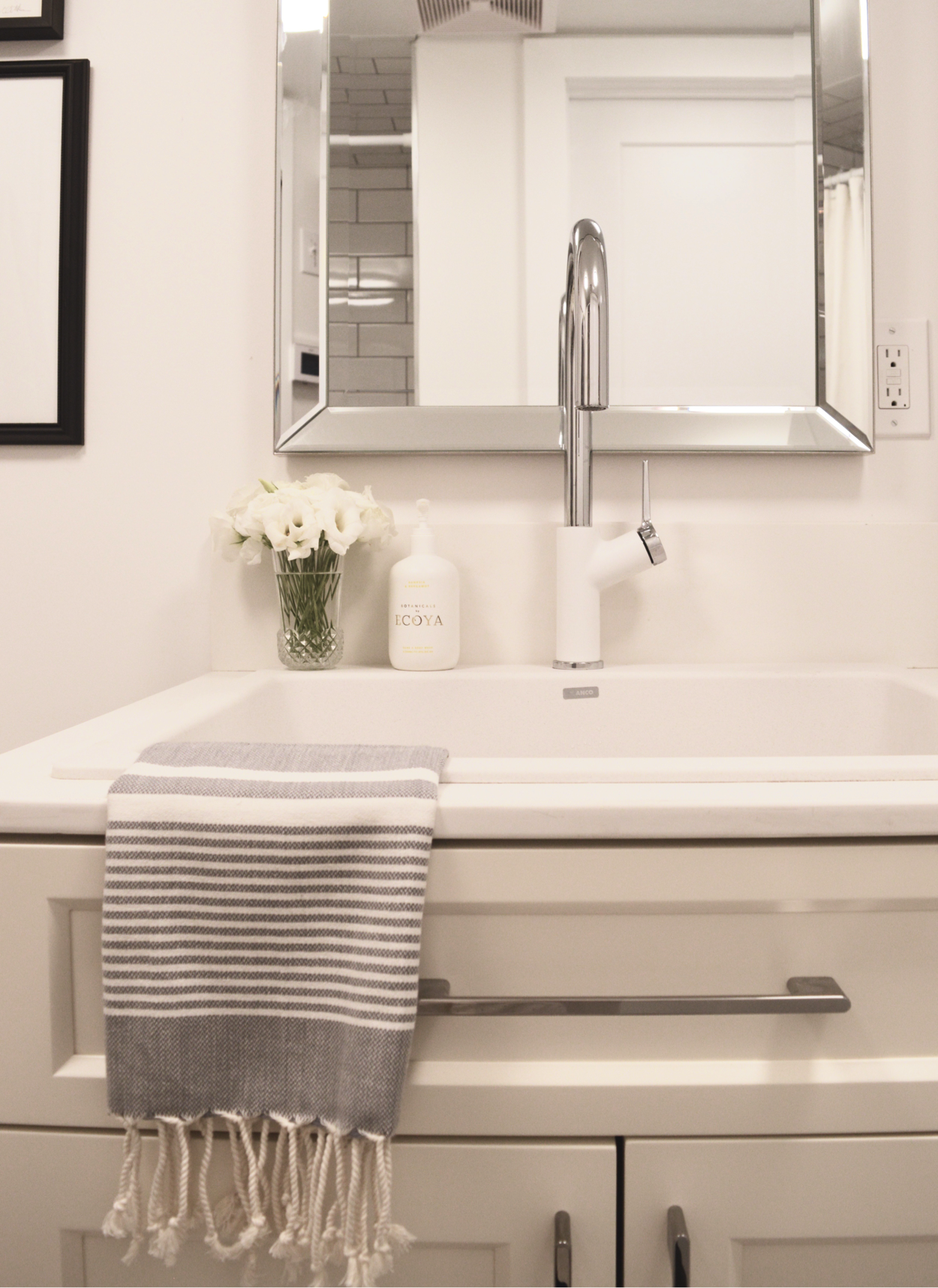 To match the sink, I opted for the Blanco Urbena faucet. When the box arrived way back in the fall, I took the faucet out immediately, and was so impressed with its strength and substance. Now in place, this piece looks even more beautiful (and it's even better in person). The pull-down faucet function is going to be great as I start making a mess in this space with indoor gardening projects, hand-washing delicate clothing, and more.
I had a custom cabinet made in Toronto. It's painted Chantilly Lace, and it has the same door front detail as my interior doors (see below). For the counter, I went with white quartz, and a 6″ backsplash. The door pulls are from Ikea.
I have used some pieces in this space that I have already in other spaces in my home. Why change a good thing, right? For example, I have the larger version of the mirror in my powder room. And I have the same toilet and toilet roll holder in my powder room. I know many people like to switch things up in the design world, but I like consistency and simplicity, so I was happy to use these same pieces in my new space.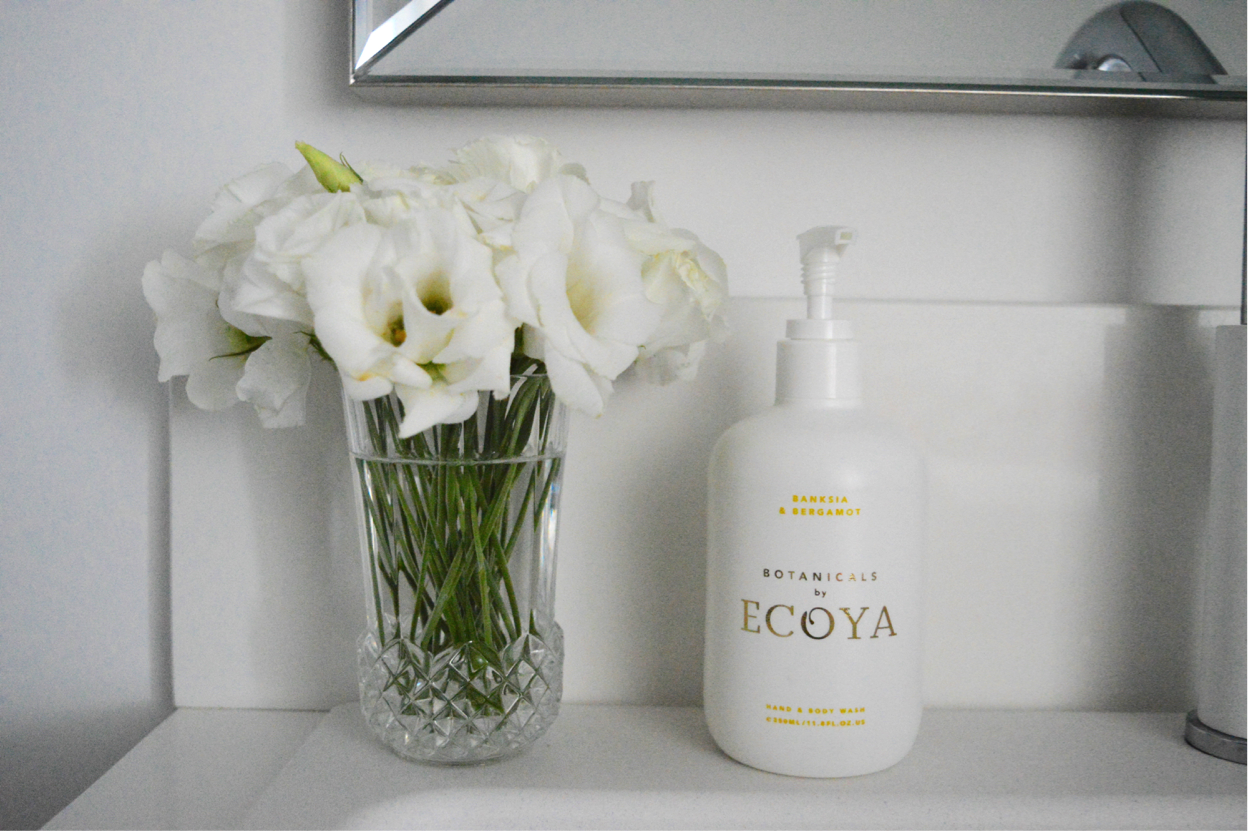 The addition of a beautiful new shower has really made this combo room that much more functional. This was a big job, and I lived with a trench in my floor for a couple of days as my plumber was working his magic. I opted for classic white 4″x12″ subway tiles, and my tiler surrounded the shower with them. I carried the hex floor into this shower space, too. The shower system is the Arris style by Moen.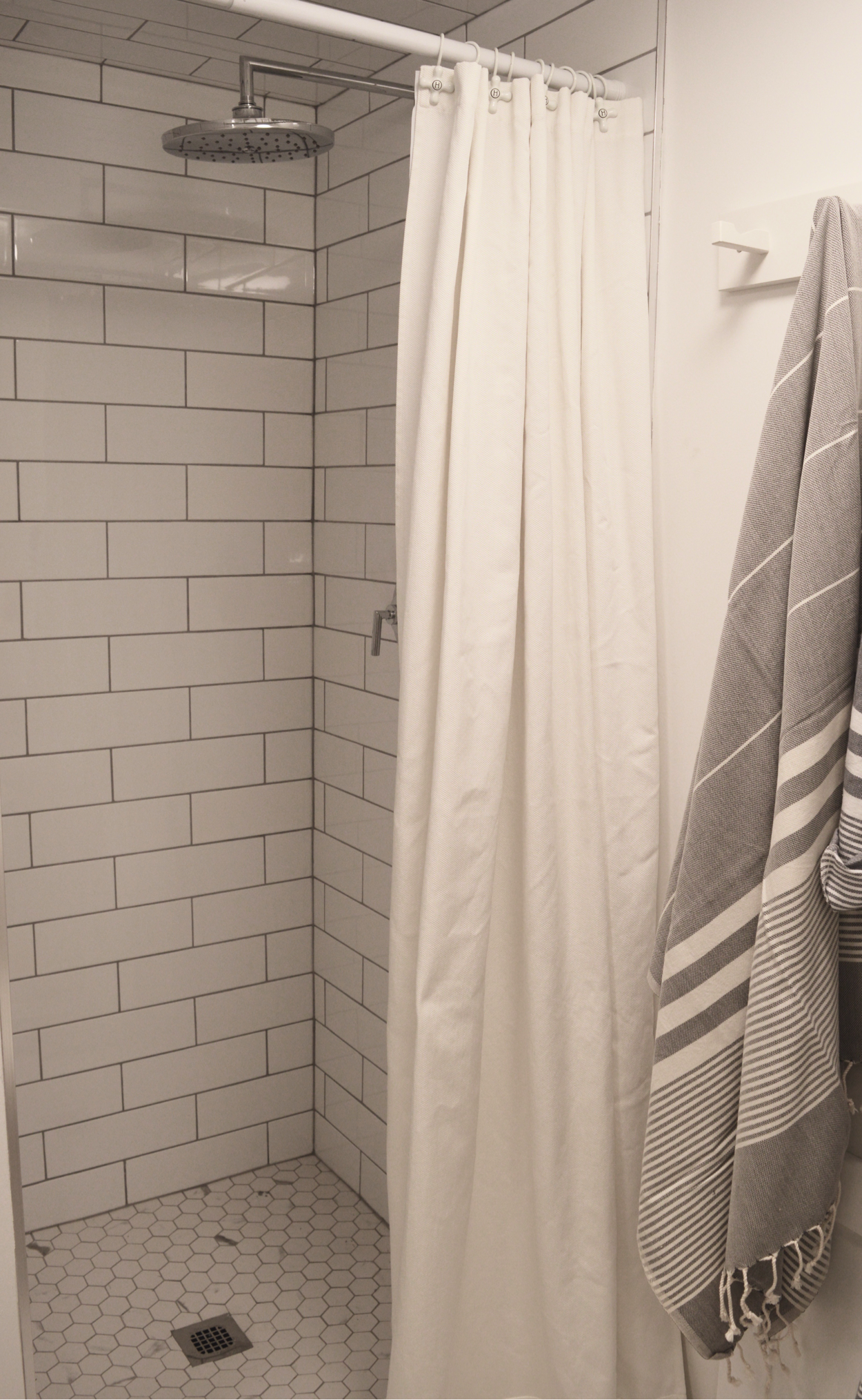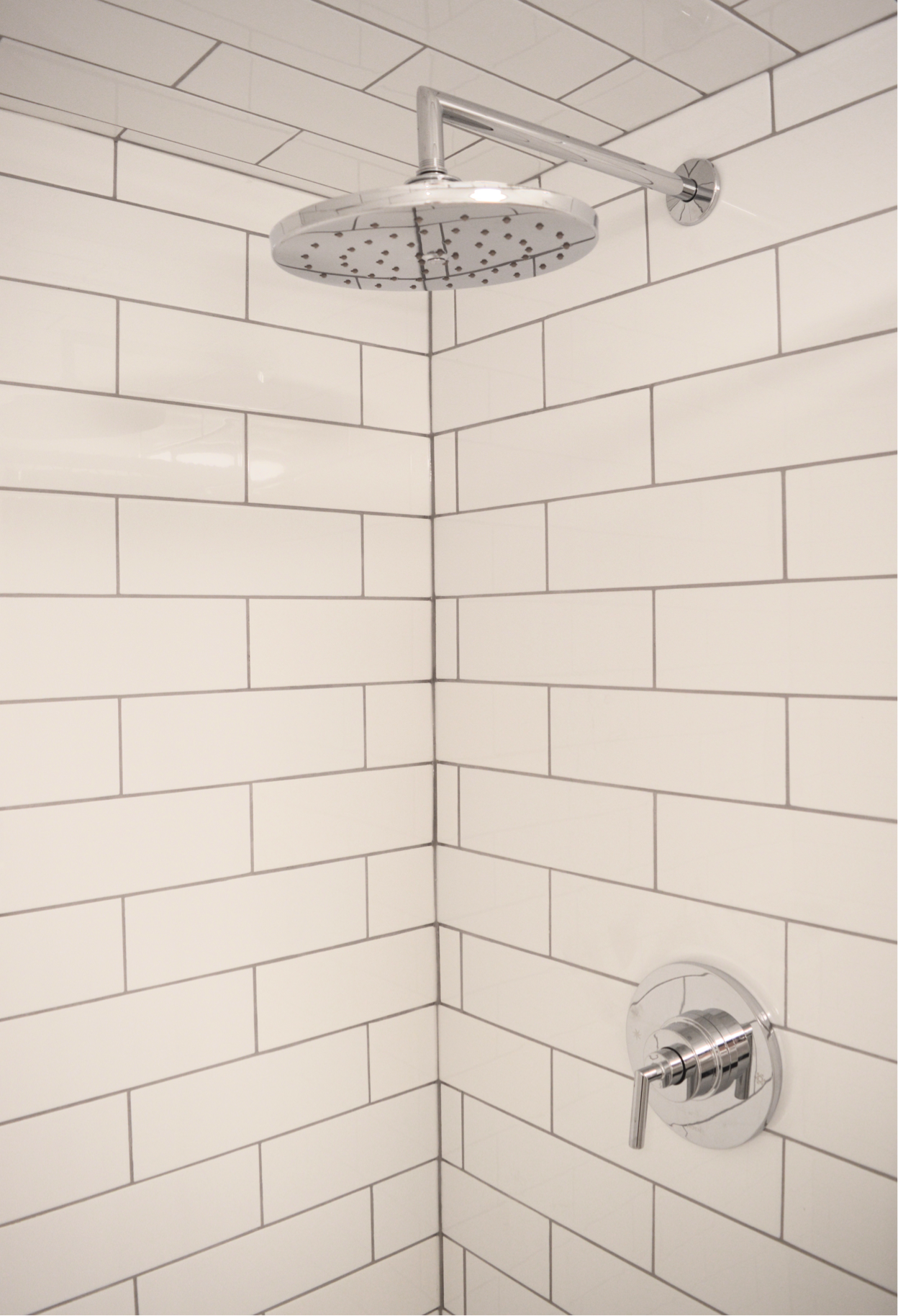 The little "door" that you see in the photo below is a genius invention by my drywaller. It slides up and down, and it hides my main water pump/valve. It's incredible. It's so handy, and it looks sleek, too!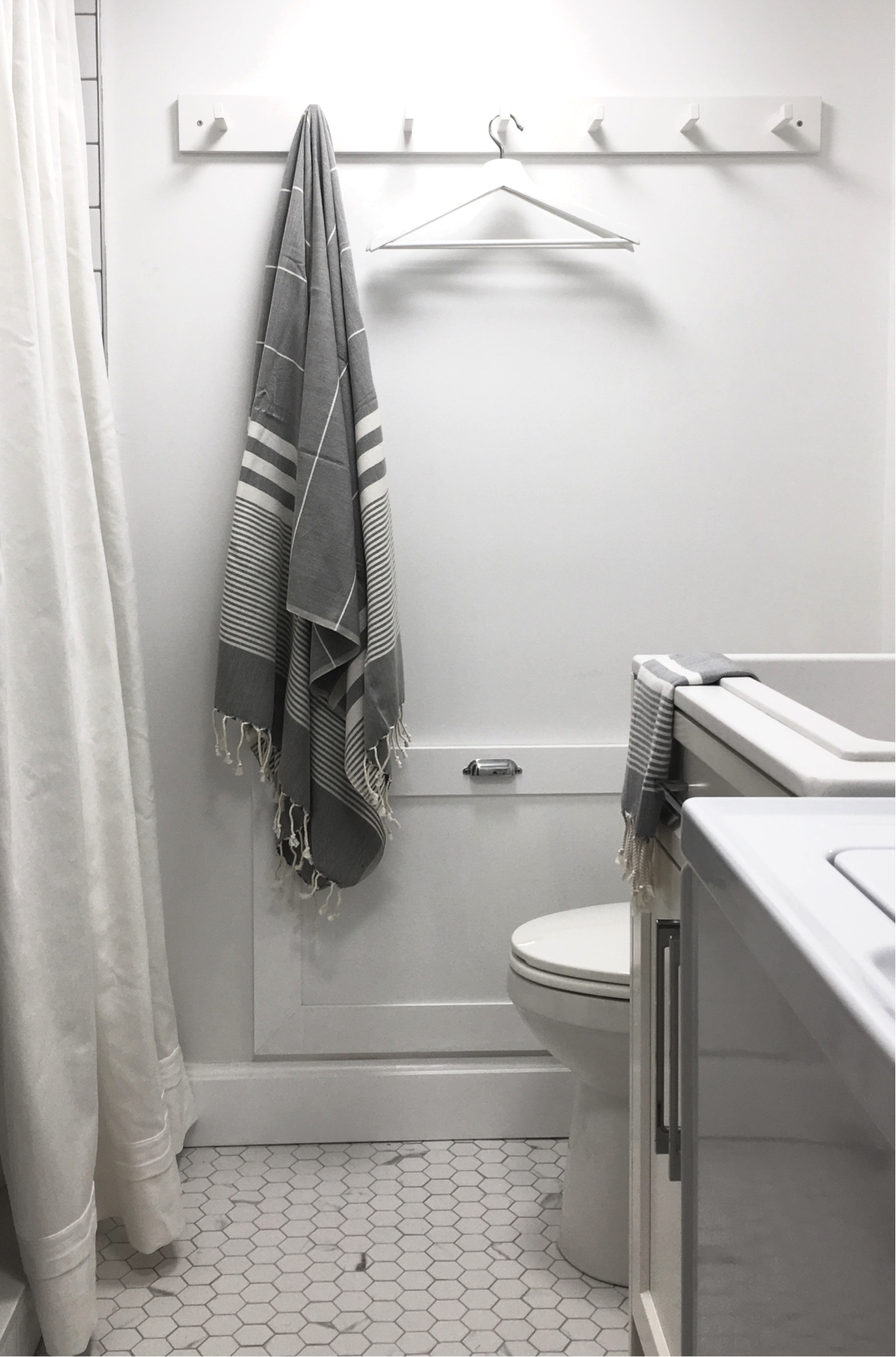 The floor is much more exciting than what you might see in these photos. Beneath these gorgeous hex marble-like tiles is Warmup's floor heating system. And it's luxurious! The thermostat is easy to use, and I have been playing around with different schedule settings. I can even control the temperature from my phone. You know what this means, right? I can lie in bed on a Sunday morning and only get out to do laundry once my floor has been heated up! Genius! (Note: I haven't added a bath mat to the space yet because I want to stare at the floors!)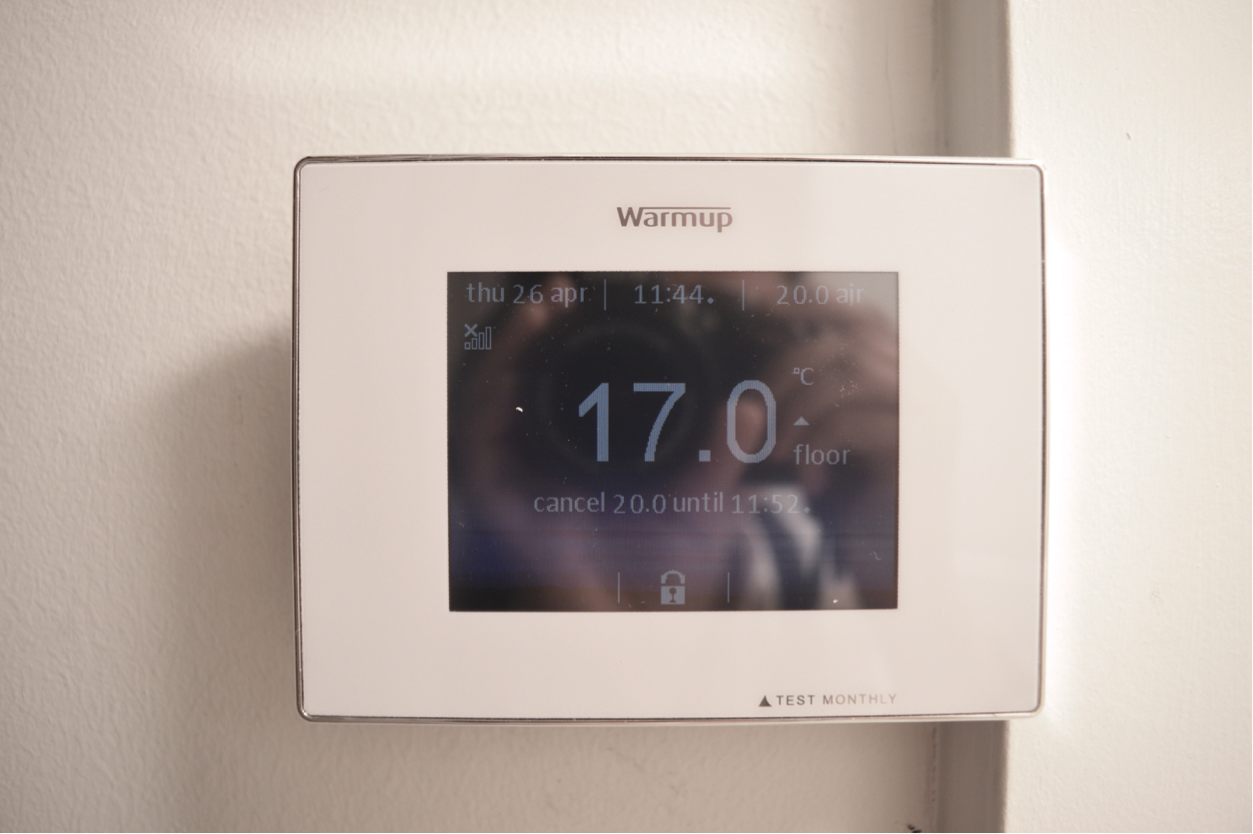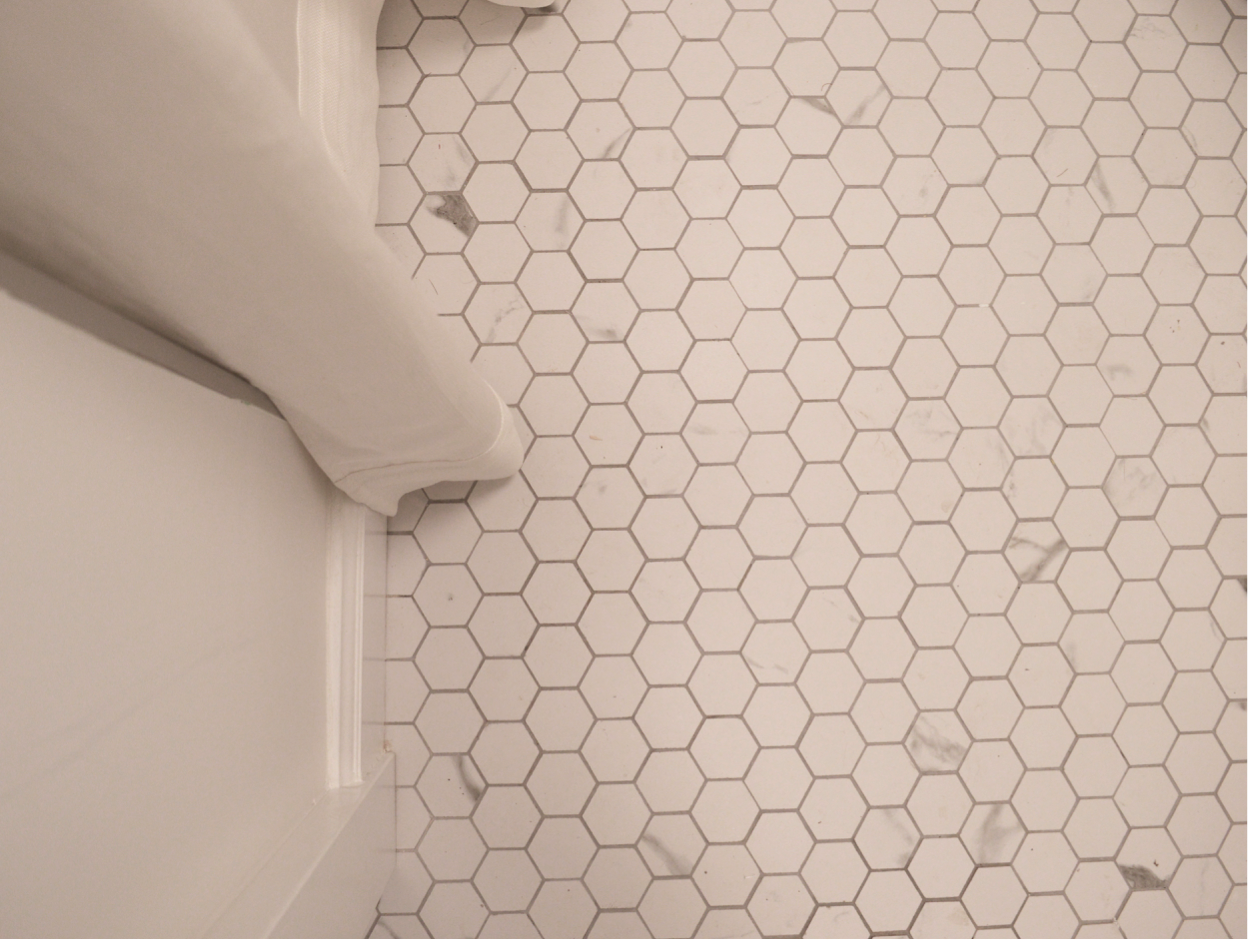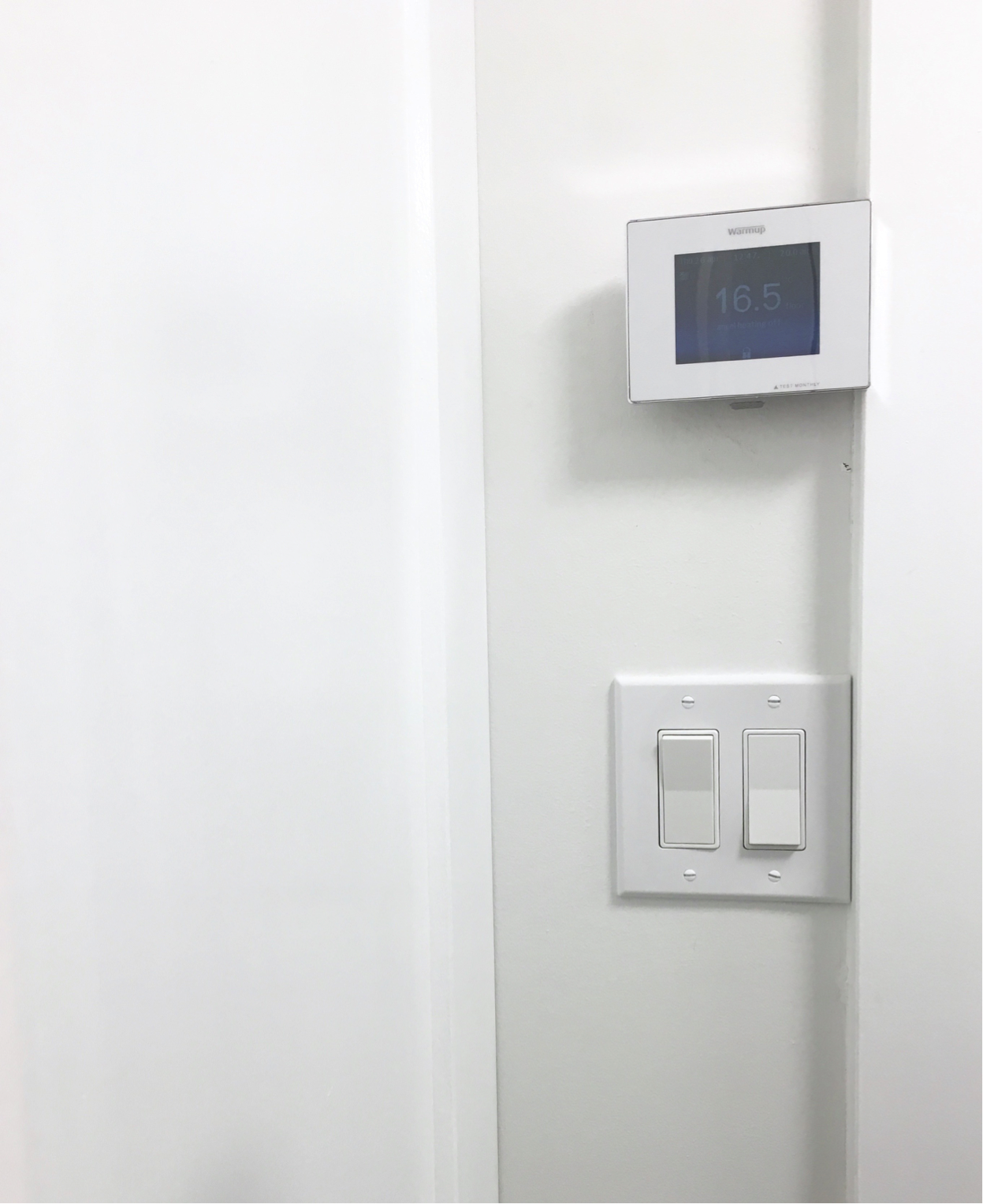 The doors in this space are Metrie's Masonite Lincoln Park. I used the same style in my #byebyebifold makeover, so it only made sense to carry them into this new space. Side note: In fact, I have replaced all of my interior doors, and the change has refreshed my whole home! The door hardware (just like everywhere else in my home) is the Milan in satin chrome from Direct Door Hardware.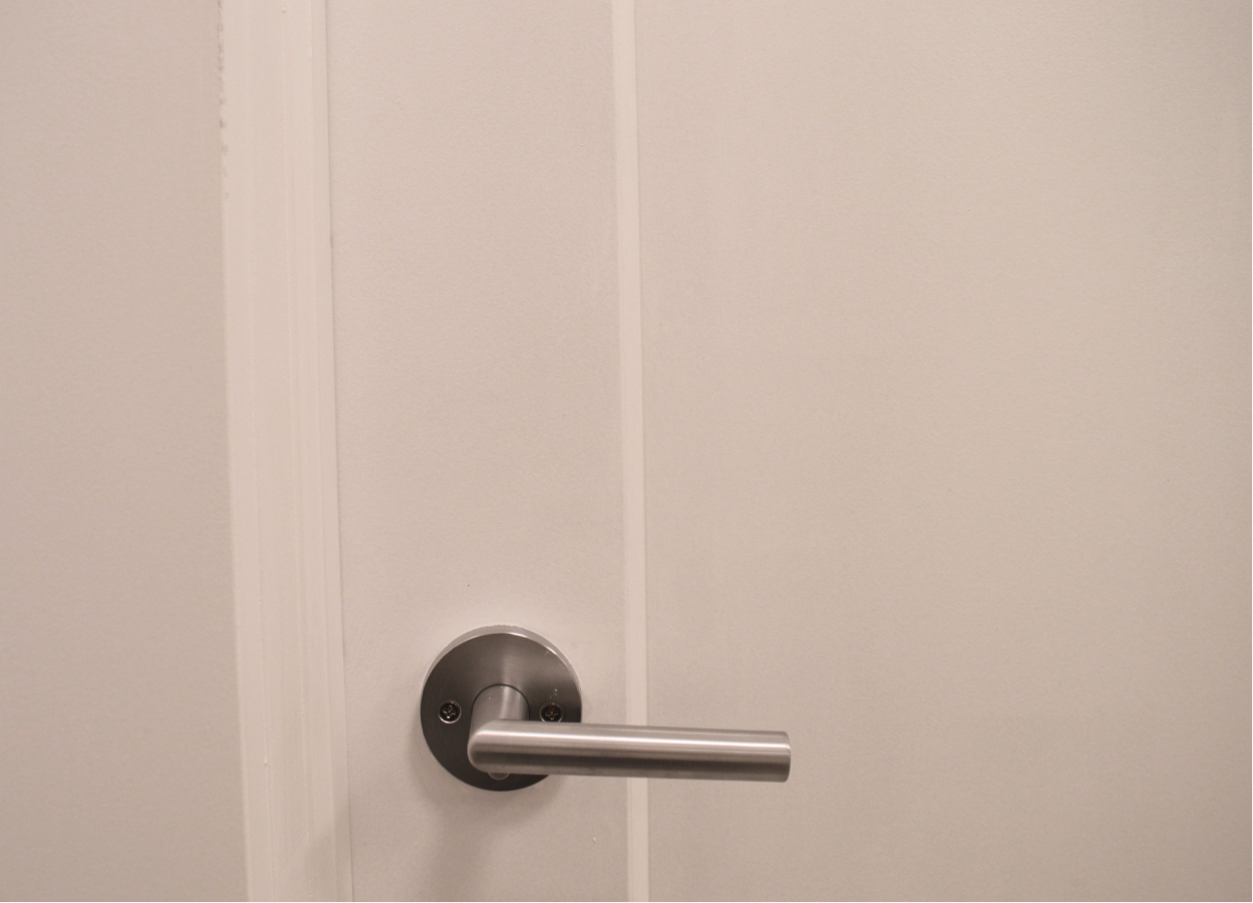 The addition of the pocket door to separate this gorgeous space from the less-than-gorgeous furnace room has been an especially smart addition. I was beyond ready to get rid of the accordion door six weeks ago, and I was even more thrilled when my drywaller told me he could get in a pocket door.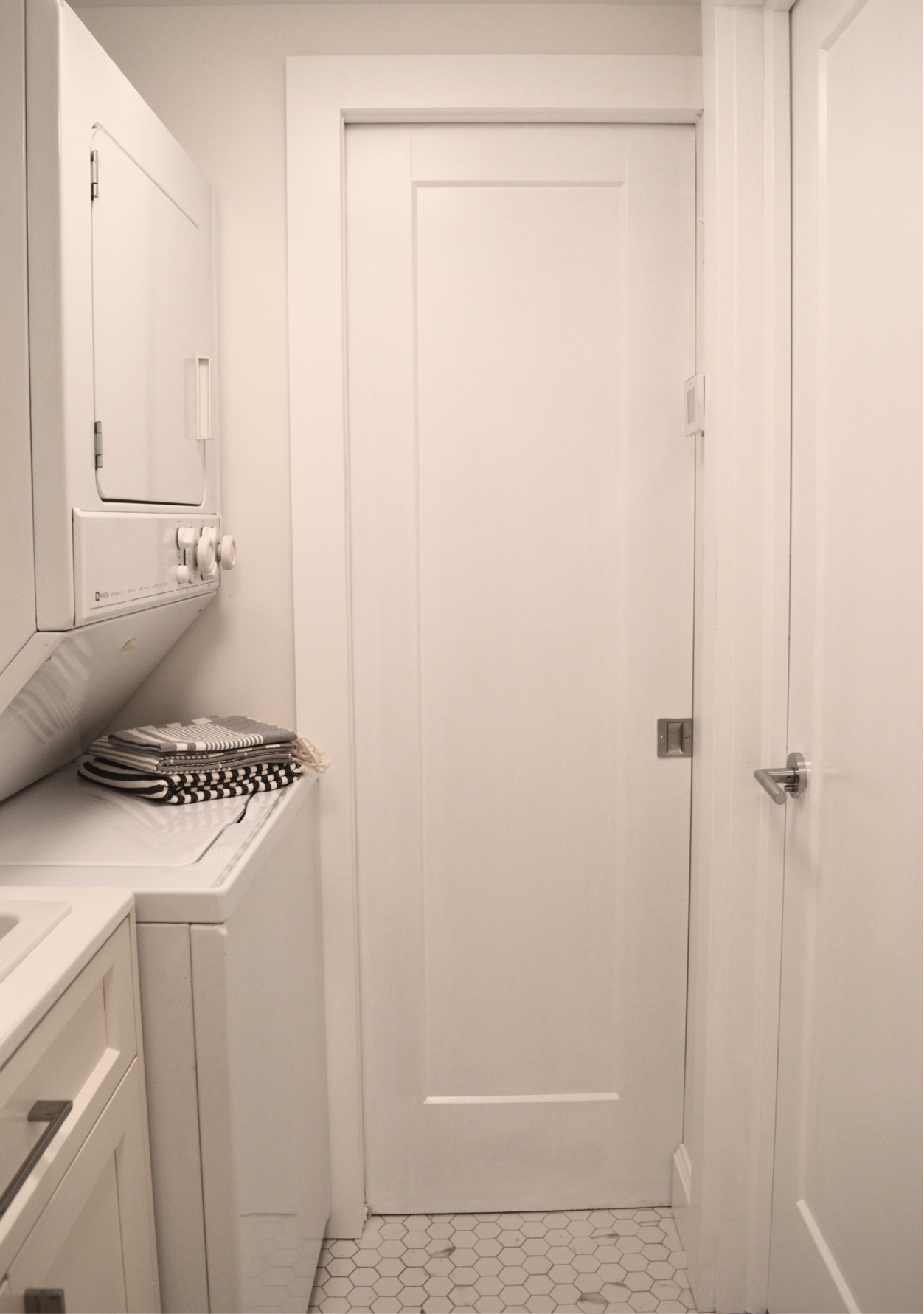 To bring more beauty into the space, I reached out to my friends at pamuk & co., and they sent me the softest set of Turkish towels and a matching robe. I am so spoiled with these items! Each towel is a piece of art, in my opinion. And have I mentioned how soft they are? Absolutely luxurious! You can see the robe in #WhiteCabanaStyle action in this Instagram photo! (Side note: pamuk & co. has been spotted in Meghan Markle's hands post-yoga and in her former Toronto home!)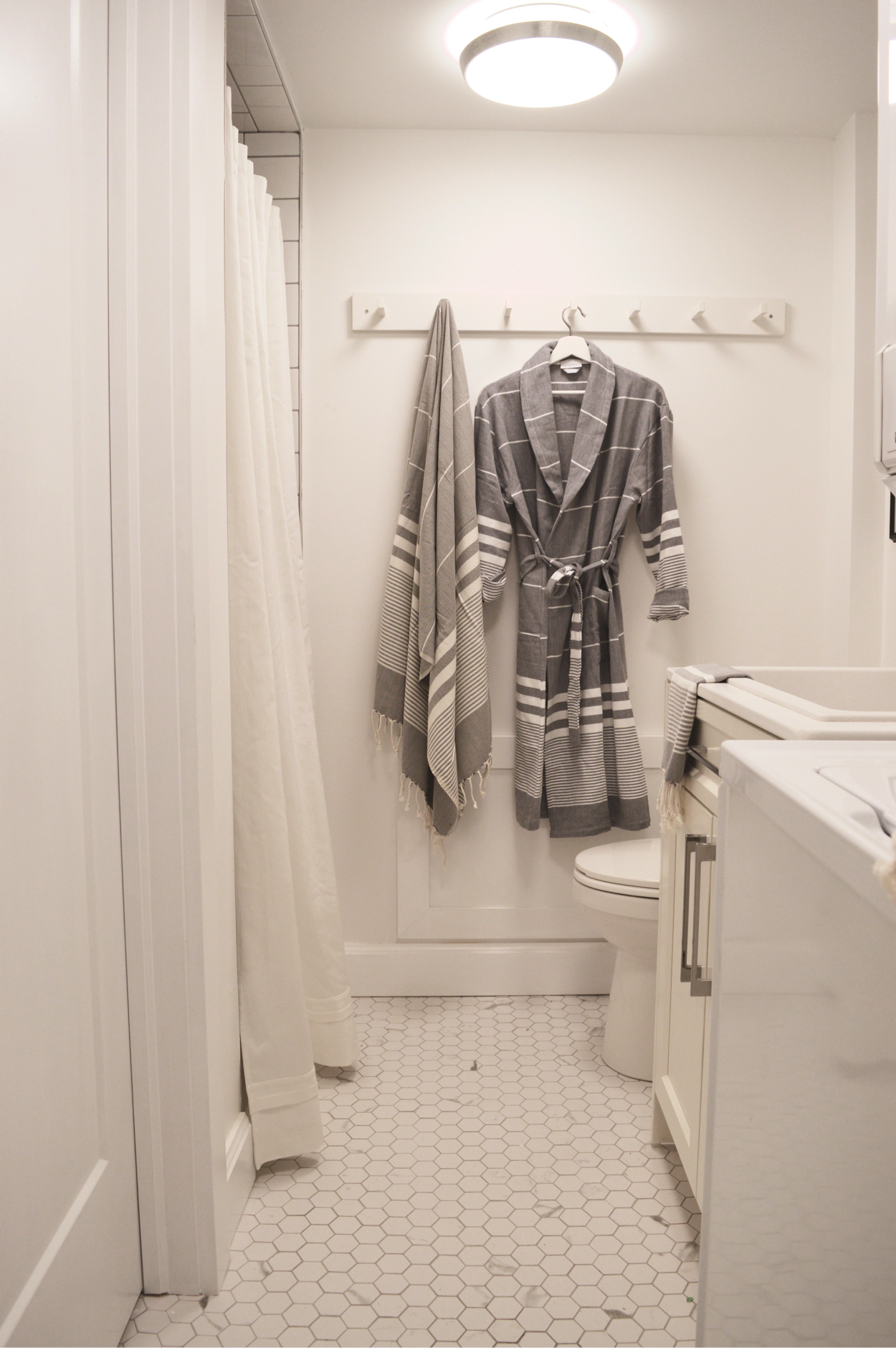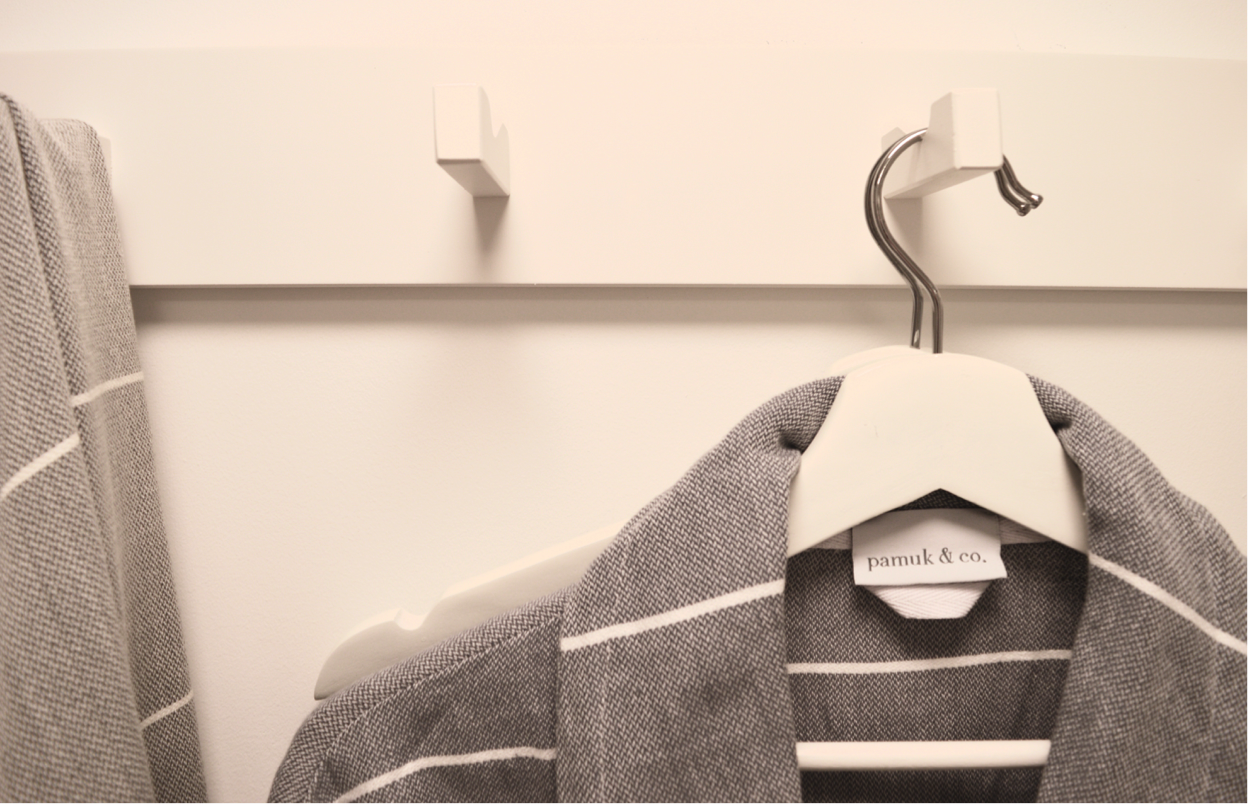 I have two pieces of art in this laundry/bathroom combo room. The top piece above the toilet is Clothespins 2 by Elliot Stokes from Minted. Under this is a photo my friend Suzanne took, and I printed. It's a close-up photo of a large-scale piece by Marco Godinho called "Forever Immigrant." If you'd like to see more of the art, I recommend this video.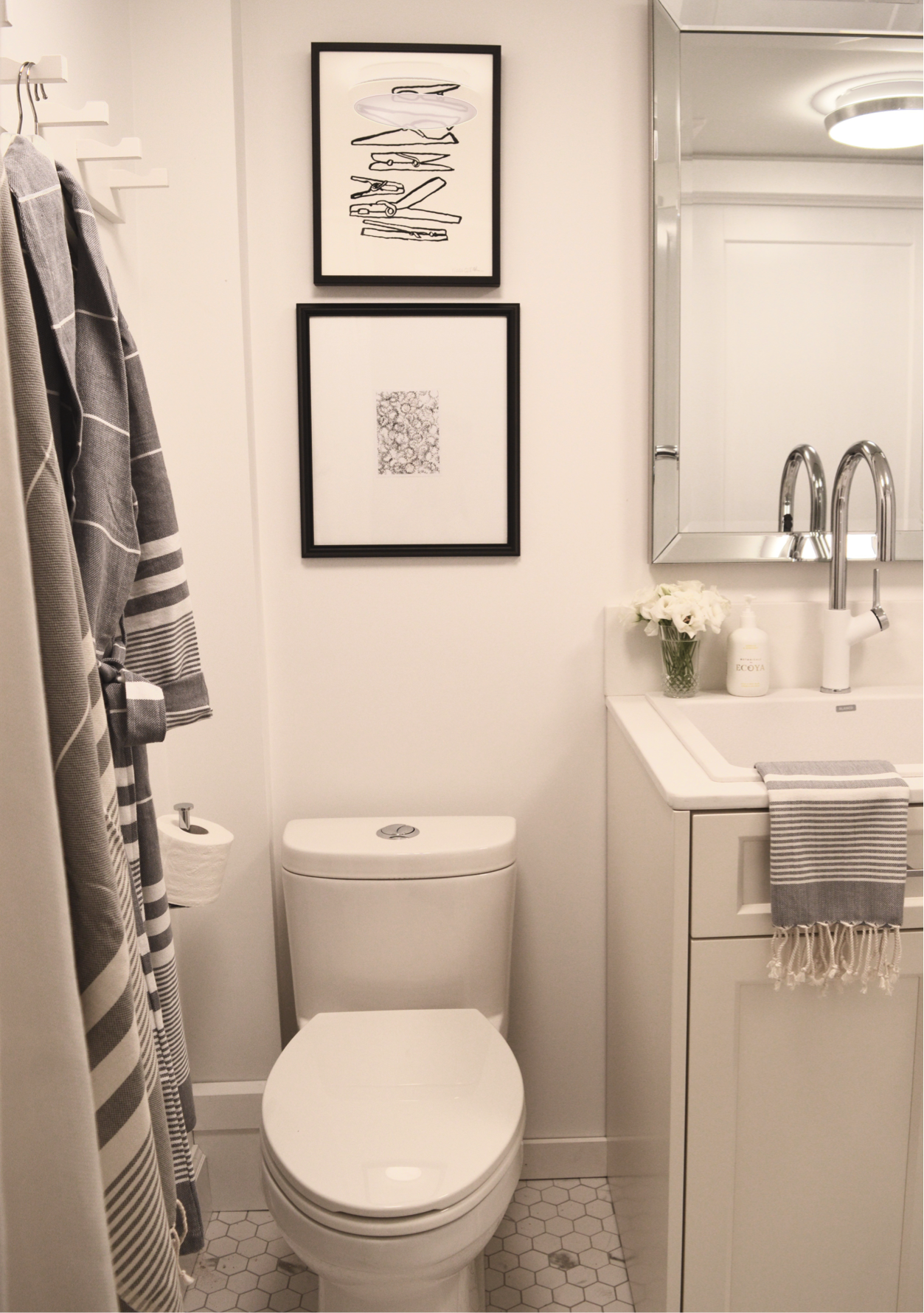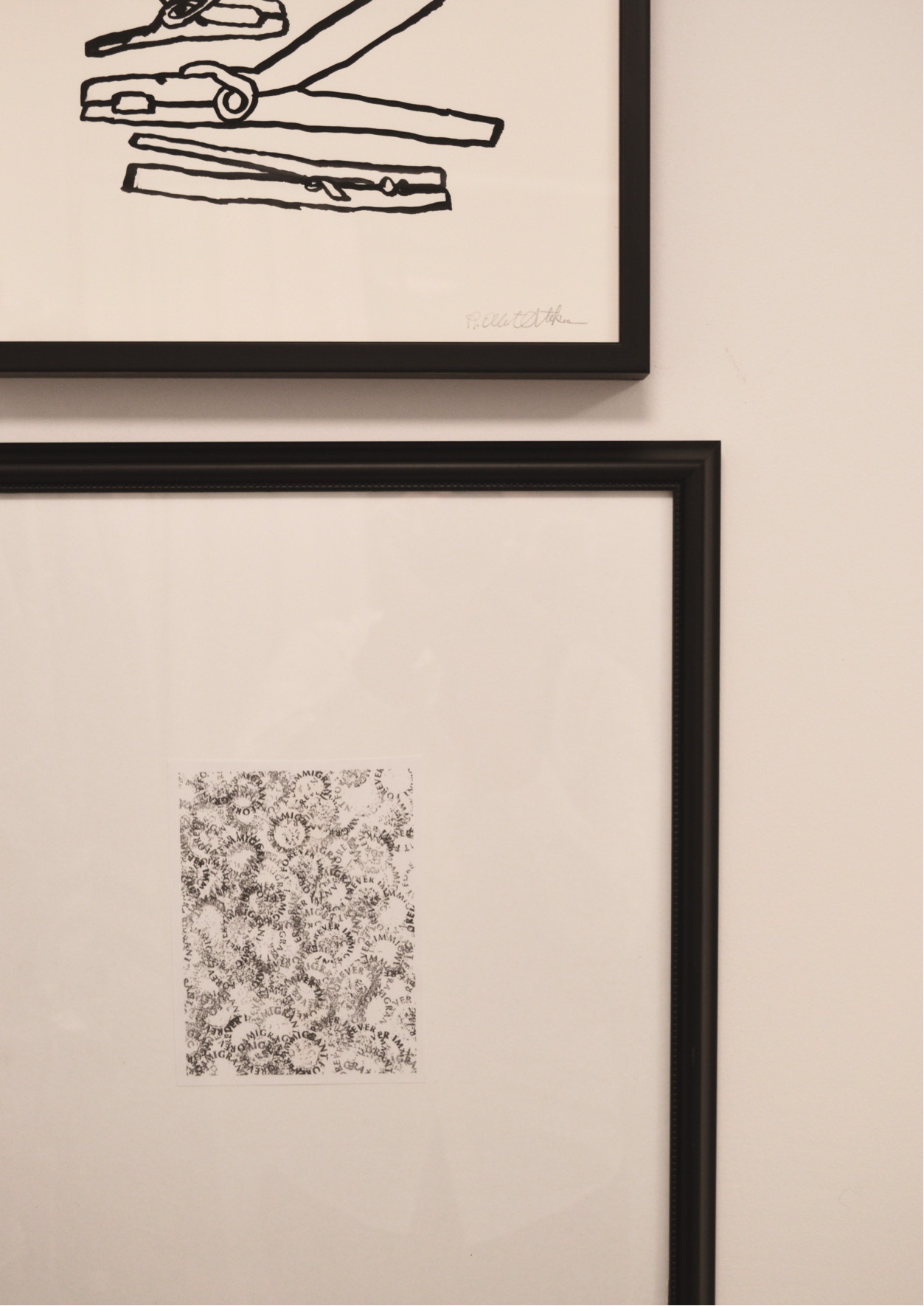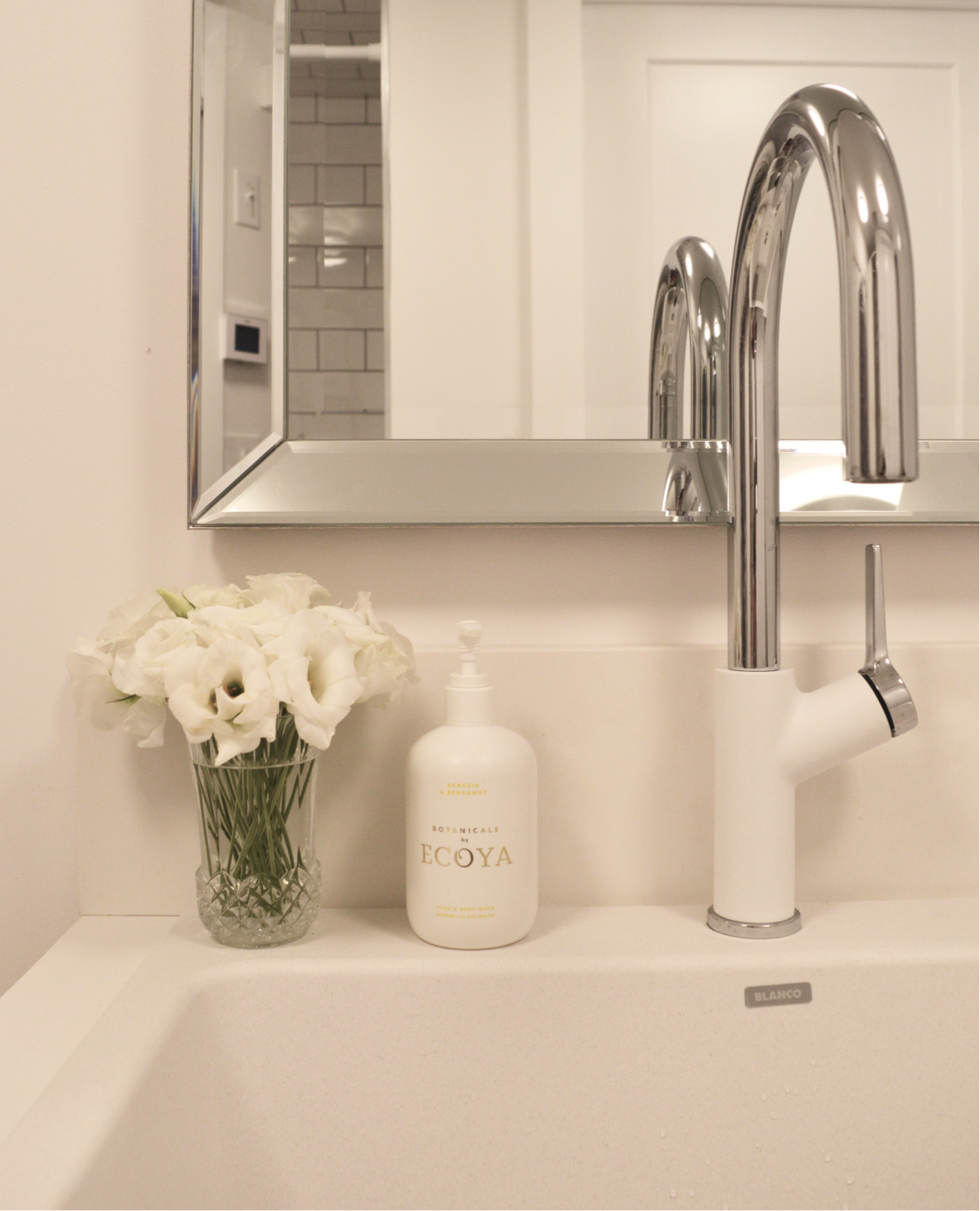 And one final look before I leave you for the day (to explore other One Room Challenge participants' reveal posts):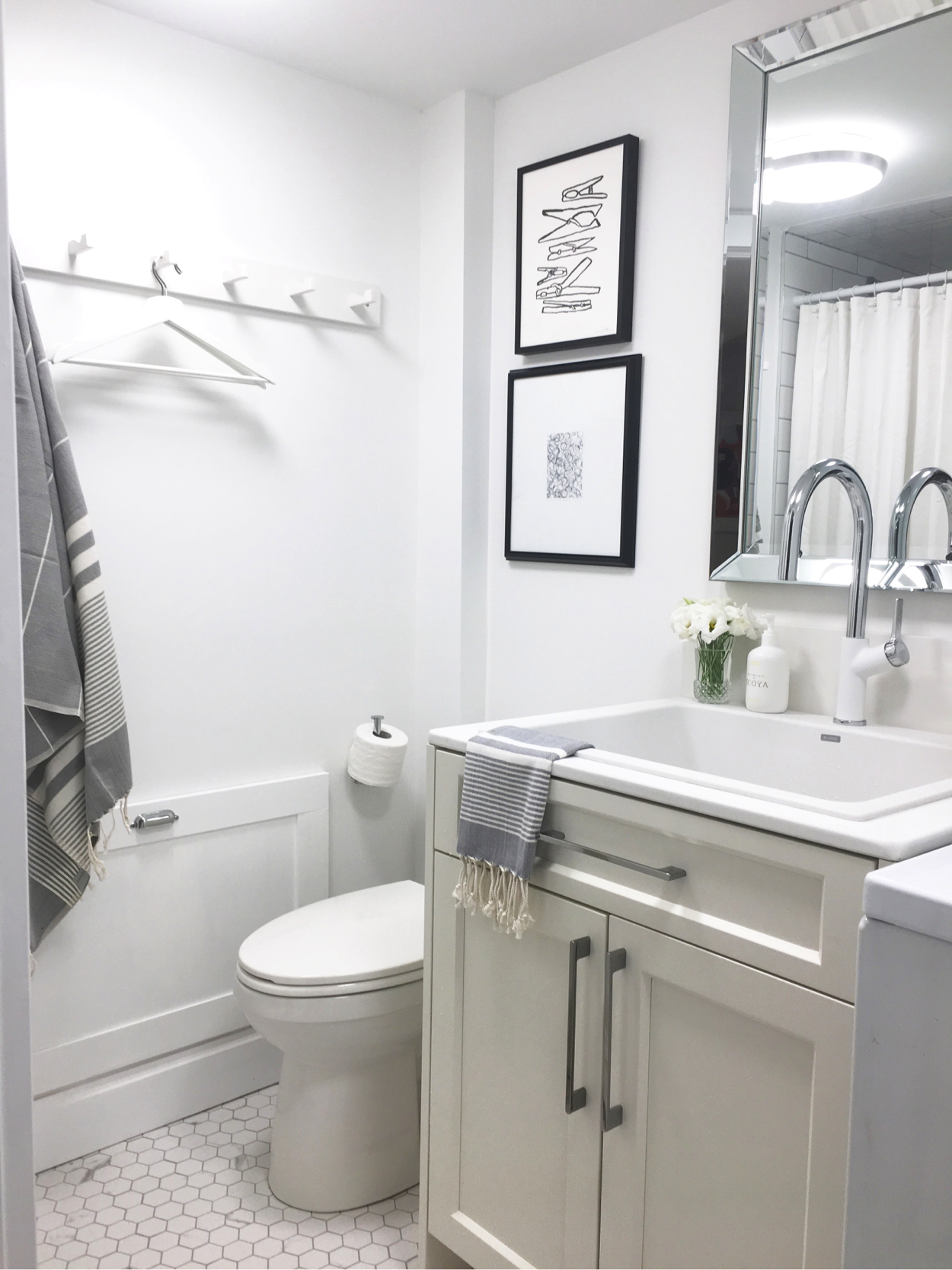 Thanks again for following along this renovation journey with me.If you'd like to take a walk down memory lane, check out my week 1, week 2, week 3, week 4, and week 5 posts. And for more inspiration, click on over to the reveal posts from the One Room Challenge's featured designers and guest participants.
Thanks to Blanco, Warmup, Minted, and Pamuk & Co. for collaborating on this project. All opinions are my own.
Thanks to my construction team for making my design come to life: Chris, Troy, and Tony. Thanks to Mom and Dad for your continued willingness to help out and get messy!
***
Sources:
sink: Blanco Liven (c/o)
faucet: Blanco Urbena (c/o)
floor heating: Warmup (c/o)
robe and towels: pamuk & co. (c/o)
art: Minted (c/o)
art: photo from a friend
hooks: Ikea
hangers: Ikea
cabinet and counter top: custom
cabinet paint: Chantilly Lace
mirror: HomeSense
doors: Metrie Masonite Lincoln Park
door handle: Milan, Direct Door Hardware
floor tiles: Toronto
wall tiles: Toronto
shower system: Moen Arris
toilet paper holder: Bed Bath and Beyond
toilet: Costco
ceiling lights: Costco