It's Friday! I'm ending the week here on the blog with five inspiring living room spaces and sharing with you what I like and dislike about each space. I welcome your opinions too so feel free to comment below!
1. There are a few great aspects in this first space. The juxtaposition of old and new is attractive to me as is the awesome tufted white couch. I could to without the rug in this space though as I think it should be a touch larger.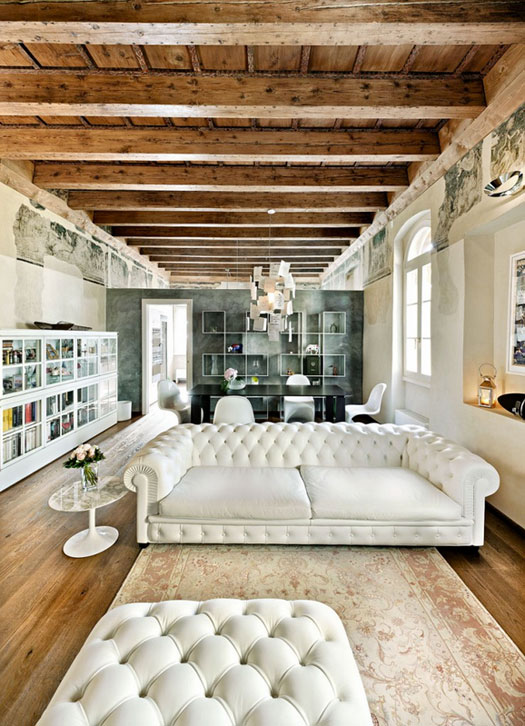 Le Case di Elixir via Desire to Inspire
2. In this corner at the Grace Hotel in Santorini, I love the white, white walls and the high curved ceiling. I also like the sculptural light fixture and sweet curved window. I would get rid of the mirror though and maybe add some art in its place.
3. I love almost everything in this third space. The layered art pieces leaning against the paneled wall and the comfortable side chair are very appealing. The substantial stone fireplace is a beautiful feature in the room and the variety of textures in the room draw me right in. I would probably opt for a different sculpture although I can't say that I completely dislike cupid.
via EclecChic
4. In this Douglas Friedman space I love the mix of textures – wood, lacquer, soft fabrics. I also like the clean lines of the high rectangular windows. I do wonder, though, how comfortable the side chair really is.
Douglas Friedman via The Style Files
5. In this last space I think the collection of white trophies, goblets, and vases is incredibly impressive. I love multiples and I am always curious to see what people collect. The layers of shades of white is also attractive to me. I do wonder if there are additional touches of blue throughout this space or if it is restricted to the striped carpet. I am a fan of a comfortable couch so it's a bit disappointing that there's no couch in this space (or as far as the photo shows).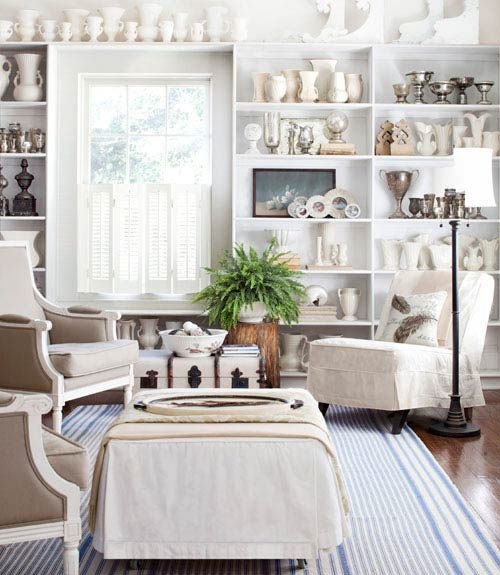 via The Painted Hive
Let me know what you think! And have a wonderful weekend! Happy Friday!