When I booked my May trip to Kingston, Ottawa, and Montebello a few months ago, I was not expecting to encounter floods and snowy weather. This, though, is exactly what happened.
I could have postponed the trip, but quite a bit of planning went into this trip, and trying to reschedule would have ended in an almost 6-month postponement. I was also mostly oblivious to the rainy weather. It was rain. I packed my rainboots. And my rain coat. And my umbrella.  Done. After a stay in Kingston, and a quick lunch with Giulia in Ottawa, I drove to Montebello, Quebec for an overnight vacation at the Fairmont Le Château Montebello – the world's largest log cabin! How amazing! I was so intrigued!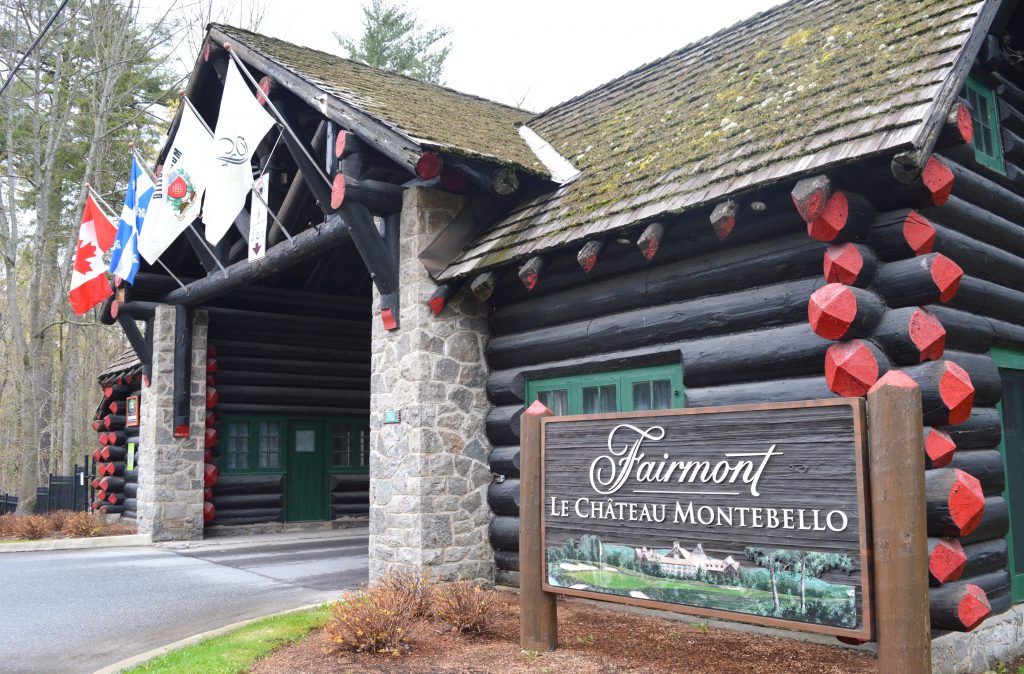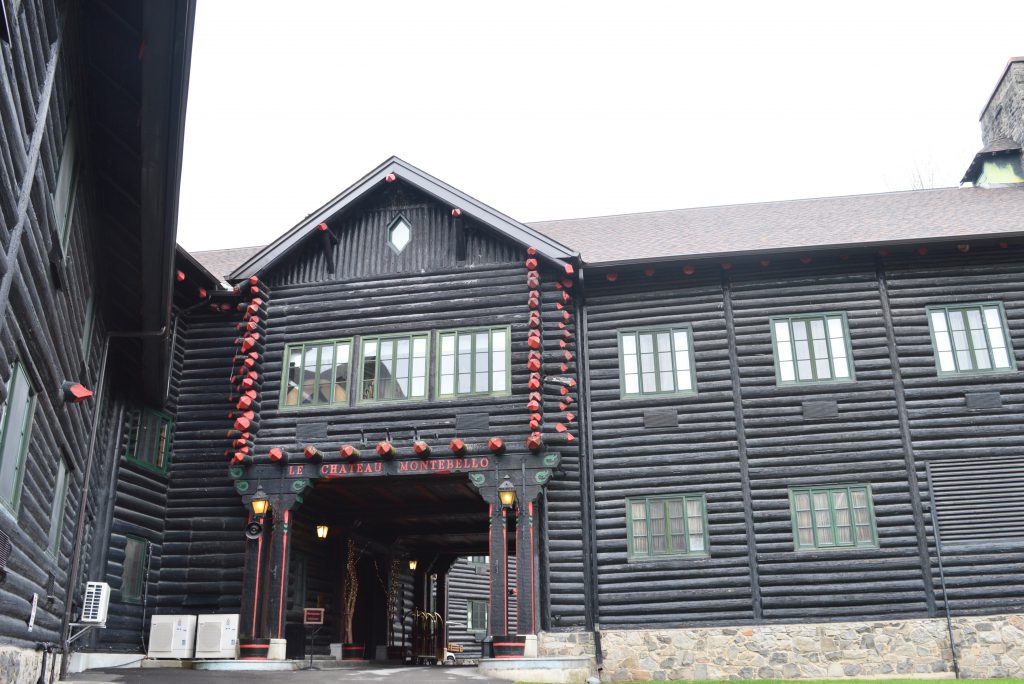 Here's a quick overview of my itinerary:
Day 1
Despite the rain, I was in full relaxation mode. I arrived to the Fairmont around 3pm, and after I had checked in to my log cabin room, I threw on my rain gear and headed out for a walk. The grounds were beautiful, and the forest trail was so peaceful. There were only a few people around (on account of the rain, most likely), so it was a really peaceful walk. I then had a swim in the pool, a long hot shower, and dinner at the Seigneurie Bar. I watched a bit of French news, and fell asleep under a cozy white duvet.
Day 2
The next day, I had an early morning swim, then enjoyed a generous buffet breakfast at the Aux Chantignoles. I departed earlier than I had originally anticipated because I was nervous about the flooding in Gatineau/Ottawa, and I also wanted to catch up with another friend in Ottawa on my way back to Waterloo.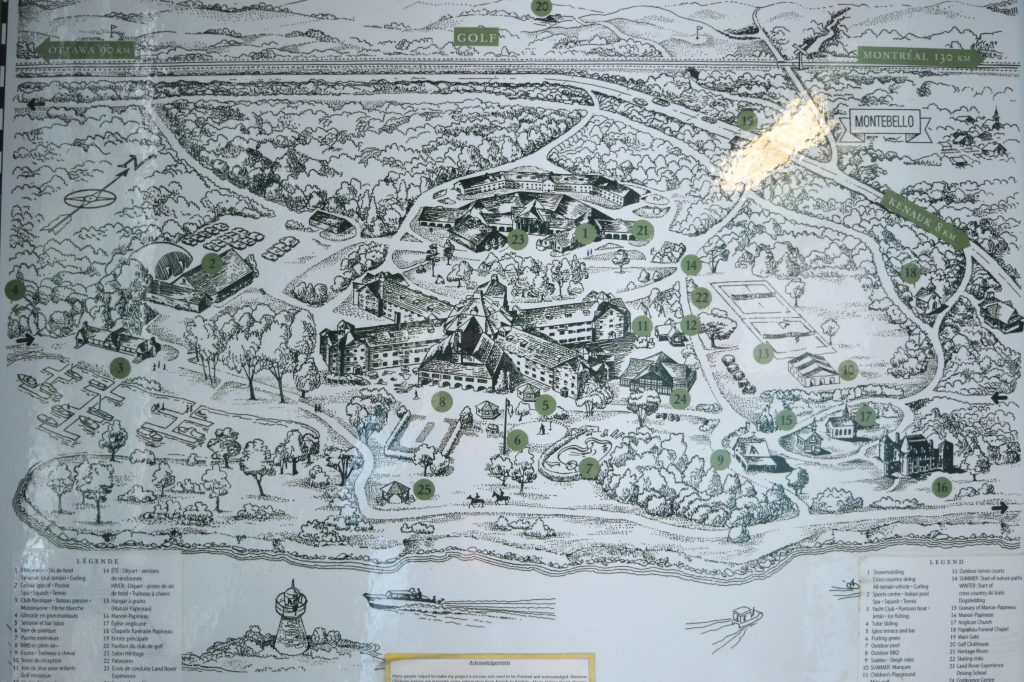 Now, about the hotel. Several Fairmont properties are full of history and charm. The Fairmont Le Chateau Montebello is no exception. It's the largest log cabin I've ever seen, let alone slept in (well, it's the world's largest afterall). It definitely has a classic chalet vibe with its winter scene art, wood beams, enormous fireplace, and logs. Lots and lots of logs! So beautiful! It's definitely a sight to see for anyone who is interested in architecture. (Note: some non-white photos below.)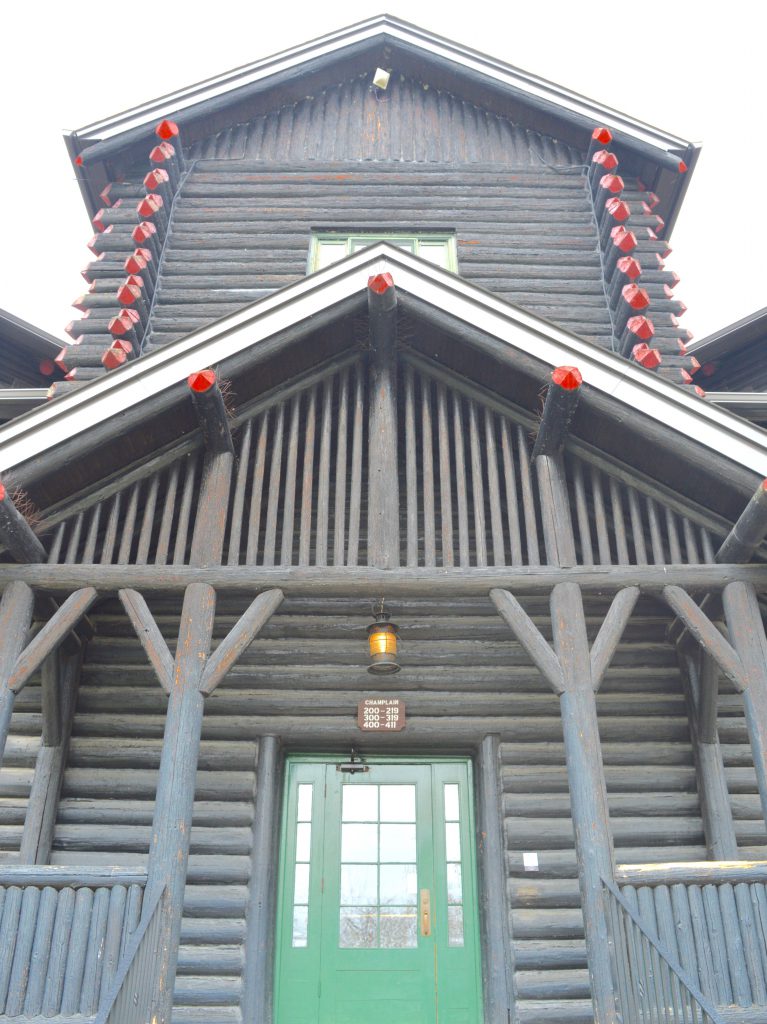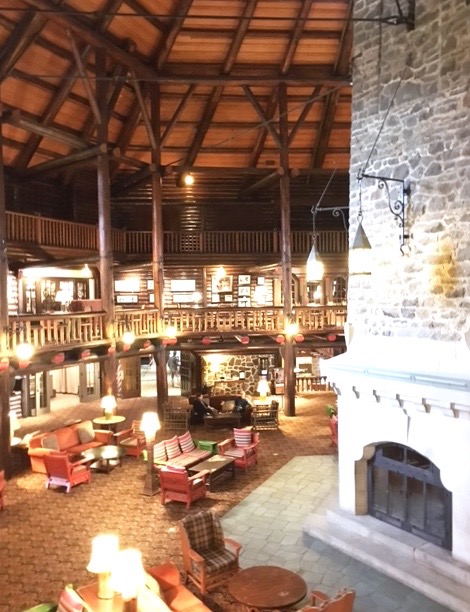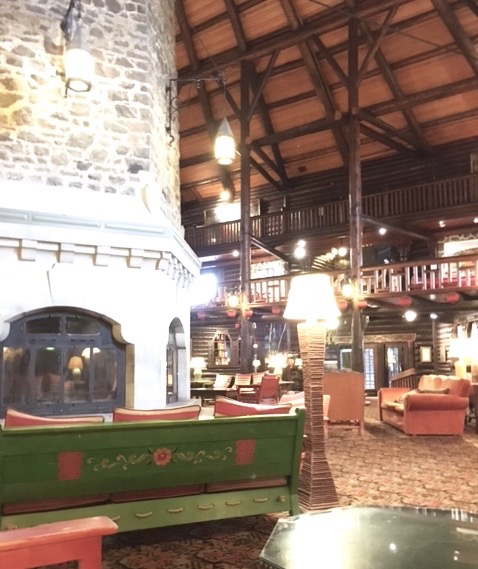 A few sort-of-blurry iPhone photos of the fireplace, but you get the idea! It's a grand chalet!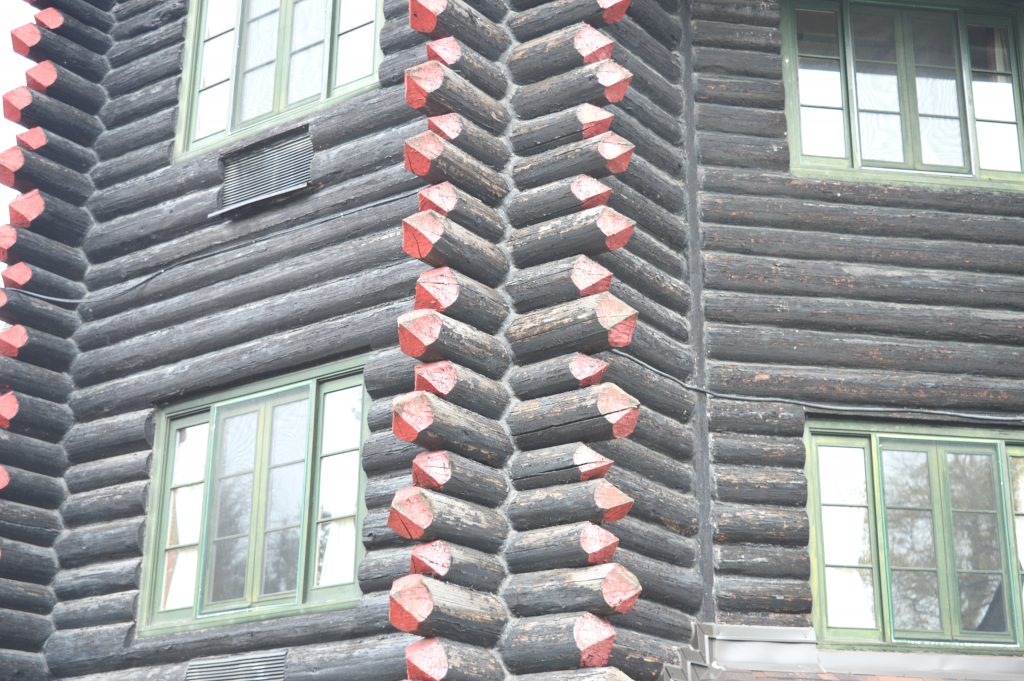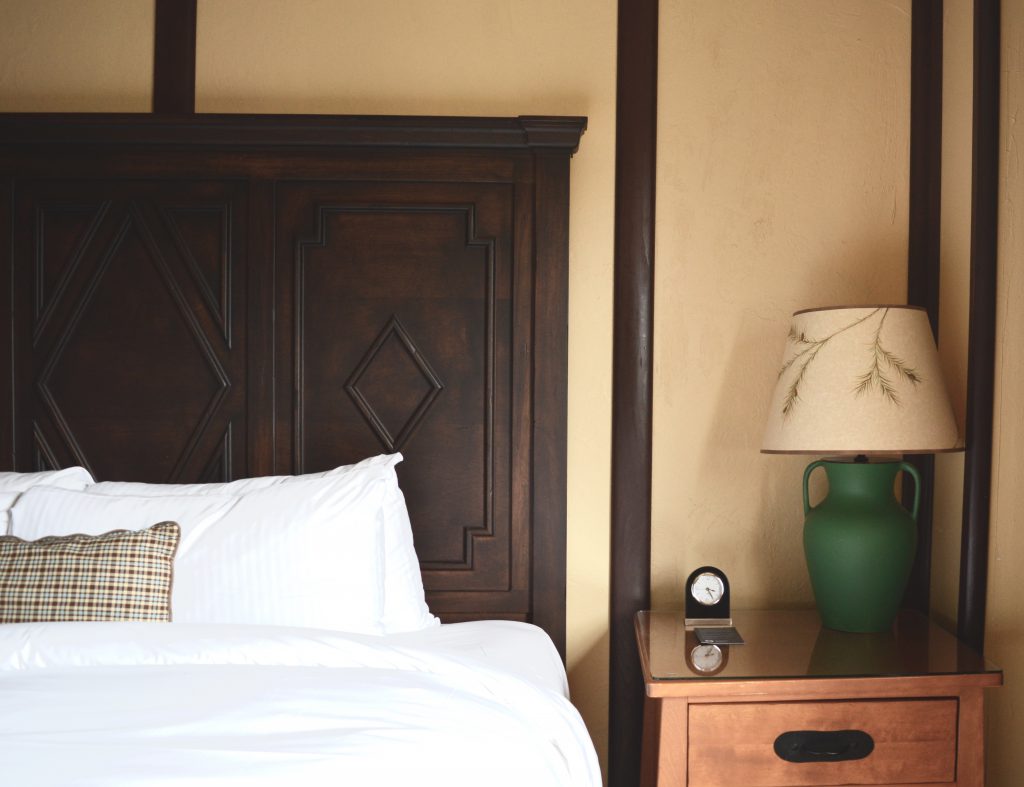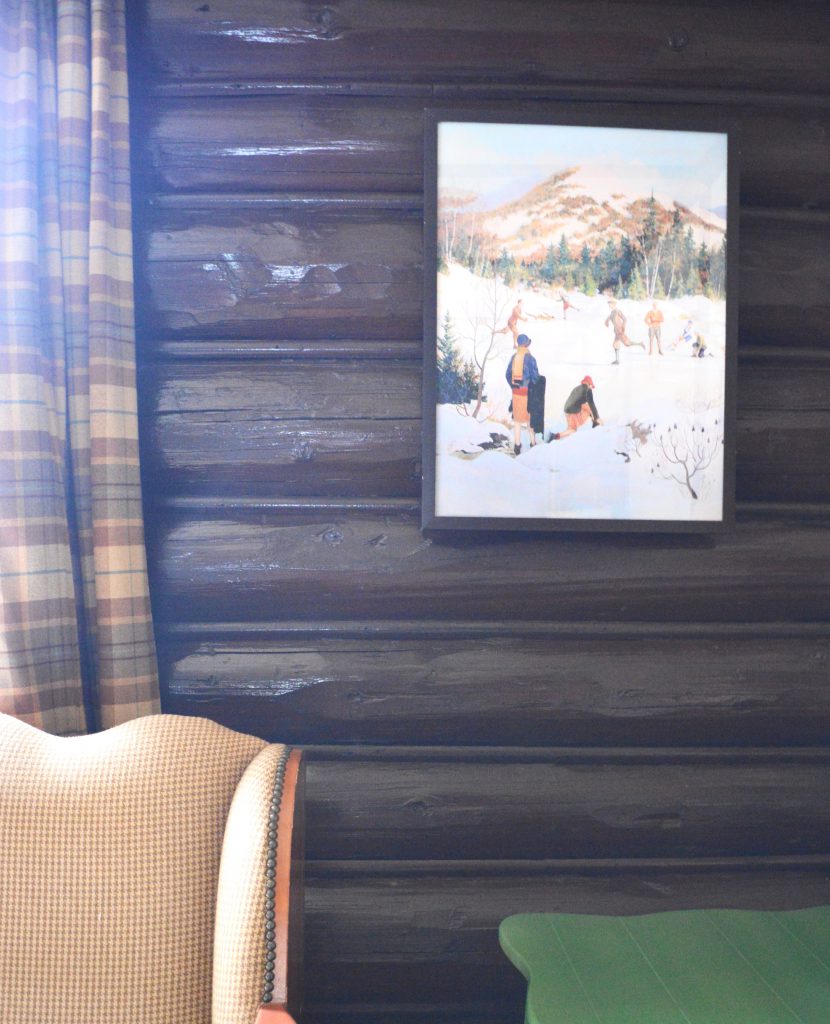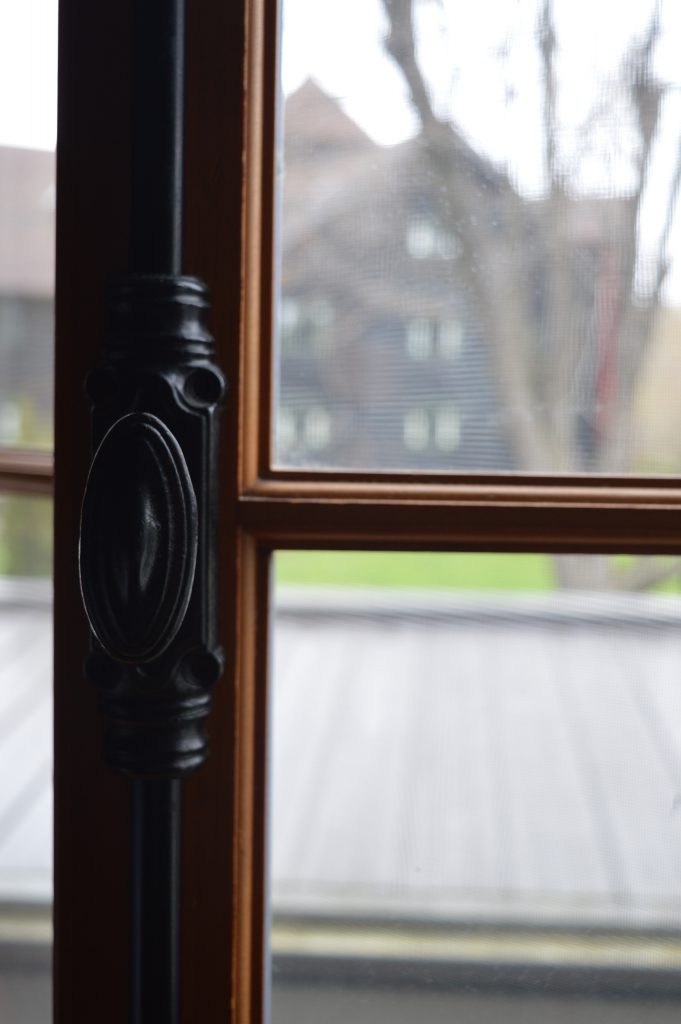 My room was cozy. My bed was ridiculously comfortable. The bathroom was smaller and more dated (but in keeping with the chalet theme) than I had anticipated, but the products smelled lovely, and I had everything I needed for a very comfortable stay. Yes, even with the miserable weather. I was warm and happy! I was even spoiled with maple syrup-infused treats. Merci beaucoup!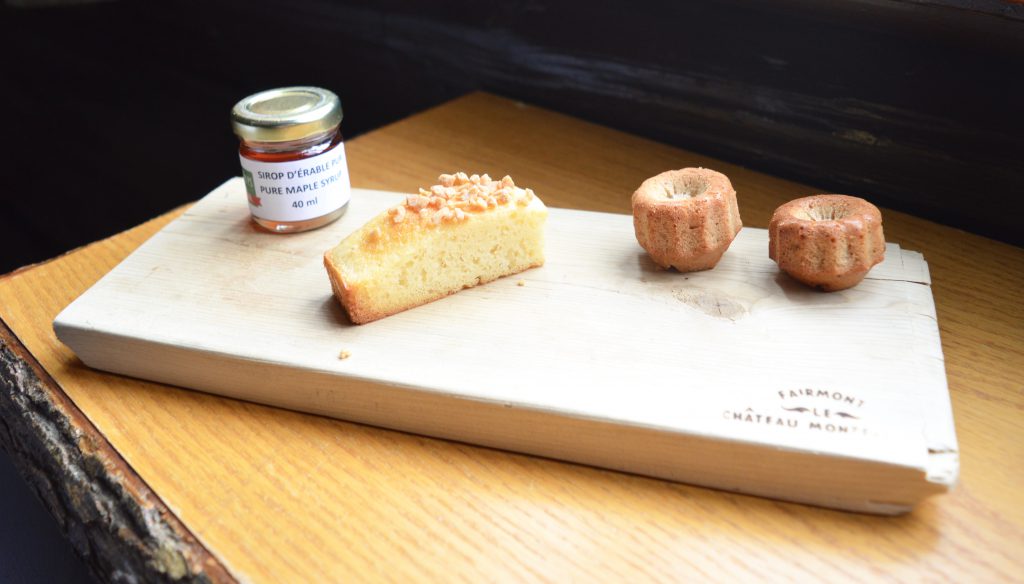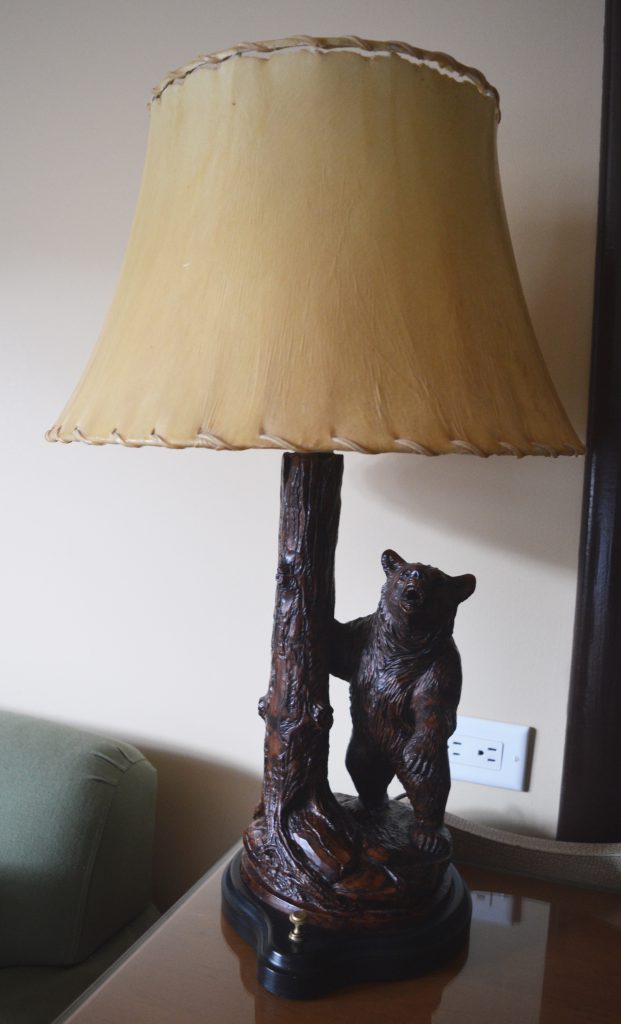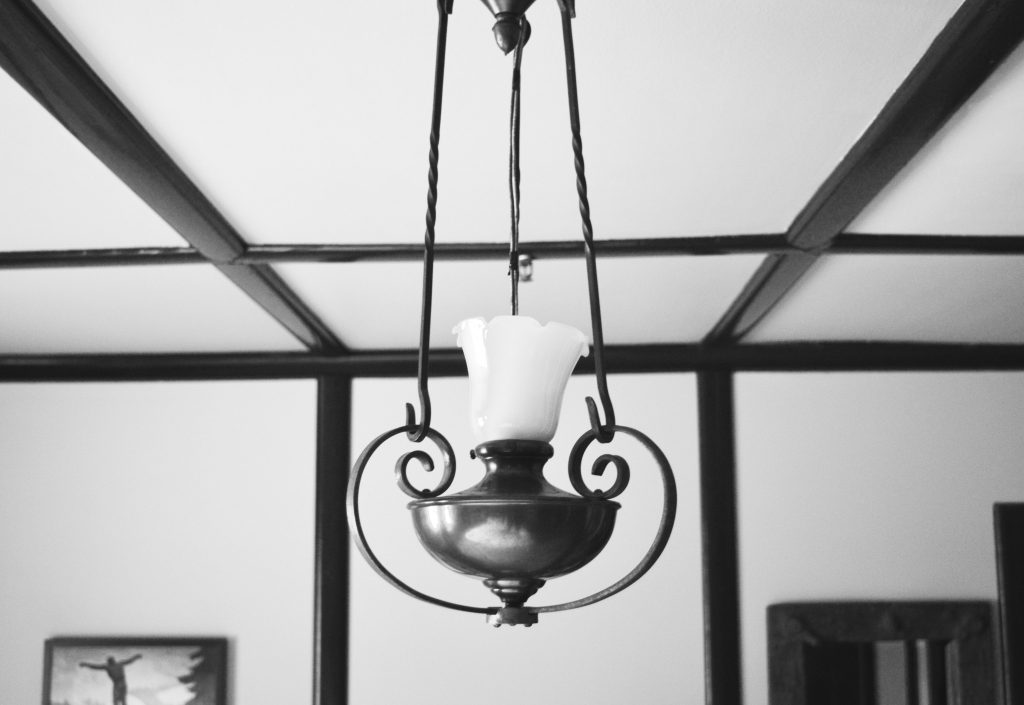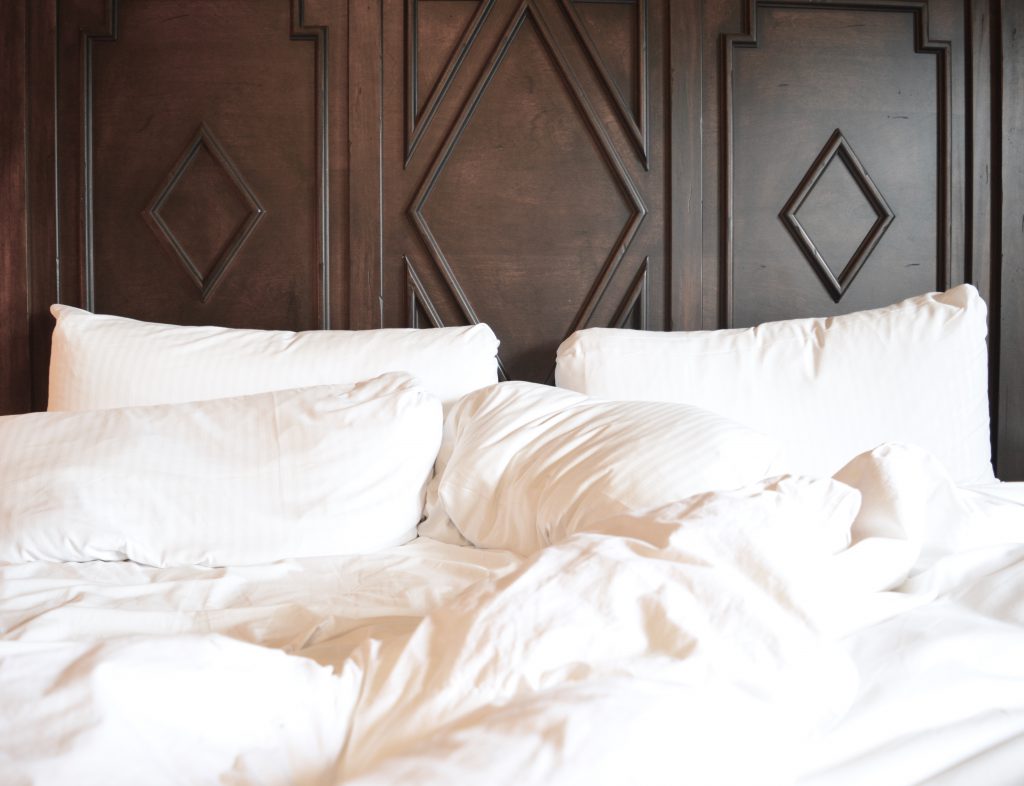 This was such a comfortable bed! I had a wonderful sleep!
For dinner on the night arrived, I opted for a classic meal of mint julep and poutine. Interesting combination, right? I was attracted to both items on the menu, so that's what I went for even if it seems a little strange. Both were delicious, and I'd happily order the same duo on a return visit. Oh – and the cheese is from Montebello, so how could I resist? Delicieux!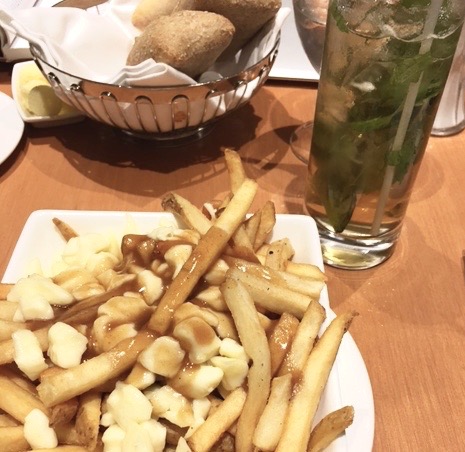 I filled up at the breakfast buffet on my second day. The croissants and maple-syrup crepes called my name. I did have some scrambled eggs, too, to balance out all the sweetness. Service was attentive, pleasant, and bilingual.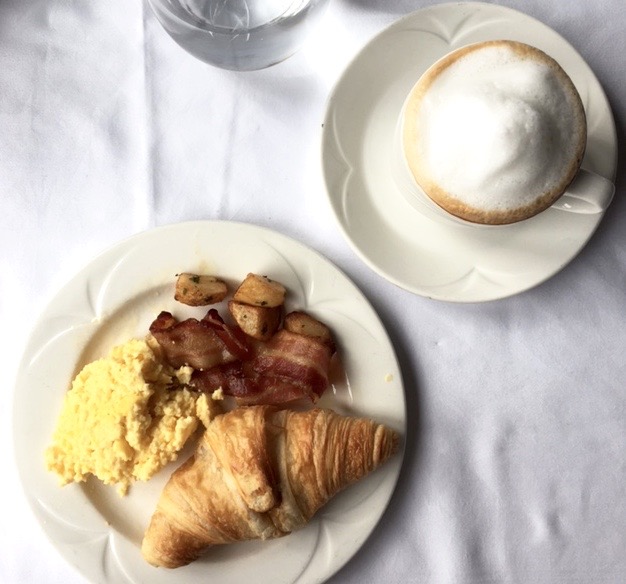 One of the absolute best things about my stay was swimming lengths in the pool. Montebello's pool is the largest indoor hotel pool in Canada, and I definitely enjoyed it. I swam later in the evening and early in the morning, so I avoided the crowds of families. If I did go at a busier time, I could have easily swam in the reserved lane. Great planning, Montebello!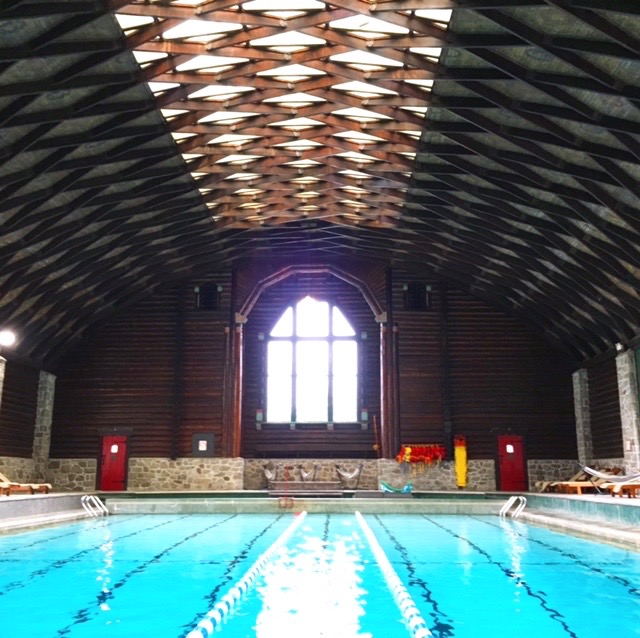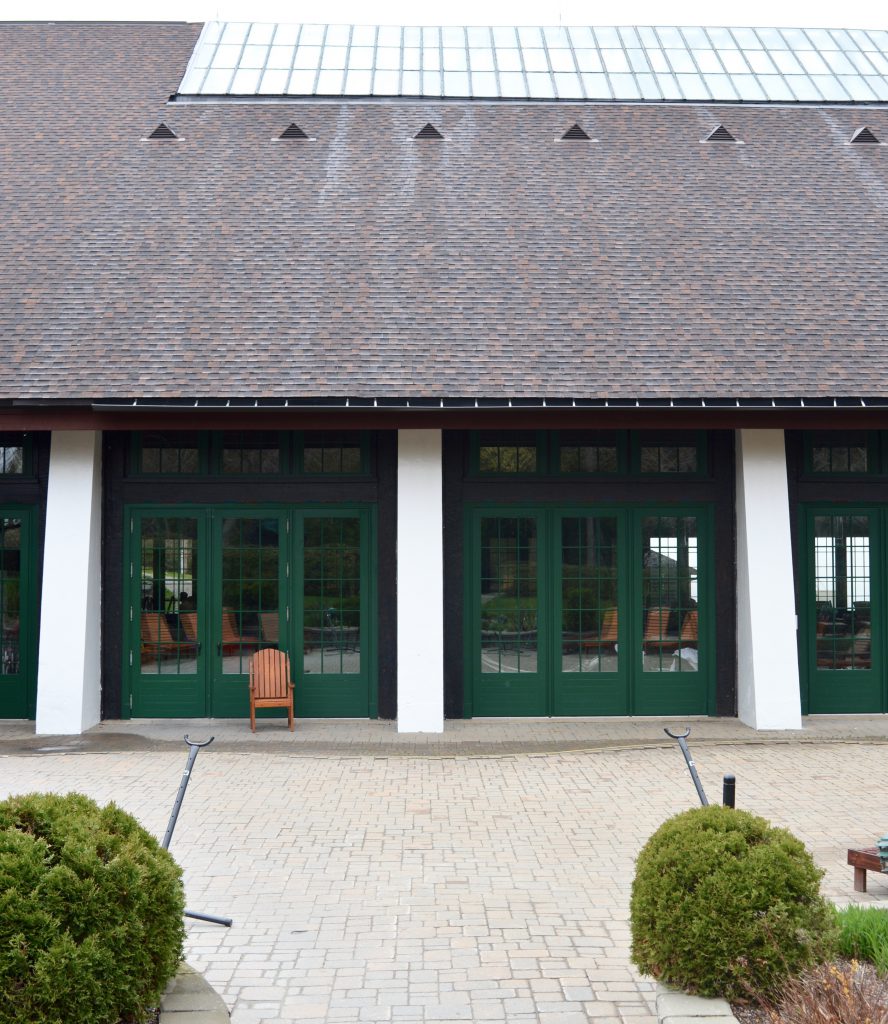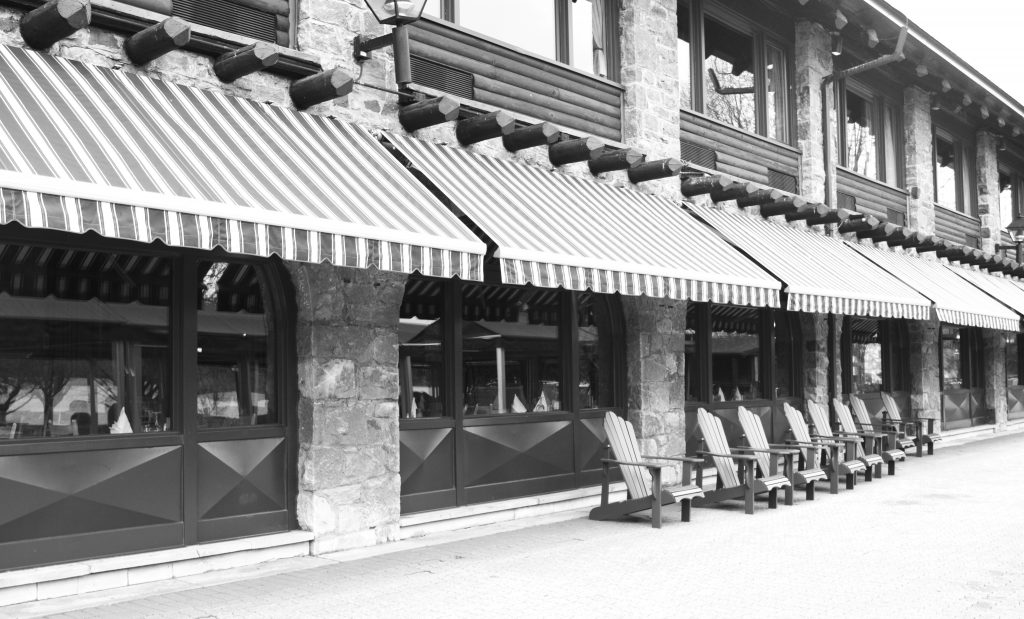 While I don't have a family, I would recommend the Montebello for a family vacation. There are a lot of activities to do year-round including horseback riding, trail walking, curling, indoor and outdoor swimming, and more. The property is beautiful, and the staff are friendly.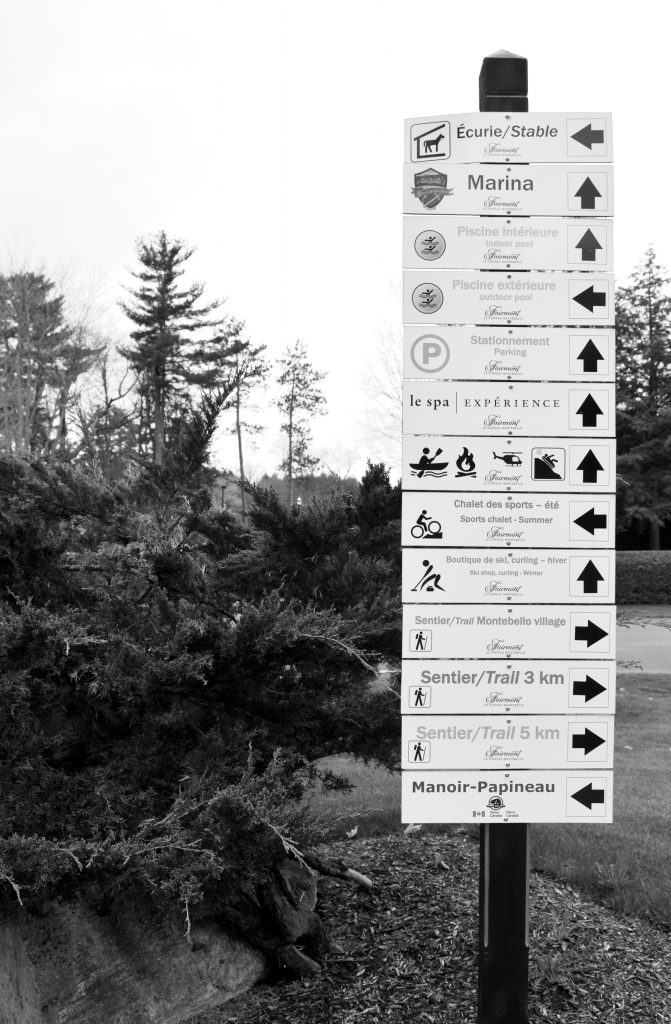 Another thing that I took advantage of during my stay was communicating en français! Living in Ontario, I rarely get an opportunity to speak French. I appreciated that the staff communicated in French with me rather than automatically switching to English.
Overall, I had a very relaxing weekend getaway, and I'd easily do it again. Since I'm not much of a snow-bunny, I'd likely make a return trip in the summer to enjoy the outdoor pool and sunny views of the Ottawa River.  If snow is your thing, then definitely plan a winter escape as the log cabin must be beautiful after a dusting of snow.
I don't want to end this post without touching on the lesser-luxurious side of my vacation.
On each day of my visit, I threw on my rain gear and walked out of the resort area to explore the little town of Montebello. Here is where I was really hit with the reality of the recent floods.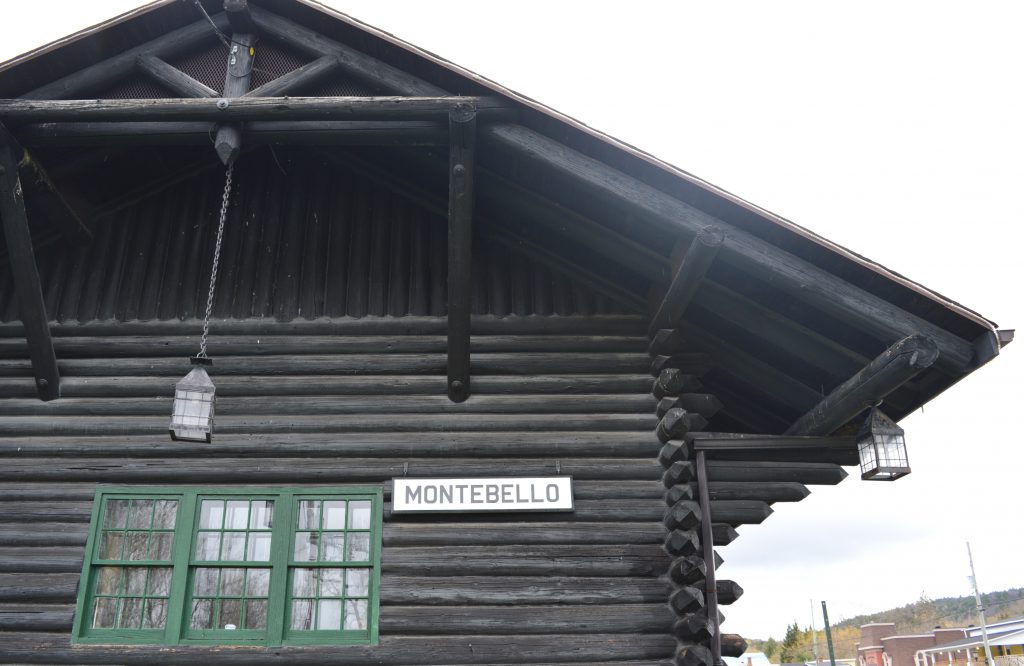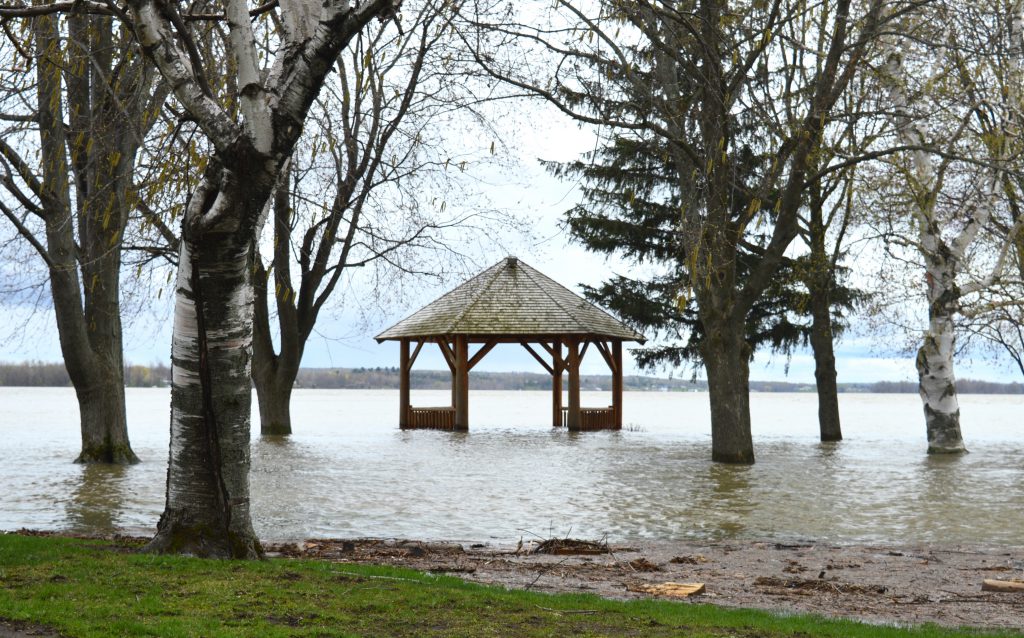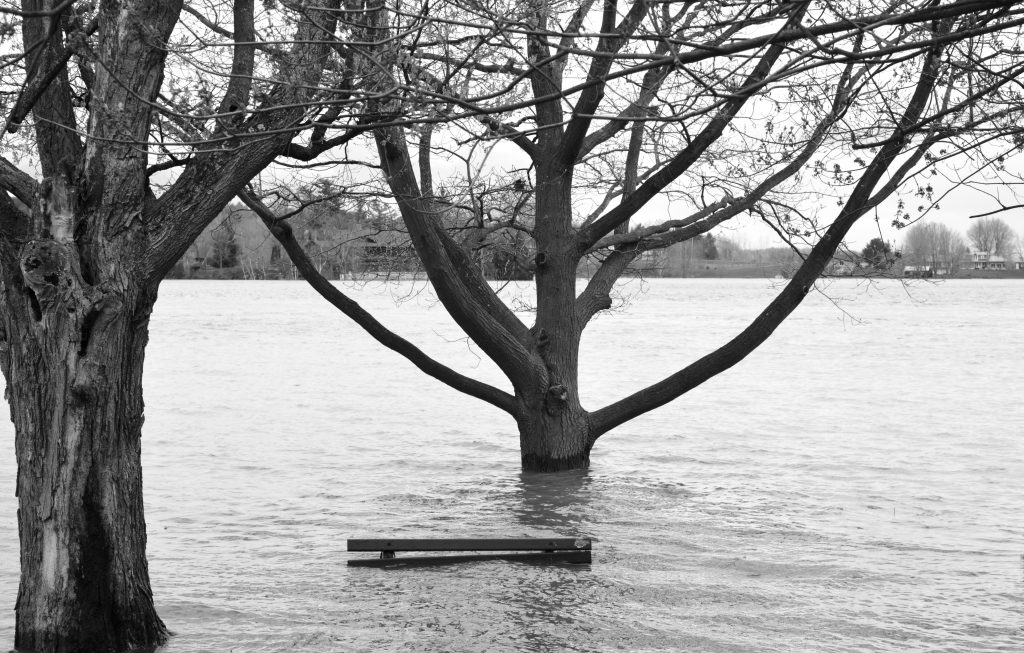 The two photos above are from the Fairmont Le Chateau Montebello's property. Look how buried that bench is. Awful.
I know Montebello may not have been hit as hard as other parts of the region, but I saw sandbags surrounding homes and high water levels around the Fairmont Montebello and the town. In fact, the Gatineau/Ottawa highway that I needed to take was closed due to flooding, and even on the re-routed journey, I saw high water levels on either side of roads. Not good.
I am grateful that my journey went smoothly and that I stayed safe and warm while I was in Quebec. I know others in the region experienced plenty of stress. As such, when I came home, I made a donation to the Red Cross – specifically to the Spring Floods Relief – Quebec Designation. This is a great way to support a community in need. Clean-up is ongoing, and I encourage you to contribute, too.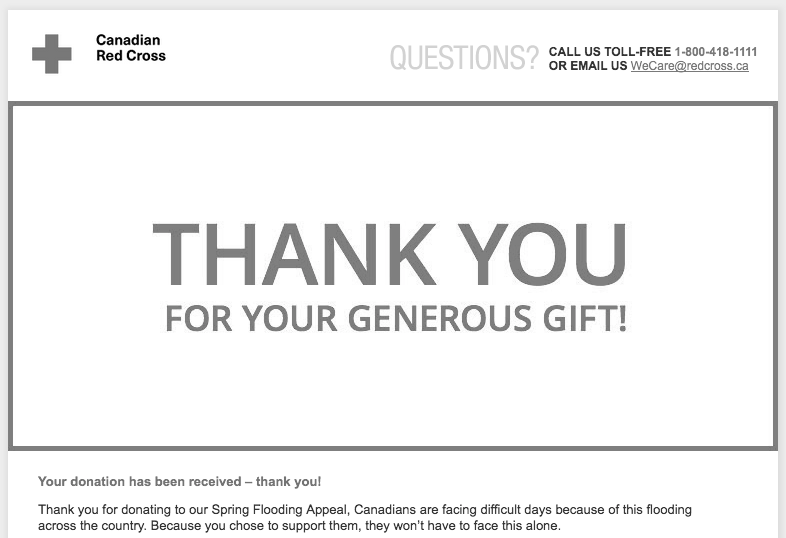 All in all, I had quite the adventure from Waterloo, ON to Montebello, QC. The drive from/to Waterloo was pleasant and relatively traffic-free. The Fairmont Le Chateau Montebello was a perfect chalet immersion complete with delicacies from the region. I'm fortunate that I was able to explore a new part of Canada last weekend, and I would certainly recommend all travel-enthusiasts readers to do the same!
Many thanks to the Fairmont Le Chateau Montebello and J.W. for sponsoring my stay. All opinions and photos are my own.
Save
Save
Save
Save
Save
Save
Save
Save
Save
Save
Save
Save
Save
Save