I have been spending summers (or part of summers) in Florida since I was 7 years old. Most of this time has been lounging around the beach and pool in Madeira Beach, but in recent years, I've enjoyed a vacation-in-a-vacation at The Ritz Carlton Sarasota. In brief, it's pure luxury. Not only is every detail of the hotel and its offerings well-considered, but the staff at this hotel are so kind and welcoming. The people are definitely what have helped me enjoy my stay each year.
I was in Florida once again with my friend Shannon, and while we love living a retiree-way-of-life in Madeira Beach, we love to get pampered at the Ritz Sarasota, too. We began this visit with a visit to the spa, which was a special treat from the Ritz. Shannon opted for a facial where her skin was treated with the best of the best serums and creams.
I was treated to the Sarasota Touch of Honey. During this 80-minute treatment, after an initial exfoliation of my feet, the massage therapist did reflexology whereby she applied pressure to specific points on my feet to heal aches and pains. In reflexology, pressure points on the feet correspond to organs and areas of the entire body. How did this turn out? Well, I was skeptical at first, if I'm being honest. But then when I could feel tension in my feet and the therapist trying to work out the pains, other areas of my body then acted up. I'm not making this up! At one point, my stomach was making all sorts of gurgling, digestive sounds. At another point, my mind seemed to just open up and become free and clear. If you've never had reflexology, I know this sounds kooky, but I'm sharing the truth about these reactions.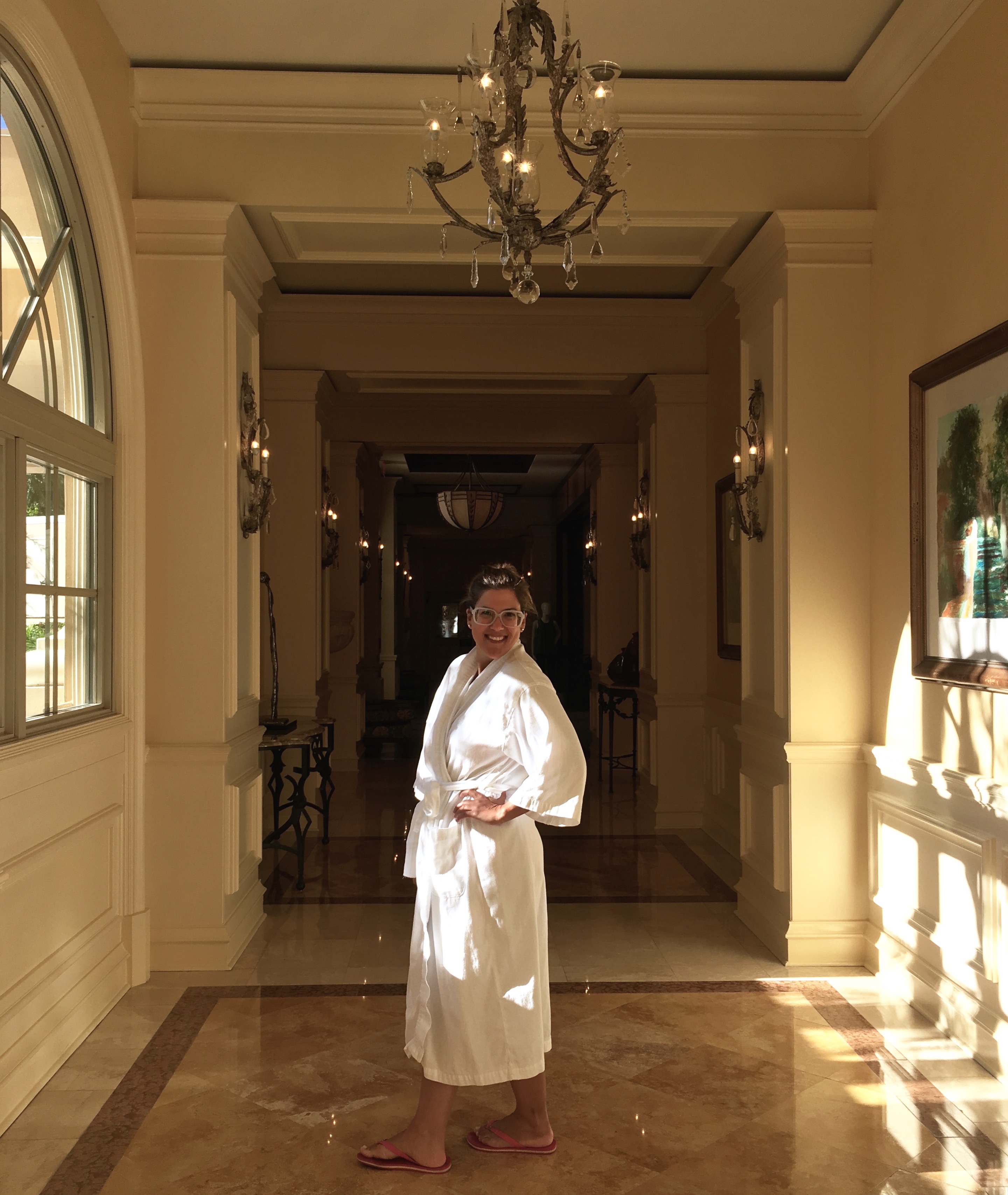 I'm all set for my 9am spa call!
After the reflexology, the therapist moved to my upper body and gave me a head, neck, and shoulder massage. It felt amazing!
Post-treatment, the therapist showed me the reflexology map, and gave me some feedback about what she experienced while she was working on my feet. She confirmed that the areas that were tight were also the areas where I was feeling reactions (e.g., gut, mind). Overall, I was glad to learn, my body is pretty balanced. Phew. Let's hope it continues to be!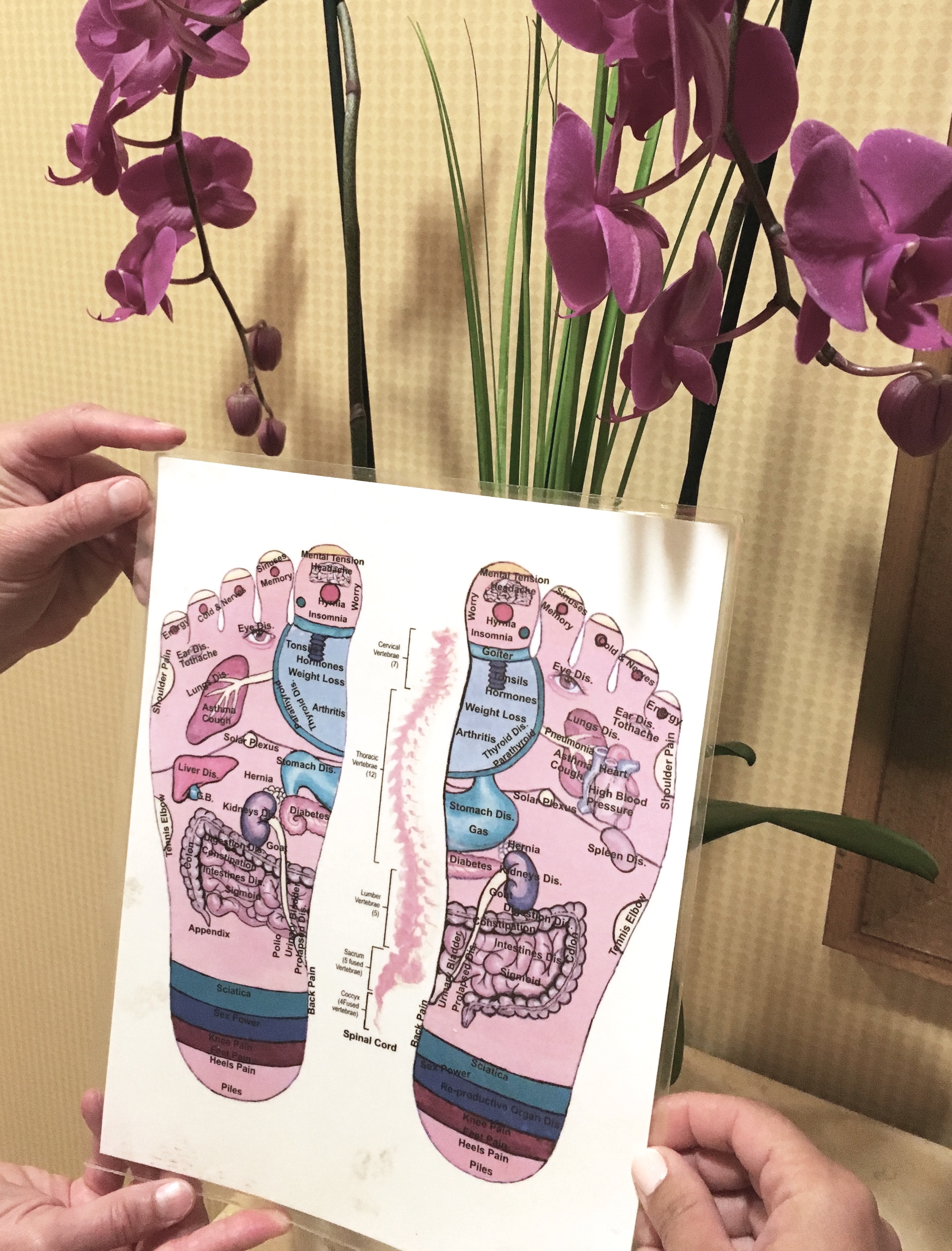 digestion, mental tension, and sinuses were on my reflexology menu
After the spa, we enjoyed lazy hours on end at the hotel's beach club and at the main hotel pool.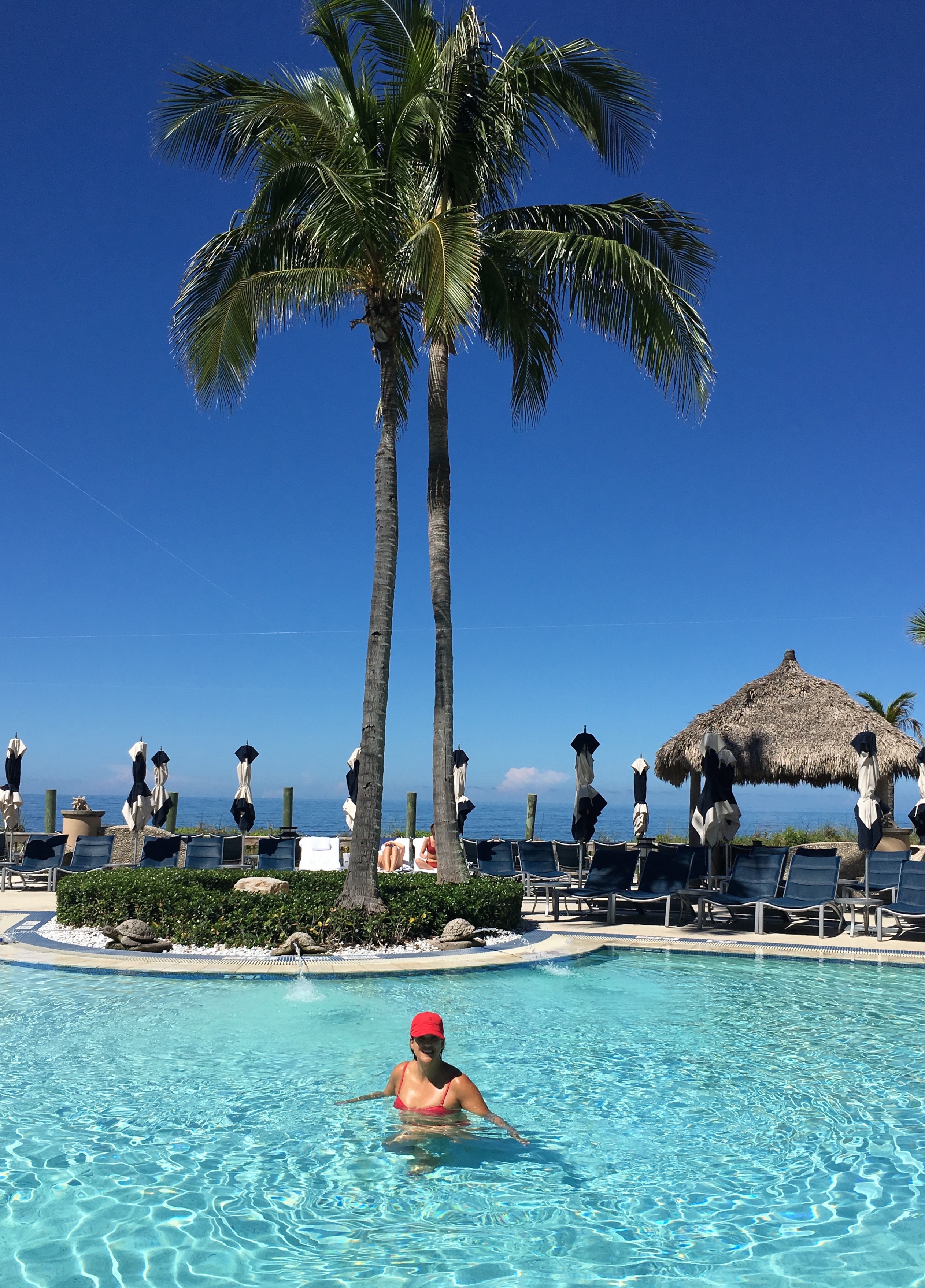 I know there's not much white in this photo, but the shades of blue are hard to resist!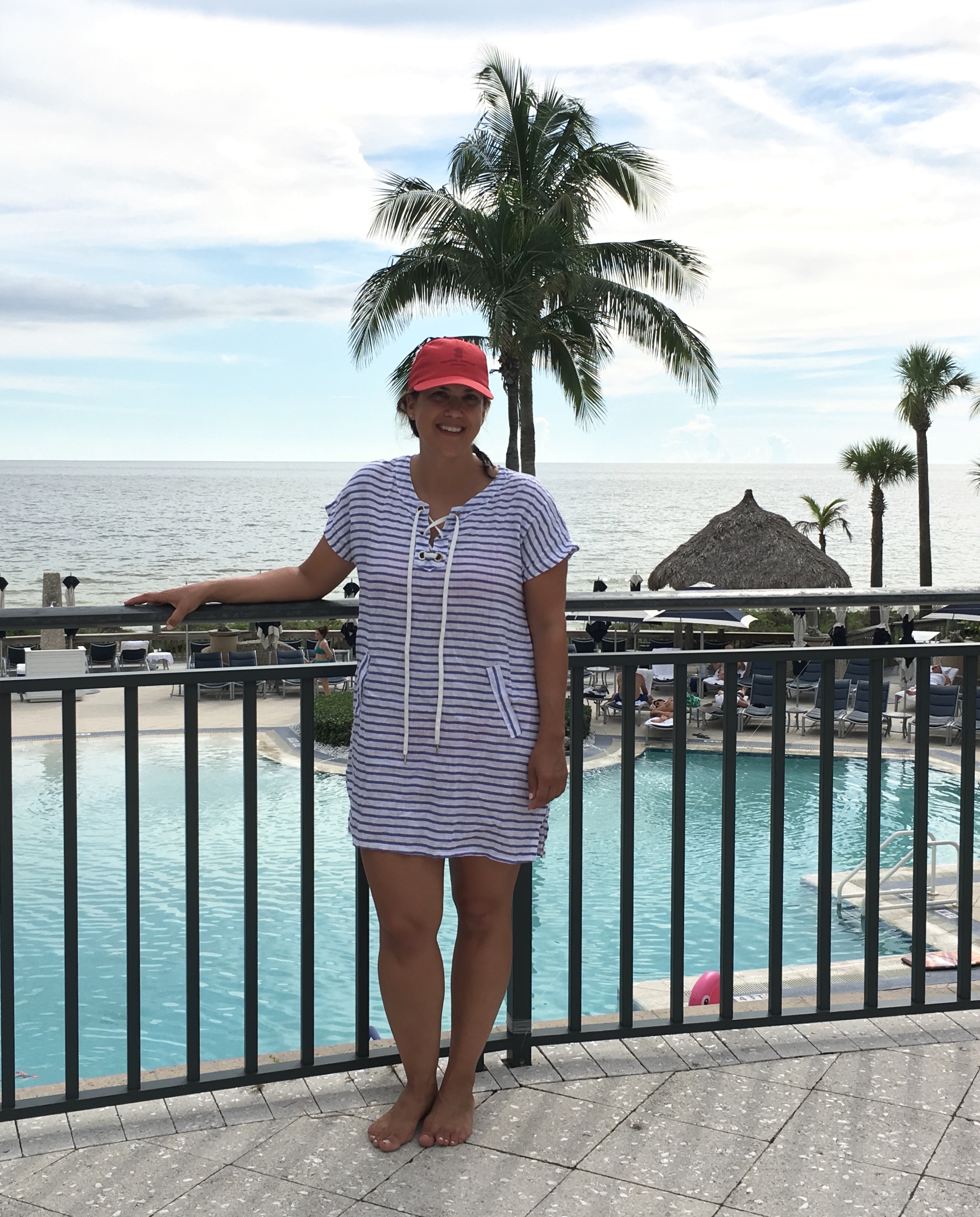 there aren't many outfit changes on my Florida vacations
The beach club restaurant – Ridley's Porch – was recently renovated, and since it is filled with white, I had to share it here.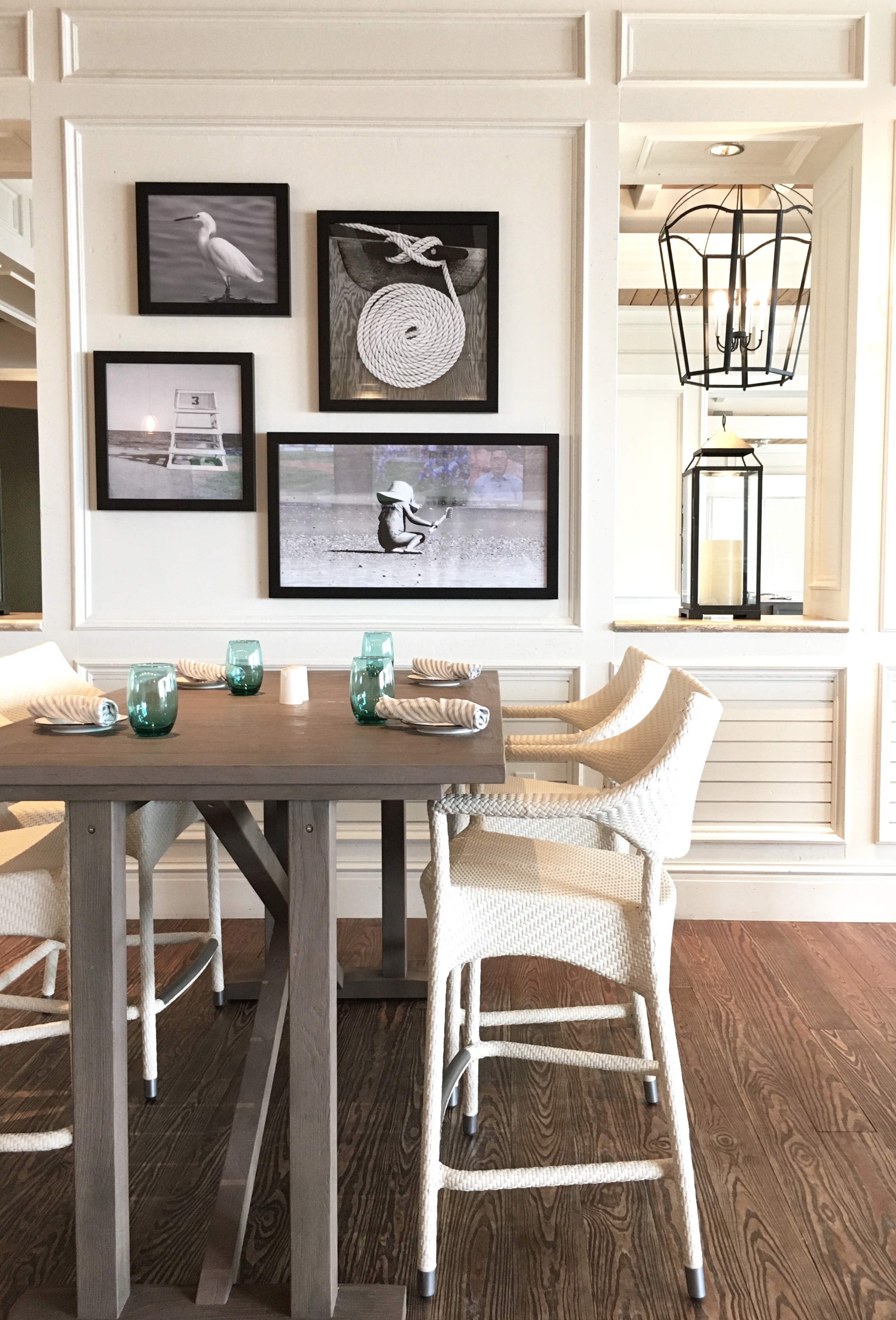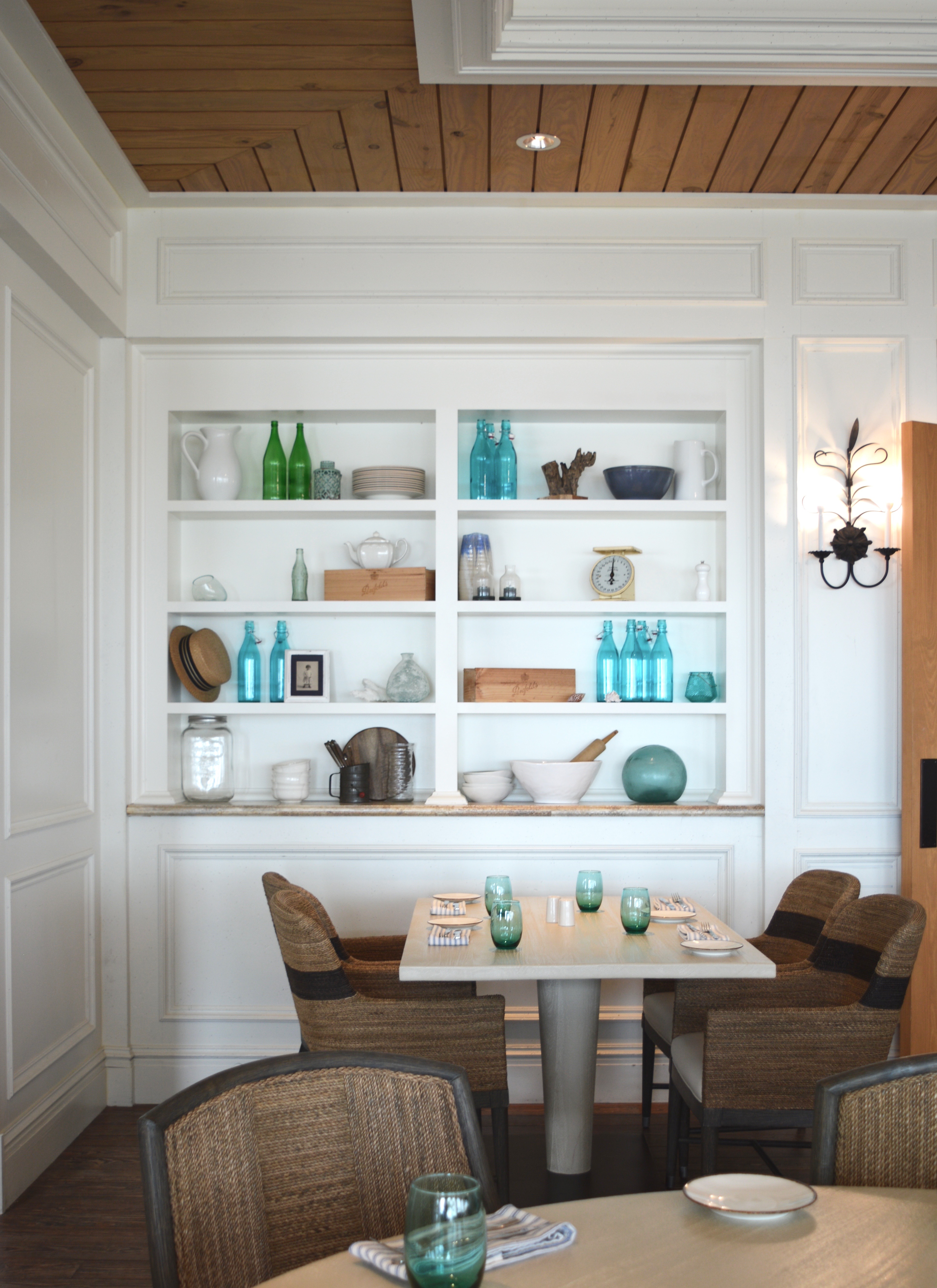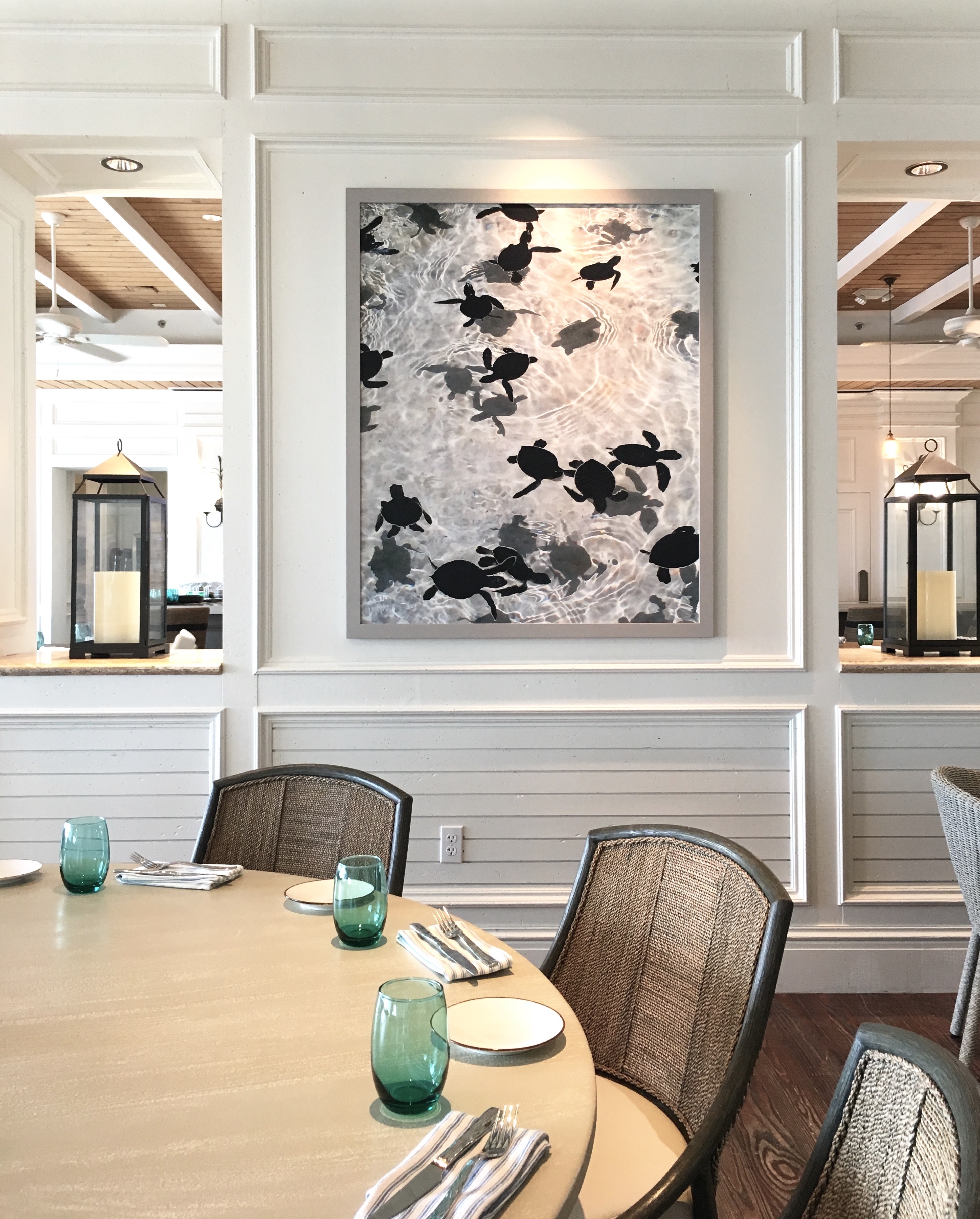 Beyond the outdoors, our hotel room was as it has been in the past – spacious and with the most glorious beds! We spoiled ourselves with room service breakfast on our balcony, too. In our Ritz Carlton robes, of course.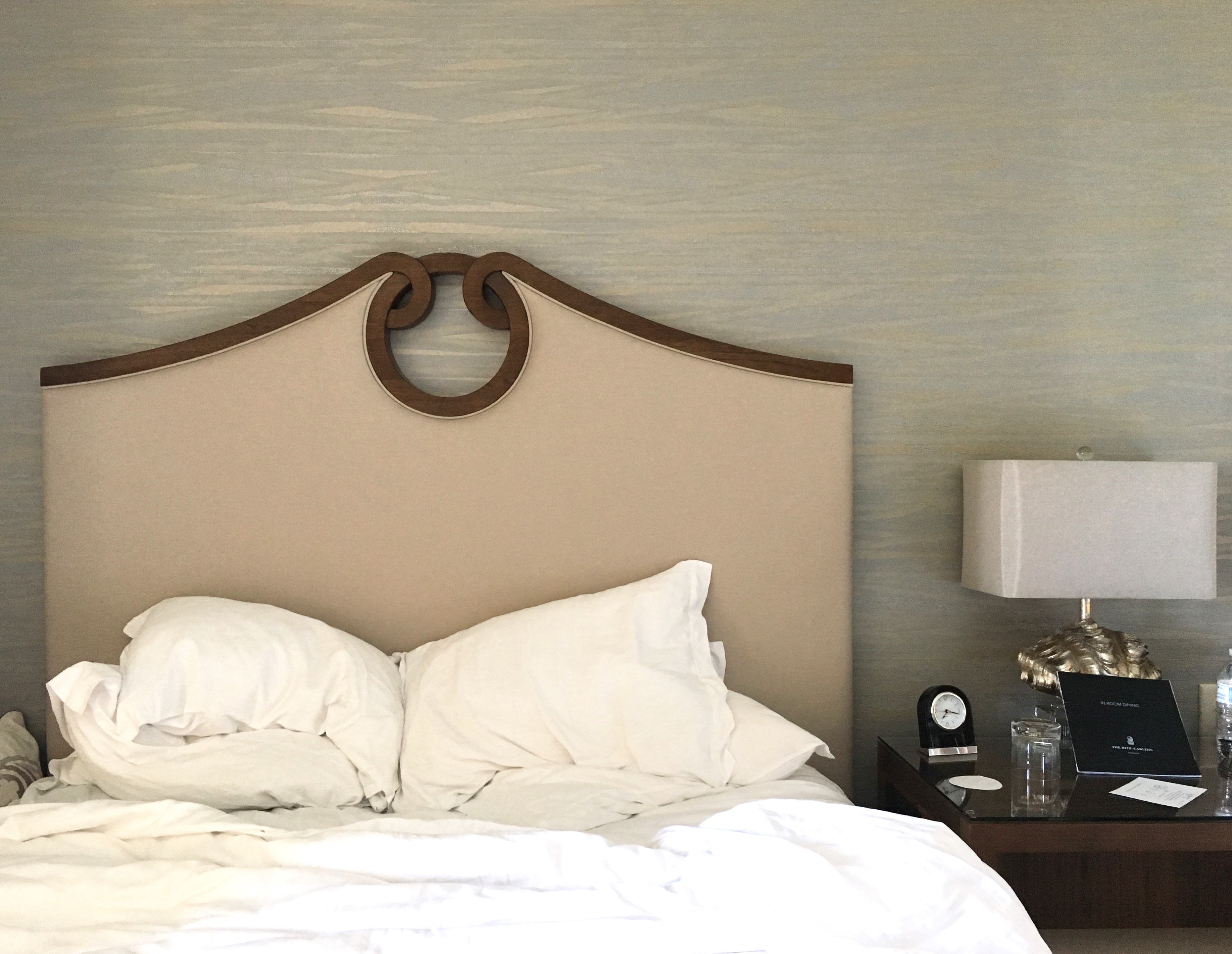 It was easy to fall asleep in this luxurious bed.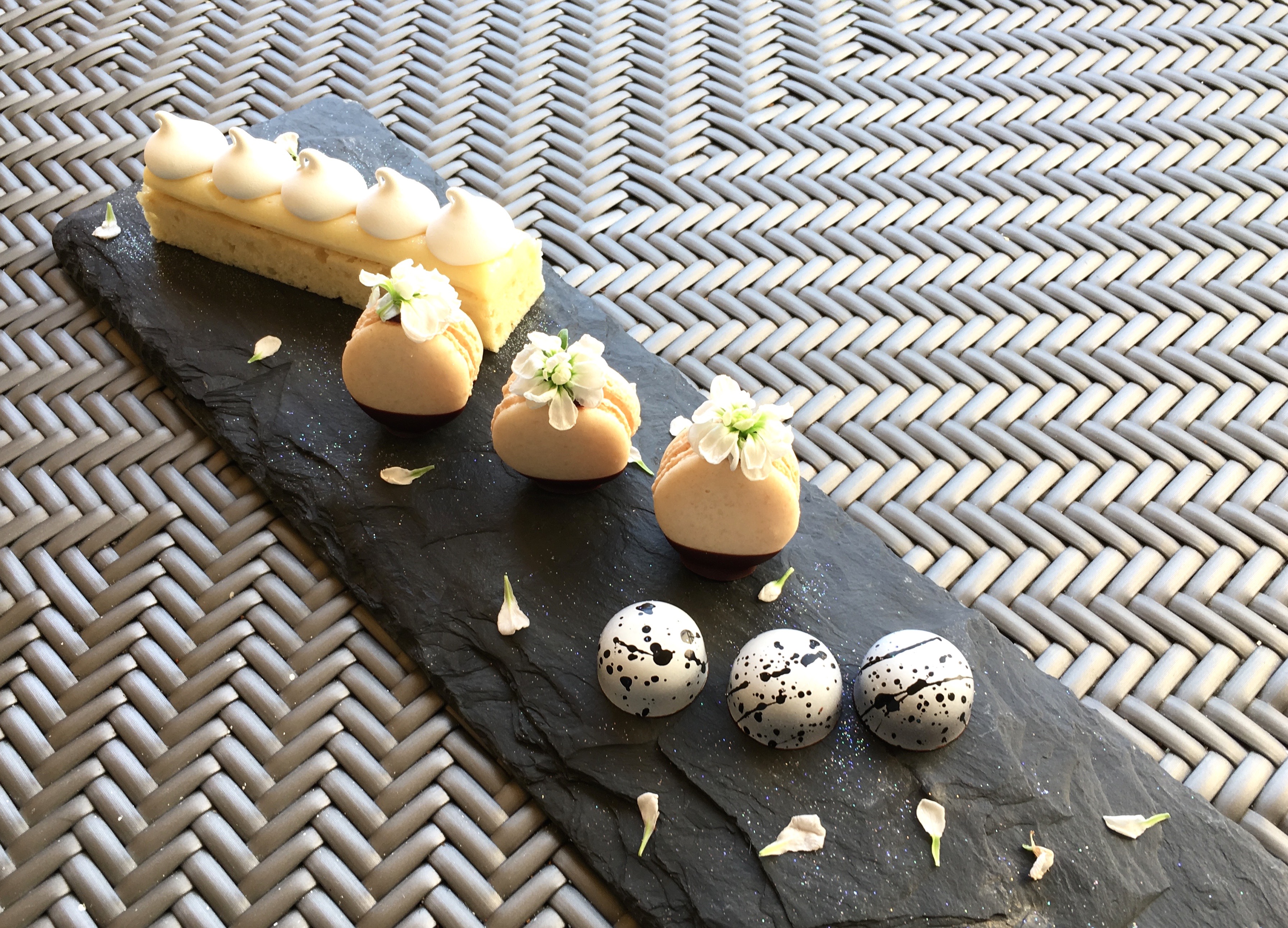 Thanks for the sweet white treats, Ritz Sarasota!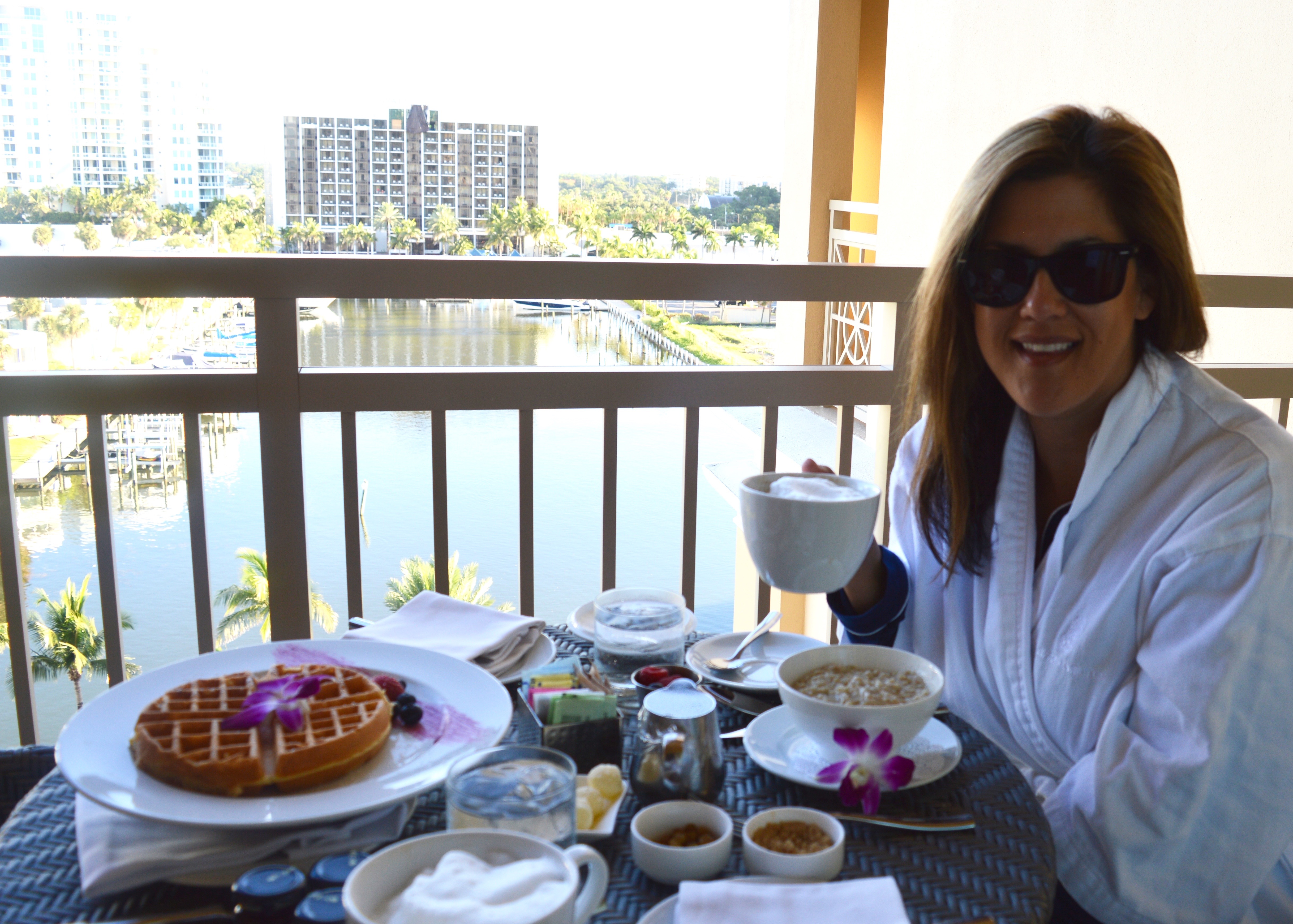 Breakfast on the balcony…don't mind if I do!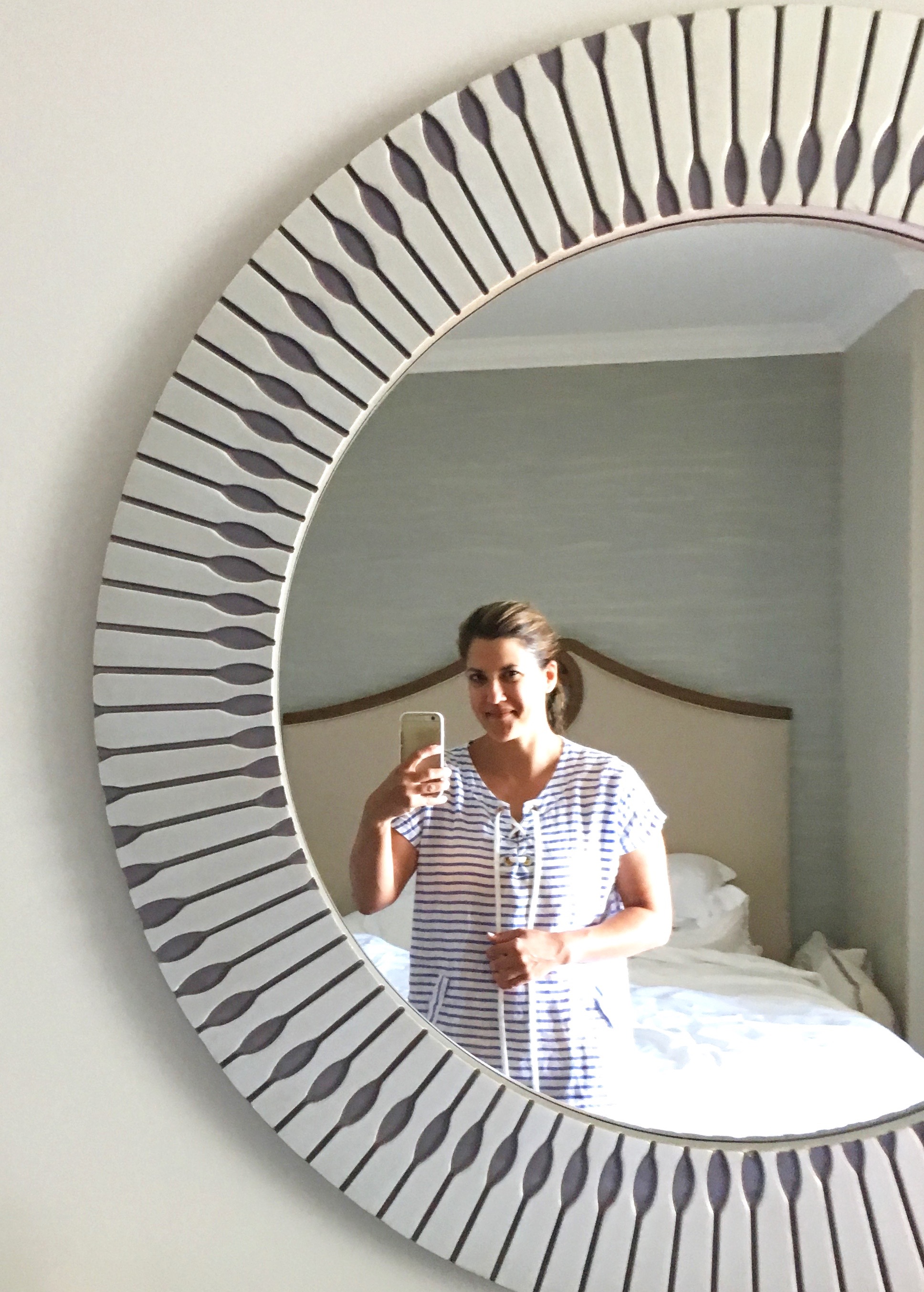 light and bright in the room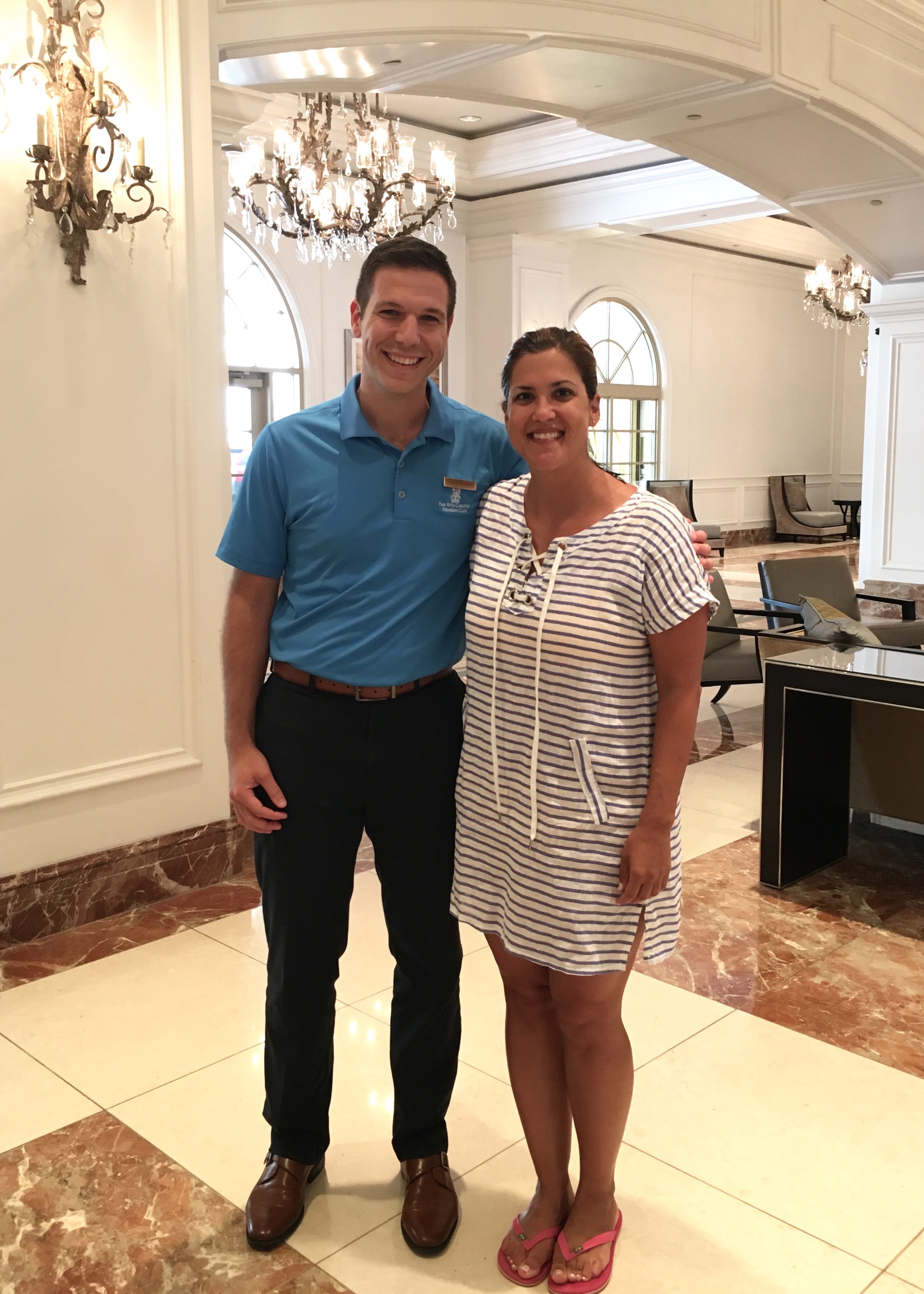 I don't usually meet brand partners while I'm wearing a bathing suit, but I also don't bring many outfit options to Florida!
Because I've made repeat visits to The Ritz Carlton Sarasota, you probably already know that I enjoy it, I recommend it, and I will return.
Many thanks to Matthew and Kristine for arranging our visit.
This is a sponsored post. All opinions are my own. Read about my 2017 visit and my 2016 visit to The Ritz Carlton Sarasota.