Hi all. Was the weekend a good one? Did you cook up a storm? How do you feel about getting creative this Monday morning? Good. I'm glad. Have I got a contest for you!

I wrote about Panasonic's induction products last week and this week I'm challenging you (it's an easy challenge, I swear) to create your own Panasonic kitchen style inspiration board using the Panasonic induction cooktop and convection oven.
Here's my inspiration board to serve an example:
White Cabana's #PanasonicStyle
My inspiration board includes items that are smooth, sleek, and highly functional – like the Panasonic appliances, the Kaiser Idell light, and the Bialetti coffee maker. I'm also inspired by natural sunshine, so this board includes gorgeous large windows. The fresh flowers promise the arrival of springtime and growth. The fresh squid ink pasta and black and white art show the beauty that comes from making things by hand.
But enough about my inspiration…it's your turn!
What would you include in your #PanasonicStyle kitchen inspiration board? Go ahead, create one. When you're done with your board, email it to me along with your contact info and I'll add it to the #PanasonicStyle Pinterest board. That's all you have to do to enter the contest!
So, you probably want to know what's up for grabs, right? This is your chance to win…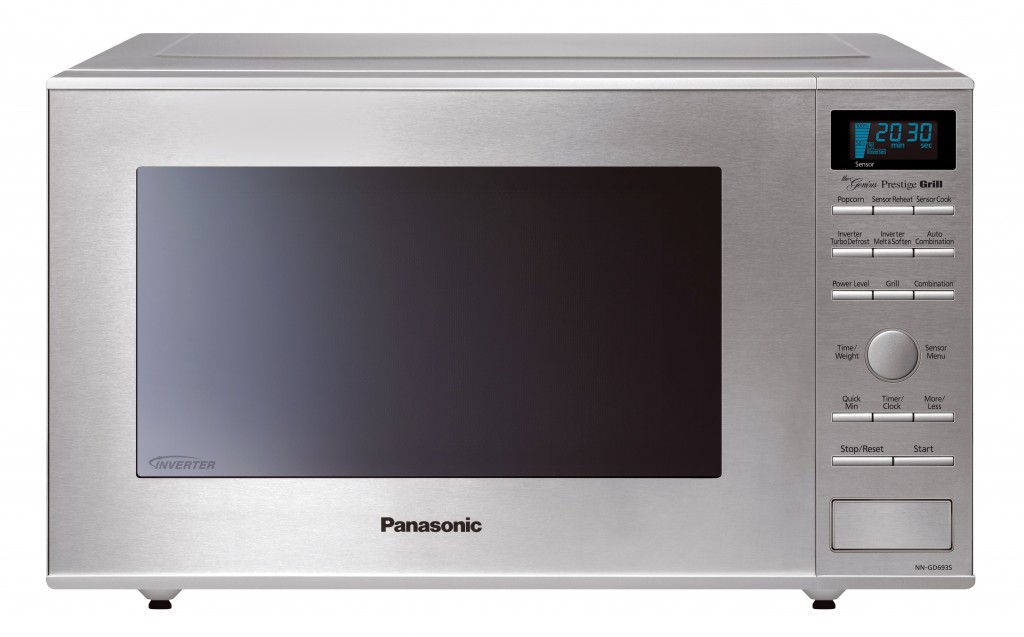 A Panasonic Mid-Size Genius Inverter Microwave! The winner will receive the microwave as well as the trim kit (so that you can mount the microwave above the stove/over the counter). This prize is a biggie – valued at $470! Um, yeah. I told you it was going to be worth your pinning efforts! Who doesn't want a new microwave, right?
To recap:
1. Create an inspiration board (i.e., collage) featuring the Panasonic induction cooktop or convection oven.
2. Email me your board – whitecabana [at] gmail [dot] com
3. The contest deadline is Friday February 21st, 2014 and it's open to Canadian residents (over the age of 18, excluding Quebec).
Your popcorn kernels will thank you for entering and so will I!
Many thanks to Panasonic for sponsoring this giveaway and related posts.