A little while ago, I shared that I was in the market for a new coffee maker. I was fortunate to work with the fine folks at Bed Bath & Beyond to get the best-for-my-needs coffee machine. Here's what happened since I shared my coffee maker options with you…
After reading about the machines online, talking to friends about their machines, I headed on over to Waterloo's Bed Bath & Beyond one evening to make the purchase. I could have easily bought a machine online, but I thought it best to get the full Bed Bath & Beyond experience.
I had intended to buy KitchenAid's 12-cup coffee maker (mostly because it was white, white, white!), but when I saw the options in store, the Cuisinart 12-cup coffee maker caught my eye. I hadn't seen this one on the Canadian Bed Bath & Beyond site, so it kind of threw my whole decision off. I kept thinking about my sister's long-lasting Cuisinart machine, and I really liked the buttons and small time display on this machine over the large, round display on the KitchenAid.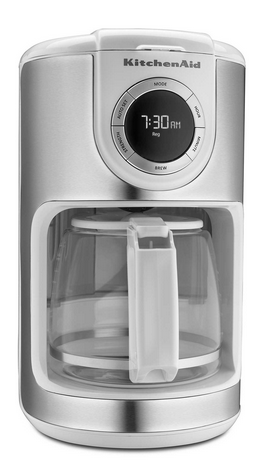 KitchenAid 12-cup glass carafe coffee maker, $129.99 CAD, Bed Bath & Beyond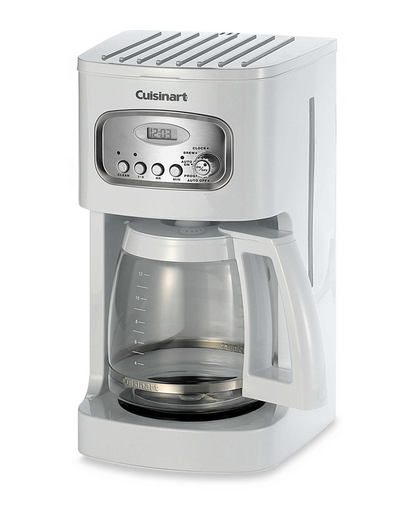 Cuisinart 12-cup programmable coffee maker, $99.99 CAD, Bed Bath & Beyond
While aesthetics are important, I wanted to be sure that the machine was of high quality, too. And this is where the manager of Bed Bath & Beyond came in.
I am still completely impressed by how knowledgeable and matter-of-fact the manager was. (This is unsolicited feedback, by the way. Nobody in the store new that I was going to be writing a review of the coffee maker on my blog.) She took the time to go over pretty much ever feature on each of the two machines so that I could make a decision. She was so patient, and she asked me really good questions about my needs.
She asked me several times if I was sure I wanted a white machine (I told you she didn't know who she was dealing with!) because the coffee staining on white machines is more noticeable than on black or stainless. This was a good point to consider, but I assured her that I had to have white!
She also pointed out interesting features of the carafe of each of the machines. The KitchenAid's carafe has a glass spout which could be easily knocked/chipped/broken. Plus, in her opinion, these types tended to dribble. The Cuisinart's carafe has a plastic spout, which could result in less dribbles.
Together, we explored the various features – programming options, water filters, buttons, etc. We also looked at the price. The KitchenAid came in at $30 more than the Cuisinart, and I really didn't know why – especially after we compared all of the features. Now, we all know I love KitchenAid (I've been extremely happy with my stand mixer), but I wasn't convinced of its price tag.
So, in the end, I left Bed Bath & Beyond with a shiny new Cuisinart machine, and I'm definitely pleased! I've been using it for several weeks, and it's been working out really well.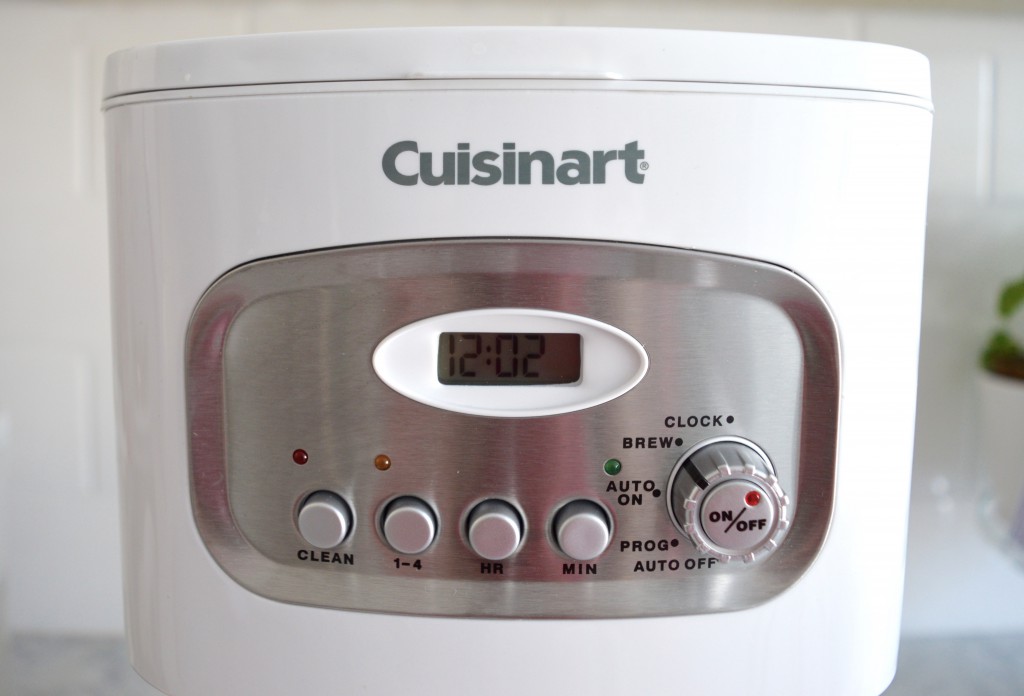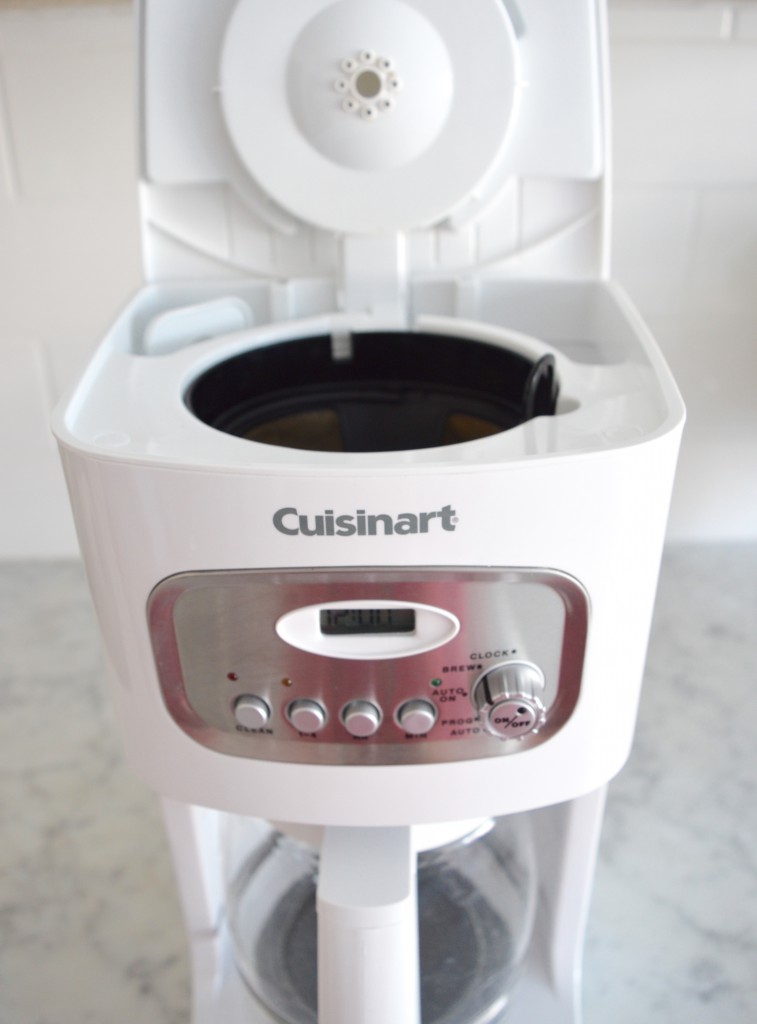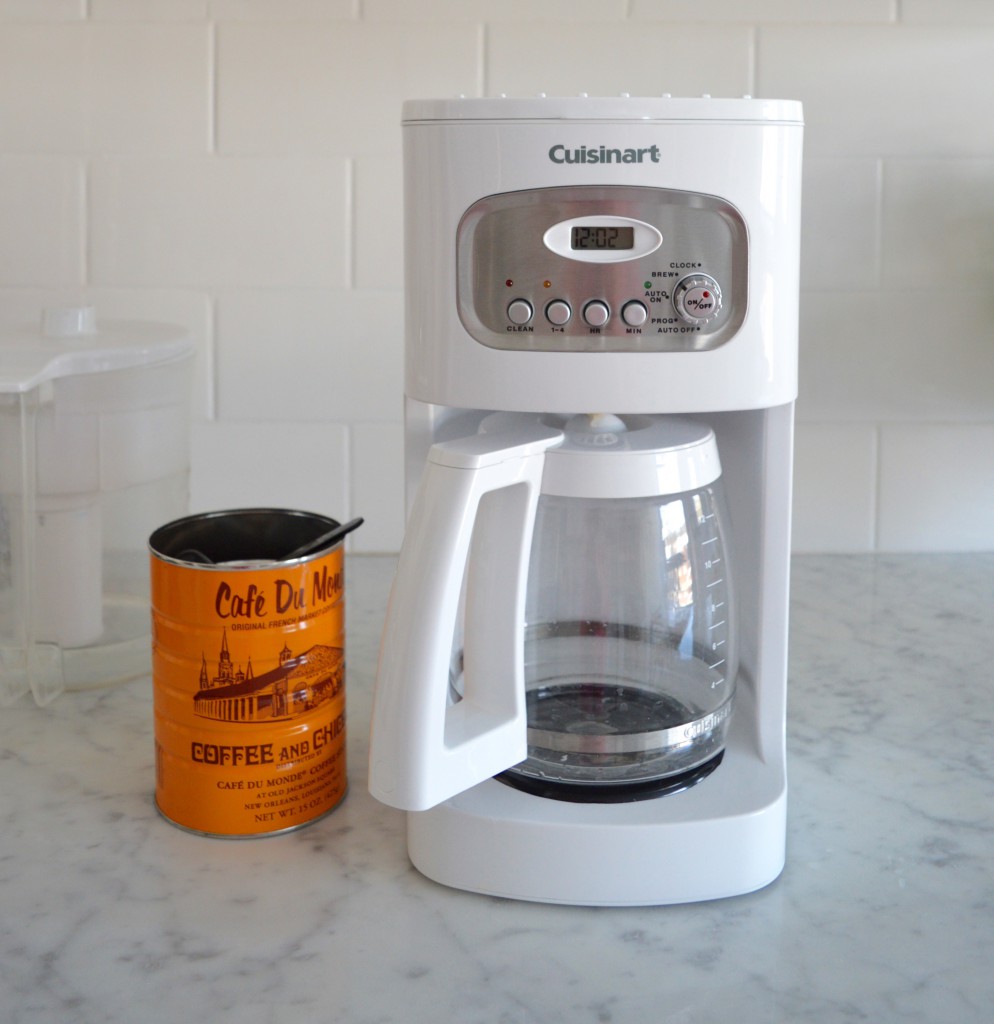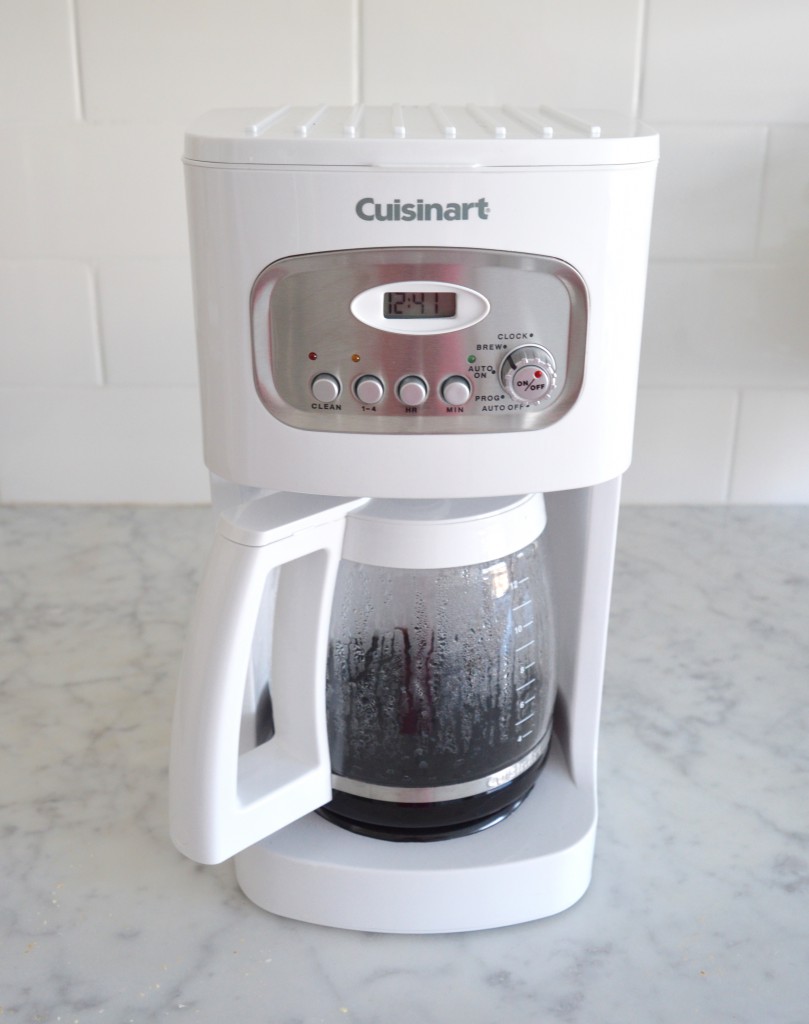 I like that the reusable gold-ish basket, the integrated water filter, the look of the buttons, and the programmable feature. Design-wise, it sits nicely beside my Cuisinart toaster. The coffee brews quickly, and it tastes good, too! The carafe pours well and there's no dribbling. I can see how the coffee can easily stain the white plastic, so I do take an extra minute to wipe everything down carefully (after I've had my first cup of coffee, of course).
Many thanks to Bed Bath & Beyond for sponsoring this post. Thanks to Leah, too! And more thanks to Waterloo's Bed Bath & Beyond manager who was so patient with me! All opinions are my own.