I am so happy to share the news of the Queen's Human Media Lab designed by Karim Rashid because not only am I happy to shine the spotlight on Queen's (I did my Master's there) but I've been a fan of Karim Rashid for quite some time and I just love that he did his part to increase the hipness factor at Queen's. The Human Media Lab's sleek modern space offer a nice contrast to the traditional stone buildings that make up the majority of the buildings on campus.
The Human Media Lab is located in Jackson Hall and the almost 2500 square feet space  includes a workspace, office, kitchen and corridor. The space is coming up to its one year anniversary in May. The space was designed by Karim Rashid and his team (including Camila Tariki, Evan McCollough, Kamala Hutauruk, and Juliette Hyunju Lee).
From my perspective (aka the perspective of a professional student), I love that the workspace includes a large meeting room for collaborative tasks, pods for individual work. The curved walls and windows are a stark contrast to the typically linear styles that are in traditional buildings.
 windows at the Human Media Lab, Queen's University
The Human Media Lab concept, Karim says, "is an open space with work stations that allow a flexible, interactive space where digital and physical can merge to shape and experiment and inspire. The design also allows the offices to close off to afford intense focused work". Intense focused work – yes!
This space is so futuristic! There's an interactive display with gesture technology. What does this mean? It means that people use in-air gestures to move objects around the wall-sized display screen. In addition, when people in adjoining cubicles are looking at each other, the translucent glass between them becomes transparent for communication. How does this happen? Two words: eye trackers. Cool!
 Queen's Human Media Lab, Kingston, Ontario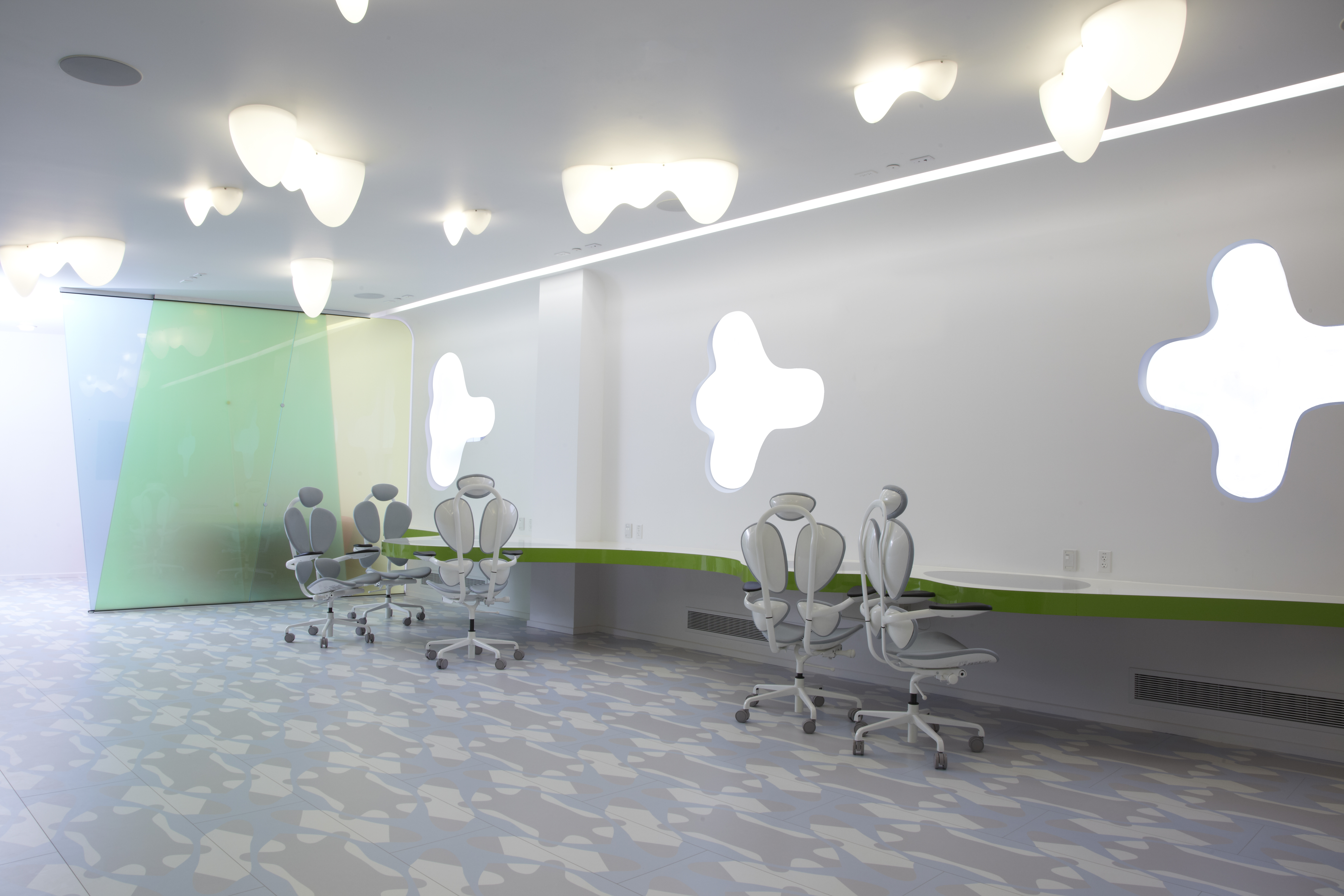 The Workspace
Kitchen
Office
The Apple Collection
Photos courtesy of Jessica P. and Tre C. at Karim Rashid. Many thanks for your help.