I recently added to my Alessi collection, and it was a very happy day! I bought the Alessi 9090 espresso maker designed by Richard Sapper.
As with many Alessi items, this one has a story. It was the first product that Alessi produced that was for the kitchen. It was released in 1978, and since then, the company has sold over 2 million machines. The 9090 won a Compasso d'Oro award in 1979, and it was Alessi's first object to be added to MOMA's permanent design collection in New York City.
This is a short video from Dezeen where we hear the story of the 9090 from Alberto Alessi:
And now, to the cappuccino! Here's how I make mine:
I gather my machines – the Alessi 9090 (or, generally, a Bialetti maker) and my frother gadget from Ikea.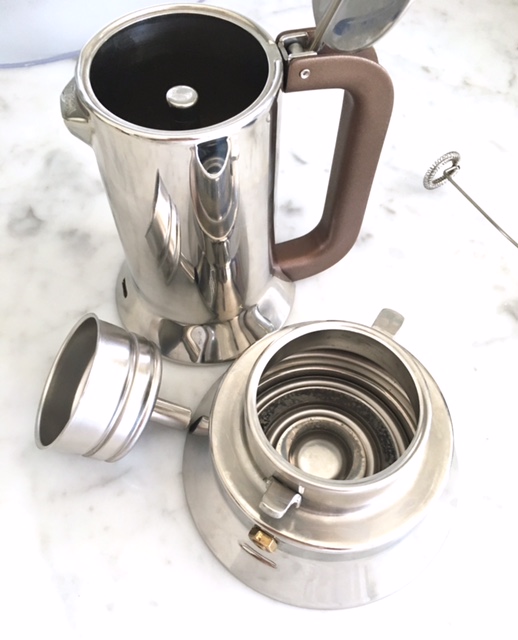 If you've never used a stove-top espresso machine, then you'll need to know that it comes in three parts: the base, the middle, and the top. In the base, you put the water (in this machine, I fill it just to the gold steam screw). In the middle – the basket – you put the ground espresso coffee. In terms of coffee, I like Illy and Lavazza, but I also buy what's on sale. And I recently picked up espresso from Ikea, which I'm looking forward to trying out soon.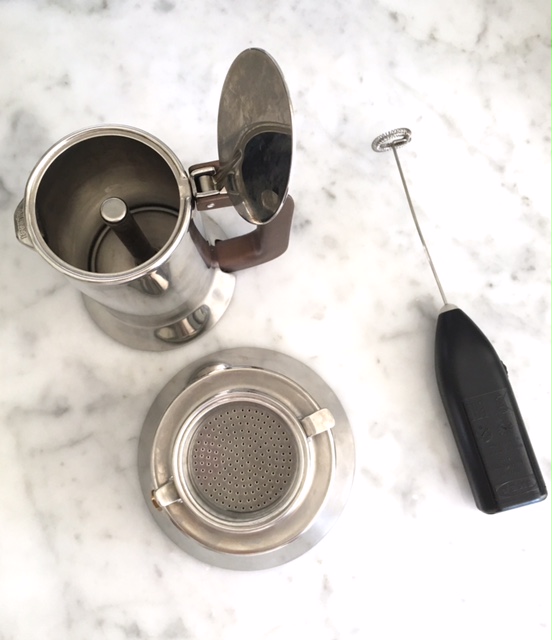 A coffee dispenser is handy, but it isn't essential. After you fill the base with water and put the basket in place, you put the dispenser on top and turn the dial twice (or more for packed, stronger coffee). The dispenser dispenses just enough coffee for any size of espresso machine.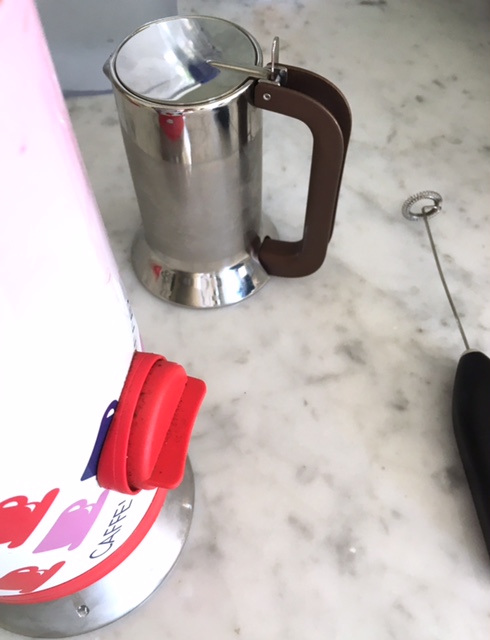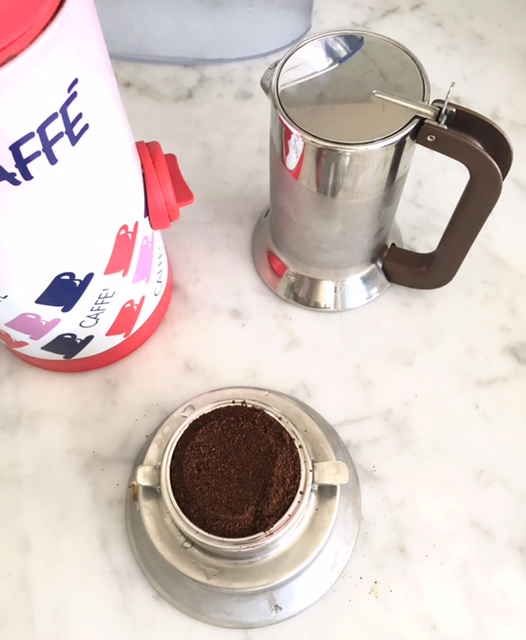 The Alessi 9090's top attaches to its base via a patented lever-lock system. It's pretty cool. If you're using a Bialetti, at this point, you would screw the top onto the water-and-coffee-filled base.
Turn your stove onto high and put your espresso machine on top of the burner. If you're using a gas stove, keep the flame smaller or the same size as the base of your maker. If you're using a traditional burner, move the machine so that it's on the element (off-centre). This ensures that the full base is getting heated and it also means that the handle won't get hot from the element's heat.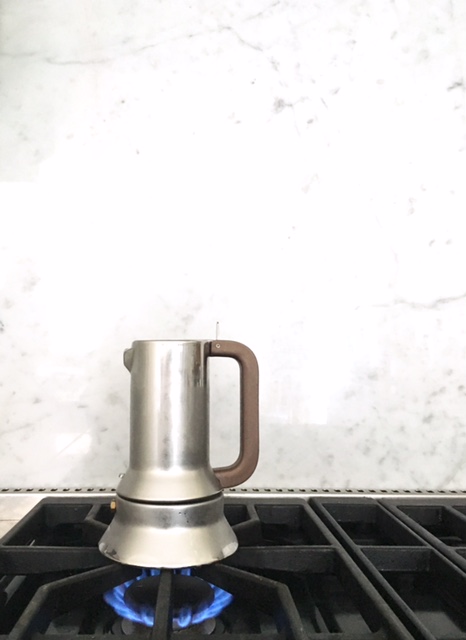 While the coffee brews, get your milk ready.  I like to heat up my milk on the stove, but a microwave will work, too.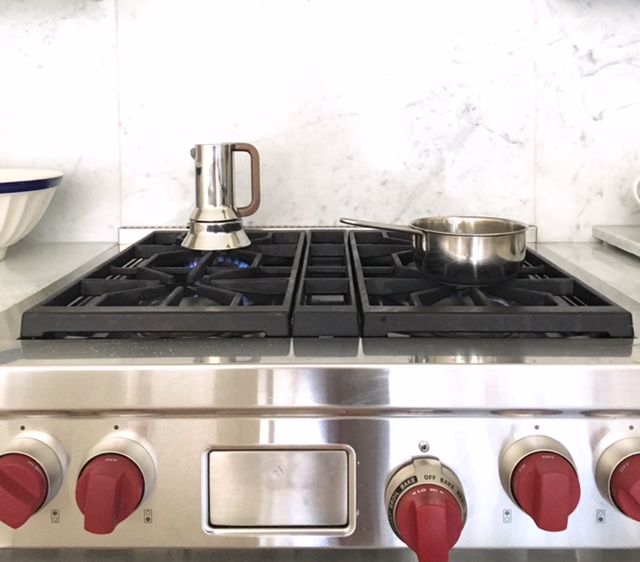 Side note – I love my parents' Wolf stove!
When your milk is heated (after a few minutes), use the frother to froth the milk.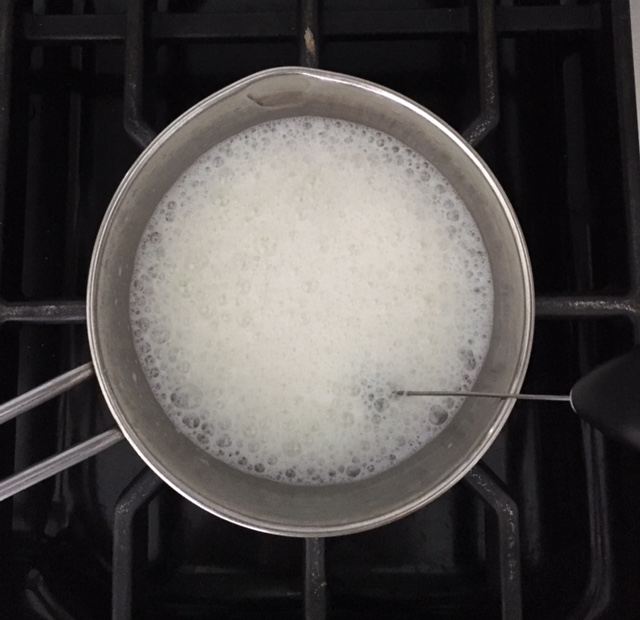 Another side note: Check out my parents' dedicated espresso machine cabinet. It makes me laugh every time I see it. And what's even funnier – there are more machines stored elsewhere in the house. We do love espresso, and I guess you just never know what size you may need!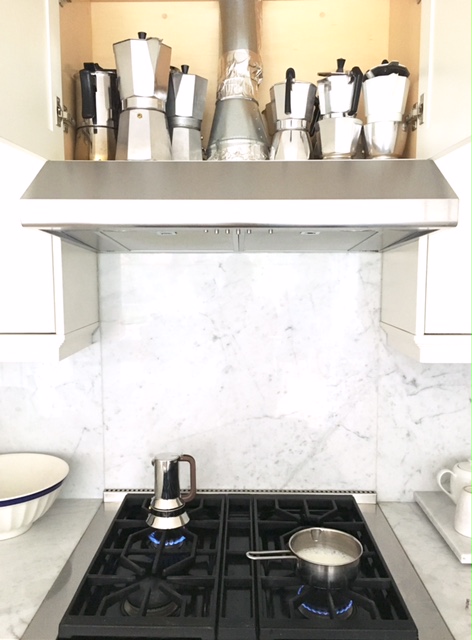 When the coffee whistles, it's done. You can check on the brewing process by carefully opening the lid.
I like to pour my coffee in first, then add the milk.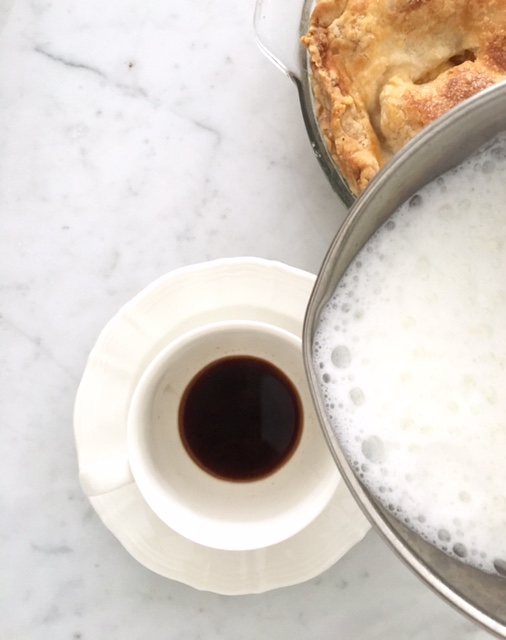 But if I need a bit more coffee, I confidently add it in post-milk.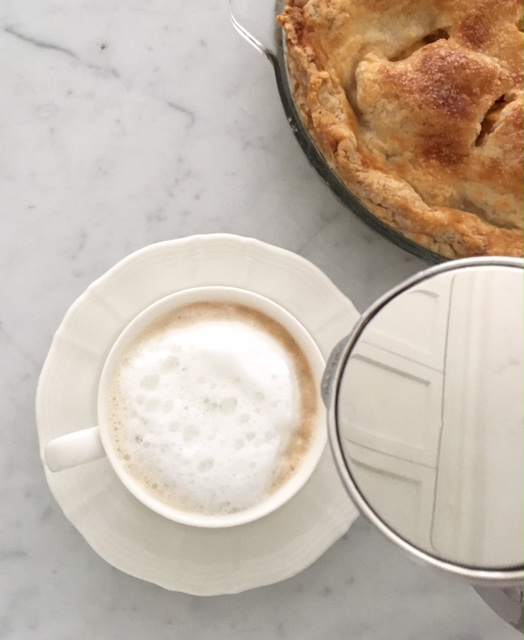 To finish, I top off my cappuccino with a sprinkle of cinnamon (and a side of peach pie, when possible!).
Are you a cappuccino fan? How do you make yours?
Check this out – I've been writing about coffee since 2010!
Save
Save
Save
Save
Save
Save
Save
Save
Save
Save
Save
Save
Save
Save