When I wrote my Waterloo region city guide for Design*Sponge, the Delta Waterloo hotel had only recently opened. Last weekend, I was fortunate enough to stay the night and experience the hotel first hand. It might seem a little odd to some readers that I opted to have a little vacation within my own city, but every once in a while, I feel that it's quite the luxurious adventure to leave behind weekend chores in search of rest and relaxation in a new environment.
So, I crossed King St. in Uptown Waterloo and checked into the Delta Waterloo for a little #WhiteCabanaStaycation.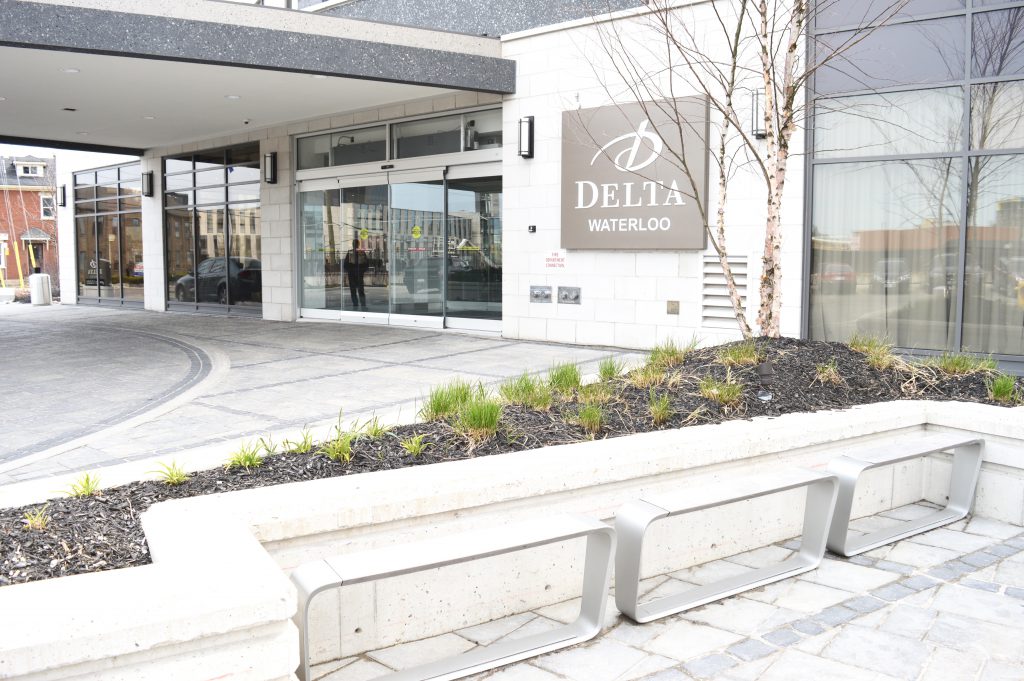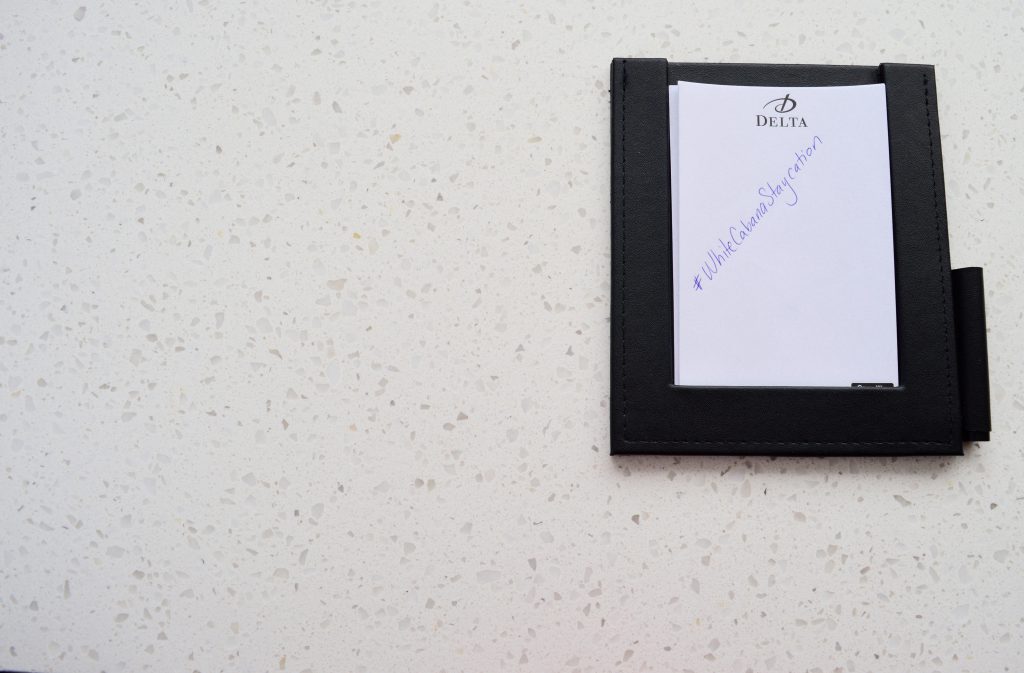 Although I had watched the Delta be built, I had never been in since I moved here three years ago. It's the only 4-star hotel in Waterloo, so I assumed it would have quite a lot to offer.
I confirmed my reservation over the phone and requested an earlier check-in and later check-out if possible. While neither could be guaranteed, in the end, the Delta staff were able to accommodate both requests. I really appreciated that the Delta staff worked to accommodate these requests.
Parking was straightforward as was check-in. I was welcomed by Matt at the front desk, and he answered my initial questions about the hotel in a professional manner. The lobby of the Delta Waterloo is chic and sleek, and the lighting caught my attention.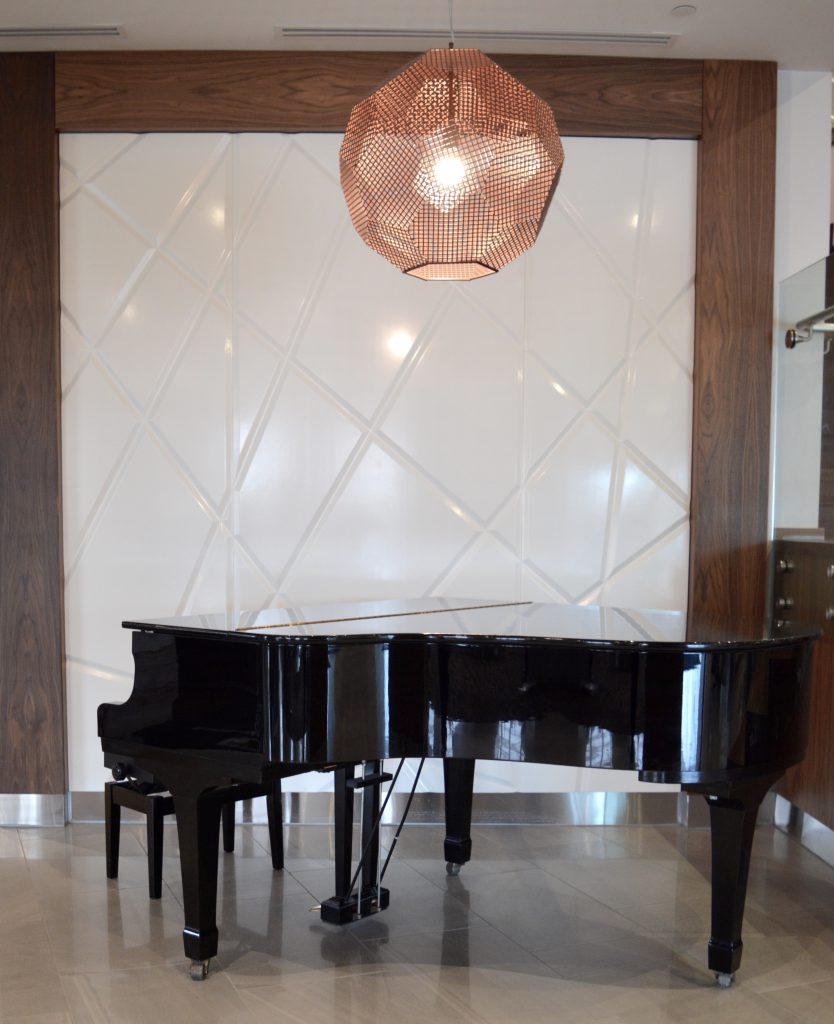 The Delta Waterloo generously offered me a corner suite. From my room, I had views of two of my favourite Waterloo buildings – the Perimeter Institute and CIGI Campus.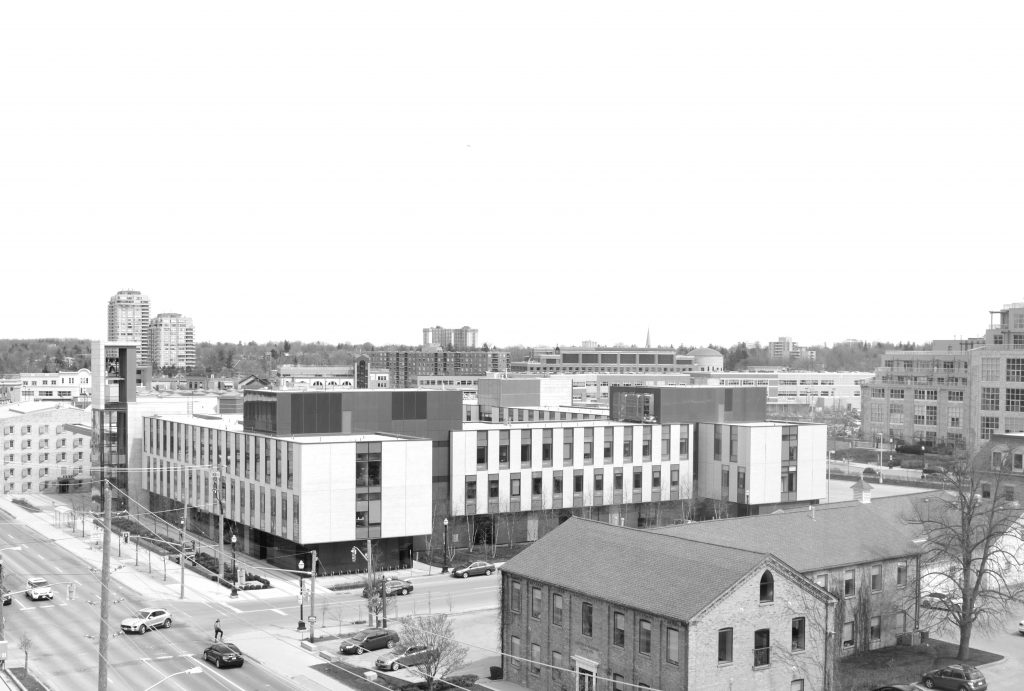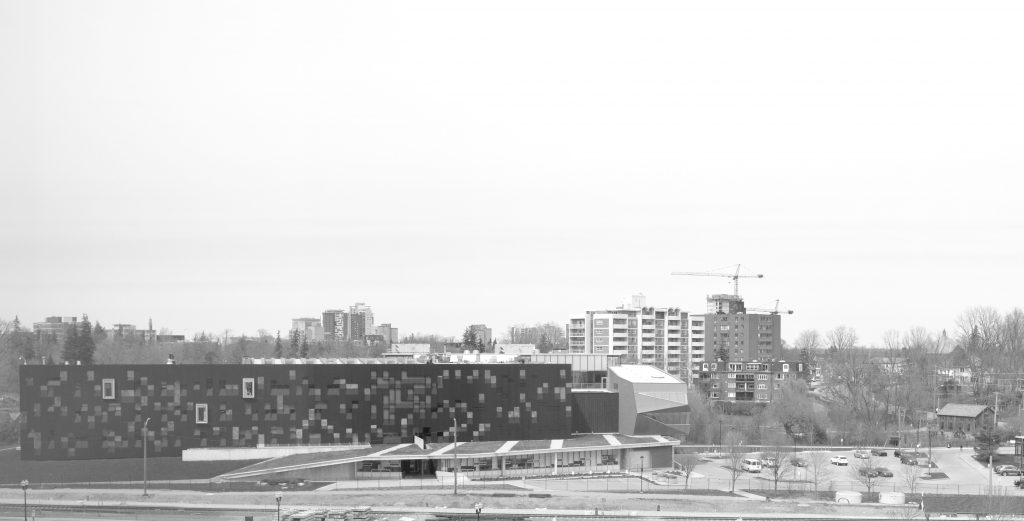 My suite was bright, and with the sun shining in through the soft drapes, the room just felt warm and light. The suite had a king size bed – definitely a comfy hotel bed! – and a pull-out couch. It also had two TVs – yes, two! – and a desk area with a charging station (so convenient), great bedside lighting, and a bathroom outfitted with modern fixtures. The coffee station included a selection of teas and coffees, and the mini fridge was a useful addition.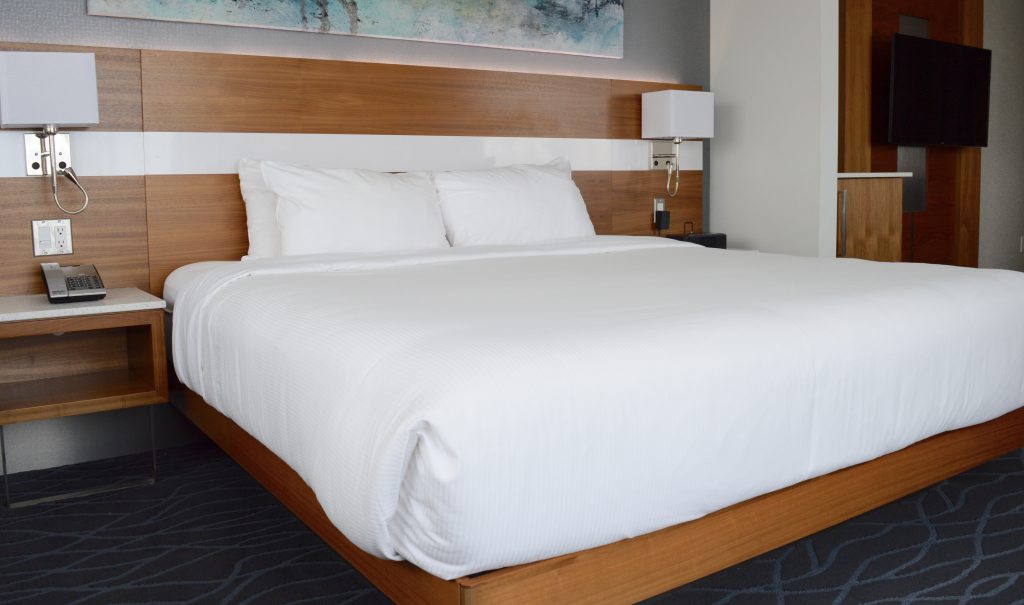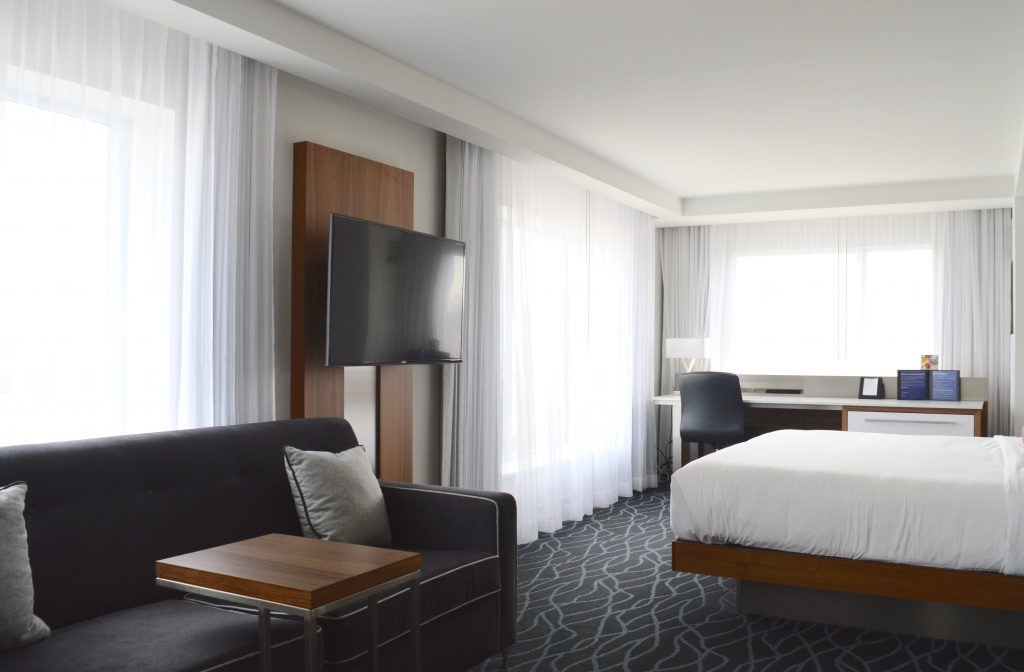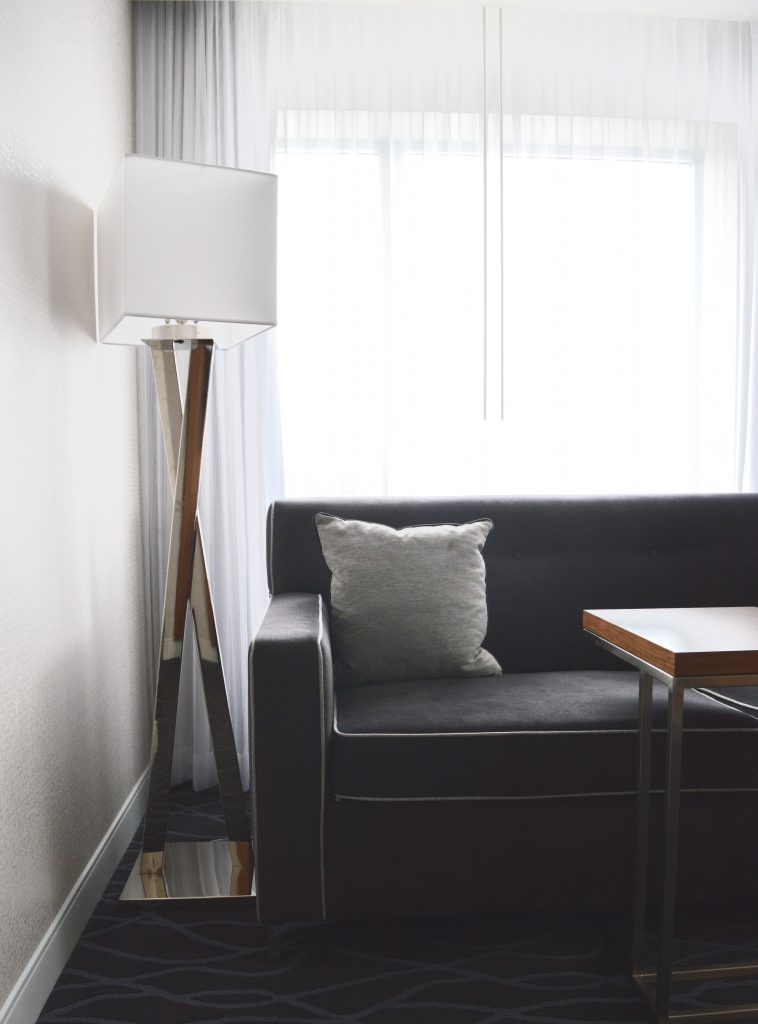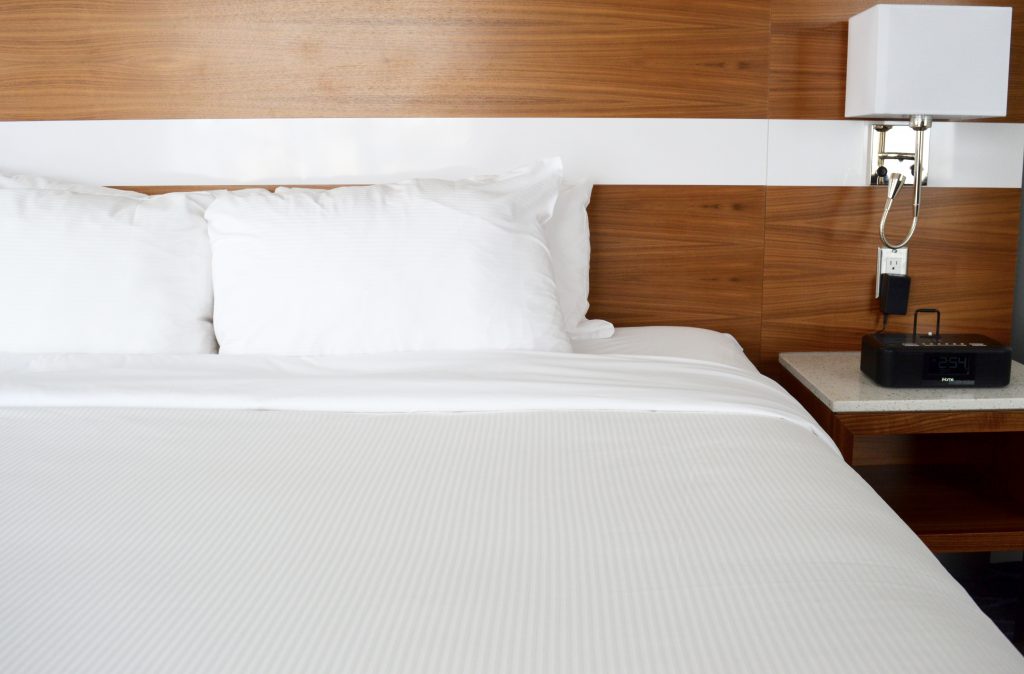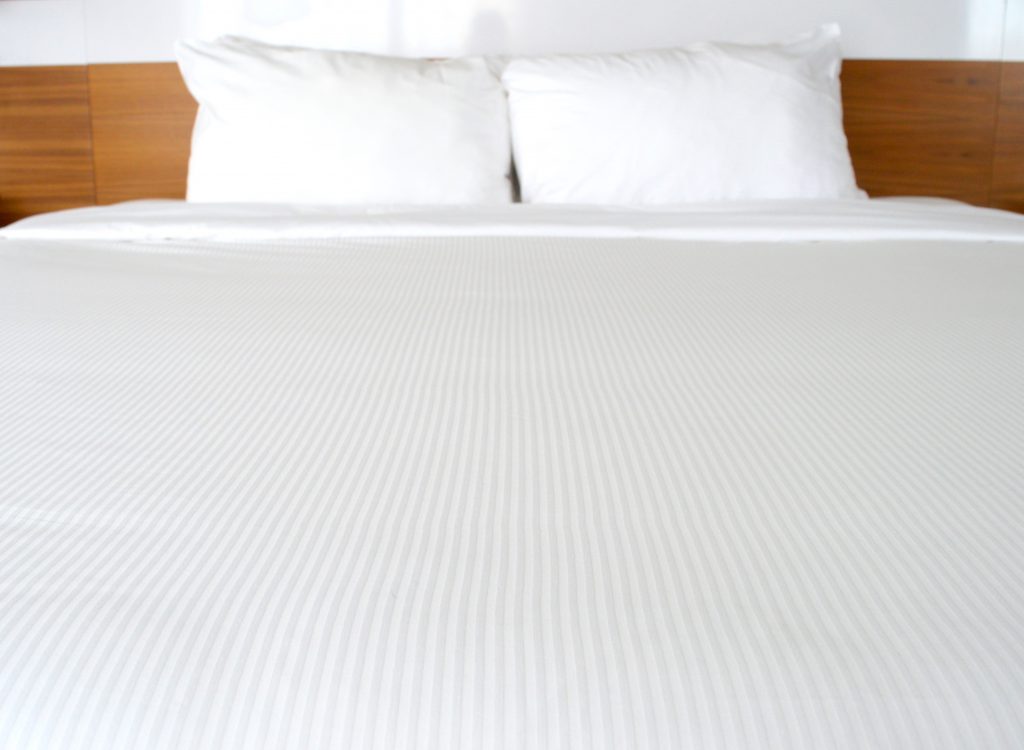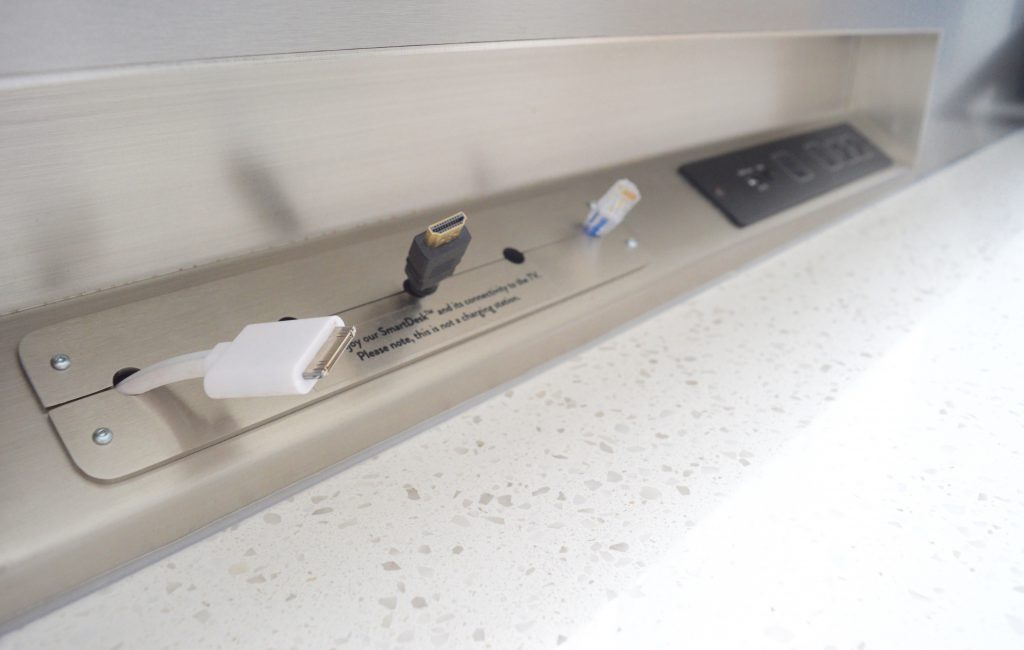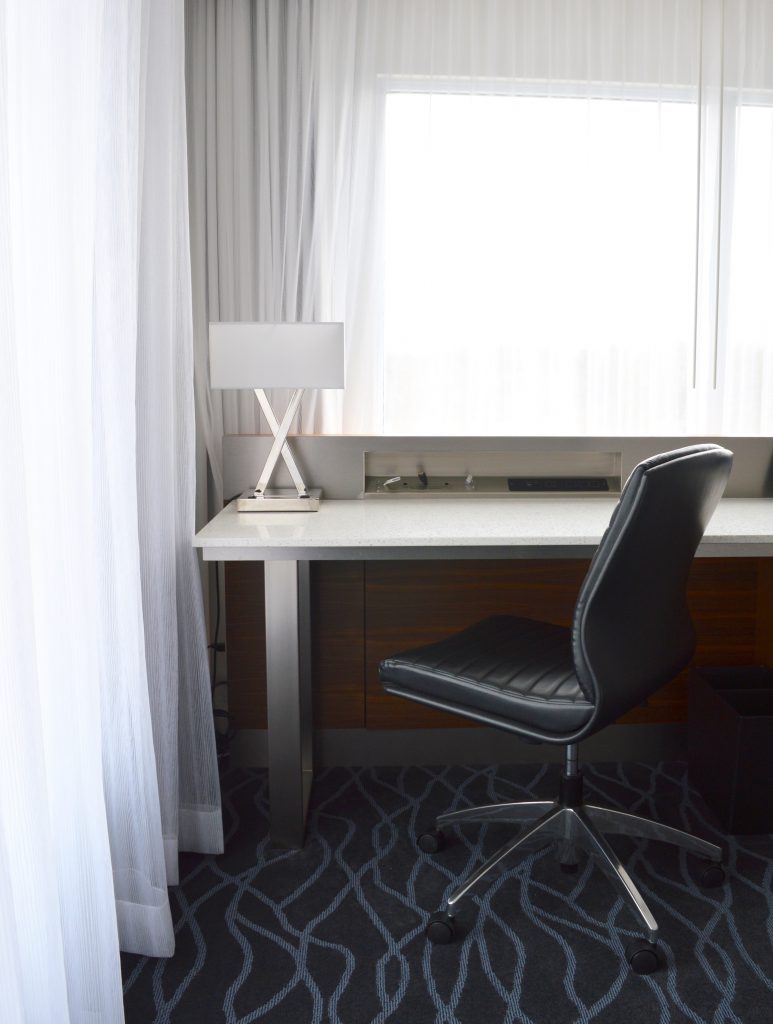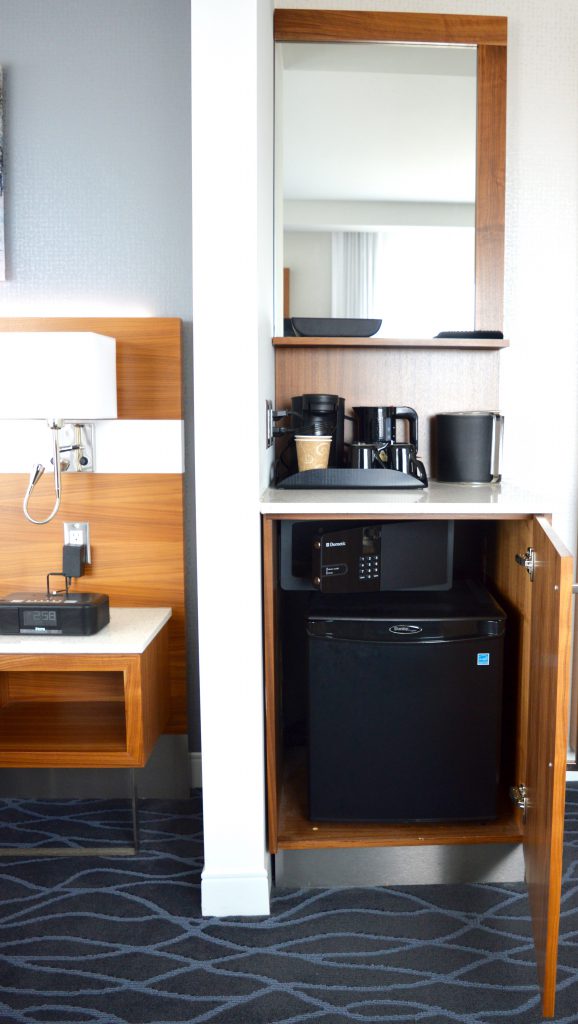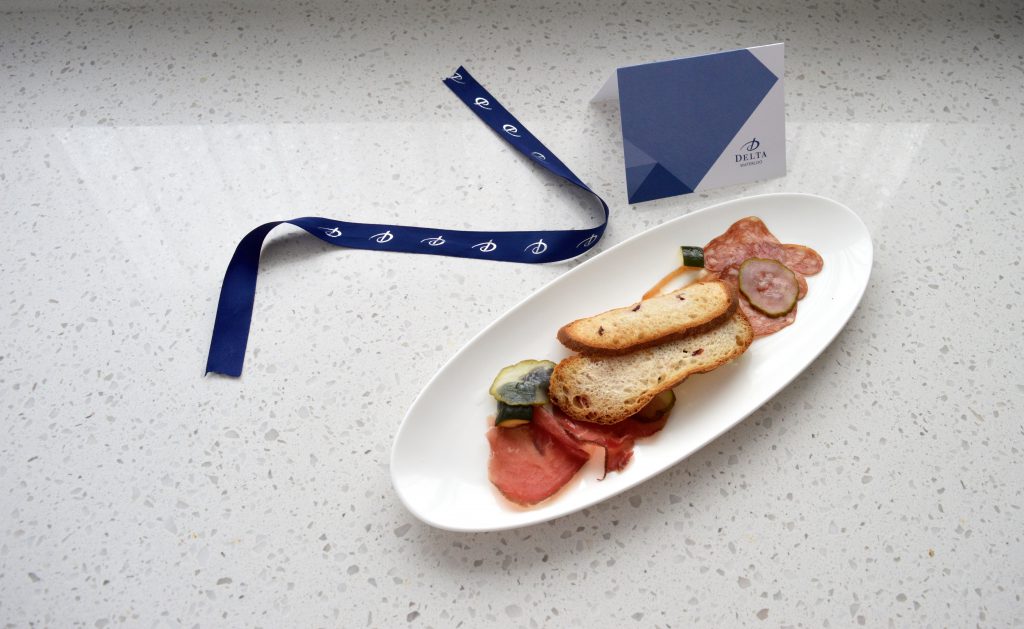 The bathroom was right up my design alley. The wood vanity, the white tiling, and the glass shower doors made the space really modern. Toiletries were by Apothia.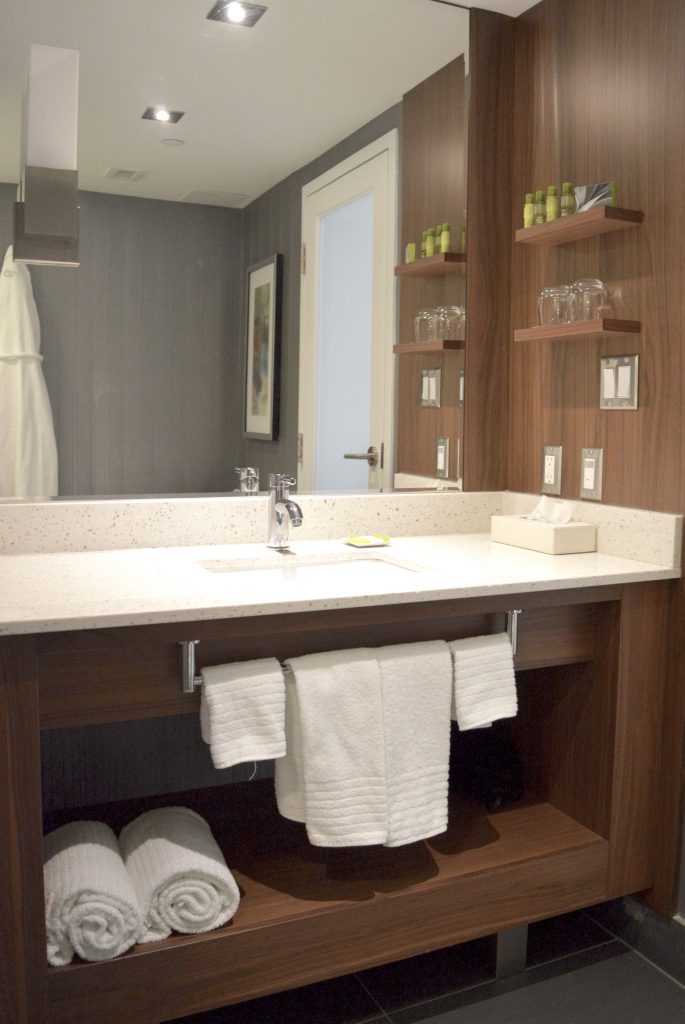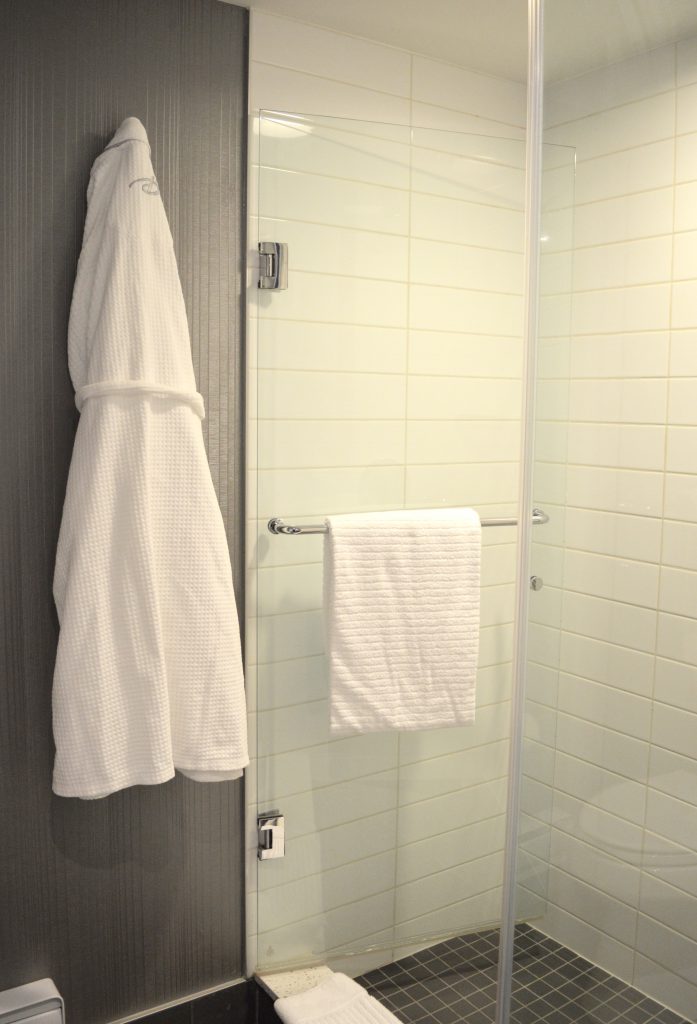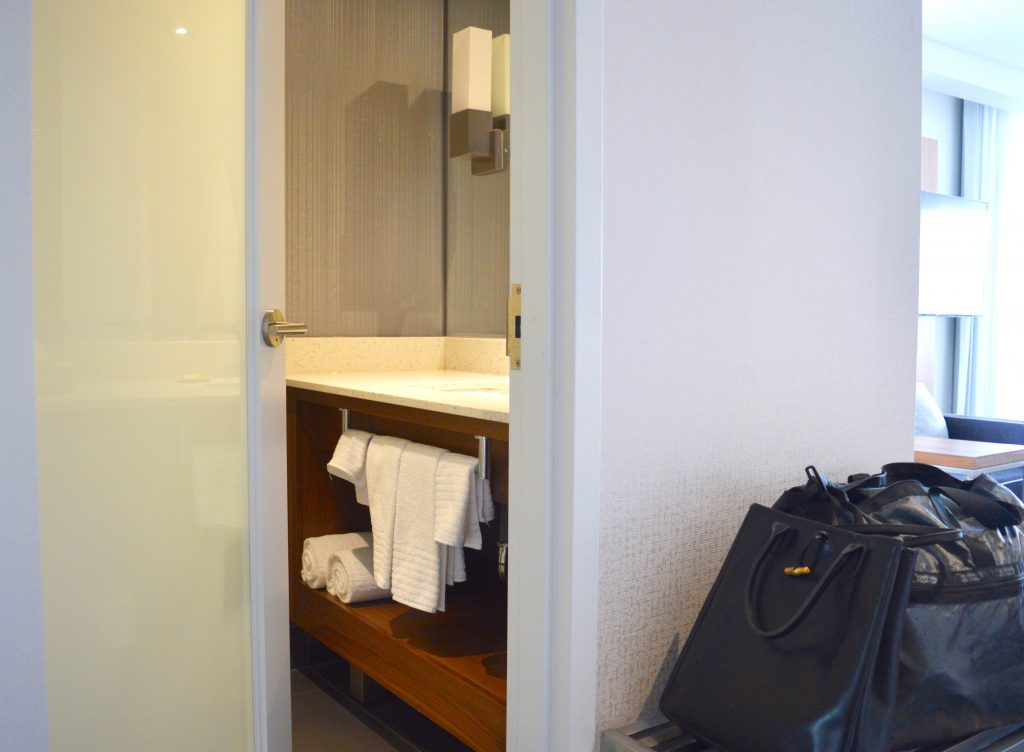 The bed sheets were crisp, the bath towels were plush, and the hotel robe was cozy (I do love a good hotel robe!). Honestly, I can't say anything negative about the room – or my stay, in fact. I had everything I needed for my #WhiteCabanaStaycation, and my room was a stylish and comfortable place to relax (I finally got through reading a few magazines that have been waiting for me at home!). Oh – and I loved that there were windows that I could actually open! (Am I the only one who gets annoyed when they don't?) Good design feature, Delta Waterloo!
As far as hotel amenities go, the Delta Waterloo has a fitness centre, pool, hot tub, and sauna on the lower level. Even though the hot tub was off-duty due to a maintenance issue, I put the pool and sauna to use. As you can imagine, a trip to both added pleasure to my stay!
Dining out – and in – was easy at the Delta Waterloo. While there are many restaurant options in Uptown Waterloo, I decided to have dinner at Proof Kitchen & Lounge, which I have heard quite a bit about, but I had never been. Proof isn't just for hotel guests; many local residents regularly go here for breakfast, lunch, or dinner.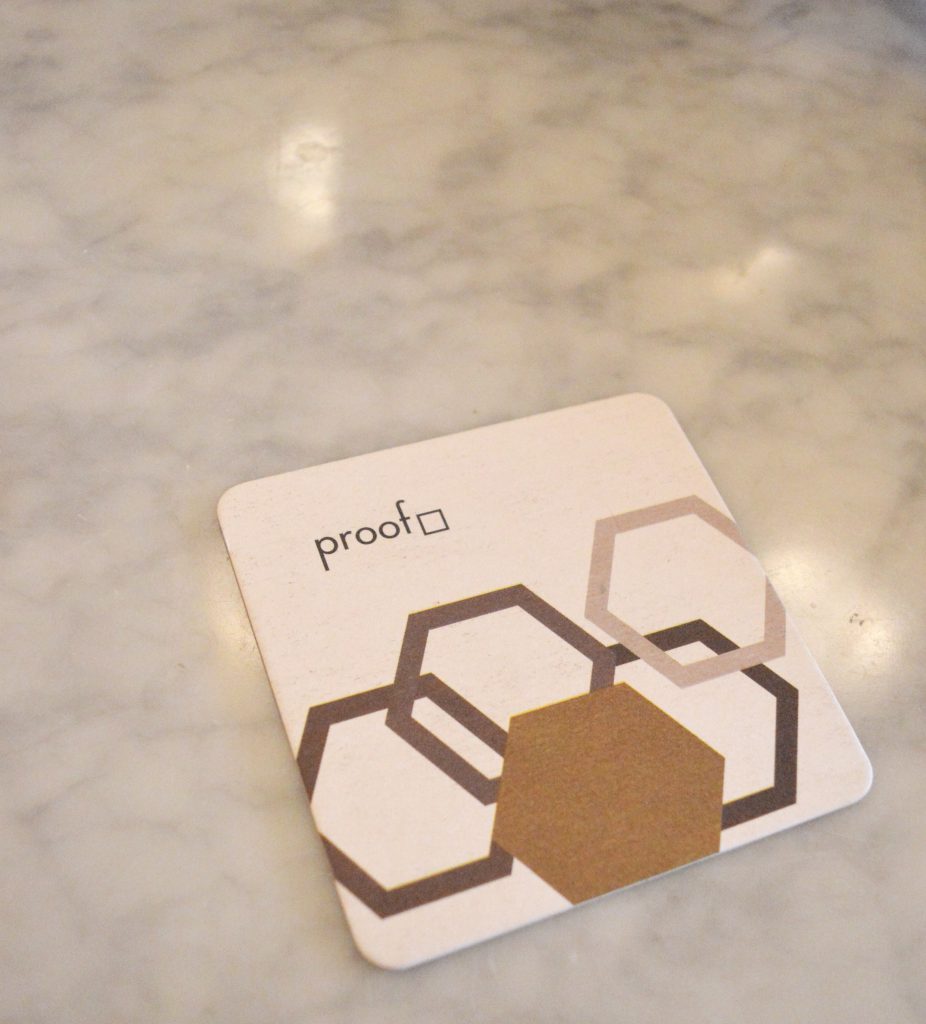 Proof was definitely more stylish and design friendly than I had originally thought, so my first impression was a good one. When I was inside, it did not feel like I was in "small town" Waterloo. The hexagon graphic theme works well, and there are many clever names on the menu items that made me smile (e.g., the OMG chocolate cake, the Big Pimmpin' Pimm's Cup). I opted for the Big Pimmpin' Pimm's Cup and the Proof smoked Berkshire pork chop with fingerling potatoes for dinner. Yum. Yum. It's not cheap, but it is delicious! (See all the menu items.)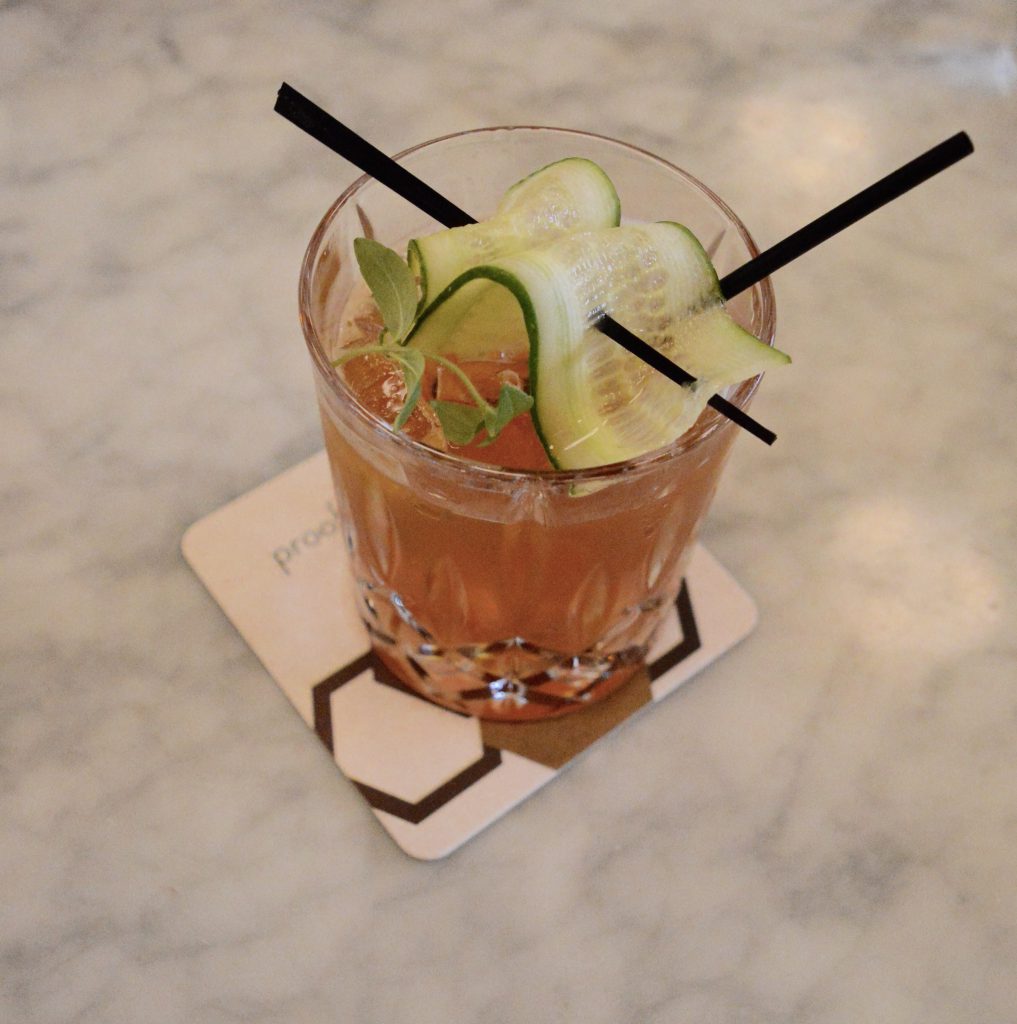 For breakfast, I ordered room service – which I rarely do, actually – and my meal arrived right on time. It was a basic breakfast of eggs and bacon, but I think it tasted better than usual because I didn't have to make it myself (insert huge smile), and I could stay in my pyjamas (insert second huge smile). My #WhiteCabanaStaycation could have easily been called #WeekendofLuxury2.0.
For those of you who are new visitors to the region, you'll be happy to know that the location of the Delta Waterloo could not be more perfect. Uptown restaurants are within walking distance as is Waterloo park, the Clay and Glass Museum, and the Waterloo Recreation Centre.
Guest rooms start at $169 per night, and deluxe rooms start at $189 per night. Read more about rooms and rates if you're planning a trip to the Waterloo region.
Honestly, dear readers, there's something just fabulous about traveling within your own city! I feel very fortunate that I got the opportunity to do so, and I'd encourage you to consider doing the same thing! (p.s. I've added a few more photos on Instagram and Twitter using #WhiteCabanaStaycation.)
Many thanks to Elaine S. and Delta Waterloo for sponsoring my accommodations. All opinions and photos are my own.