I'm thrilled to be working with L.L.Bean again this month. After my I'm-such-a-happy-customer, and my-wellies-are-working-out-great experience with L.L.Bean a couple of months ago, we have decided to work together again.
Now, let me be honest with you. L.L.Bean has been a go-to spot for luggage (I own this,  love it, and have traveled with it a lot) and luggage accessories (packers like these have come in very handy over many years), but I haven't spent too much time looking beyond their luggage section. I was under the impression that the merchandise was too outdoorsy or rugged or preppy for me, if that makes any sense. I don't canoe. I don't snowshoe. I don't live in Maine. You know what I mean?
But, when I was preparing my wellie review posts (here and here), I dove deeper into the website, and I realized that L.L.Bean does have quite a bit to offer a young*, hip**, fashion-conscious, non-canoeing gal such as myself. As I did more research (I'm all about doing a lot of research), I learned, from random face-to-face discussions to online Twitter conversations to fellow bloggers' posts, that L.L.Bean has quite the following, and people really do seem to value the brand and the quality of its products. As such, I was happy to hit the drawing board to put together some more L.L.Bean outfits that would suit my lifestyle.
Outfit 1: Weekend Errands
This first black and white look is comfortable for running errands and polished enough to join a friend for lunch. The tailored jogger pants (if there is such a thing) are still on trend, and the watch and customizable tote are classic L.L.Bean.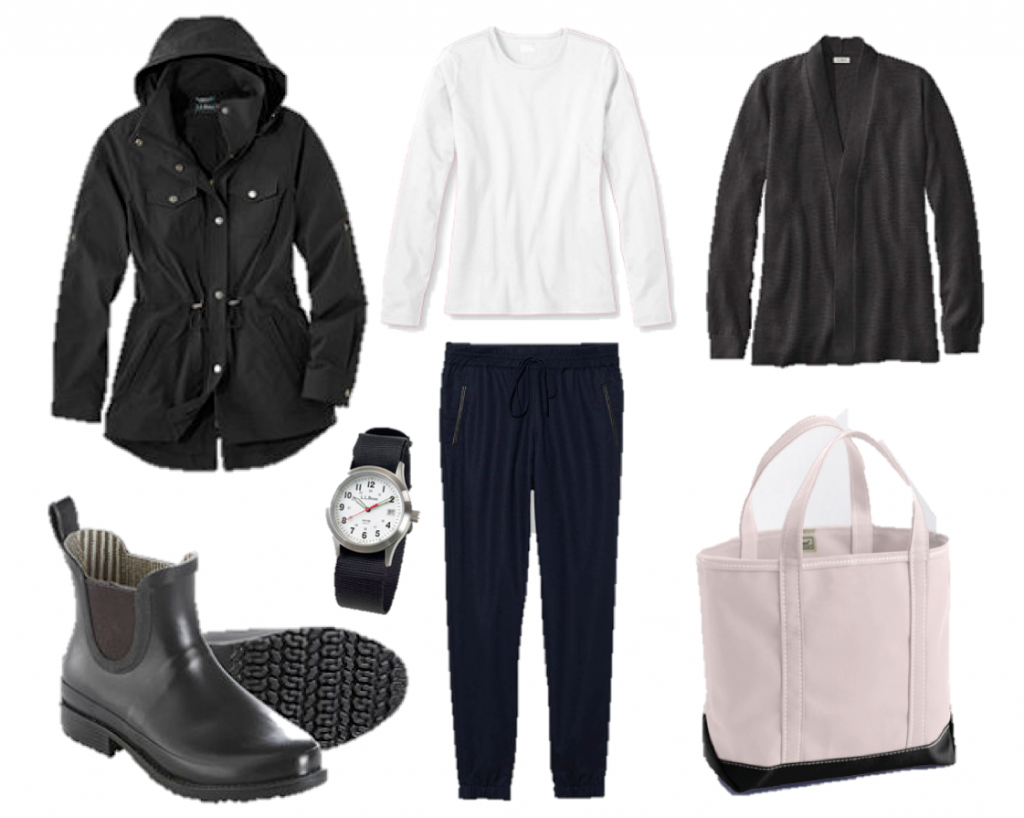 jacket, boots, watch, pants, top, cardigan, tote
Outfit 2: Activity Time
I love every piece that I used in this black and white outfit. This will take you to and from the gym with maybe a pop-in to the grocery store in between. The puffy coat is not too puffy, and I've been a long-time fan of Superga sneakers, so it's nice to see them offered at L.L.Bean. The sweatshirt is perfect for long winter walks.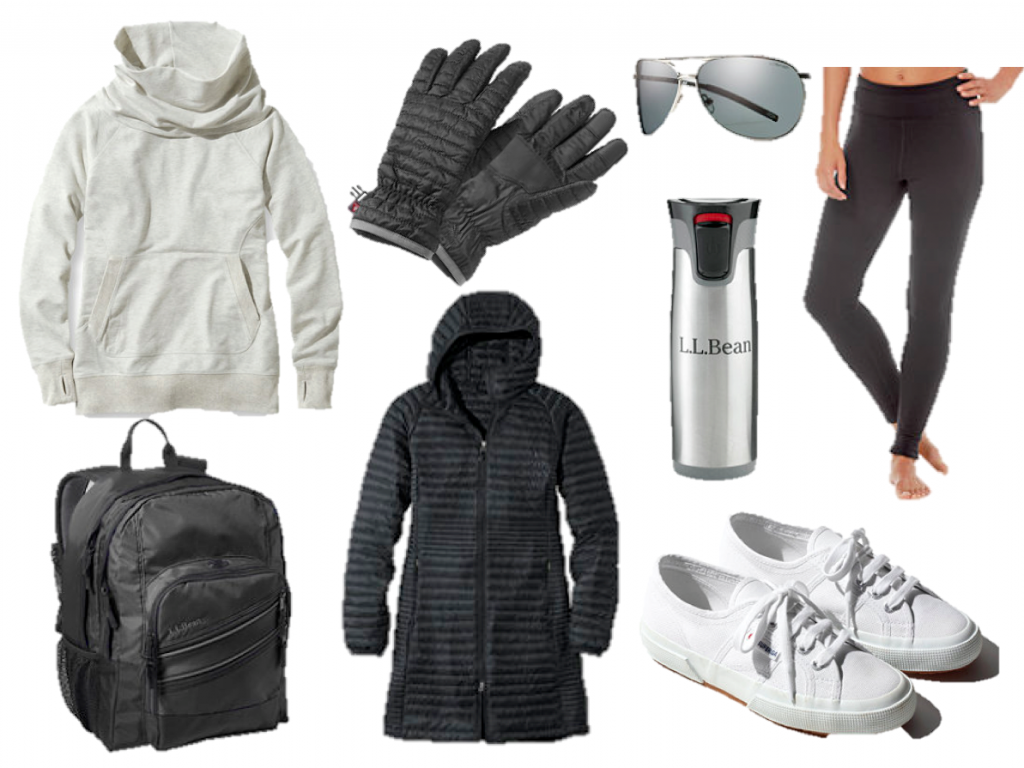 sweatshirt, backpack, coat, gloves, sunglasses, travel mug, pants, sneakers
Outfit 3: Casual Luxury Friday
While casual luxury may be seen as a contradiction, it perfectly describes this third black and white outfit. While at first glance, this look is casual because of the jeans, it is also luxurious. The sweater is cashmere, the gloves are leather, and the booties are from Corso Como. The outfit could easily take you (or take me!) from the office to dinner on a casual Friday.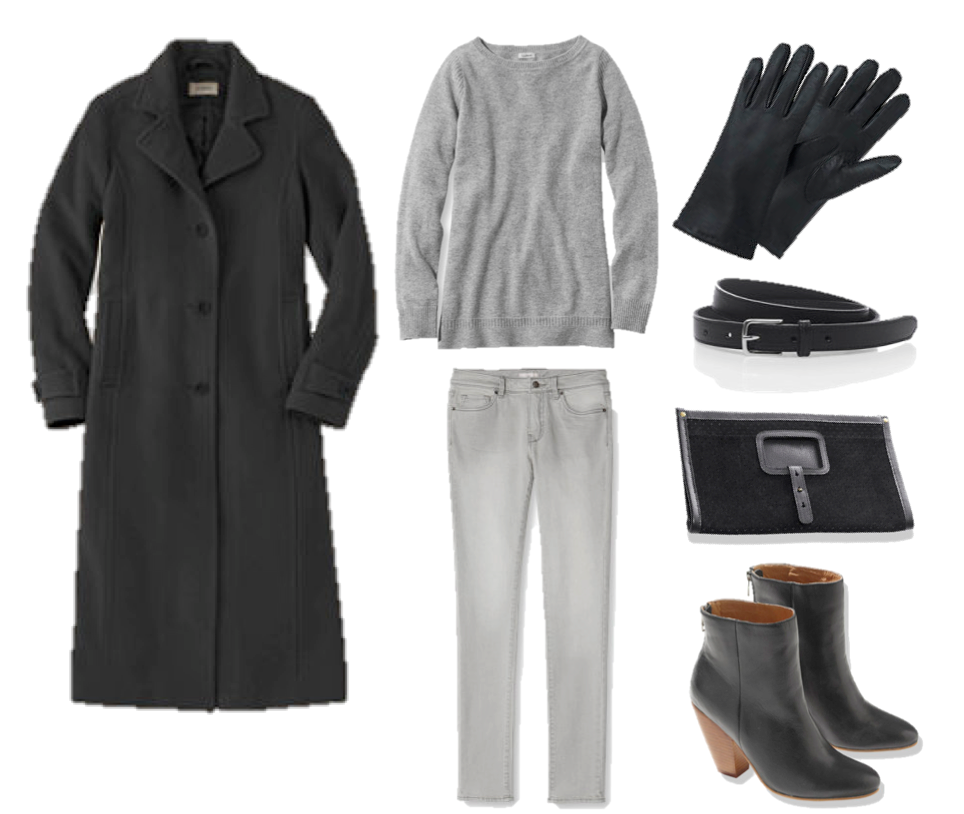 coat, sweater, jeans, gloves, belt, clutch, boots
What do you think of the outfits? Are you surprised these pieces are from L.L.Bean, or is this what you have come to expect from the brand?
Finally, to end this post on a super (super, super, super) sweet note, let's have a look at my sweet (sweet, sweet, sweet) nephew up on the massive Bean boot at the L.L.Bean headquarters in Maine a few years ago.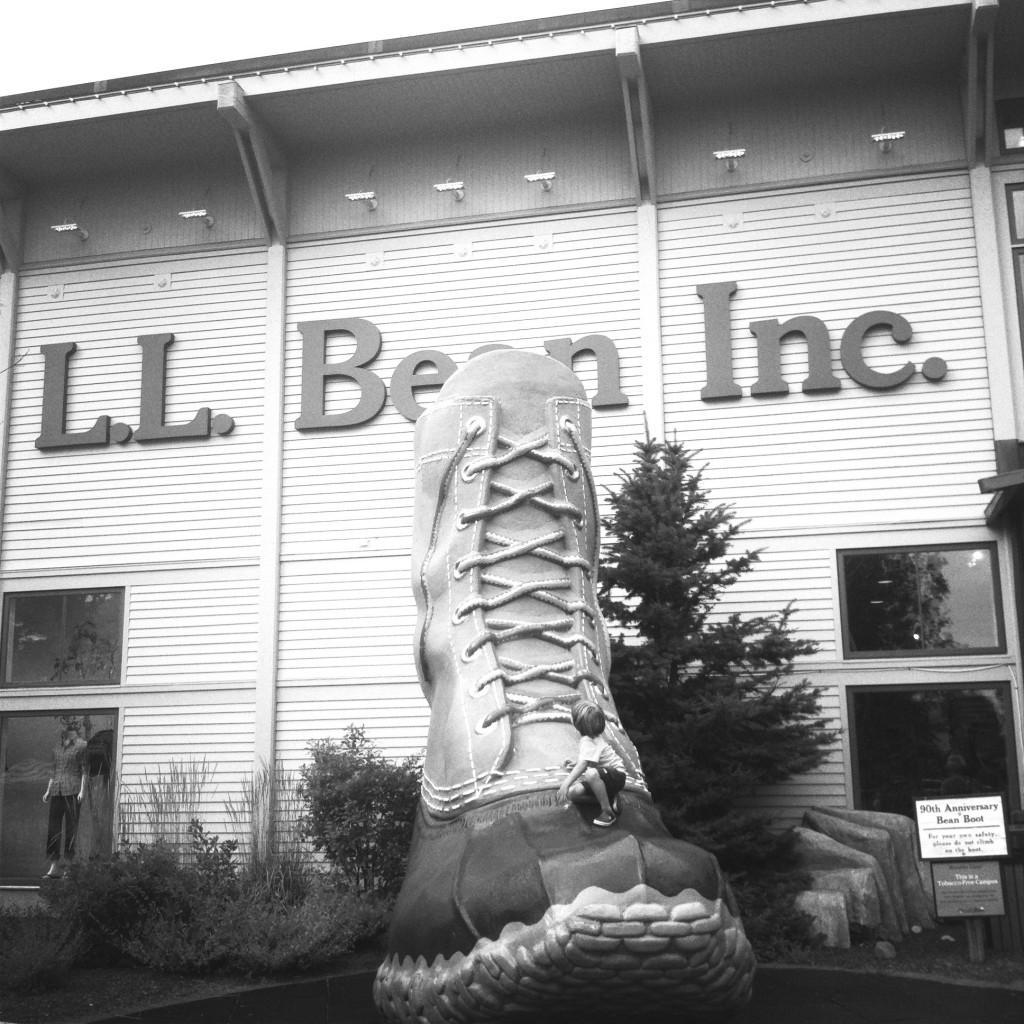 While I haven't been to the L.L.Bean HQ in Freeport, Maine, my sister and her family have. My nephews have seen the giant boot before me! While they don't quite fit the rugged outdoorsy mold (we are part of the same family, remember?), they're definitely an L.L.Bean family, and they're the people who got me hooked on the luggage in the first place many years ago! Also, they own a canoe. Go figure.
* Of course I'm young! I'd rather not think any other way.
** Of course I'm hip, too. I'm not sure my university students would agree with me though.