A few weeks ago, I noticed that the seam on one of my (insert name of famous brand) rain boots had come apart. Not a cut, not a rip, but an actual seam ungluing (I know that's not a word, but hopefully you know what I mean). I was disappointed with my interaction with the company's customer service department, and I received no response from the PR person. So…let's just say that I've left that company very unimpressed.
But, this story has a very happy ending, so please read on…
After putting the call out on Twitter for rain boot recommendations, Meagan (Row House Nest) let me know that she has had amazing experience with L.L.Bean, and L.L.Bean's Twitter person responded, too. Within minutes, I was browsing L.L.Bean's wellie selection (and then got side-tracked by the luggage*, as one does!). When I reached out to L.L.Bean, the company generously offered to send over a pair of boots and wellie socks, and I was thrilled!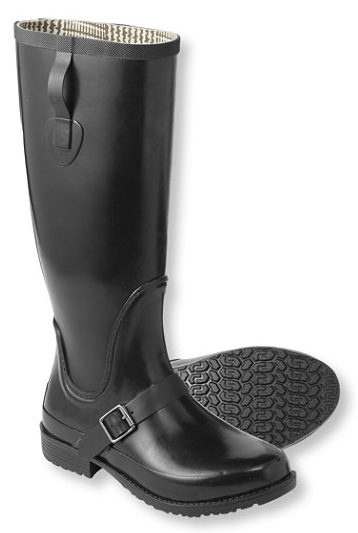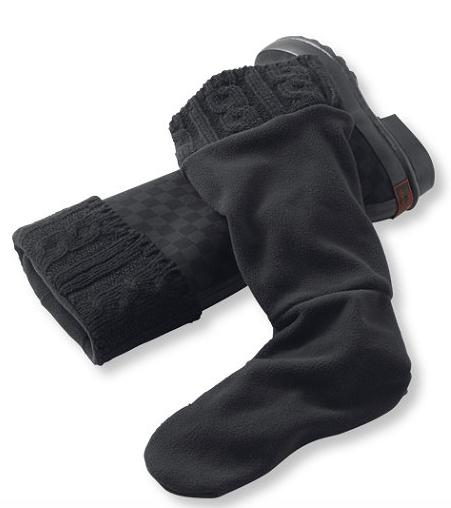 I opted for the tall black version, although I think the brown wellies are quite nice for fall
I used L.L.Bean's online customer service chat function a couple of times before I placed my order because I wanted to be sure I was ordering the right size. The service personnel were efficient, pleasant, and professional. My questions were answered in no-time.
Did you know that L.L.Bean now delivers to Canada for free? I think this is amazing news. My rain boots were delivered right to my doorstep within just a few short days. The size was true to what I learned on the website and via the customer service chat.
Everything about this transaction was so smooth (and I'm not just saying that because I have a new pair of wellies to wear), and I'm happy to share my experiences with you.
Some companies just get it, you know?**
Anyhoo, so, now that I have a new pair of wellie rain boots and wellie warmers, I thought it might be appropriate to put together some L.L.Bean fantasy outfits.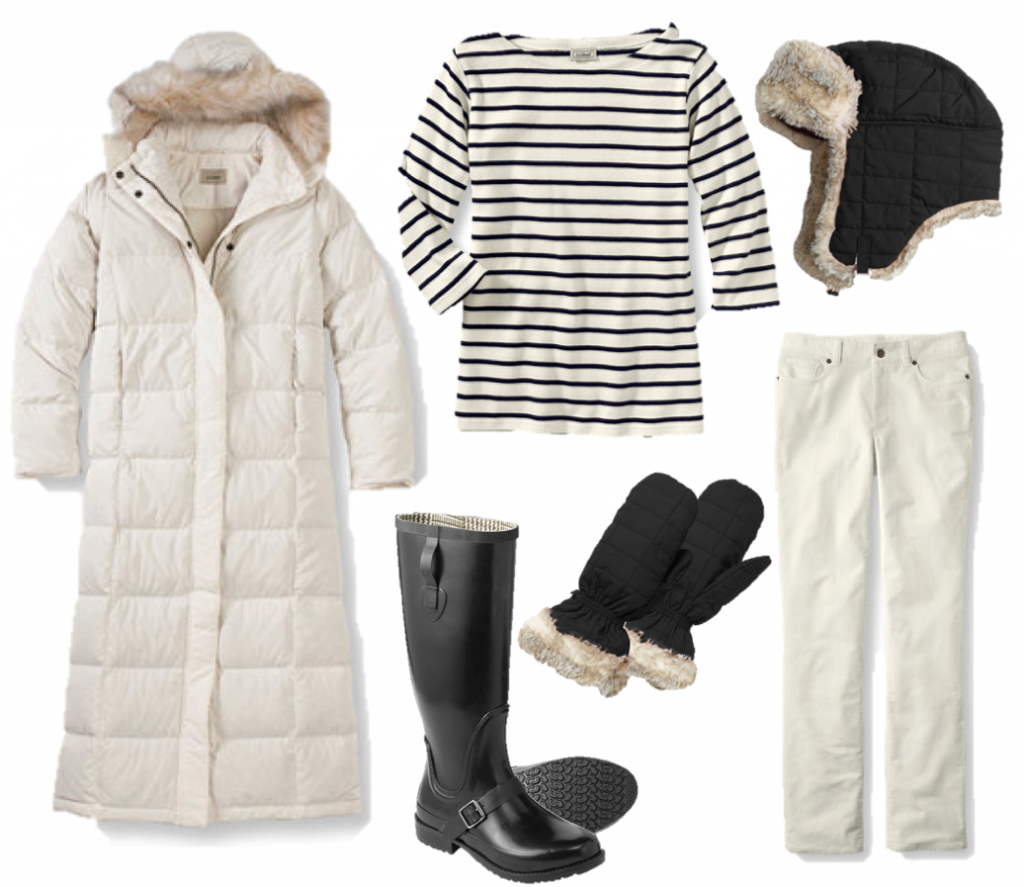 outfit 1: ultra warm coat – long, French sailor's shirt, ultrawarm hat, ultrawarm mittens, corduroy pants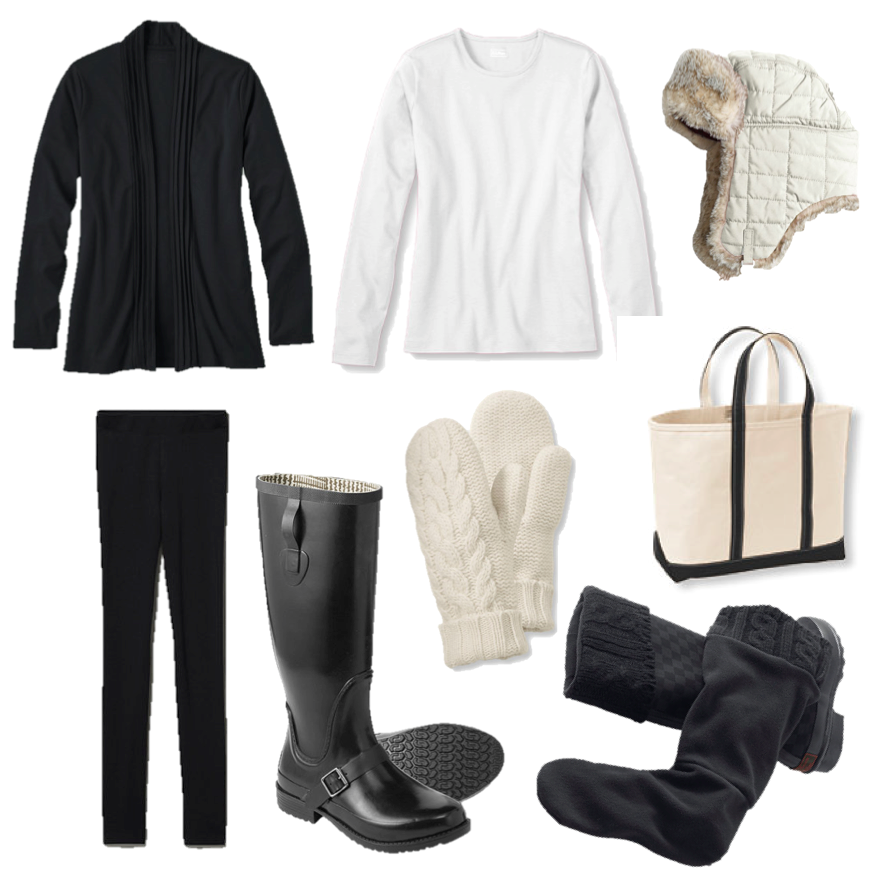 outfit 2: signature ponte leggings, pima cotton cardigan, pima cotton tee long sleeve crewneck, boat and tote, heritage wool mittens, ultrawarm hat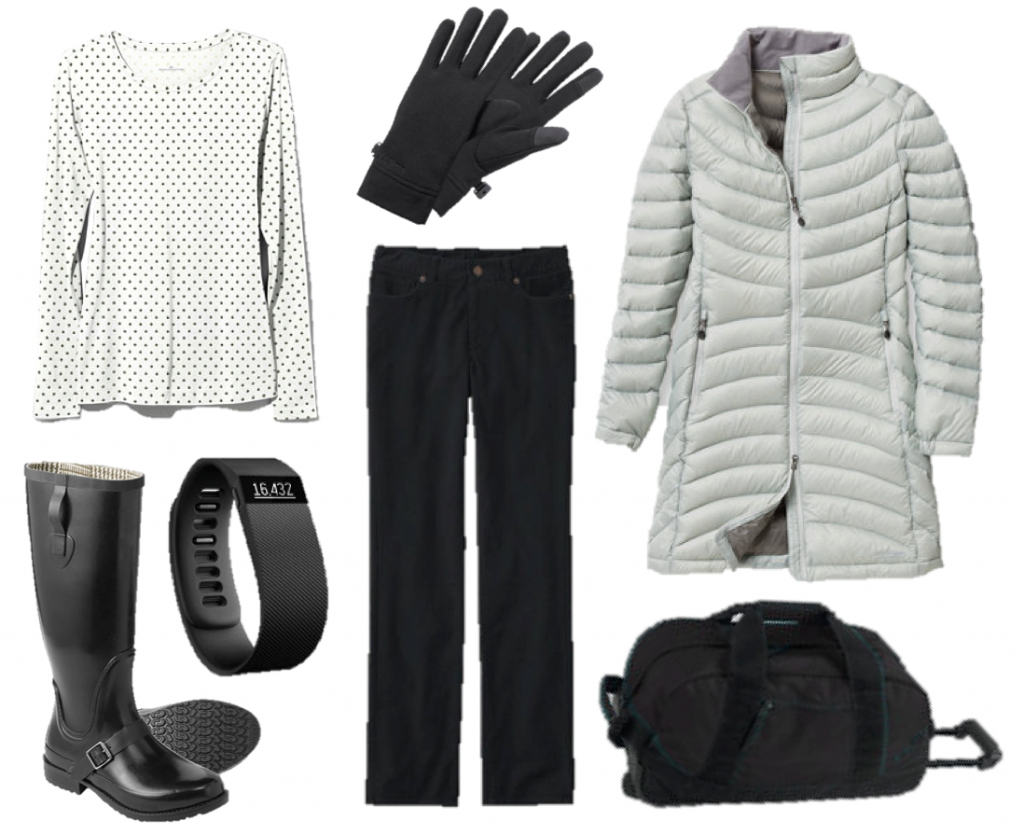 outfit 3: signature print tee, corduroy pants,  adventure duffle, ultralight 850 down coat, fitbit, polartech touchscreen gloves
Even for the not-so-outdoorsy-or-adventurous person (ahem – me), I could definitely see myself in these L.L.Bean outfits. They'd be good for casual walks or social visits. What do you think?
* I have owned this rolling duffle bag for years now, and it's served me extremely well. I'd highly recommend it.
** I'm even more picky about companies and customer service now that I'm doing an MBA degree. My expectations were always high, but they're even higher now. I'm can definitely be a tough one to please!
Thanks to L.L.Bean for sponsoring this post. All opinions are my own.