I am counting down the days until I'll be on a Floridian beach doing just about nothing. I am very much looking forward to shutting down for a few weeks and living a life filled with sunscreen, ice cream, and outlet shopping.
I don't pack a lot when I go down to Florida, but here is a glimpse into what I'll be packing for my low-key beach wardrobe.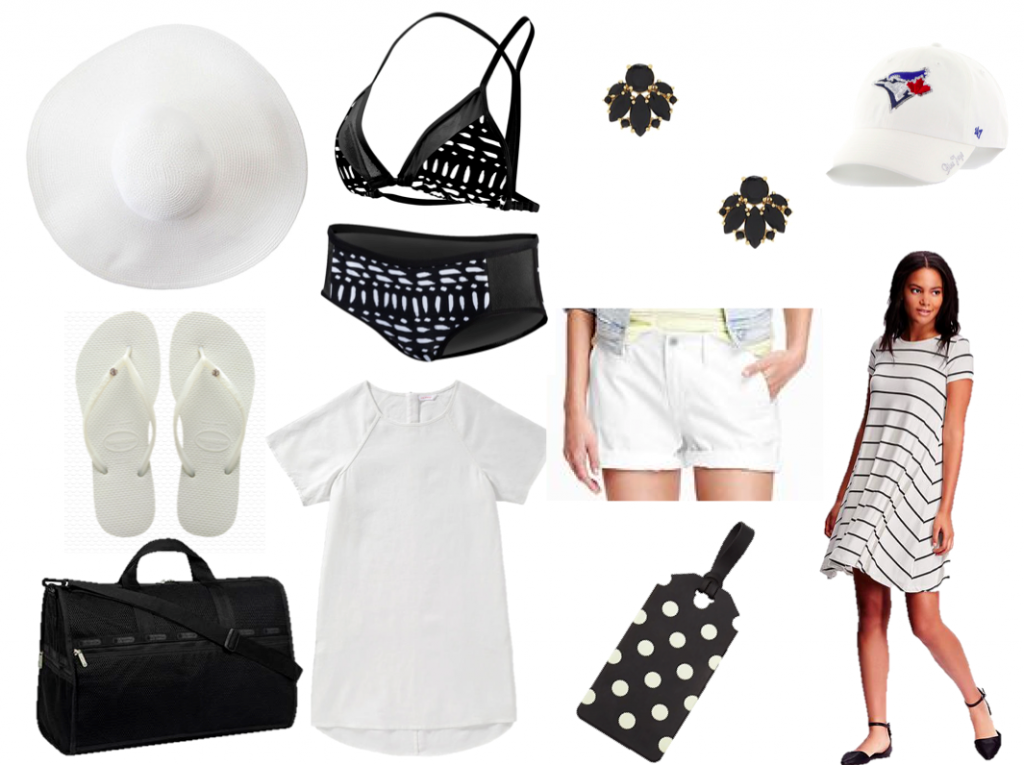 1. A straw hat is great for the beach and for walking around town. It protects your face from the hot hot sun, and it adds instant style to any outfit. (floppy hat, $38, American Apparel)
2. Flip flops are a must for Florida. I pack a couple of pairs of Havaianas because they're comfortable. (white flip flops,  $32, Havaianas)
3. A lightweight carry on luggage is a must for any trip. I have been using Le Sportsac's weekender for many years now, and it has definitely been worth the investment. (large weekender bag, $142, Le SportSac)
4. A new bikini makes every beach trip better. Thanks to TYR, I'll be uber comfortable and stylish in this black and white number. (Milos Isle Kai mesh top, $29.99 and Lilou mesh hipkini, $24.99, TYR)
5. An easy dress that can be used as a coverup is definitely worth packing. I love a good multi-tasking piece of clothing. (linen tee dress, $49, Joe Fresh)
6. I don't wear much jewelery at all when I'm in Florida, so a cute pair of studs can go a long way. Wear them with a simple dress, and the put-together-factor instantly increases. (care to dance stud earrings, $68, Kate Spade)
7. An easy-to-wash pair of white shorts is another must-pack item for me. While I have yet to buy a pair of good white jeans, I do have white shorts that I'll be wearing all summer long. (white shorts, $12, Old Navy)
8. Waiting for luggage to come out on the airport conveyor belt stressed me out. I never actually feel confident that my luggage will arrive. Adding an easy-to-spot fun luggage tag to my bag is definitely useful. (luggage tag, $14, Kate Spade)
9. For several years now, my friend Shannon and I have been hitting up Tropicana Field to watch the Tampa Bay Rays play against the Toronto Blue Jays. Honestly, I don't know much about baseball, but watching games in Florida is definitely fun. Buying tickets is easy, and the field is air-conditioned. I bring along my baseball cap to show support. (This year, the Jays won't be in town while I'm there, but I'll wear my cap regardless. (Blue Jays baseball cap, $29.99)
10. A dress that can move from day-to-night is yet another thing I'll be packing. I really like this inexpensive striped one from Old Navy. (jersey swing dress, $13.50, Old Navy)
What essentials do you add to your suitcase when traveling to the beach? I'd love to know.