I was never the reader in my family. I only started to really enjoy books when I was about 16. Since then, I've read a decent amount of books for pleasure, but most of the books that I have read in my adult life have really been all school and research related. I try to keep a few for-pleasure books in my rotation, but I don't get through them as fast as I'd like. One of the things I wanted to do on my Floridian vacation was to read. And so that's what I did.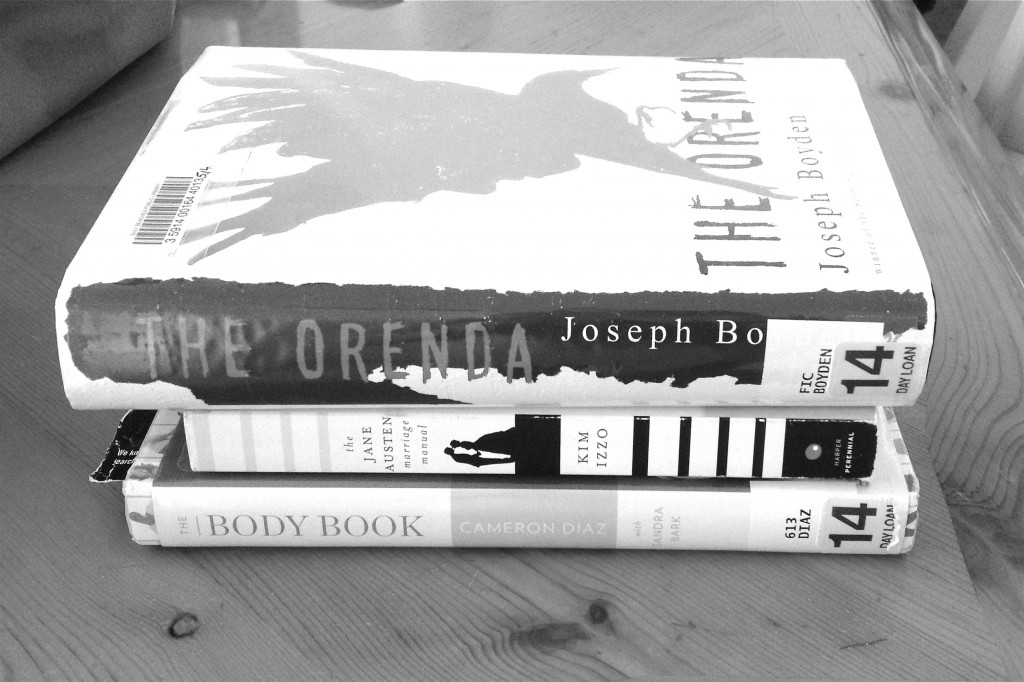 The Orenda by Joseph Boyden: This isn't the type of book I'd naturally reach for, but a friend was telling me about it before I left, so when I saw it at the library (yes, that's right, I go to the library when I'm in Florida), I thought I'd give it a try. After reading the first 10-20 pages, I didn't actually think I was going to make it to the end, but then I really got into it, and I'm so glad I did. This award-winning Canadian novel is beautifully written. The historical narrative is set in the early 17th century, and depicts the struggle and conflict of native life in Canada.
The Jane Austin Marriage Manual by Kim Izzo: This one falls into the enjoyable chick lit category. It was a quick and mostly entertaining read. As the title suggests, it was a very Jane Austin type of story.
The Body Book by Cameron Diaz: This book can basically be summarized by the following statement: the "secret" to a healthy life is to eat healthy and exercise regularly. Obviously this is not really a surprise, right? There's nothing really new or thought-provoking in this book, but it's well-organized and an easy read.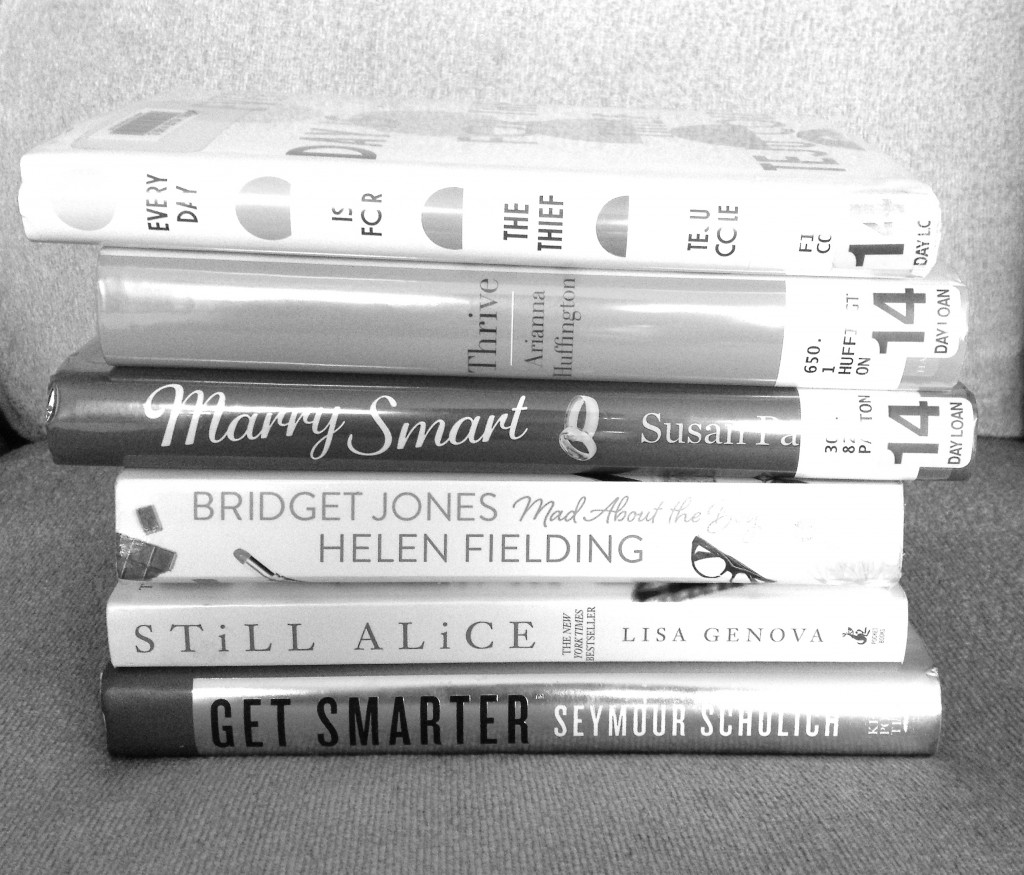 Everyday is for the Thief by Teju Cole: A student I met earlier this year mentioned Teju Cole, and so I thought it was about time I focus on his writing. The reader follows the main character from NYC to Lagos, Nigeria. In this original work of fiction, the main character (who remains nameless) tries to make sense of the fraud he witnesses and the changes he has observed in his home country of Nigeria.
Thrive by Arianna Huffington: Do you remember the world pre-Huffington Post? I barely do! HuffPost is the go-to hot spot for news and information. It was interesting to read Arianna's stories and her approach to work and life (balance, people, balance!). She has some valuable pieces of advice to help us thrive in achieving our goals.
Marry Smart: Advice for Finding The One by Susan Patton: This book was written by the author of that article advising women to find a husband while they're young before it's too late. Ugh. The book was ridiculous and condescending. I really just hated it. The writing was less than stellar, but I won't even get started on that. If it wasn't such a quick and amusing (as in, how did this actually get published?) read, I would have stopped reading after page one.
Bridget Jones: Mad About the Boy by Helen Fielding: A great girly beach read. Who doesn't feel a connection to Bridget Jones? I won't spill the beans, but in this story, Bridget has aged, has kids, and learns all about social media.
Still Alice by Lisa Genova: I really enjoyed this book. Although the story is more sad than light-hearted, I liked the character development and the way the characters interacted with one another. They felt real. The main character, Alice, is a professor who is dealing with early onset Alzheimer's. I saw myself in her at some points.
Get Smarter: Life and Business Lessons by Seymour Schulich: The author is the Schulich. If you're in Canada and you attended a post-secondary institution, you may have taken classes in a Schulich building. Schulich. Is. Everywhere. I enjoyed Schulich's perspectives on business, philanthropy, and relationship building.
I also read Good Boss, Bad Boss by Robert I. Sutton (many worthwhile points) and a stack of amazing magazines (House & Home, Southern Living, Dwell, Martha Stewart, Air Canada's En Route, etc.). Beach time is the perfect time to get lost in texts!
I've now got two books on the go: Italo Calvino's If on a Winter's Night a Traveler and Jennifer Weiner's Then Came You. Both are enjoyable so far!
And that's about all I've been reading. It's been an eclectic mix of texts this month!