Okay, dear readers, I have majorly fun news! Major! Ready? Are you sitting down? Okay. Here it is…
I'm going to Italy! In. One. Month.
For a traveler like me, this is really really really exciting. Italy is my jam. My people. My food. My fashion. I haven't been in 5 or 6 years, so you can imagine how thrilled I am. In fact, there are even more reasons for my enthusiasm. I'm heading over with my dad who is going to reunite with his highschool friends once again (remember how he reconnected with them via Facebook after 50 years?). Now I get to reunite with them, too. It's wild. Meeting people who knew my dad when he was 16? That's nuts! Right?
And on top of all of this, the incredibly generous folks at Expedia.ca are sponsoring my trip! Yes! Yes! Yes! As in the Expedia.ca. The same Expedia.ca that I have been using for years to book my trips. The same Expedia.ca that finds me the best possible prices for flights, hotels, and cars. Yes, it's that Expedia.ca!

Me? Excited? Yeah, excited is an understatement. Going on this trip with my dad means so much, and the fact that Expedia.ca and I are collaborating is just the bees knees!
I'll have many posts to share, so I hope you're eager to follow along. I'll share with you news of my trip planning, my packing list, my hotel stays, my city explorations, and, of course, I'll give you the low down on what it's like to go on a father-daughter trip (not our first, in fact)!
For now, I bet you're curious about where I'll actually be going.
Soon after I had learned about Expedia.ca's sponsorship, I got to work planning the vacation. My dad (let's just call him Dad) had already booked his flight and sort of finalized his travel route with his friends, so I had to touch base with him to learn more about his itinerary.
First off, I researched flights, and I was able to get on the same flight as Dad had already booked. As anyone who has used Expedia.ca knows, the search function is pretty darn awesome, and you can limit your flight searching options in so many ways – by departure/arrival time, number of stops, and airlines, to name a few.
Normally, I search flights by number of stops and price. In this case, however, since I had my dad's flight information, I searched by departure time and airline. I wanted to see if it was feasible to get on the same flight to Bologna that he was on. It was. Easy. Done. At the same time, I debated a few return options and saved them using the "My Scratchpad" feature while I thought about how long I could stay in Europe.
I find the "My Scratchpad" quite a handy addition to Expedia.ca. It basically houses a record of your searches, and when prices change, you can request to be notified. I think that's pretty darn magical. I think you have to be logged in so that things are saved, so be sure to do that first.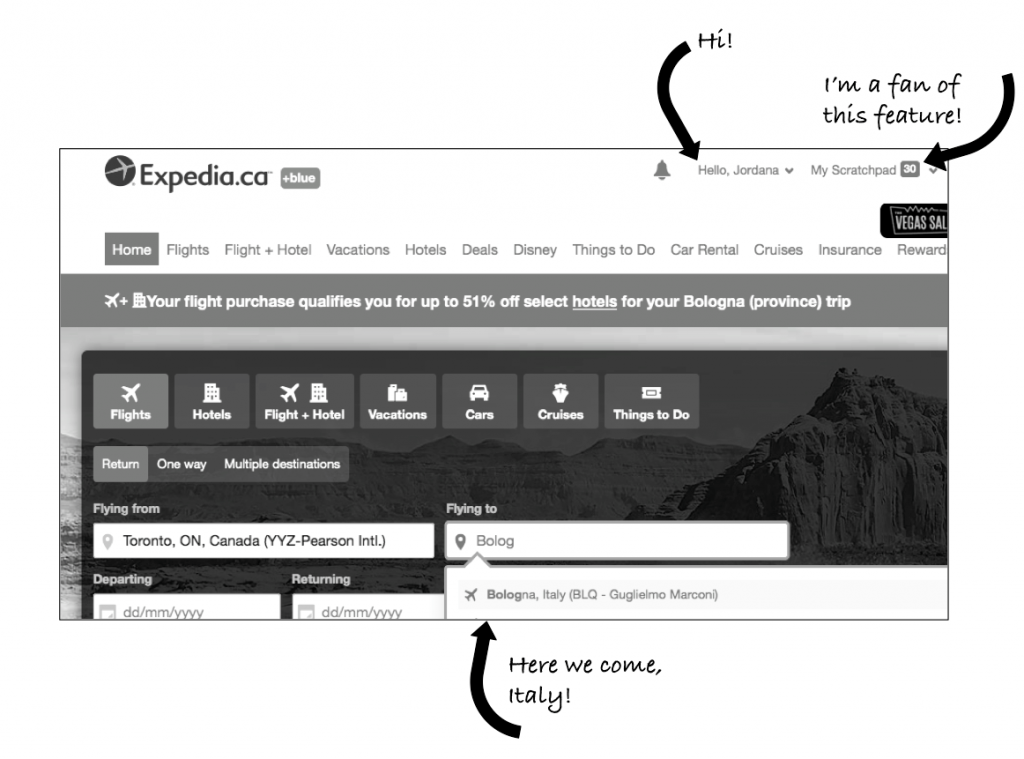 You can see that I took this screenshot after I had booked my flight because of the extra ticker line advertising up to 51% off hotels in Bologna!
You can also see up my the Expedia.ca logo that I'm currently sitting at "blue" status in terms of the Expedia loyalty program. As a blue member, I am eligible for things like member-only pricing, extended price-match guarantee, and earning 2 points for ever $1 spent. I have a few sleeps in hotels to go before I reach the next status level (silver). Read more about Expedia.ca rewards if you're interested.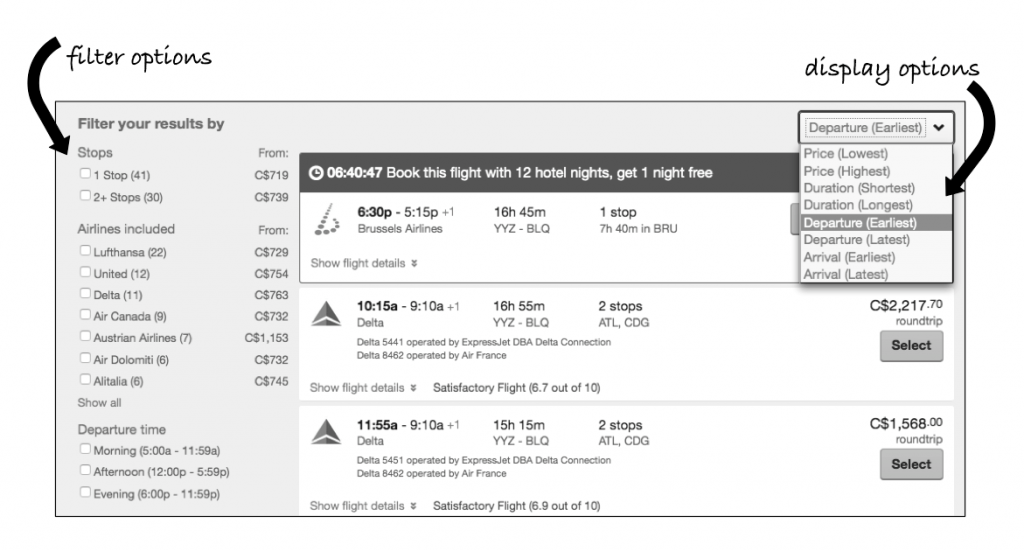 Are you waiting to learn more about our travel itinerary? Well, let me tell you, it's a good one!
Dad and I have arranged our trip so that he can visit with his highschool friends in various parts of the country. We will fly into Bologna, then we train it to the beach town of Rimini for a couple of nights, attend his yearly highschool reunion lunch (I'll have to brush up on my Italian between now and then), drive to Bologna for a few nights, drive to Florence for a few nights, and then visit my relatives for a few nights in a small town near Milan. After this, Dad will travel back to Toronto, and I'll be heading for a little weekend getaway in Copenhagen. #IFeelSoDarnLucky
Seems like a pretty good route, doesn't it? Dad is pretty excited, too, since he'll get to introduce me to his highschool friends, and he'll get to treat me to gelato (many, many times!).
If you have any recommendations or post requests, let me know!
Many thanks to Expedia.ca for sponsoring this trip. I am thrilled to be working with such a well-respected company. That said, all opinions are my own, and I am committed to writing honest reviews.