Last month, I reached out to American classic L.L.Bean to inquire about their rain boot collection, and I'm grateful to L.L.Bean for sending me a pair of their tall black wellies and wellie warmers. When I prepared this style post, I hadn't yet worn my wellies too much, so I couldn't do a full review. Now, though, since the arrival of quite a bit of rain and slush, I have plenty more to say! Care to read on?
As I mentioned in my last post, I was completely impressed with L.L.Bean's social media team, PR pro, and online chat personnel. I received excellent and speedy customer service, and my initial reactions were positive. I do already own an L.L.Bean personalized duffle bag, and it has passed many tests over the years, so I had high hopes for the boots. Thankfully, things are working out very well!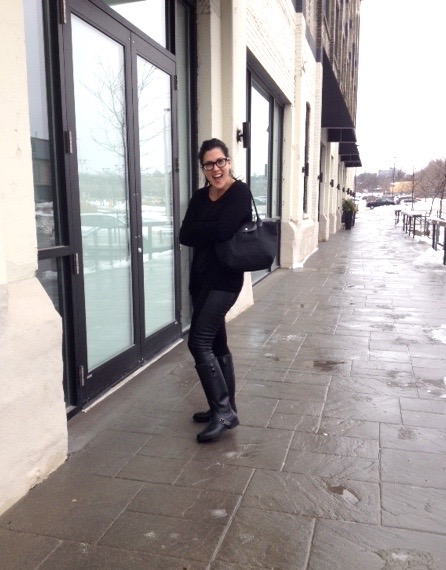 Here I am on one grey rainy December day wearing my L.L. Bean wellies. I paired them with leather-detailed pants, layered black tops, and a classic Longchamp bag.
The boots fit my foot perfectly, and they're very comfortable for walking around. I do walk a lot (to work, to the grocery store, to the library, to cafés, etc.), so I'm not lying when I tell you that they're comfortable for walking (as much as walking in the rain is comfortable – ha!).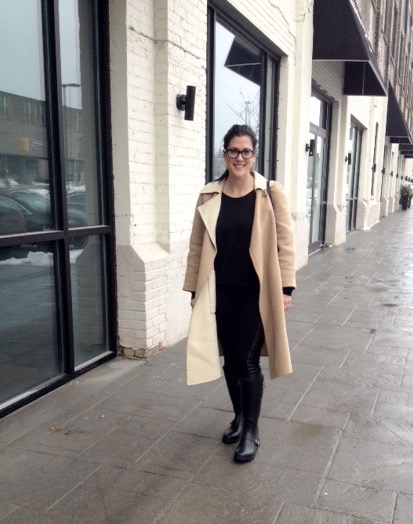 I still feel put together even thought I'm wearing rain boots.
When I originally placed my order, I wasn't 100% certain that the boot would fit comfortably over my calf (I do have issues with this with some companies). After asking the online chat person about the sizing, I felt more confident. The boots do fit over my calf easily – even with the wellie sock – and the elastic feature on the back increase the comfort level. The boots sort of just move with me as I walk if that makes any sense. The fit is true to size. I'm normally a size 8, and I ordered size 8, and they even fit well when I wear  the wellie sock.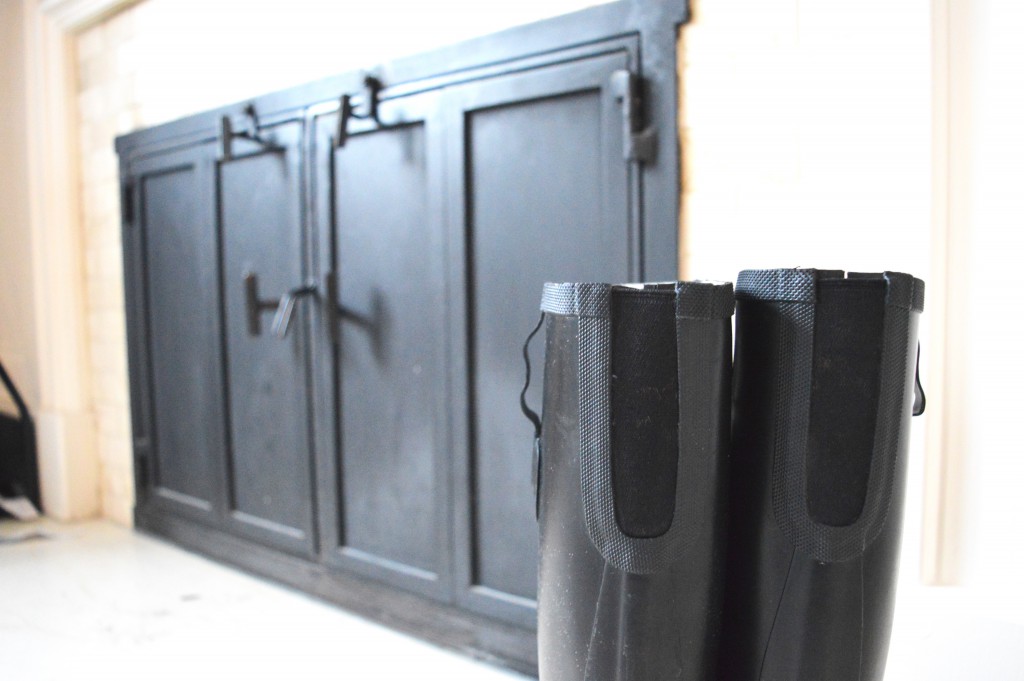 back elastic feature
There are loops at the top of either side of the boot, and I hang on to these as I pull the boots on. Easy.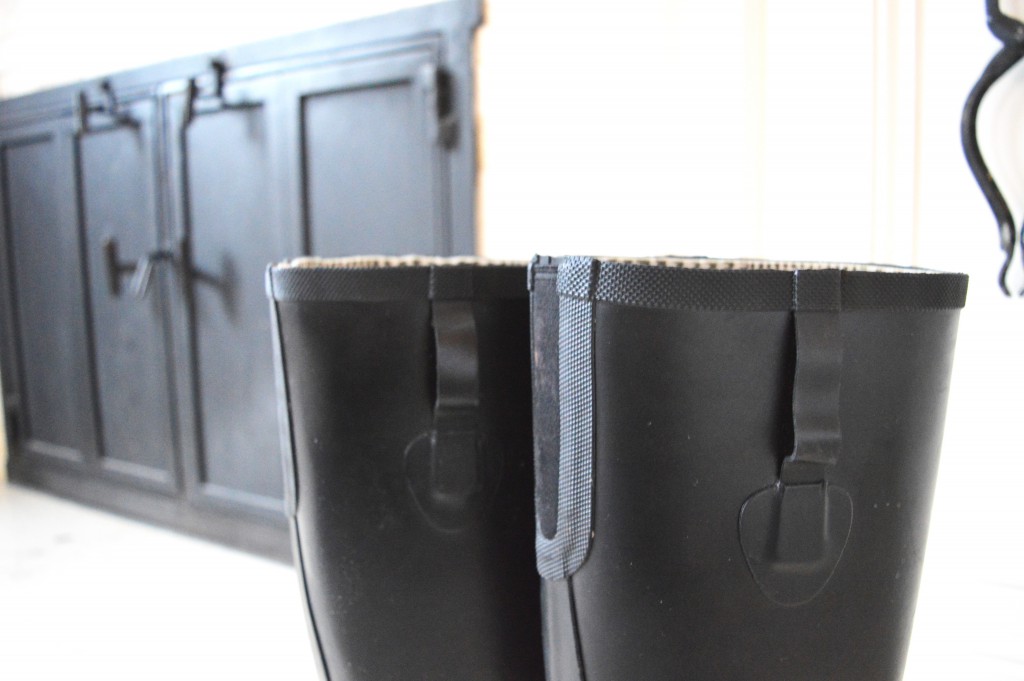 loop detail
Another feature I surprisingly like is the buckle detail across the top/side of the foot part of the boot. These make the boots feel unique, substantial, and a bit rock-and-roll.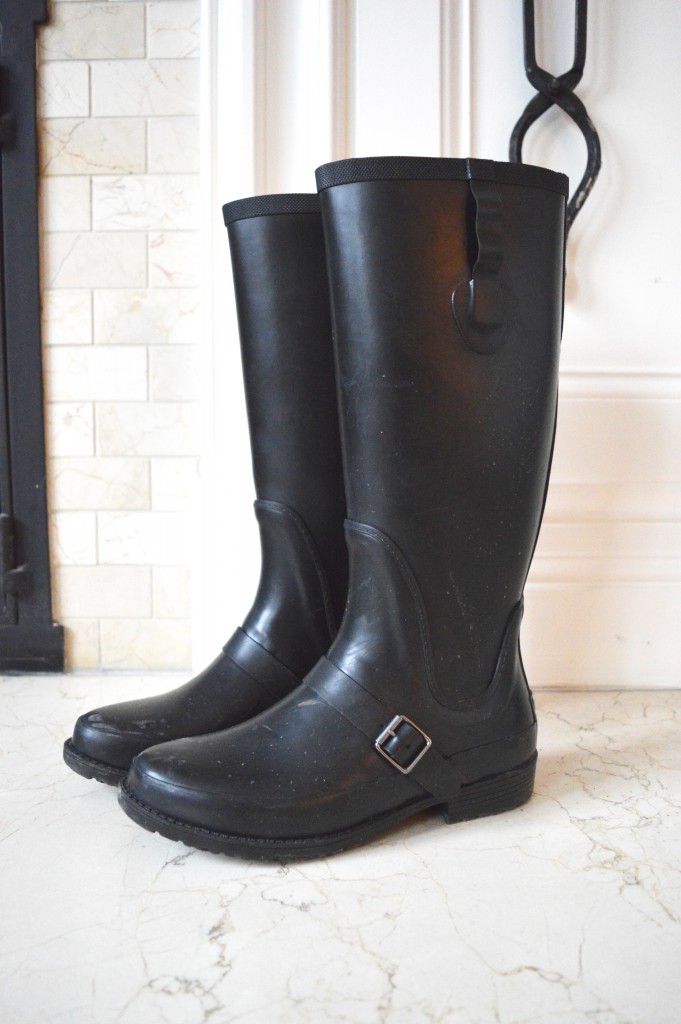 the buckle
The sole is thick and sturdy, and I feel very stable as I walk through puddles or slush (you can see evidence of those puddles right there on my boots).
Finally, the boots come in at a fair price point considering the rain boot market. The boots are $89US, and the wellie warmer socks are $24.95. L.L.Bean offers free shipping and an unbeatable guarantee, which are bonuses in my mind.
So, as you can gather, I have only positive things to report about my new wellies. They get my stamp of approval!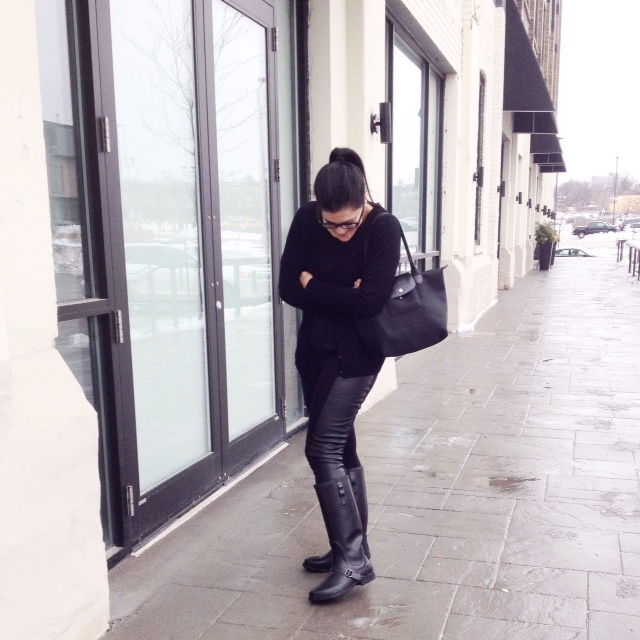 Let's all take another moment to stare at the boots, shall we?
Many thanks to Rox-Anne for taking these photos during one random post-café-meeting photo shoot! Boot photos by me.