I'm certainly not an expert photographer, but during my trip to North Carolina to visit my family, I took a bunch of photos of my nephews and niece. Not an absurd amount, just a bunch. And I tried a couple of things that worked well – happy accidents, really – that I thought I'd share them. Plus, everyone likes photos of cute kids, right?
I hadn't seen these kiddies in 1.5 years. Way. Too. Long. Of course we Facetime and talk on the phone (as much as kids like to do these things), but this is definitely not the same thing as real life interactions. Because of the distance, I had only somewhat noted how their personalities had developed and changed over the year. Most noticeable was my sweet niece, Gigi, since she was barely speaking (or in a way I could understand her) the last time I saw her. Now, she's full of personality, and she was so fun to photograph!
Here are my strategies for great (in my opinion) photos:
1. Zoom In on Facial Expressions
Miss. Gigi loves to sing Katy Perry's Roar song, so when I asked her to roar for me, she went for it. And it was hilarious! This was just a casual thing that I asked her to do while we were cuddling on the sofa one morning (she was still in pjs in fact!). This roaring episode turned into a whole series of commands: Show me a happy Gigi. Show me an angry Gigi. Show me a "Gigi loves mommy" face. And this continued to be hilarious. I felt like Nigel Barker (noted fashion photographer). I snapped pics on my iPhone but didn't look at them until after the "photo shoot." When I did, I was in awe. The photos were fantastic! And Gigi really worked the camera! Ha ha ha. I combined them via the PicStitch app, turned them into black and white, and voila!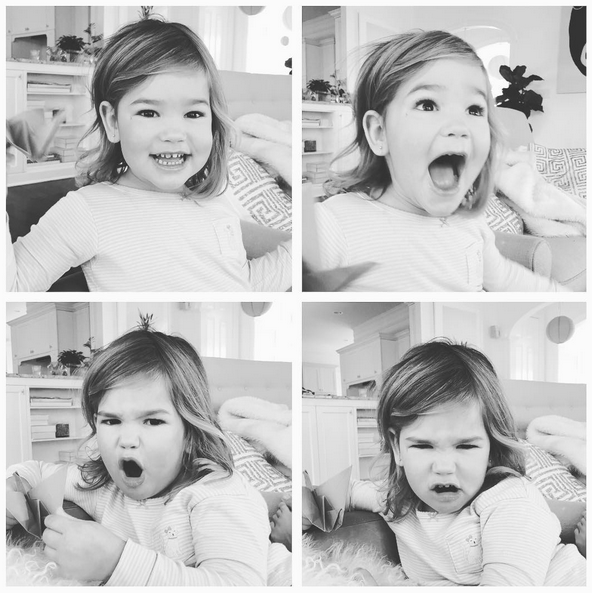 What a cutie pie!
Over the series of my days in North Carolina, I played the same photo shoot game with each of my nephews, but I altered the commands. With Reef, picky-eater Reef, I related all the commands to food: Show me an "I love Mac n Cheese" face. Show me an "I hate chicken" face. Reef, you'll notice, wouldn't let go of the gummy vitamins that he was handing out to all the family members mid-shoot. Oh, what fun!
Here's what I ended up with…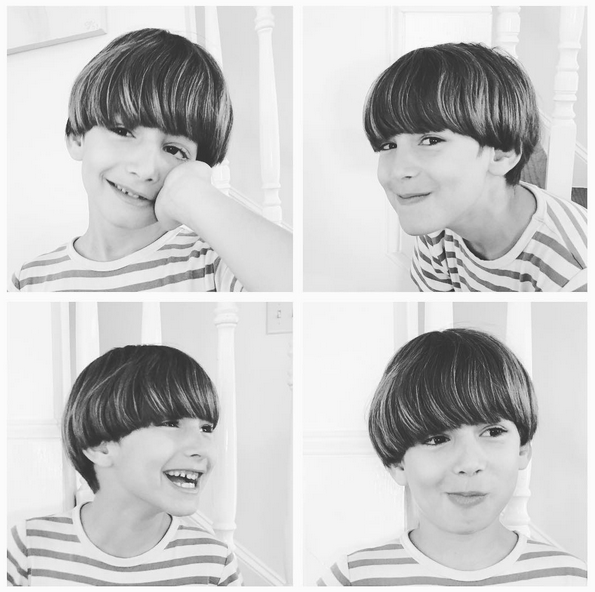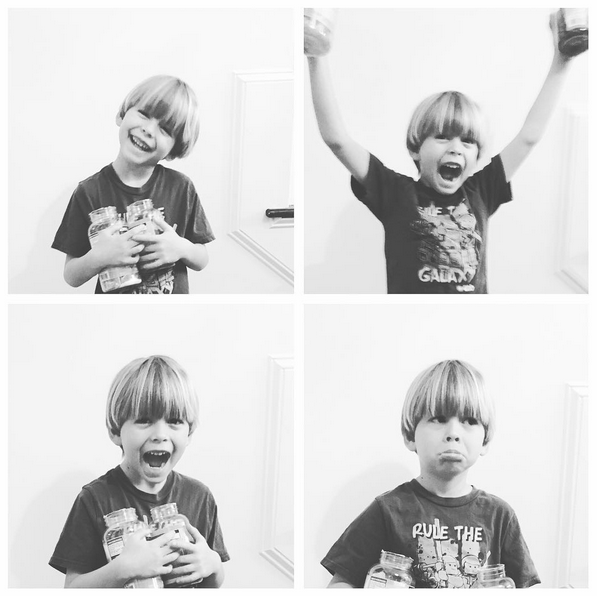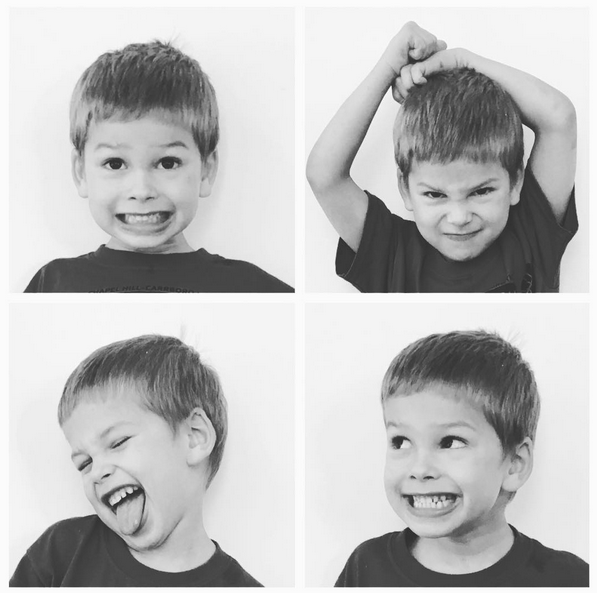 I just love these kids!
2. Props
I always bring amusing (for me, mostly) gifts to the kiddies when I visit. On this trip, I packed silly glasses and whoopie cushions. Oh, the laughs! I think I need to start buying whoopie cushions in bulk because these kids sit on them with so much force that they keep breaking them! I hope you have a mental picture of this, by the way! On this visit, I even orchestrated a synchronized whoopie cushion routine with them. It was basically an amateur whoopie cushion symphony! Noone could keep a straight face, that's forsure! Giving whoopie cushions to four kids who love the word "toot" is pretty darn funny. If you ever have a bad day, find a kid and give him or her a whoopie cushion. Hours of entertainment. Having – I mean playing with – four kids makes being an aunt a pretty fantastic gig.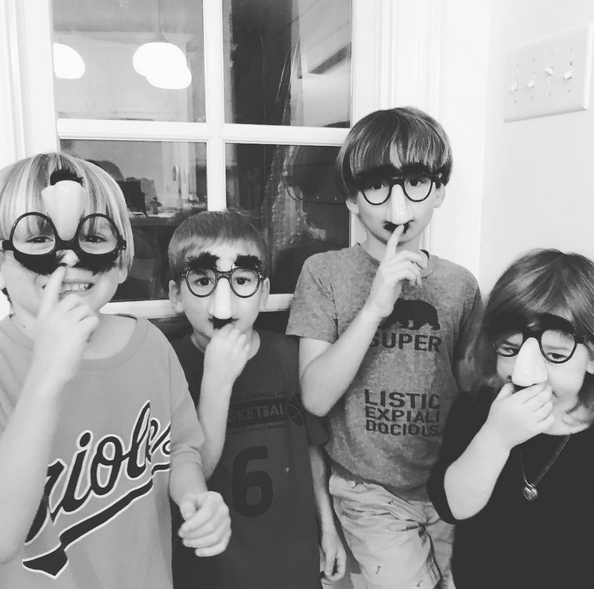 I'm sure you can guess what I told them to do before I snapped the photo.
3. Get Down
I think my best photos of these kids came when I got down to their level. I'm talking knees. Taking photos of them from my height is okay, but also looks a bit odd. Getting down to their size keeps them the centre of attention and more in perspective.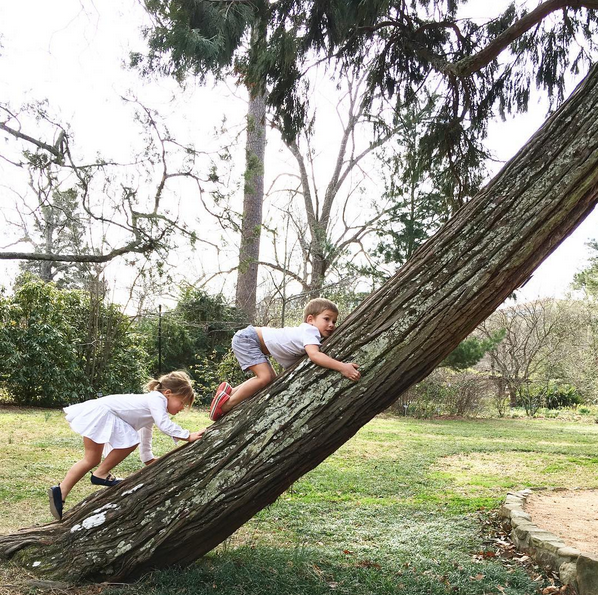 4. Black and White
Kids wear a lot of colour. Sometimes their clothes match, sometimes they don't. Sometimes their clothes are dirty. Turning colour photos into black and white gets rid of the noise in photos, and it results in a cohesive bunch of photos.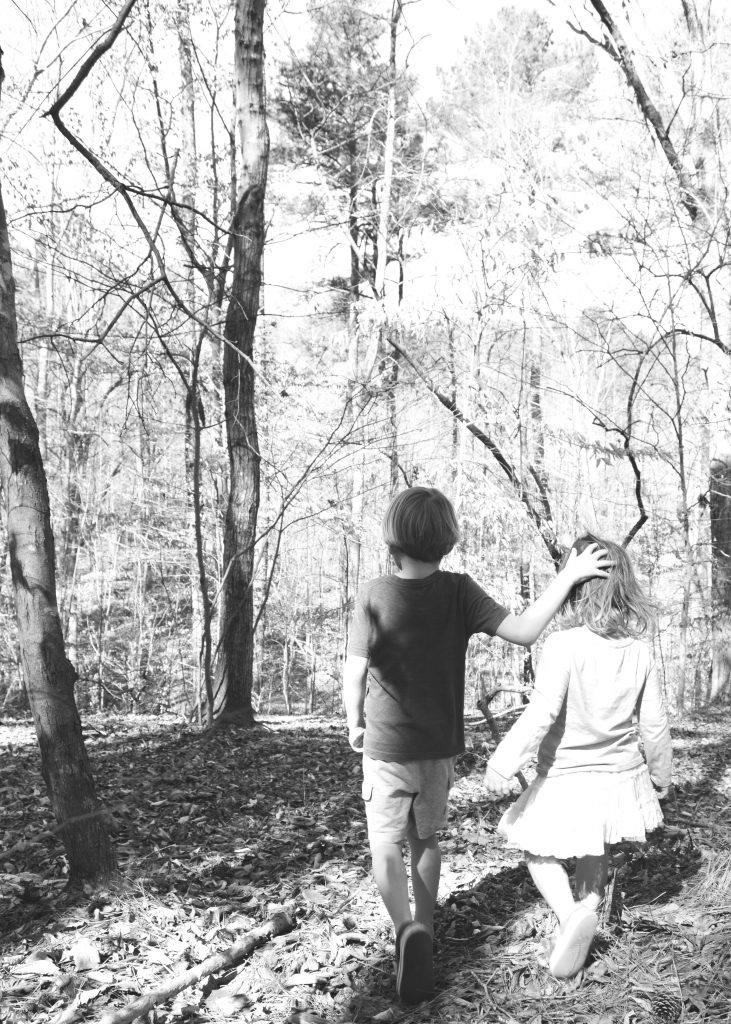 sign of a protective older brother
Cute start for a Monday, right? Have a great week, everyone!
Save