When I stayed at Langdon Hall last month, I absolutely fell in love with the feather topper on the bed. As soon as I lay down on that bed, I felt like I was on a cloud. It was an incredible sleeping experience that I had never had. Now I want it again.
I did a bit of searching (not that hard because Langdon Hall's site is full of info), and I learned that the feather toppers are made by St. Genève – just for Langdon Hall, I might add! With a click and a web-hop away, I landed at St. Genève, and I read just about everything about the products.
As you may recall, I have declared 2016 The Year of My Bed (or The Bed…I keep switching). My bedroom needs a revamp, and I'd really like to invest in the top of whatever I possibly can (luxurious but affordable is what I'm going with).
As of now, I don't have a new bed or a new mattress or new linens or even a decision about whether to invest in a queen or a king, but one thing I do know – and I'm making room in my budget for – is that I'm certain a feather topper is in my bedroom makeover future. Heavenly, I tell ya, heavenly!
Since I've had experience sleeping on St. Genève's feather topper, I'm just about certain that I'll be buying one of these.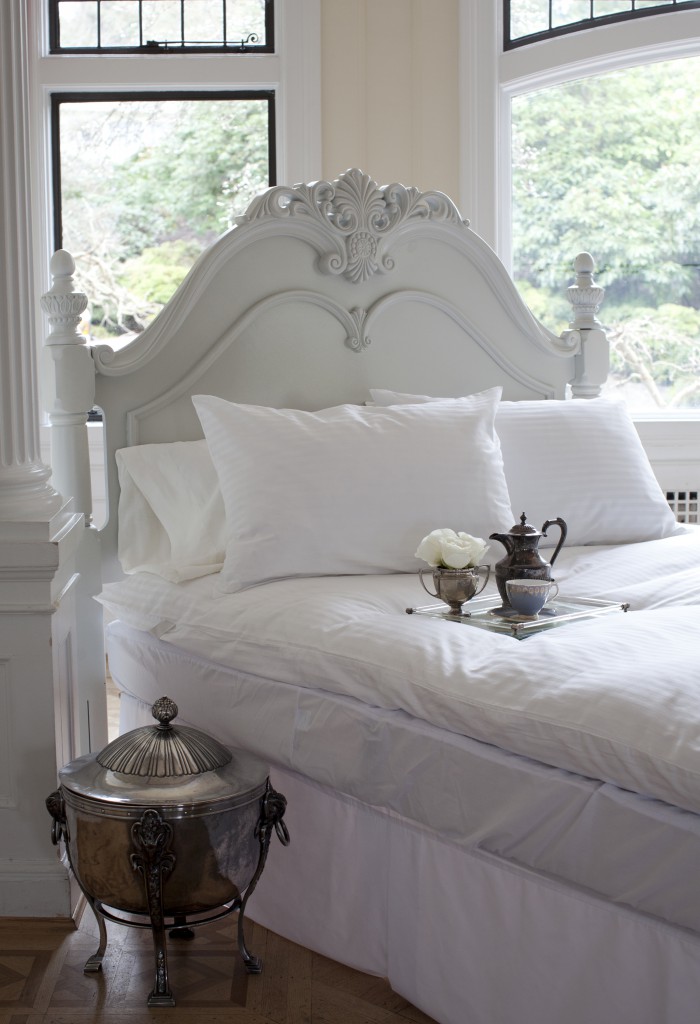 feather mattress top protector

St. Genève feather toppers have 100% cotton twill shells and are down in baffled ladder design with a box edge. Since the toppers cannot be washed or dry-cleaned, a cover should be used. This can be removed for laundering.
Beyond the toppers, I discovered, the company makes gorgeous white bed linens. This is luxury, dear readers! Fabric is woven in Italy, Germany, and elsewhere, and there is so much softness in the designs. In addition to the white-on-white versions below, the linen collection includes some colourful designs, too.
In addition to the feather top and the bed linens, St. Genève also manufactures high-end  duvets and pillows.
I think that if you're aiming for a luxurious bed, St. Genève is a place to visit. Their collections are in Canada, USA, and Asia (locations here). The company  is a leader in high quality and guarantees its products. You can learn all about the different types of down here.
I'll be sure to let you know what I think about my topper choice once I've made it….I have 11 more months to get my bedroom makeover sorted out!