I take my coat purchases very seriously. I'm not a fan of winter, I don't like to be cold for even a minute, and I spend quite a bit of time outdoors because I walk to work/grocery store/cafés/etc. Coats can also be quite a pricey investment.
Many years ago, I bought this black puffy coat in New York City, and it was my "duty" coat as in I needed a super warm coat to carry out my yard duty responsibility when I was teaching at an elementary school. The coat is intense. It looks like I'm wearing a sleeping bag. I loved that coat even though I looked ridiculous! A couple of years ago, the zipper broke, and I never got around to getting it fixed. I made do with the button closures.
In my puffy coat purchases, this gold coat came next. It's been a decent replacement. It's not as long as the black coat, but it's very warm, and it's gold! While I do love black, I like having non-black coats in the winter. I love the high collar on this coat and the asymmetrical zipper. The problems with this coat, though, are that it doesn't have a hood and it's too big.
Since I was in need of a new functional winter coat, L.L. Bean generously sent over its Ultralight 850 Downtek coat (long version). Since I'm quite a picky customer when it comes to coats (if you couldn't already tell), I thought it might be helpful to my readers and to L.L. Bean if I did a full review of this coat. Here. We. Go.
The Ultralight 850 Downtek coat comes in black, plum, blue, and shadow. I opted for the shadow.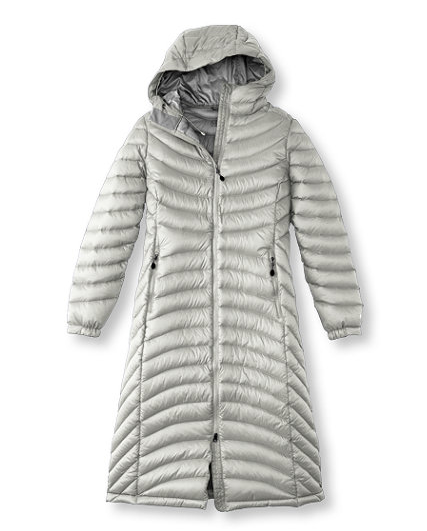 L.L.Bean's Ultralight 850 Downtek coat in shadow, $219 USD (on sale)
The first thing I noticed about the 850 Downtek was the colour. It's honestly a bit hard to describe. Sometimes, the coat looks like the colour in the photo on L.L.Bean's website – silvery grey. Other times, it looks more white. And yet at other times, it looks like it's icy blue. This is making me consider possible scarf set options. So far, I think black or cream works best with it, but I think the right shade of fuchsia will also go nicely (basically, it'll look like I'm wearing my basement decor).
When I pulled the coat out of the box, I was amazed by its lightness. It is SO light! My black sleeping bag coat is heavy, and my gold puffy coat isn't much lighter. The 850 is just as it's advertised – ultralight! It feels like I'm wearing an extra sweater rather than a super warm puffy coat. You know? I was completely shocked! Puffy coat technology has completely improved in the last few years.
Once I put on the coat and started wearing it, I noticed a bunch of amazing and useful design details.
The hood tightening system. I used the hood one evening when it was raining and I forgot my umbrella. The hood came in very handy, and since it was also quite windy, I used the pulls to tighten the hood so that it wouldn't blow off. I was impressed. (Look at me – dealing with the elements!)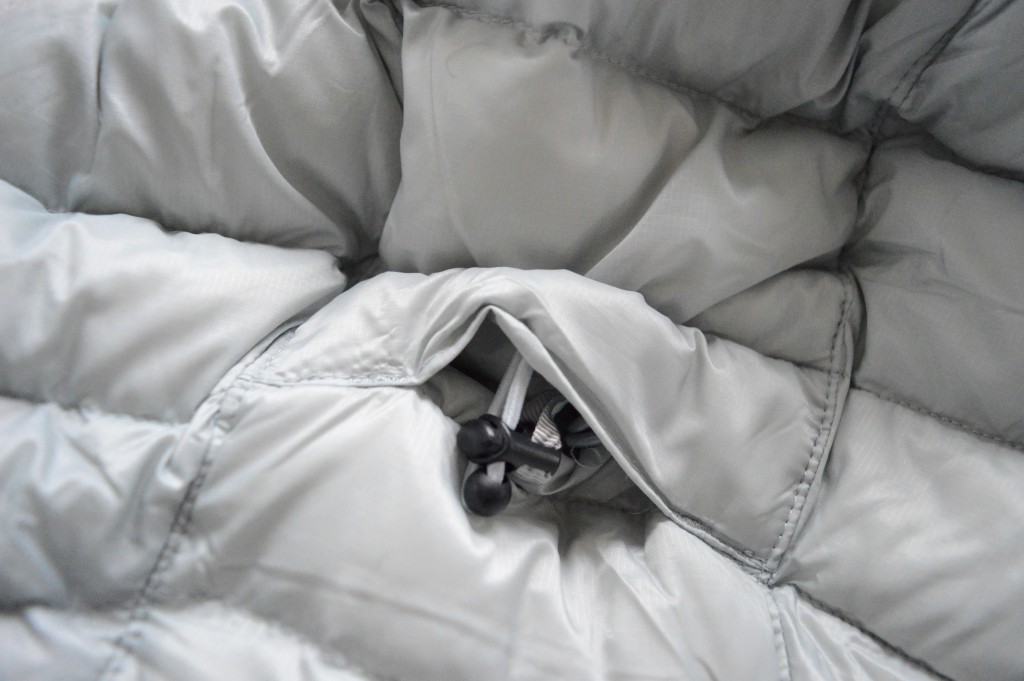 The arm hem sleeve details. One side is elasticized, but the other is plain. I think this is a nice detail. It keeps the cuff tight (doesn't let the air in), but it doesn't cut off my circulation with a too-tight elastic closure.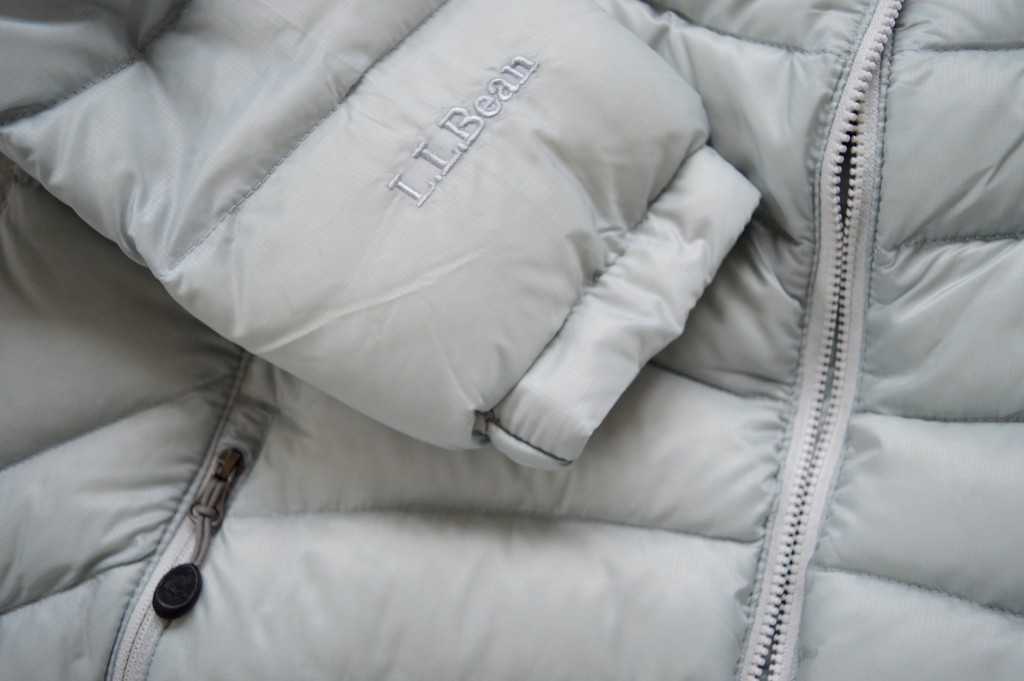 The two-way zipper. I adore this feature, and I use it when I'm walking (and I want to make super long strides), but I mostly use it when I'm driving since unzipping from the bottom makes it easy to get in and out of the car, and reduces the risk of ripping the coat or zipper.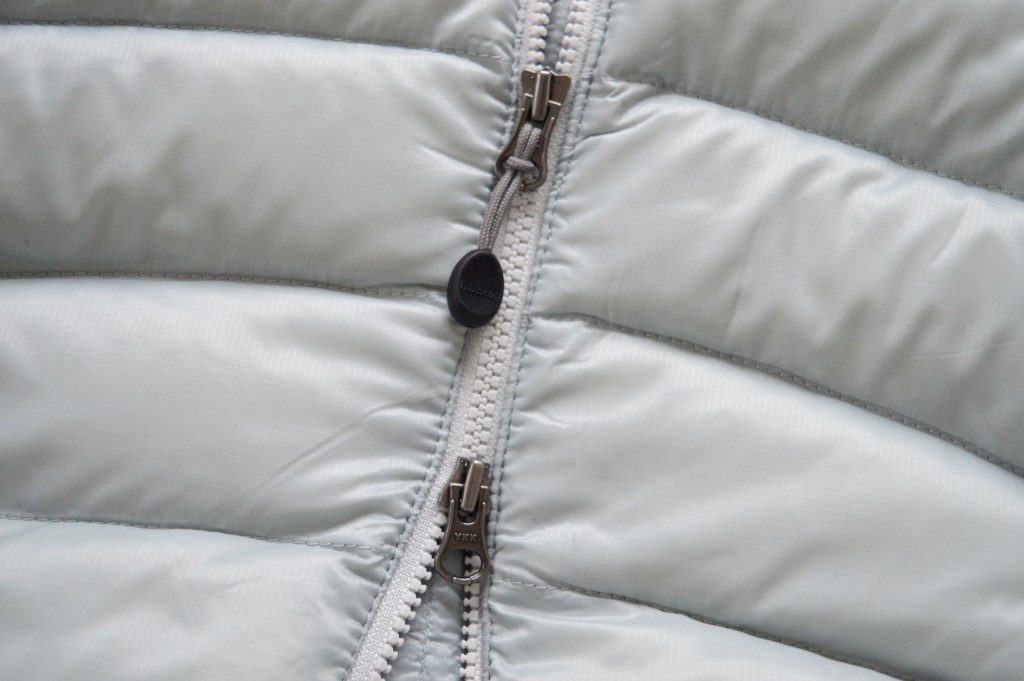 The length. I'm 5'4″, so the length is exactly what I wanted, but it's definitely longer on me than it is on the model in this photo. This is not a knee-length coat on me, it's more of a mid-calf length.
The inside pocket. I'm glad this exists because when I don't carry my purse, I make good use of the pockets. This extra interior pocket was a good design move.

The zipper pulls. Sometimes it's the littlest things that make the biggest difference. In this case, the zipper pulls make zipping up the coat and pockets very easy when I'm wearing my gloves. Plain zippers are too slipper and small, and they make me annoyed. These little rubber-ended pulls are easy to use.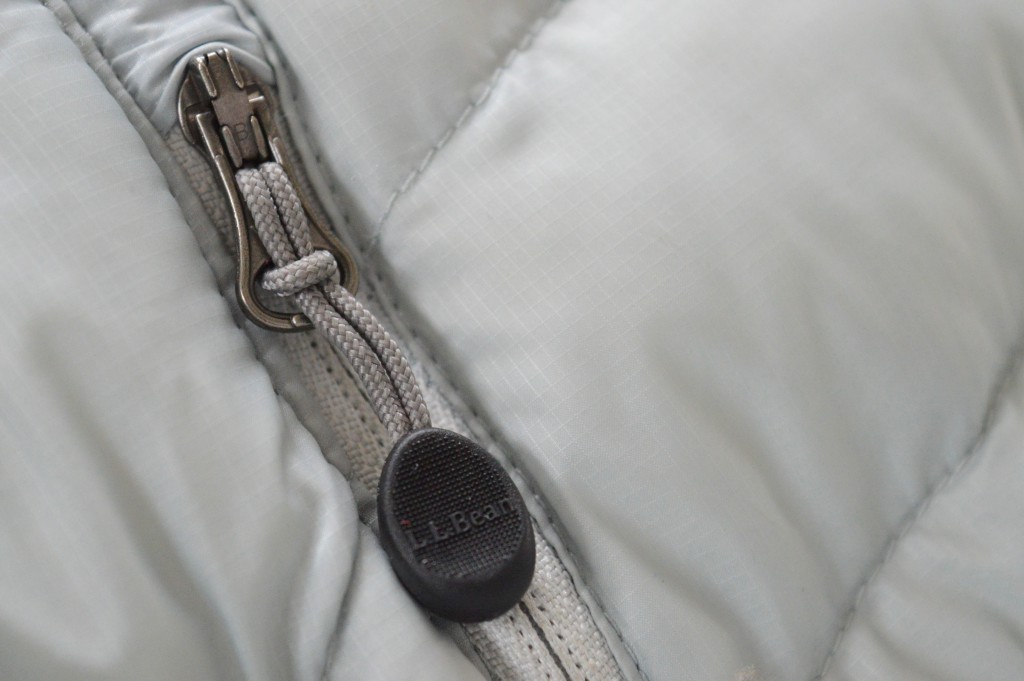 Warmth factor. Okay. So the coat definitely keeps me warm. It hasn't been brutally cold, and I think the coldest it's been has been -5C, but the coat has kept me very comfortable on my walking commute as well as in a cold arena while I sat and watched Skate Canada's synchronized figure skating event.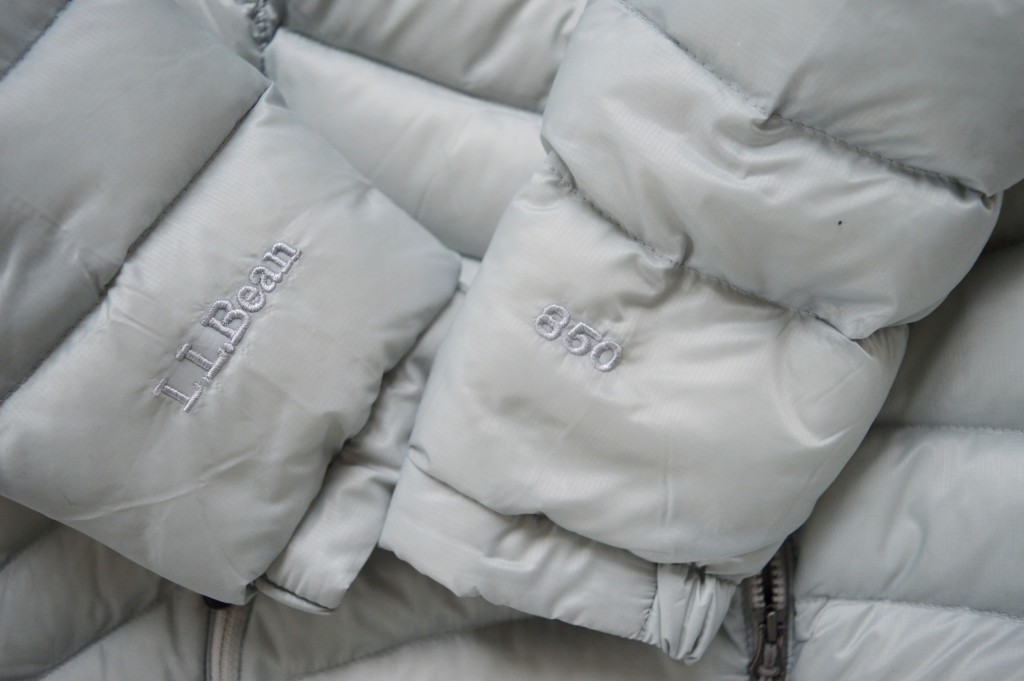 The 850 refers to the goose down insulation, and the DownTEK™ is a treatment to insure water-resistance. This is one of L.L. Bean's warmest coats for women, and it will keep me warm up to -30F (-34C…is that the right conversion?).
And, finally, here's what I look like in the coat (paired with black, of course):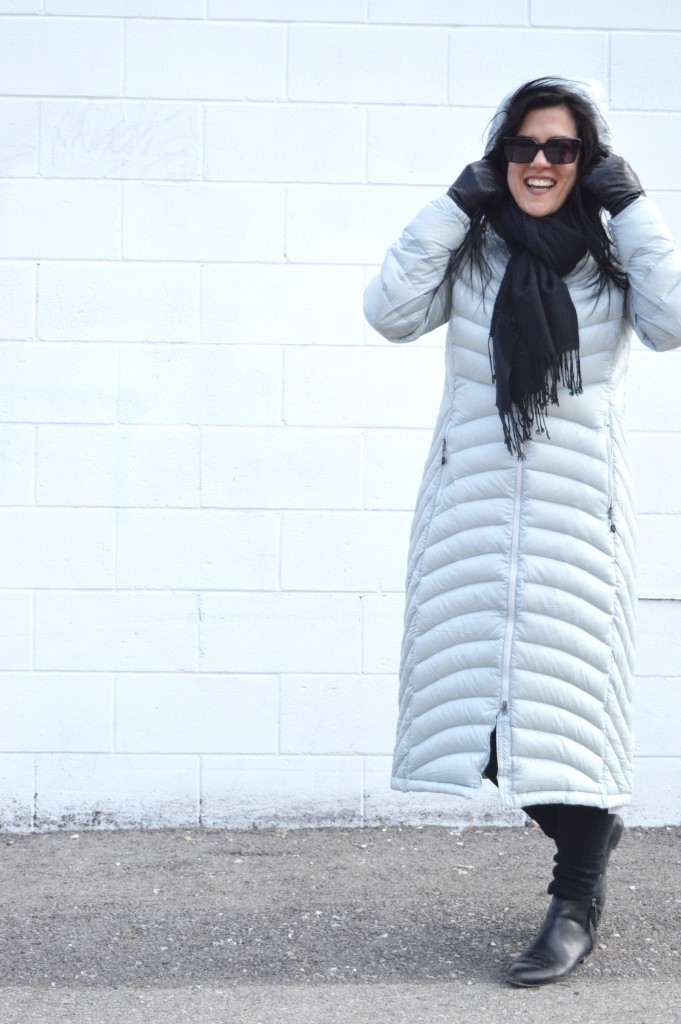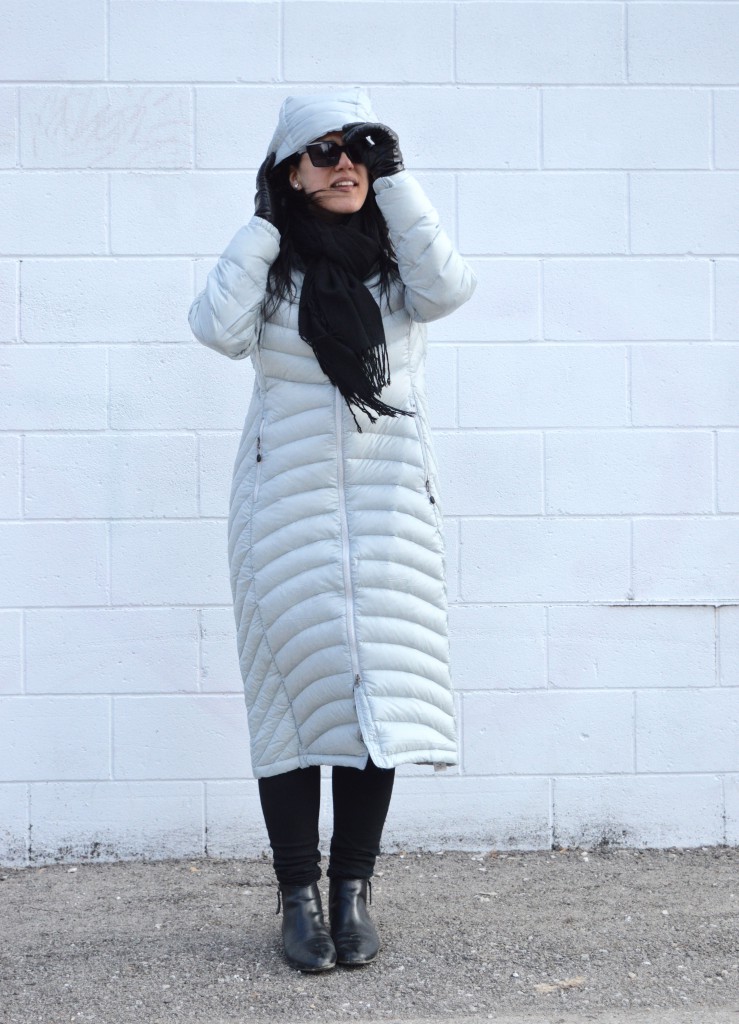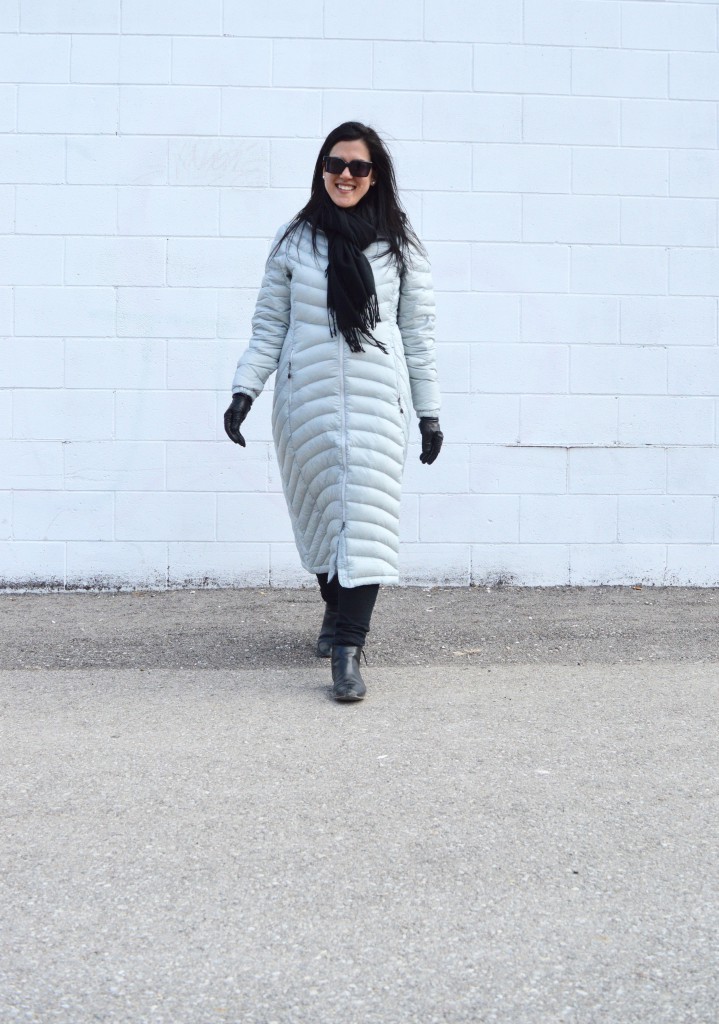 L.L. Bean 850 Downtek coat – long c/o, L.L. Bean Signature black skinny jeans, modern fit c/o, Gap booties, leather gloves (old), scarf (old)
I'm wearing a size medium, but I'm sure the small would have worked out well, too. As with my wellies, I used L.L.Bean's size guide, and I found it to be quite helpful. I can easily add a bulky sweater underneath this coat, and it would still be comfortable.
Thanks, Shannon, for the photo shoot! Photos by me and Shannon. Thanks again to L.L. Bean for sending me this coat. All opinions are my own.