I've been bouncing off walls for days now. My friends and family must be sick of me texting and emailing messages with an abundance of exclamation marks. People on the other end of phone calls hear my high-pitched squeals of excitement. Why you ask? Well, I know the title of this post gave it away, but…
I'm in Style at Home's June issue!!!
Yes! You read that correctly!
I'm in Style at Home's June issue!!!
This has me excited for all sorts of reasons!
Buying my house was one of my proudest life moments. I have been a student for all of my adult life, but all the while, I was trying to save money for my future home. Four years ago, I had just finished my PhD, moved to a new city, and bought my first house. My house. My own house. With a garage. With my money. That I earned. I was ecstatic then, and my home still brings me so much joy now.
The "before" of my house was interesting. Some of you may remember that my house came not only with furniture, but with people. Yes, people. I sold just about every piece of furniture. And I kicked out the tenants once their leases ended a month or so after closing. Yes. A house with furniture and people. Who buys such a house?
Me.
My house is in a perfect-for-me location. I walk and ride my bike everywhere. My quality of life is top-notch, and I think much of this is because of the location, size, and design of my house. Honestly. I love my house! And I'm so very grateful for all that I do and all that I have.
My house was certainly not in perfect condition (and up to my design standards) when I bought it. Little by little, I made each space in my home happy. It was a lot of work, but it was fun and rewarding work. I wanted to do as much of the work on my own, and my family lent a hand along the way – as you've seen with various posts over the years. Not only did I learn how to tile and how to paint an air conditioning unit (still one of my most popular posts!), but I also practiced my design skills. I created a dramatic ink-blot art wall in my main bath to detract from the grey, 80s jacuzzi tub. I curated a massive gallery wall in my office to showcase all of my art treasures. And I found and bought the perfect couch. I know people make fun of me because I can talk about my couch so much, but it's true. It's perfect.
Throughout this reno journey, I've shared a lot on White Cabana, and I've connected with so many people in the design blogging community. I feel so darn lucky!
As if this wasn't enough, this happened…
Style at Home Came Over!!!

Morgan Lindsay, Stacy Begg, and Donna Griffith came over bright and early one day last spring for a photoshoot. It was unreal. They worked their magic while I tried to contain my excitement. (It's a recurring theme, can you tell?) We moved things around, and we moved them back. Stacy and Morgan organized my books beautifully, brought in a few additional accessories, and made sure each space was looking its best! Donna and her assistant set up all of their cool photography equipment throughout the house and worked quickly and efficiently to take photos of every room. This team was fun, professional, curious, and interesting!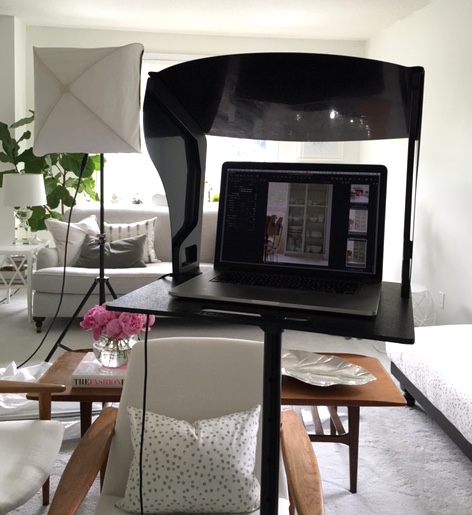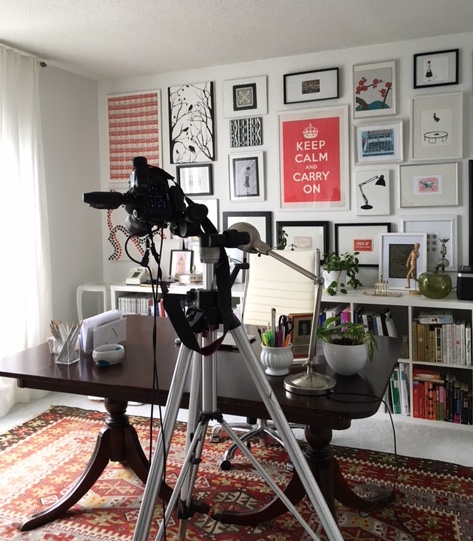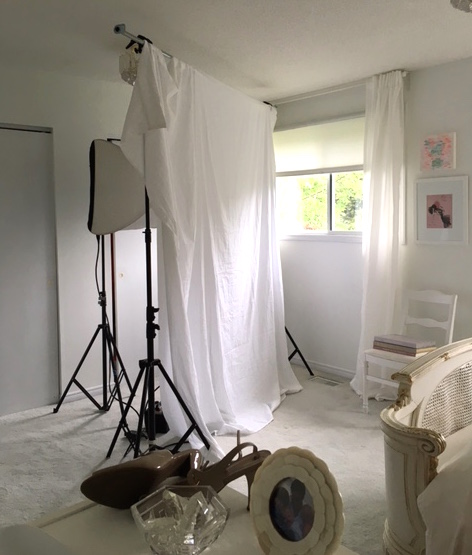 Several months later, Bethany Little called me up for an interview. That was fun, too, because I'm usually the person asking the questions (I do a lot of teaching and researching in my day job as  an academic!). While I was trying to squeeze in a question or two about Bethany's approach to interviewing and writing, she was trying to keep the conversation on my house. Naturally! 🙂
Fast-forward a couple of more months, and then this happened…
I'm in Style at Home's June issue!!!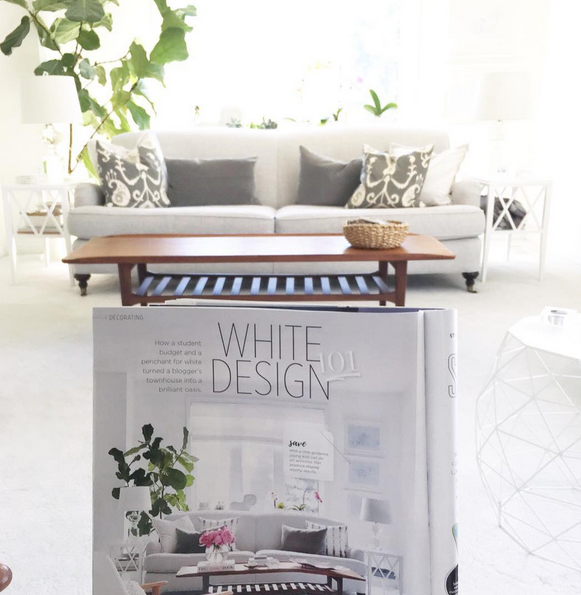 Unreal. Unbelievable. And the thing is…it's real, and it's believable!
I have been reading Style at Home for forever. It's a Canadian design magazine that I've always been drawn to because it features design spaces and ideas that are manageable, approachable, and doable. The magazine shines the spotlight on happy and inviting homes, and it gives readers plenty of ideas to incorporate into their own homes. And the team does the high-low feature like noone else! Am I right? I certainly look forward to reading it when it arrives in my mail each month! I hope you do, too!
But the June issue is certainly my all-time favourite issue. I definitely recommend you flip straight to page 44 to start reading about me and my home (no modesty here)!
If you're a subscriber, you've already received your copy. If not, you should see the June issue in stores soon (it has a pink cover).
If you'd like to share your thoughts or have any questions, leave a comment here or tag me @WhiteCabana or use #WhiteCabanaXStyleAtHome on Twitter or Instagram. I'd love to know what grabbed your attention!
Finally, I must take a moment to publicly extend some official notes of thanks:
Many thanks to Morgan and Stacy for making my home look as pretty as possible. You took great care of my space, and you were professional and friendly in your approach. And funny, too!
Thanks to Donna for being an enthusiastic and positive photographer. Your photos are absolutely memorable, and I'm glad our paths have crossed both online and offline.
Thanks to Bethany for taking the time to speak with me. Your writing is inviting. You've written my home's story and my approach to design with accuracy and care.
A large thanks goes out to Erin McLaughlin, Style at Home Editor, for giving the final stamp of approval. If you're in KW, come on over! My small foyer wasn't photographed, but it's a tiling project that makes me very proud (marble laid in herringbone pattern).
Many thanks to other staff on the Style at Home team who have made this feature possible. I appreciate the effort that goes into fact checking!
A super generous thanks to Tim for your encouragement and excitement throughout this process.
Save
Save
Save
Save
Save
Save
Save
Save
Save
Save