Have I caught your attention with the title? Audi. Q5. Who's excited for a little car review? Honestly, I am most definitely thrilled to be writing this post about my recent experience with the Audi Q5 – aka #WhiteCabanaDreamCar.
I've been keen on the Q5 for a while now, but it hasn't always been that way.
A long(er) while ago, you may remember that I became pretty obsessed with the Fiat 500. I loved the look of this little Italian go-getter, but eventually my want/need for this little one faded. I rented it for a weekend, and while I enjoyed driving it around Toronto, it barely fit my luggage, and it was quite a noisy highway ride.
In recent years, it was the Audi Q7 that caught my attention, and I wrote about it here. What a beautiful car. It's sleek, stylish, and roomy. In fact, once I saw it up-close, I realized it might be a touch too roomy for my liking. With no children in tow, I don't have a need for its third row of seats.
Enter the Q5. I kept seeing this car on the road, and I kept liking it. And liking it some more. When I drove home from Montebello, Quebec, I spotted many on the highway, and each time I saw one, I thought, "now that's a nice looking car," sometimes I said it to myself before I was close enough to confirm that the car I was eyeing was in fact an Audi Q5.
Given that I grew up with an Audi 5000, I have fond memories of the Audi brand. My parents bought our grey Audi 5000 at the Audi factory Ingolstadt, Germany, then shipped it over to Toronto way back in 1985! We traveled everywhere in that car as a family. When my Dad finally retired it in 2006 after 21 years and 344,996kms, it was a pretty sad day for all of us. We all knew it was at the end of its life (21 years!), but it was emotional to see it go. Is that weird? To be so emotionally attached to a car? Hope I'm not the only one!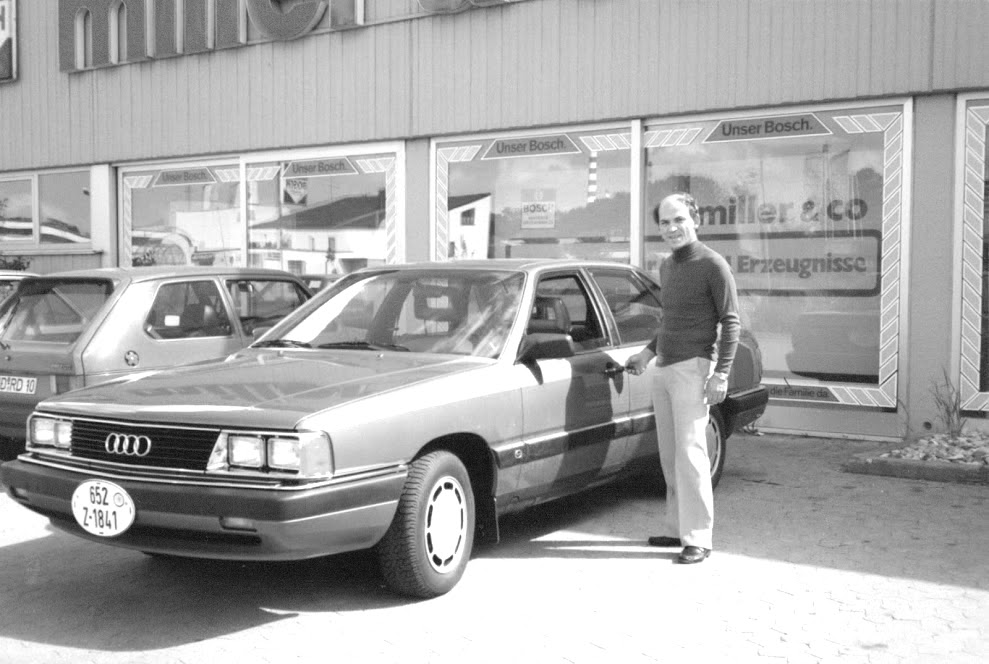 Dad and our Audi 5000 in Ingolstadt, Germany
(my sister and I are in the backseat – camera shy, I guess)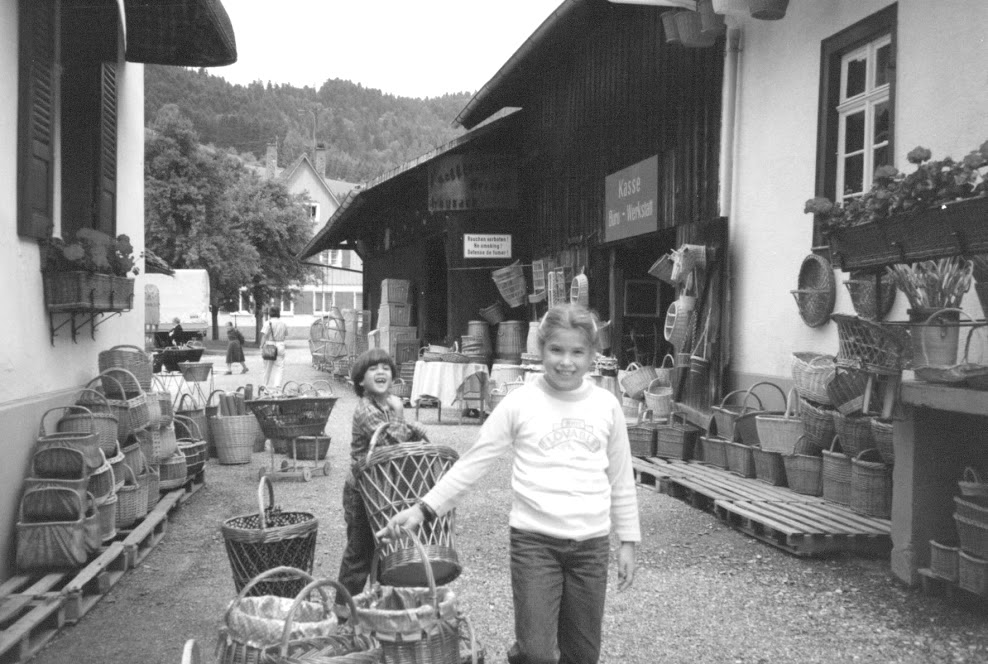 Okay, so we weren't too camera shy. My sister and I at a basket shop in Germany. I'm flexing my muscles by carrying the biggest basket I could find, I guess!

So this brings me to my recent, super up-close encounter with the Audi Q5. The AudiKW team generously loaned me a white Q5 for a couple of days of adventuring around the Waterloo region (see #WhiteCabanaxAudi on Instagram for a few more photos). What a treat! I was happy to explore the white, sleek AudiKW showroom while I waited for my car. While dealerships can be easily intimidating for someone like me (who knows very little about cars), I was pleasantly surprised by everyone's welcoming attitudes. I felt comfortable.
I met with Deon and Robert who set me up with the Q5. Robert – a brand specialist – walked me through all the features of the Audi Q5 Komfort. This model is the lowest end of the Audi Q5 spectrum, so some elements I really liked, and others would come in a higher end model (like the Progressive or the Technik).
When I got in the car, the first things I noticed were the driver's seat and the size of the front window. The driver's seat was made for me (or so I like to think). It was comfortable from the beginning right up until I dropped off the car. The front window panel was large and free of obstructions. I know this should always be the case, but it isn't. Sometimes the frame is too thick or the rear view mirror is bulky. I also loved that the windshield wipers tucked away beautifully – they weren't visible when not in use. Great design detail!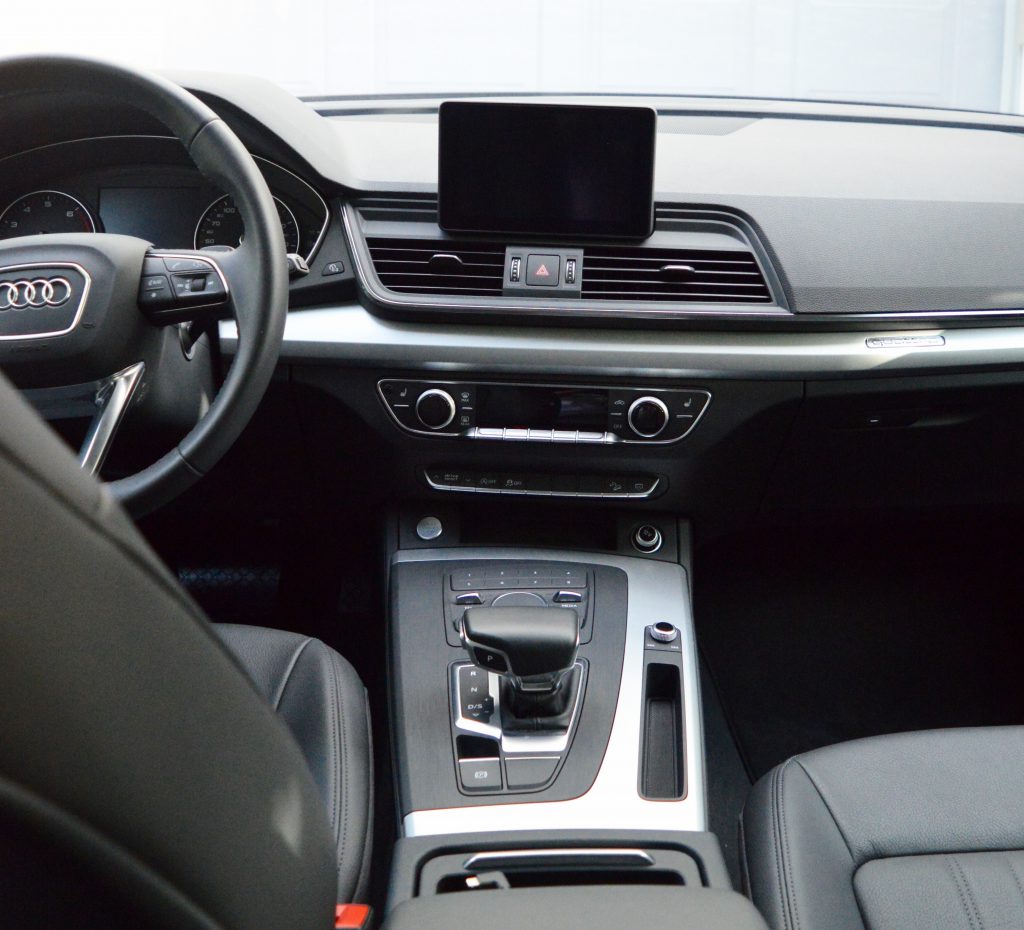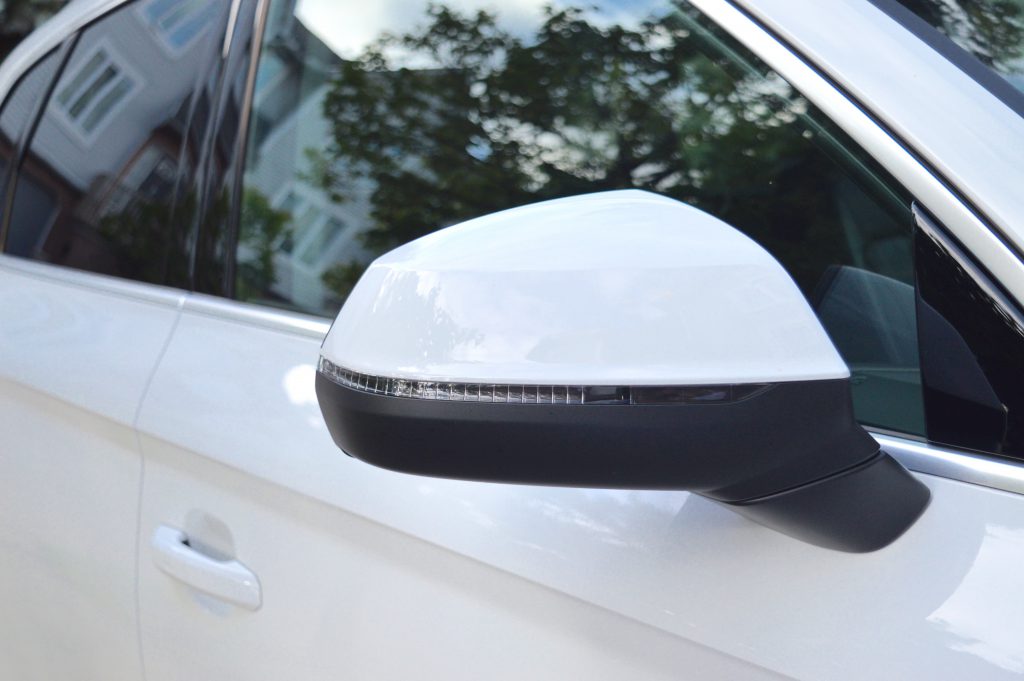 I love the design of these mirrors.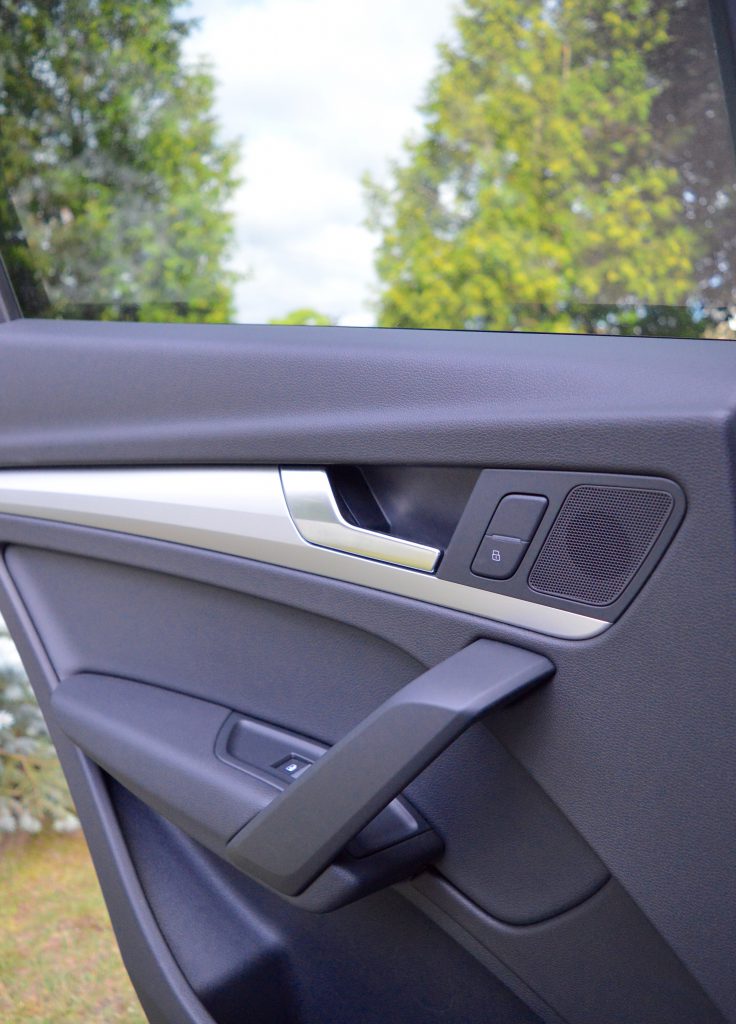 I currently drive a 2004 Toyota Rav4 – which I really do love – but it doesn't have the modern features of new cars, so it took me a little while to get used to all the tech in the Audi Q5. Okay – not that long, but you know what I mean. In the Audi Q5, I could actually plug in my phone and connect it to bluetooth. I know many new cars have this feature, but my Rav4 doesn't, so it took a moment to get used to it. Once I did – let me tell you – I made as many hands-free phone calls as I could while I was driving! I get amused so darn easily!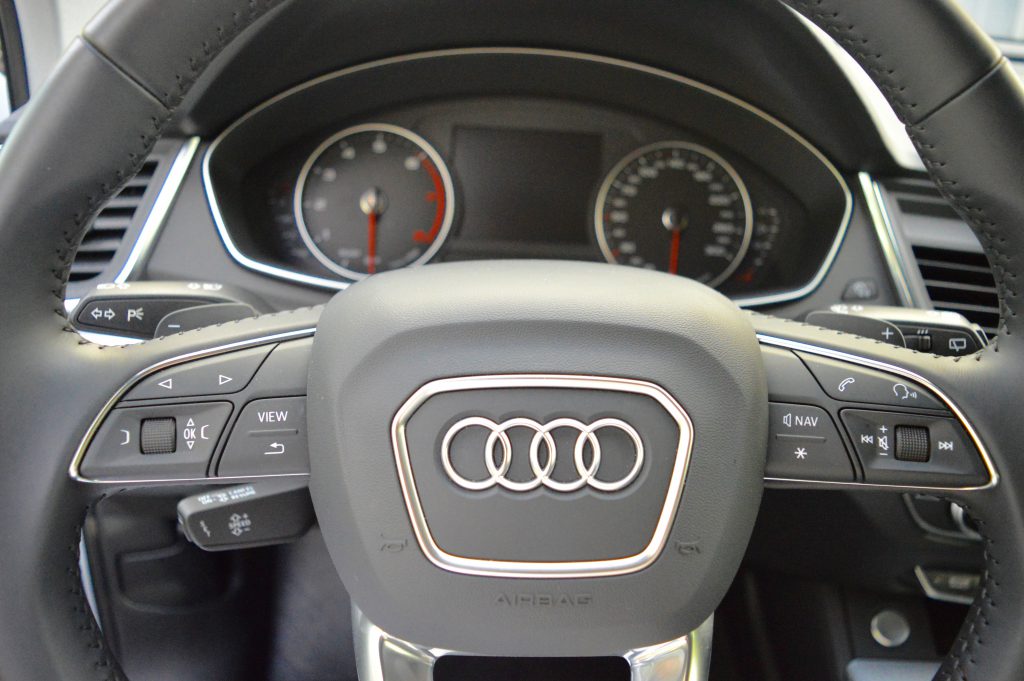 I think I only managed to use about one or two of these buttons! I'm pretty tech-savvy, but not when it comes to cars!

The cargo space is decent in the Komfort (26.8 cubic feet), but I definitely noticed that it's smaller than the space in my Rav4 (about 38 cubic feet). The seats fold down, of course, which helps for large loads, but it would be something I'd have to consider and test out before I'd purchase it as I do end up carrying large loads on random trips in and out of town. The cargo space in the Q5 is tidy with a hidden spare tire and a privacy cover, too.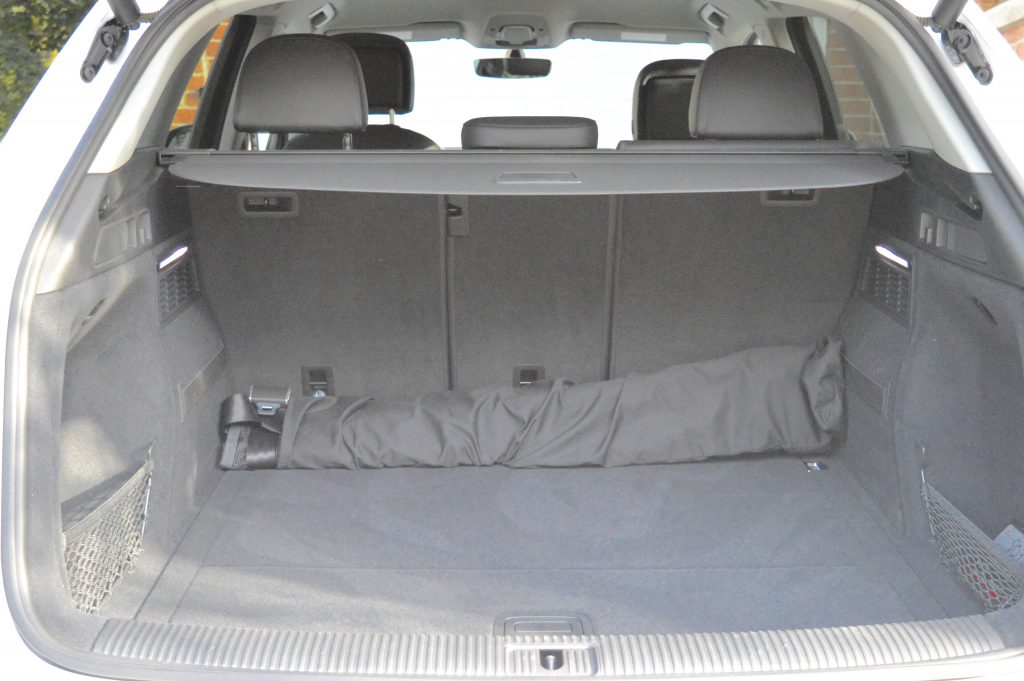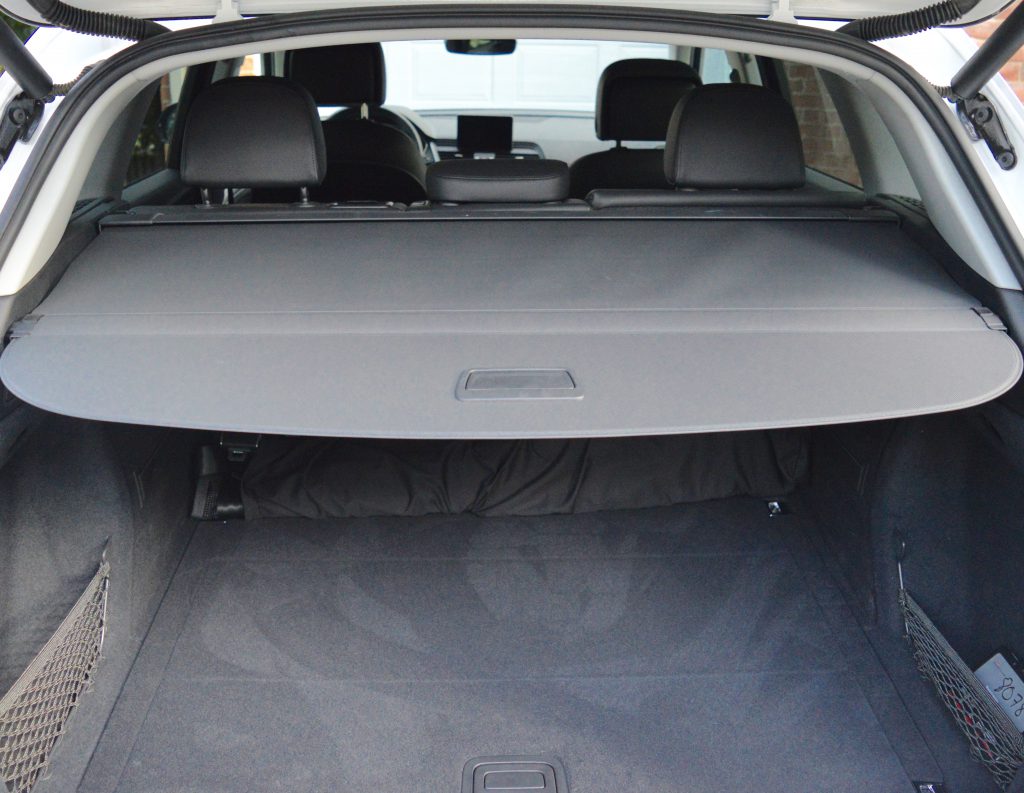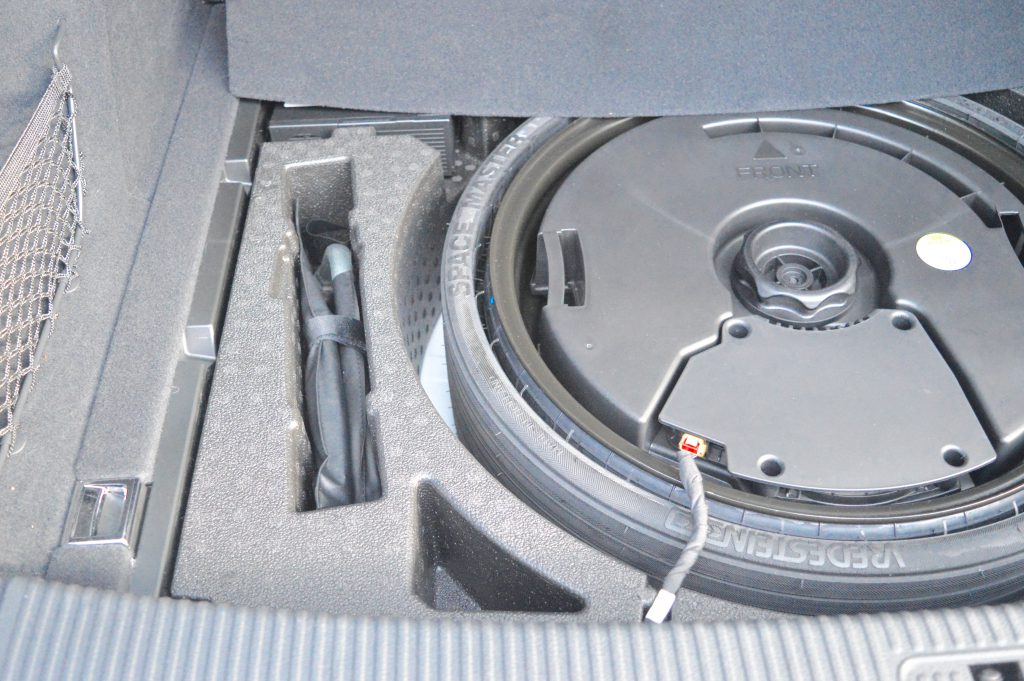 Great design – everything has its place!
Because I live in Uptown Waterloo and normally walk or bike to the places I need to go, I forced myself to venture out a bit for a longer drive to get the full experience of this car. I took the highway-route to Cambridge so I could go fast! FUN! The pick-up in the Q5 was amazing, and my comfort level remained high! The car drove smoothly and quietly, and I definitely liked driving fast (within speed limits, of course)!
When I was going over the features with Robert at the dealership, he told me that the car can adjust to various driving modes – dynamic, comfort, auto, etc. I opted for dynamic for the majority of the time because the ride felt fast and smooth. Dynamic mode has tight steering and more aggressive gear shifting. Comfort, on the other hand, has softer, easier steering and less aggressive gear shifting.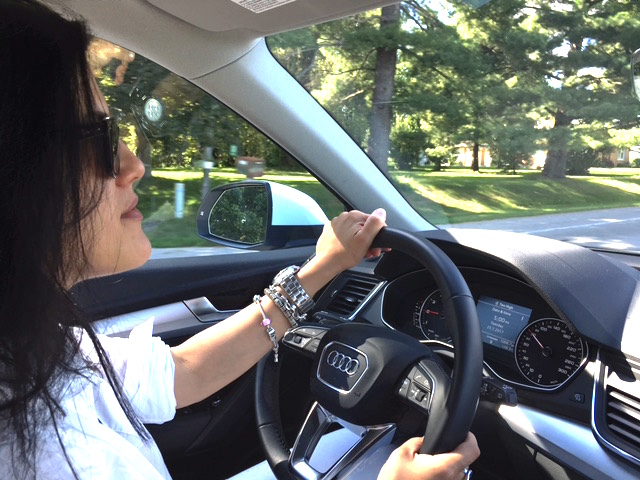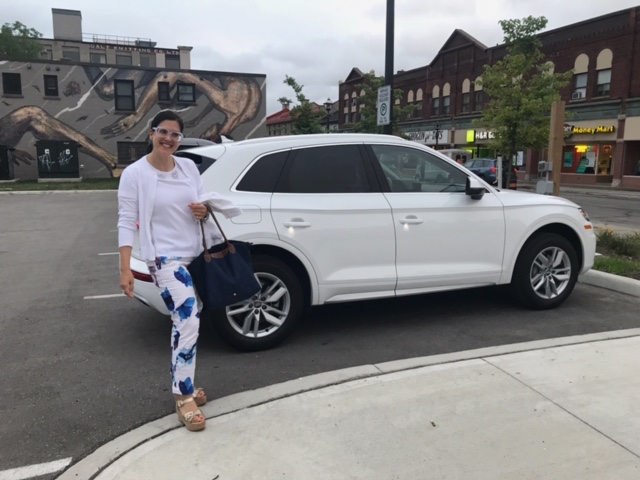 Look at the little lights underneath the handles – love them!
Having the Audi Q5 in my possession made my birthday celebrations extra fun! In fact, since my parents came for a visit, they, too, experienced the luxurious drive! This was especially fun for my dad who recreated his Audi pose from 1985.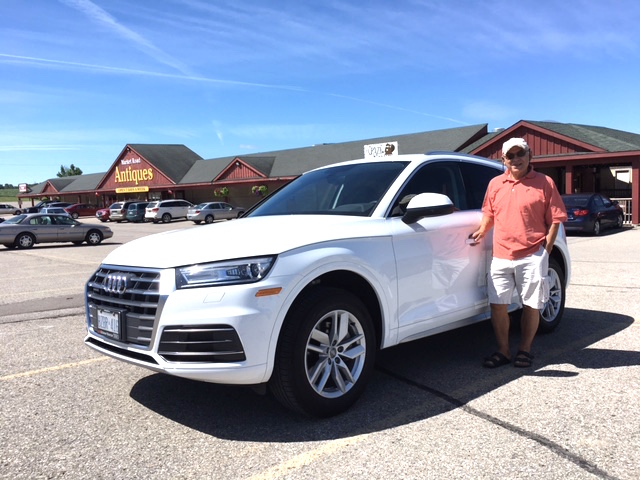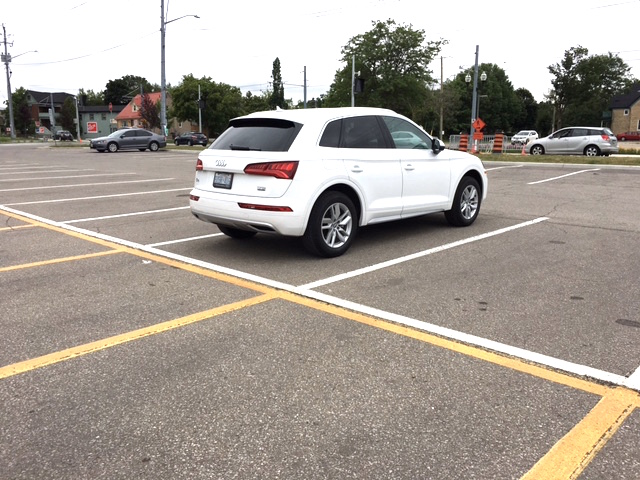 Notice my approach to parking? The farther and emptier, the better!
Over the course of my Audi Q5 ownership, I drove as much as I possibly could. In addition to driving to and around Cambridge, Kitchener, Waterloo, and St. Jacobs, I drove over to the sweet town of Elora for a birthday dinner celebration. On the way, I stopped by the Montrose kissing bridge – the last covered bridge in Ontario, and the oldest of its kind in Canada.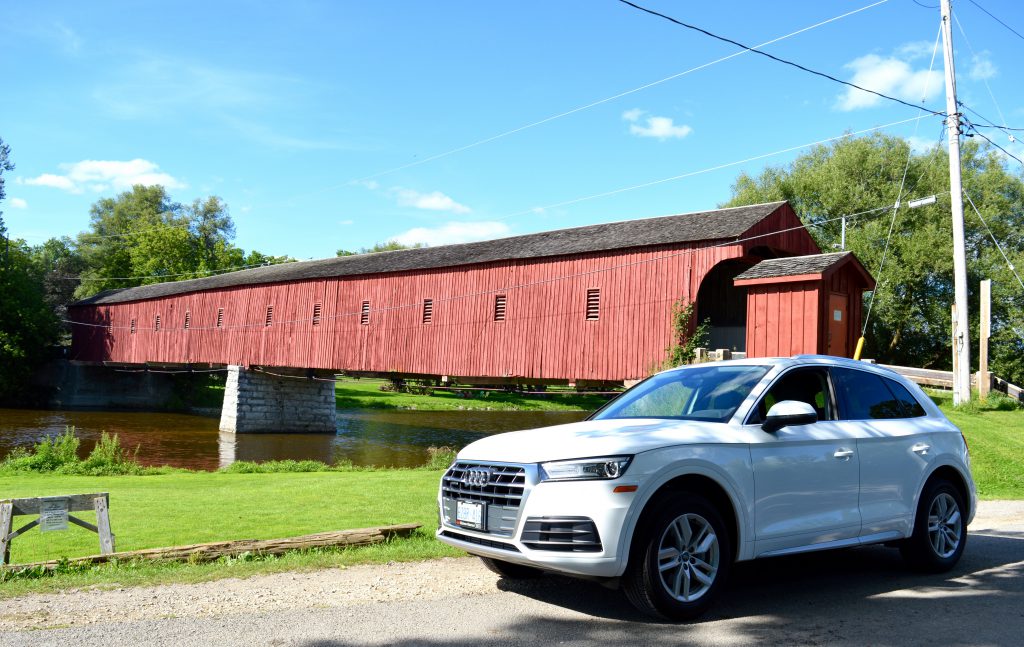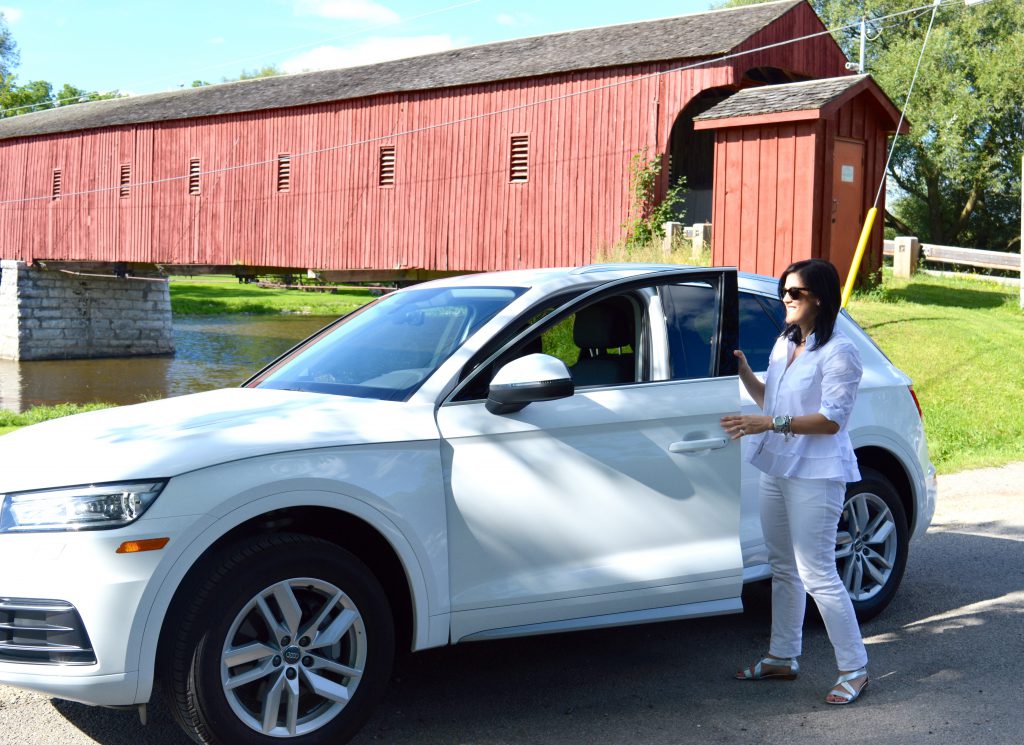 And I also stopped by the castle-house on Middlebrook Road (between Montrose and Elora).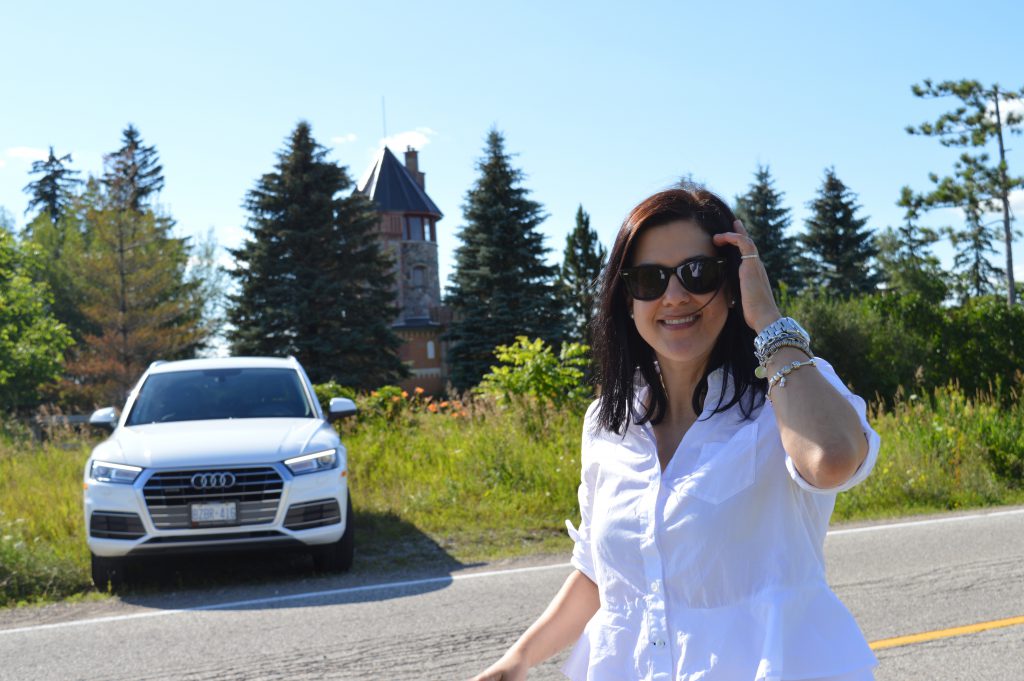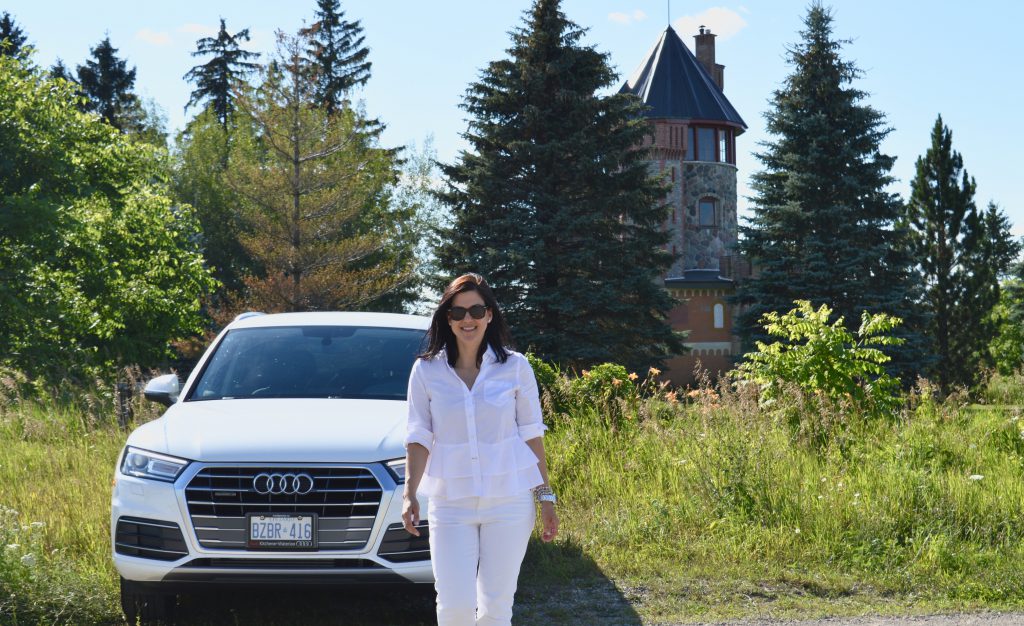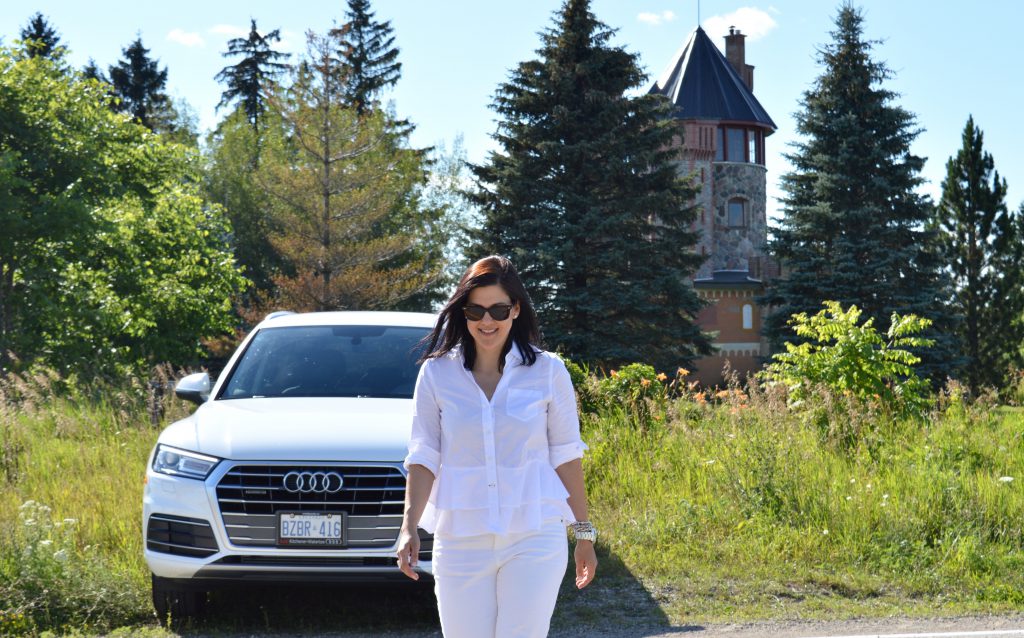 While in Elora, I checked out the progress of the Elora Mill. Construction is well underway, and I'm very much looking forward to a return trip here to eat, stay, and relax! It's going to add so much more prettiness to the already-pretty town of Elora. As you can see in these photos, parking the Q5 was a breeze. Backing into grassy areas and stone-covered roads was a-okay!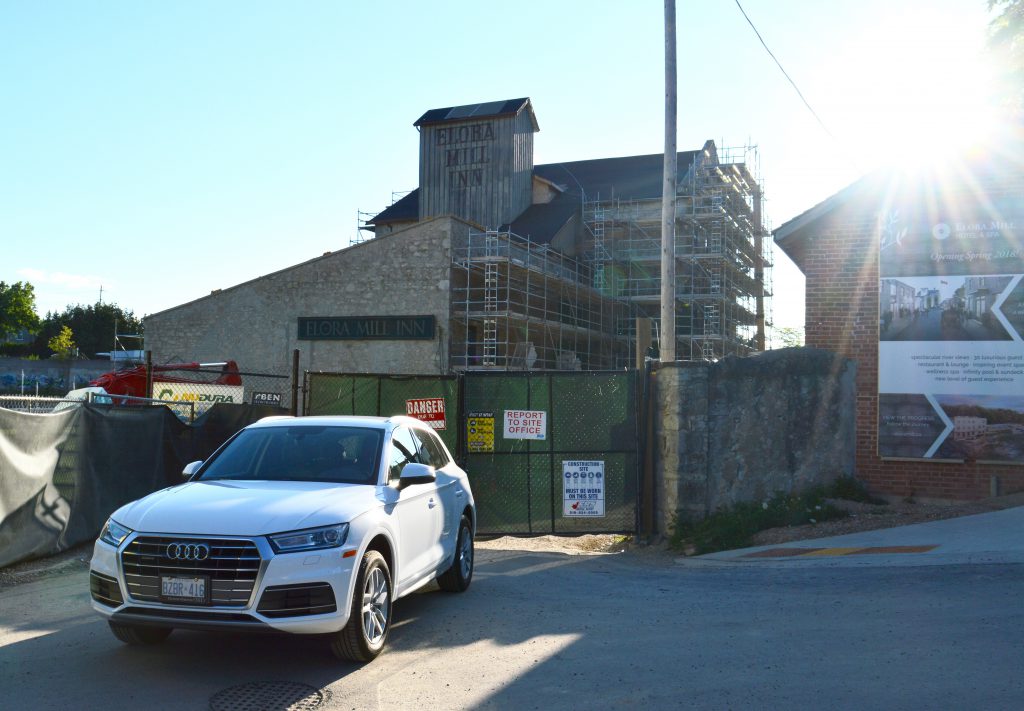 For an SUV, the Audi Q5 is extremely fuel efficient. I love this aspect of the car! Apparently, it's good to go 1000km on a tank of gas. Isn't that amazing for an SUV?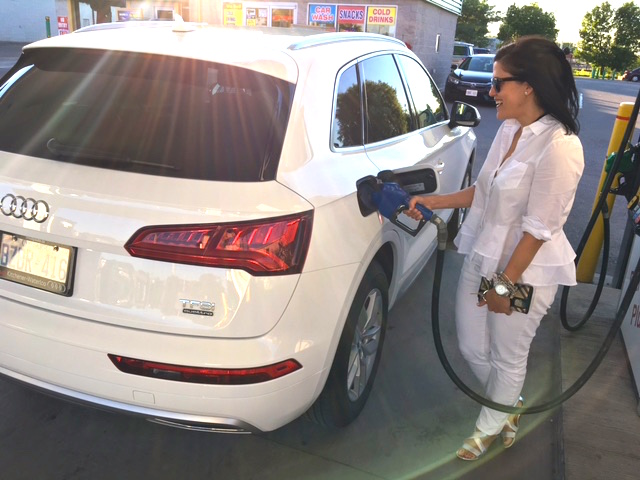 I took on several passengers over the course of my mini-ownership. Every passenger loved the experience. All agreed that the car was definitely sleek and luxurious and beautifully designed. Back-seat passengers felt that the ride was spacious and comfortable and enjoyed the adjustable back seats as well as the back-seat air conditioning controls.
As a driver, I got easily used to having the control buttons at my fingertips on the console. While some passengers assumed that the navigation screen was touch-screen, it wasn't. This didn't bother me at all. I really liked having the circle button on the console to control music, phone calls, settings, etc. It was very easy to operate and comfortable because I didn't need to extend my arm for touch screen.
While I did absolutely enjoy the Audi Q5 Komfort, and my interest in purchasing one has been confirmed because of this recent driving experience, there are some features that did not come with this model that I would want. My top priority would be a sunroof. I love having a sunroof in my Rav4, and I would definitely want a Q5 that had one. The model that I drove didn't have all the snazzy sensors and cameras that I would want in a new car. I'd definitely upgrade to include these as I think they're especially handy for parking and highway driving.
If you can't already tell, overall, I have become more attached to the Audi Q5 after this driving experience. It's a beautiful vehicle from every angle, and it made me feel safe, happy, and secure. I also loved walking up to it knowing that I got to get in the driver's seat. This car definitely suits my style and personality!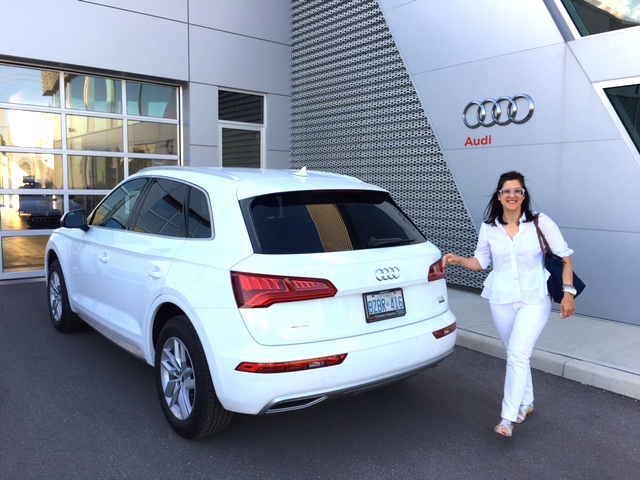 Do I still think that this is the car for me? You bet!
Unless, maybe, I should try out the Audi TT first? 🙂
Many thanks to MC and the AudiKW team for sponsoring this post. All opinions and photos are my own.
p.s. Outfit details: jeans – Joe Fresh (last year), top – Kate Spade, eyeglasses – Polette, sunglasses – Rayban, purse – Longchamp.

Save
Save
Save
Save
Save
Save
Save
Save
Save
Save
Save
Save
Save
Save
Save
Save
Save
Save
Save
Save
Save