A month or so ago, I had the opportunity to tour the new spa at Langdon Hall in Cambridge, Ontario. It's a beautiful, large, bright, and welcoming space. The furnishings, like elsewhere at Langdon, are traditional but modern, classic but not stuffy. (I wanted to jump in, I love the walnut, I can't resist a beautiful orchid.)
During the open house, Julie, the Spa Director, warmly welcomed and greeted guests, and I enjoyed chatting with her about the Valmont products carried at the Spa. (I've been using the Valmont night cream, and I'm really enjoying it. I also feel very adult and fancy because I'm using face cream. Honestly, dear readers, I'm so terrible when it comes to beauty products!)
The Spa features spacious treatment rooms, including one I've never seen before that is a water treatment room (with large shower heads and such). A soothing blue and cream colour scheme was used in the manicure/pedicure area, and the lounge is set up with a (healthy) drinks station and plenty of comfy chairs and reading material. It's definitely a calming and beautiful place to be, and I am eager to return!
For today's hotel to home, I'm recreating the marble-clad bathroom/changeroom at the Langdon Hall Spa.
Here's my take…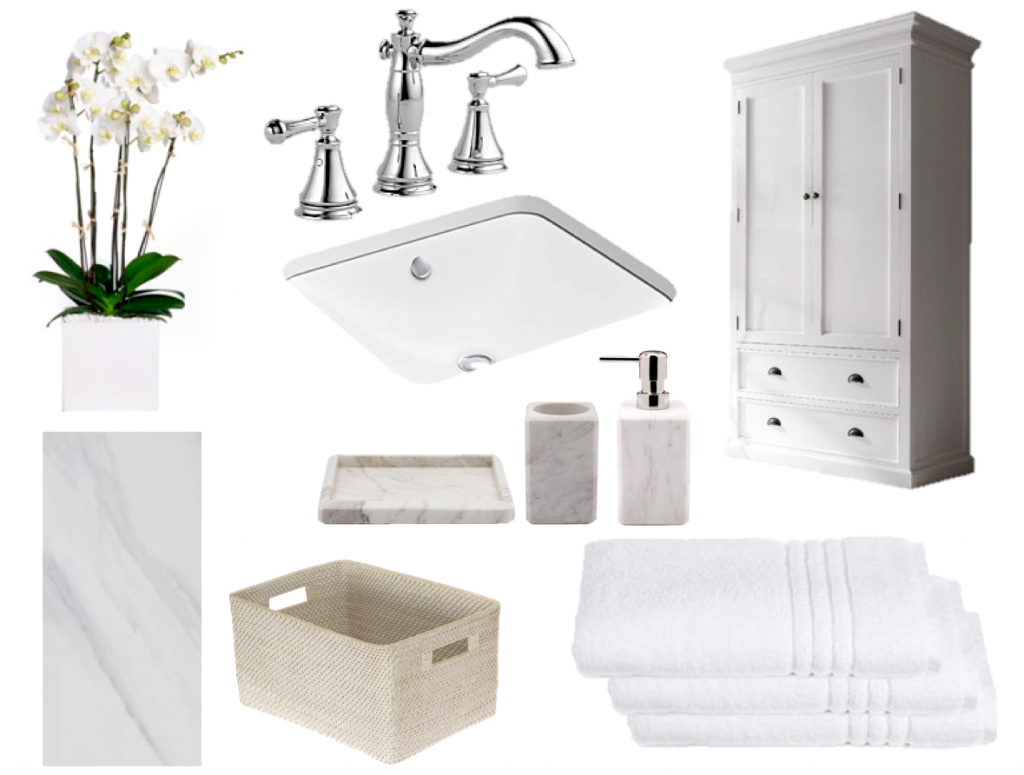 armoire, orchid, marble, Delta faucet, Kohler sink, GlucksteinHome towels, basket, tumbler, lotion pump, soap dish
I encourage you to explore the rest of the Langdon Hall Spa if you're looking for a day of pampering!
Note: Unfortunately, I have experienced terrible photo luck when it came to the Spa – I mistakenly deleted the photos I took with my camera, and because my iPhone4S (an oldie, but a goodie) broke two days before my trip to Europe, I lost a bunch of photos that were on it. Darn. Darn. I'll be making a return trip to the Spa to use its services in the future, so I'll be sure to take plenty more photos to make up for all of the recent deletions! I'll be sure to report back to let you know if I felt relaxed!
Save
Save
Save
Save
Save
Save