I have been searching for a unique headboard that fits my style and budget for a few months now, and I have come up empty. Honestly. I cannot find much that I like. How is that possible? I featured these headboards last month, and they're alright, but I don't love any of them enough to make them my own.
I do keep coming back to this French bed. I just love the curved footboard: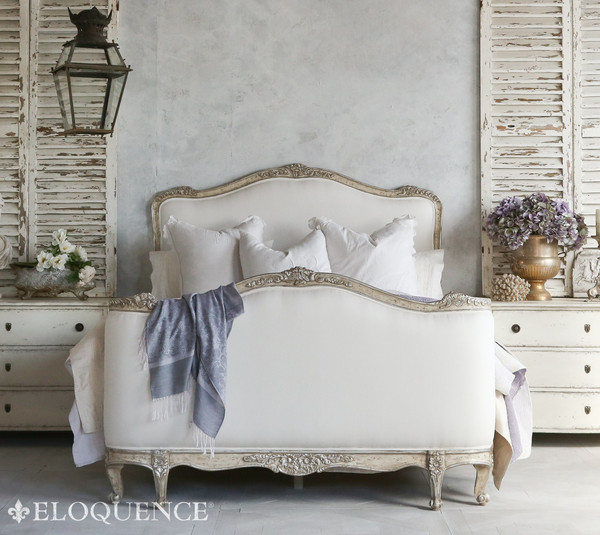 The French beds below have also grabbed my attention. I like the carvings and the caning These beds are much more feminine than other pieces of furniture that I own, and I like that they remind me of France.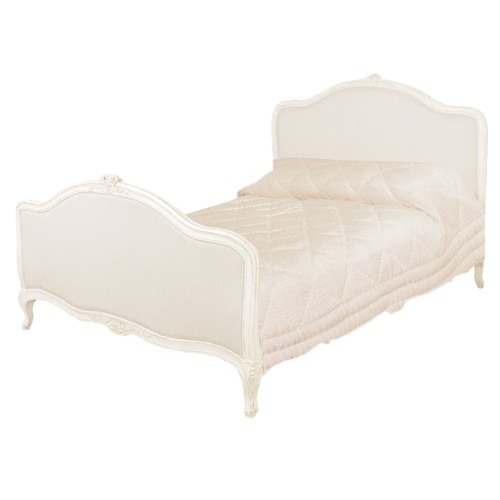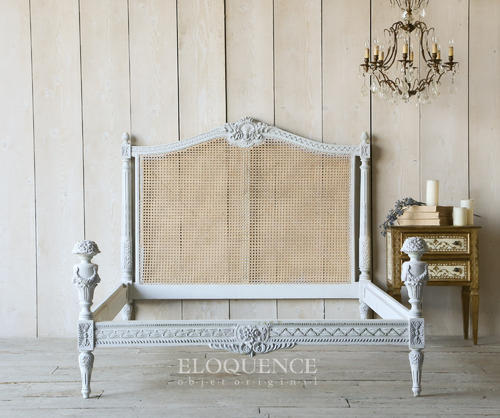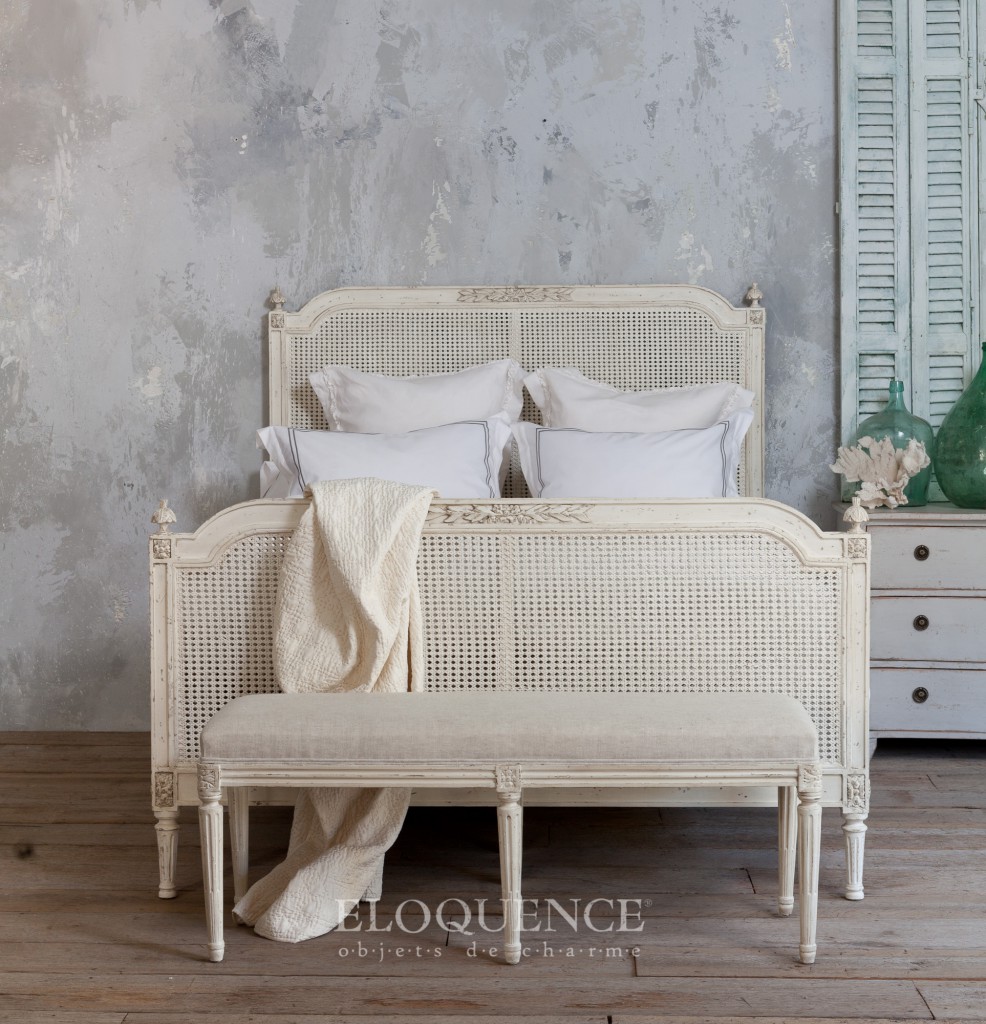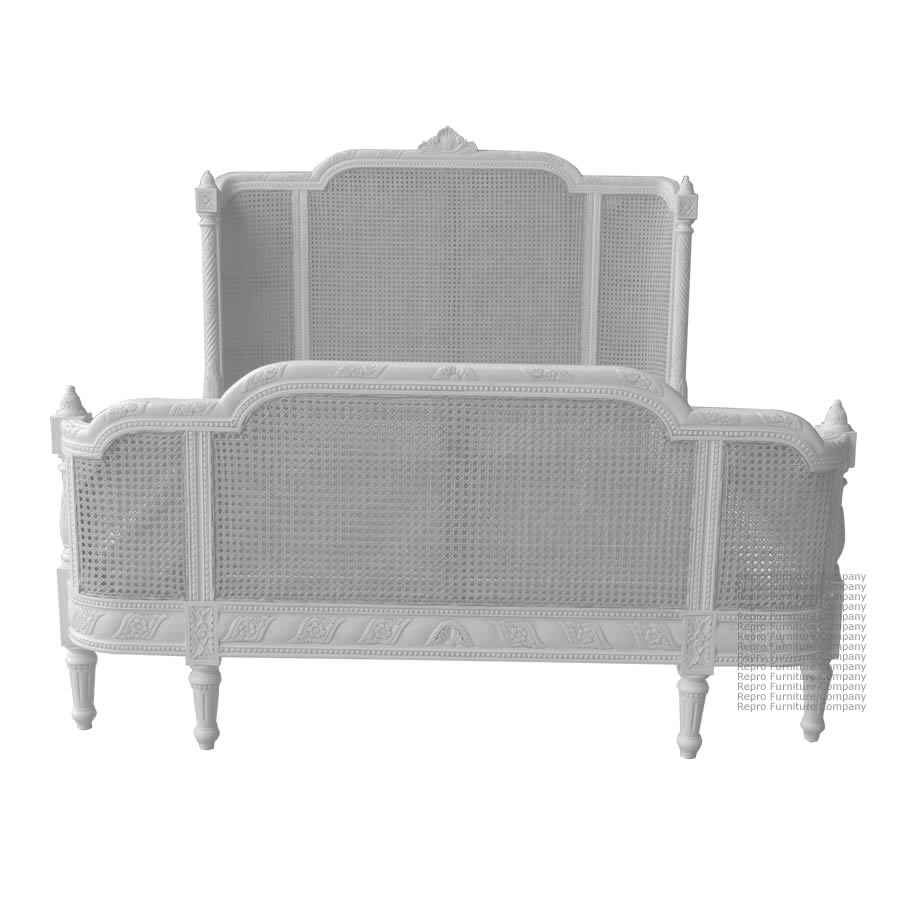 The Sophie Рand the others above Рare pricey, and at the moment, I am trying to concentrate on my next big reno, rather than a major furniture purchase. I do really want a bed, but I also can't decide if I should go for a queen or king bed. Queen is plenty big, but king is oh, so, fabulous. A king is just so grand.
In addition to the French beauties, I also lean toward simple boxed beds as well as tufted beds, scrollwork beds, metal beds, and upholstered beds. I'm sort of just scattered. Just when I think I know what I like and want, things change. Here are some beds that I think are pretty, but I'm not certain any of them are me. You know? I thought I'd document them so that I can keep this as a handy reference guide. Maybe in another month, one of them will continue to be floating around in my mind, which will force me to just bite the bullet and make a purchase.
Category A: Boxy
1. I like the extreme boxiness of this bed.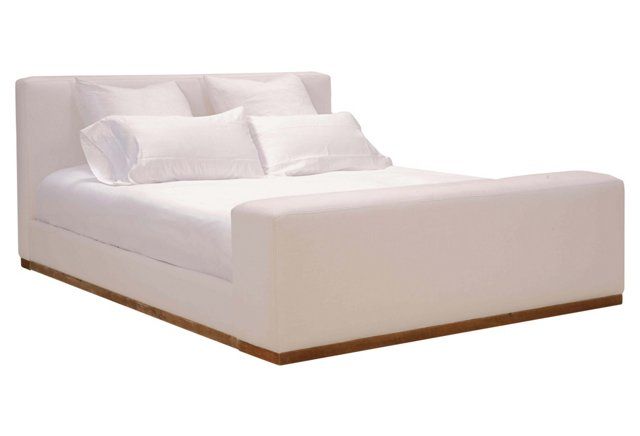 2. This bed is airy boxy. I like that the bed is basically floating.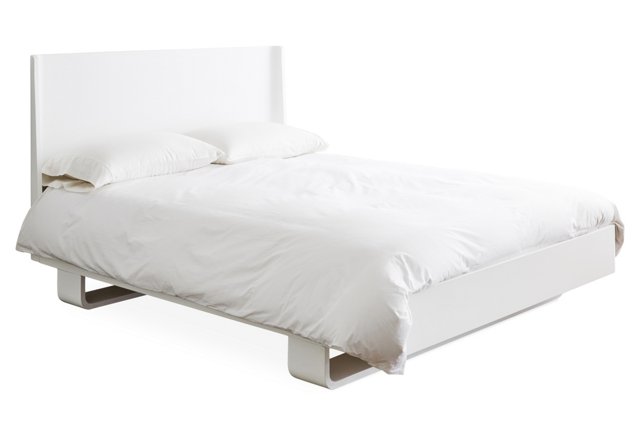 3. This bed is the classic box bed. A squared off headboard paired with a normal bed skirt. I prefer beds that have a footboard, I think.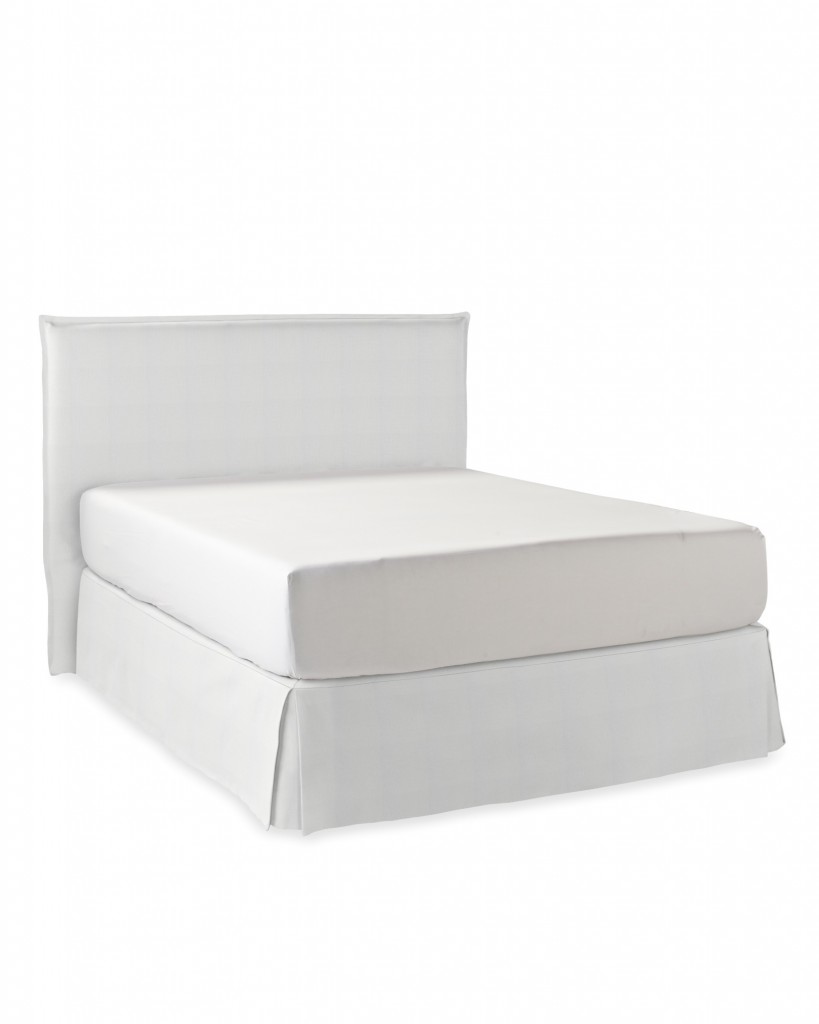 Noe slipcovered headboard and skirt
Category B: Tufted
1. I think I actually like the fluffy duvet more than the tufted, curved, and notched headboard. This bed looks really comfortable.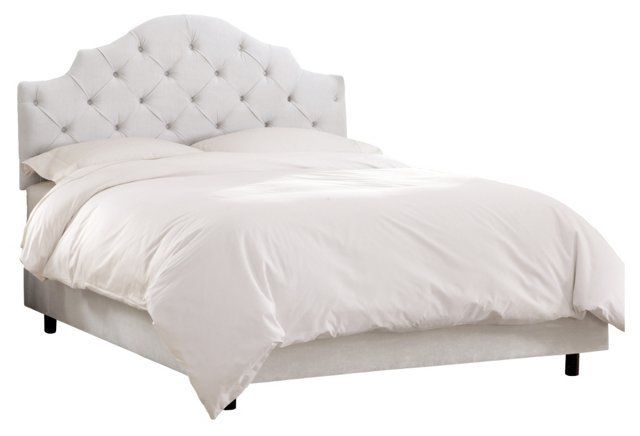 2. This is in between curvy and boxy. I thought I really liked it, but now that I'm staring at it, I can't tell if the middle bump looks more like a mistake than an intentional design.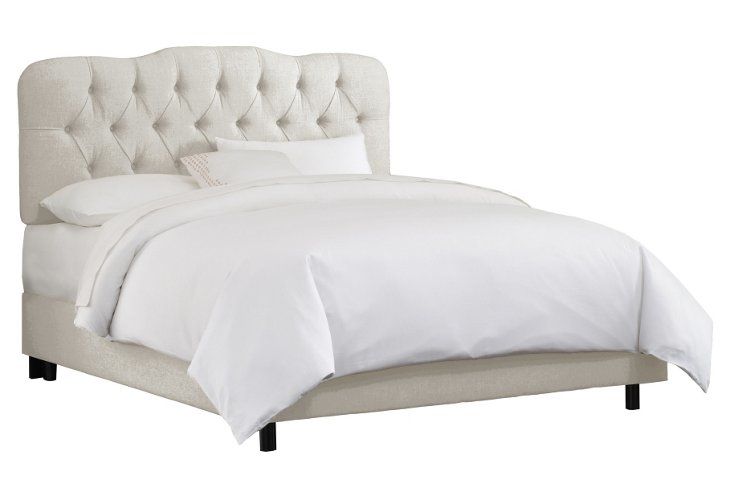 3. Here's a squared off lightly tufted headboard with a wrap-around base. It looks really neat and sleek. I don't think i could every make my sheets that tight.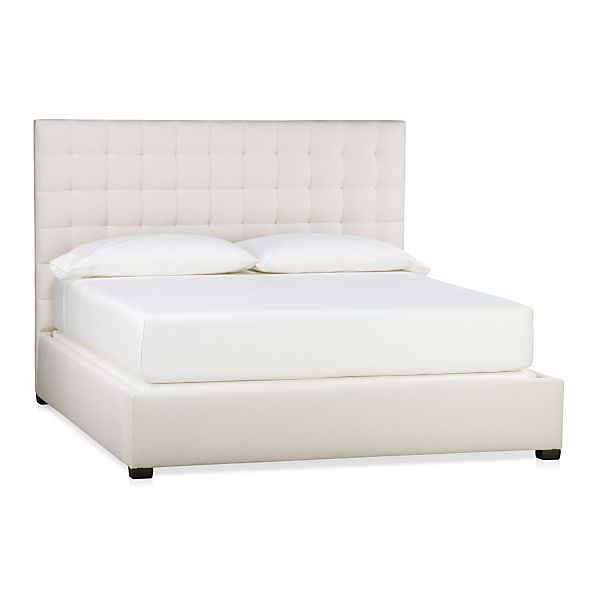 Category C: Velvet
1. There's only one bed in this category because velvet is a new addition to my bed brainstorm. I haven't found many that I like, but I seem to really like the one below. I think I would like it better if it had a more substantial footboard. Still, I think I might add velvet to my headboard searches from now on. It's so luxurious.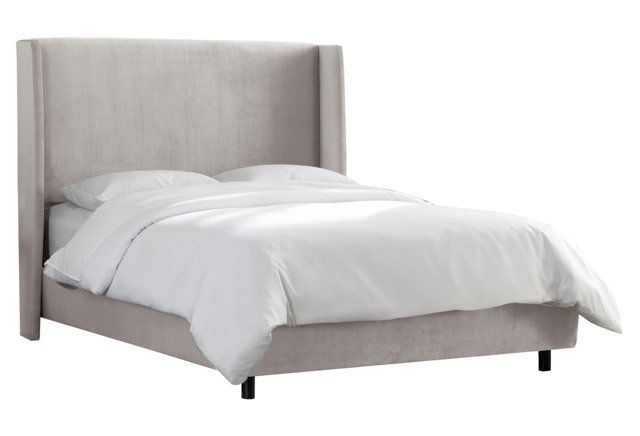 Category D: French Inspired
1. I don't mind this bed, but I haven't fallen in love with it. It's a nice option.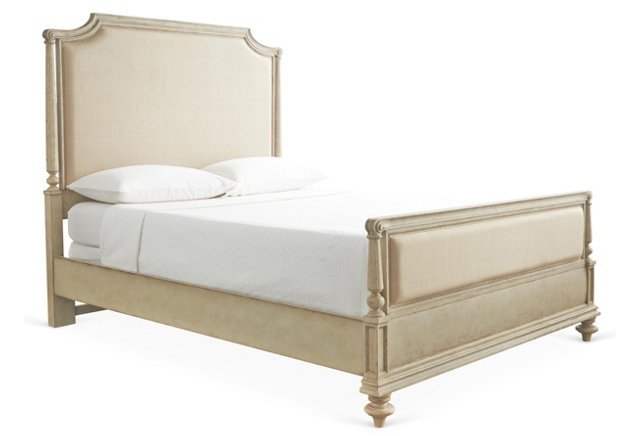 2. I like the simplicity of the wood frame and white upholstery, but I think I would prefer this bed if it had straight edges. The angled frame seems to diminish the grandeur of this bed. I like that it has a decent sized footboard.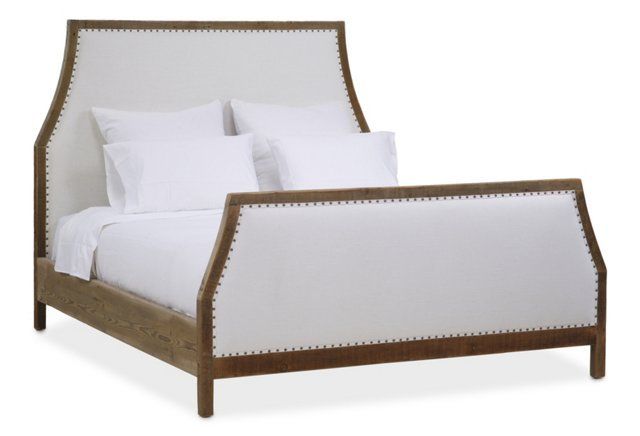 3. I really like the bed below. It feels like modern French to me. It's not crisp white like some of the other versions, but it feels feminine and warm.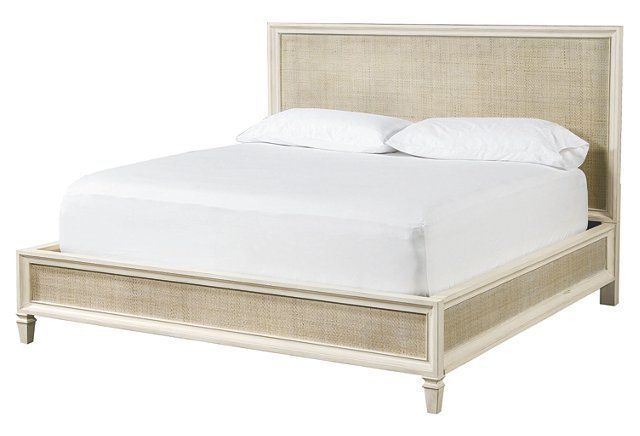 4. I love the cane detail in the bed below. It's a very simple no-fuss bed frame.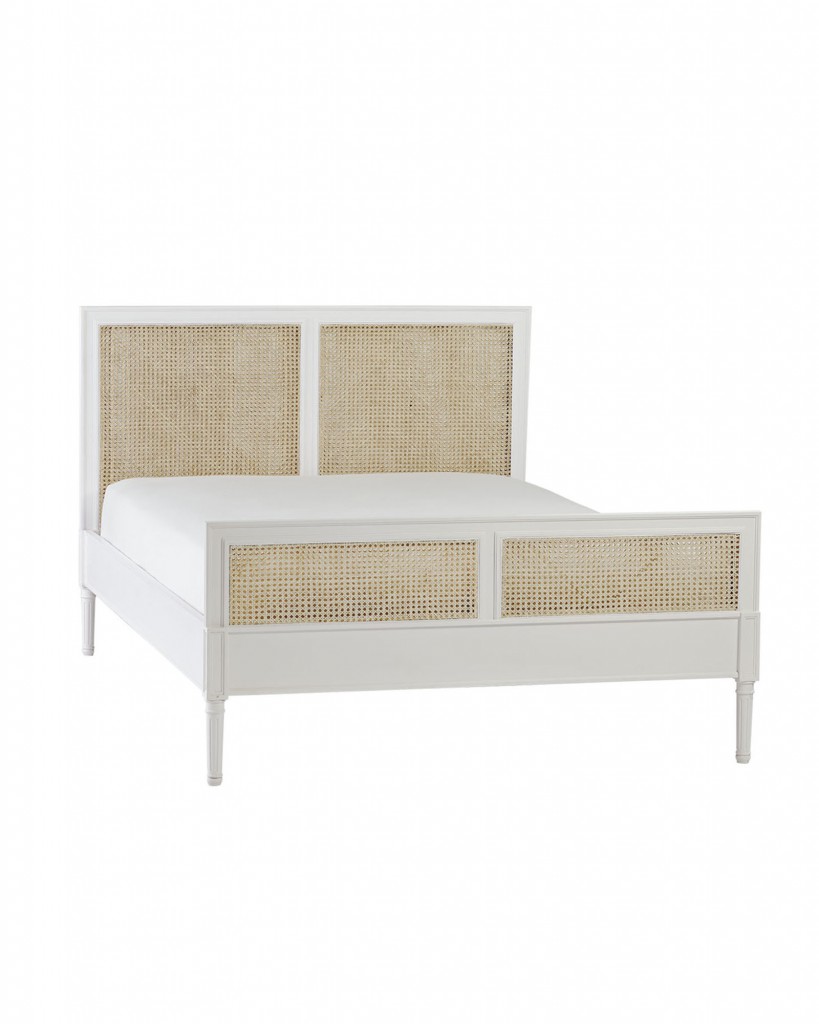 5. The bed below also has a French flavour to it. It's a classic design. It's tidy, feminine, and pretty. I think it would look great with additional throw pillows.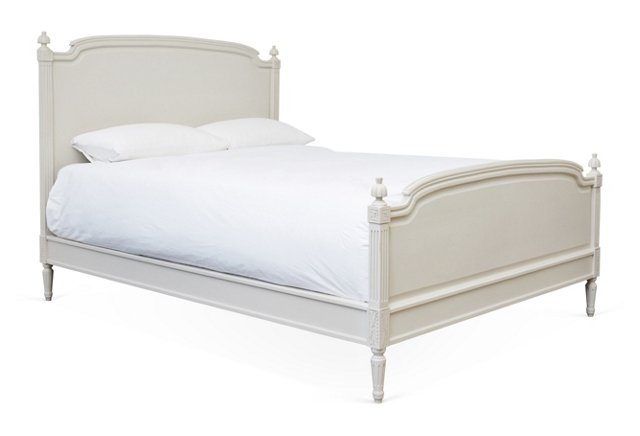 6. The bed below looks like the bed above except it doesn't have the added finials/mini posts. It's a good looking bed, but nothing really out of the ordinary.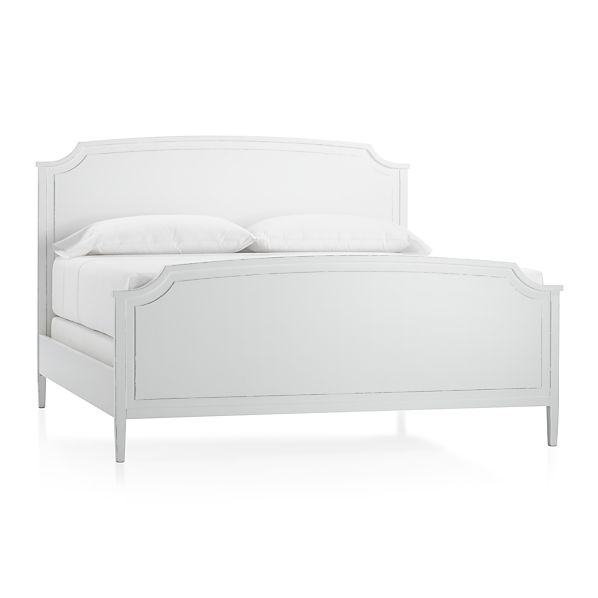 Category E: Spindles
1. Here's a Jenny-Lind-for-adults bed. I like the spindles, but I don't think I want a four-poster bed at the moment.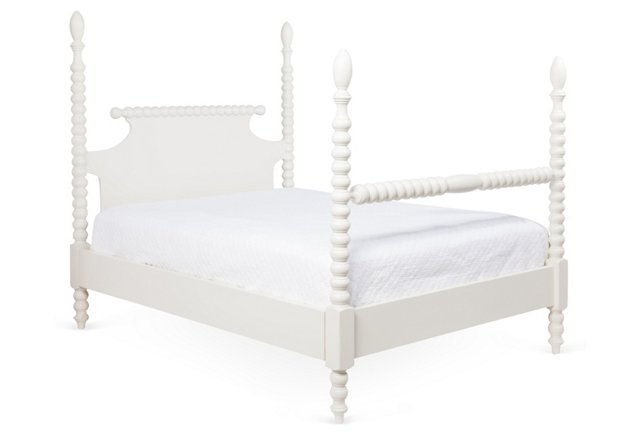 Category F: Metal
1. I originally thought that I could easily do a metal bed, but now I'm realizing that it has to be a really beautiful metal bed. My sister has the most gorgeous metal bed in her guest room. I wonder if she would notice if I took it back home with me. I haven't seen anything quite like hers in the marketplace. The ones that are more common have simple lines and frames. Here's a curved version:
2. Here's a straightforward rectangular shape: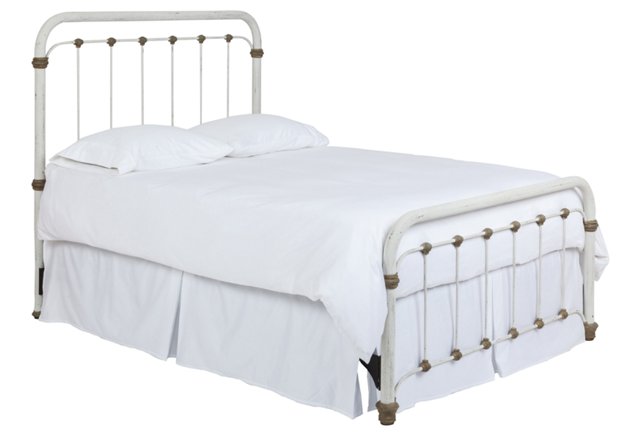 3. Here's a no-fuss airy version: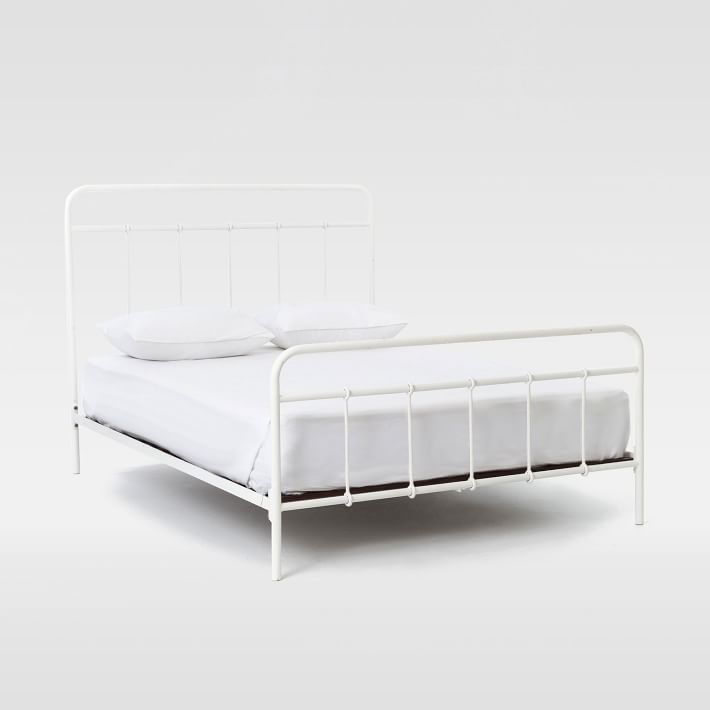 Category G: Unique
1. I think I would really love having a peacock headboard like the one below. I think it could look really cool against a white wall for the white-on-white look (as in my home). I think I really do prefer a full bed frame package though, and I haven't seen a version of this peacock headboard that comes with a footboard.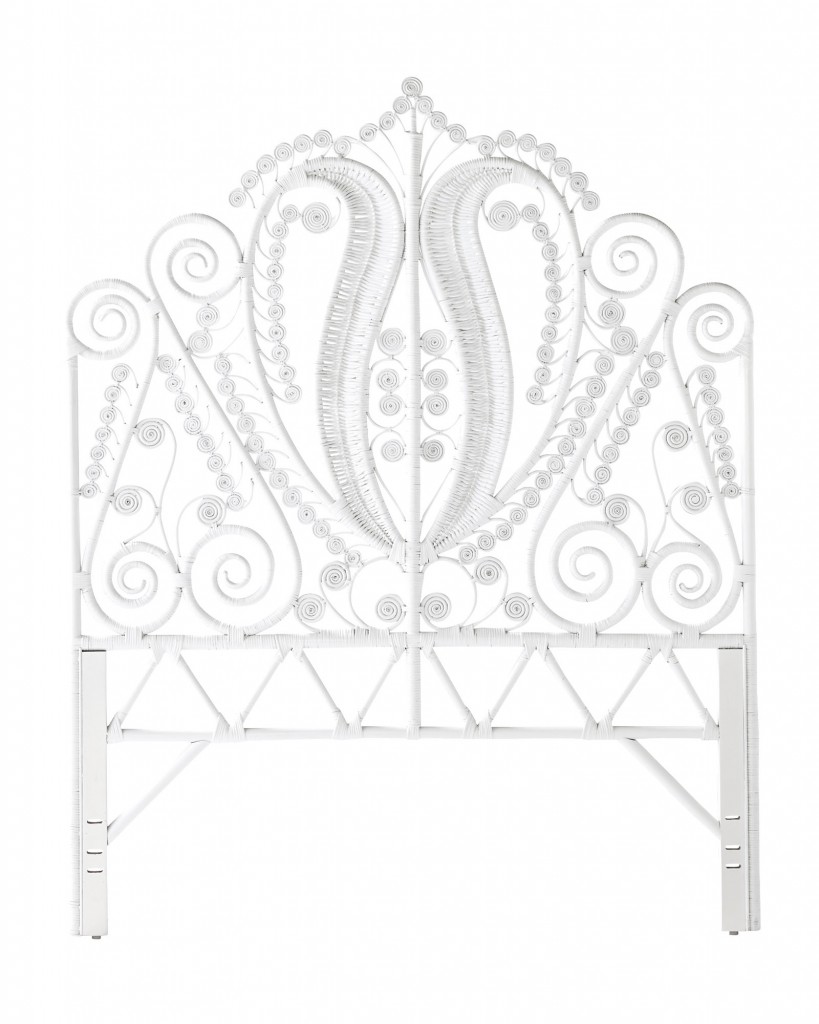 2. I think the headboard below is really a work of art.
There are so many options! How's a girl to decide?
Update:
I prepared the above post, and was set to publish it, but then more beds came my way. Hope you're not sleeping yet as I have more beds to share! A couple of weeks ago, I was at a friend's house and took a double-take at the furniture in her kid's nursery. Yes, a nursery. Her little girl's bedroom set is French and feminine and lovely. When my friend said that eventually she was going to get a queen bed to match the set, I had to ask her where it was from. When she said it was from Restoration Hardware, I wondered why I had never noticed it there? "Probably because you weren't looking in the kids' section, Jordana," she said. Yeah. Exactly. Well, now I am! In addition to this pretty bedroom set that my friend bought for her daughter, Restoration Hardware has plenty of gorgeous French beds. Who knew?
I think I might have to have this one: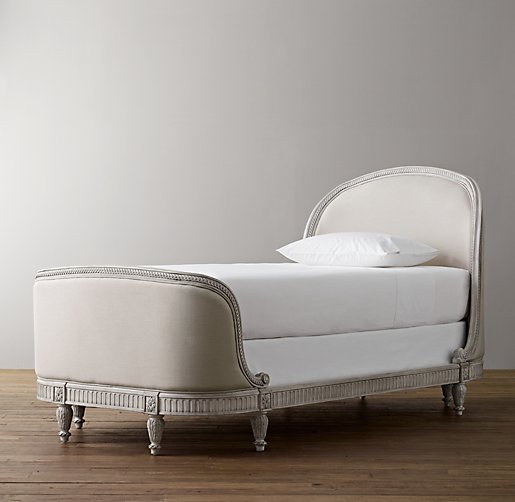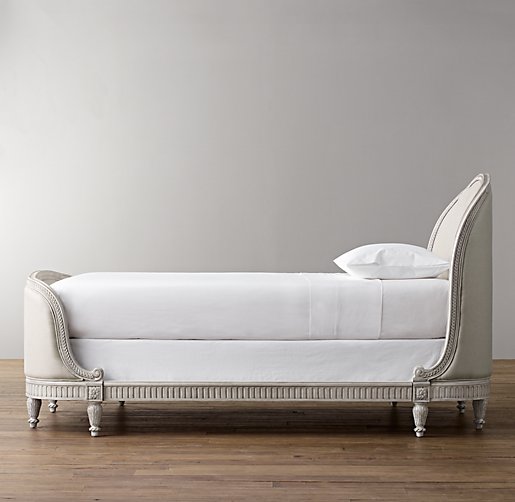 Belle upholstered bed, Restoration Hardware
Isn't it gorgeous? I just love it. Luckily, it does actually come in a queen version. I'd really like to see the queen-sized bed in person to make sure that an actual adult can fit in it. You know?
A few others from Restoration Hardware (Child & Baby) that I like are: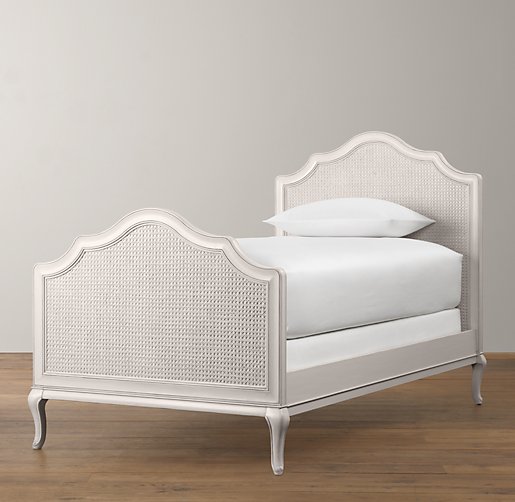 Adele bed, Restoration Hardware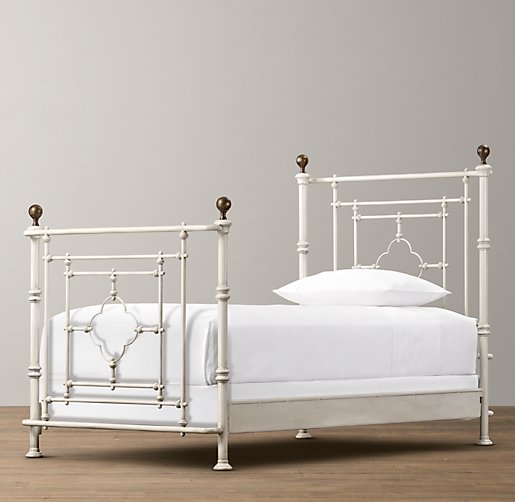 Quatrefoil bed, Restoration Hardware
The adult¬†bed collections are much more substantial and heavy; there's nothing dainty or light about any of them (well, maybe only¬†the Lorraine¬†or the Josephine). Do any of¬†you have experience with Restoration Hardware beds? What are the chances that the¬†Belle will look adult-sized in a queen? Let the bed hunt continue…
Images via Crate & Barrel, One Kings Lane, Serena & Lily, West Elm.