Did you know that¬†it's actually possible to¬†be tired and energized at the same time? It's true. This is exactly how I'm currently feeling. I¬†have been pretty worn down this week for all sorts of reasons (full-time job, taking on¬†an additional course, blogging, MBA, trips to Toronto, social events, back-to-school germs, etc.), but I am so full of ideas and energy (in my mind at least)¬†after last weekend's BlogPodium conference. I have been itching to write this post, but I have spent every ounce of my free time in bed this week trying to get back to feeling normal. Concentrating on computer work has been just a bit too challenging. Anyhoo, enough about me and my bout of sickness. Let's get to the good stuff…five thoughts about BlogPodium.
1. White Cabana + Inspirations Studio
One of the major highlights for me at this year's conference was the fact that I had the opportunity to design a collection of pottery. Although the design timeline was tight, I had fun brainstorming ideas, sketching up my designs, and consulting with Victoria at Inspirations Studio. Victoria and her team of women brought my designs to life. Under her guidance, the Inspirations Studio women learned new skills that they can apply to their future projects. The pottery was auctioned off at the conference, and I'm beyond happy that my pieces sold. I managed to squeeze in at the last minute to buy three little bowls, but I will be placing an order for additional items.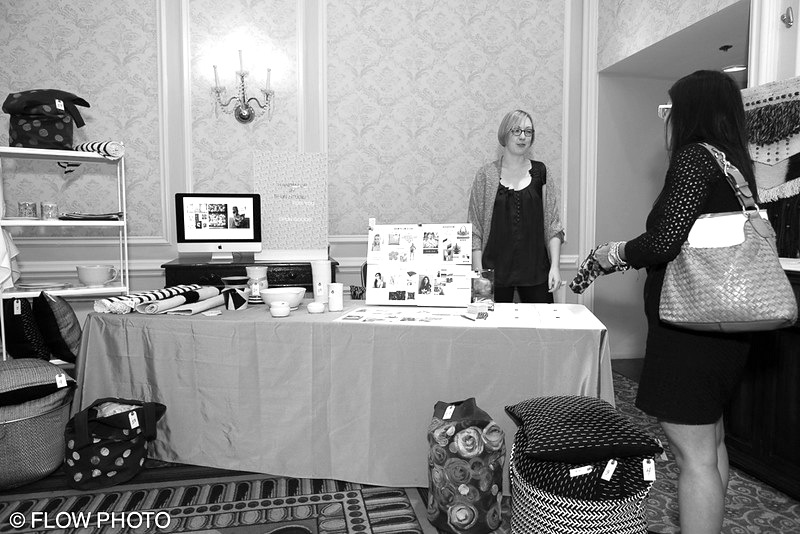 chatting with Lindsey, a table full of blogger-designed handmade items
If you're interested in purchasing any of my designs for yourself (and you live in Toronto or Waterloo), please email me asap (white cabana at gmail dot com). Prices range from $30-$50, and all money goes directly to Inspirations Studio. Ordering anything from my collection will put money directly in the hands of women in need.
Avery Swartz bought the two vases/pitchers, and she set them up on her beautiful white mantle:
photo by Avery Swartz
2. Learning about SEO and Google Analytics
I attended two fabulous sessions in the morning. The first was led by Nicki Lamont and the topic was SEO (Search Engine Optimization). Even though I've been blogging for 4+ years, I never give SEO as much thought as I know I should. I'm usually focused on creating content and photos, and I make little (or no) time for the more technical side of blogging. SEO is important and I now have more tools in my toolbox to make SEO work for me and White Cabana.
I learned about bounce rates, keyword searches, and short-term and long-term keywords, meta-tags, alt-tags, etc. If you're a blogger, I would recommend that you read up these concepts, especially if you aim to grow your blog.
I also learned about a new search engine – DuckDuckGo – that is supposedly going to be even better than Google. Yes?
Nicki was a clear, amusing, and professional speaker, and she obviously has a very relevant skill set. Thanks, Nicki!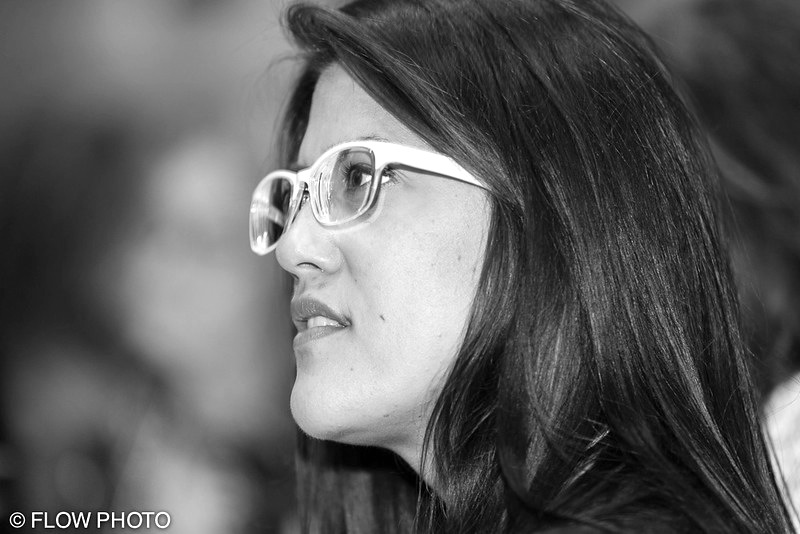 here I am listening attentively during a presentation
The second session I attended was Avery Swartz's session about Google Analytics. Avery has a really personable and engaging presentation style, which I completely appreciated. She brought humour into her presentation about tech and stats and analytics settings. Awesome. I followed Avery's advice when I got home from BlogPodium РI transferred to Universal analytics (do this if you haven't), refined some of my settings, and I am now feeling much more confident about understanding my Google stats. I know that this information will help me speak with brand partners in the future. I'm now eager to sign up for one of Avery's CampTech courses (offered in Waterloo, too!).
You can see by my session choices, I was really focused on learning about the more technical side of blogging. One of my current goals (and ongoing goals, I guess) is to increase my technical skill set. I don't have much time to focus on this side of the blogging world, which is why I think it's taken me 4 years to get to the point where I can actually use terms like SEO and analytics without sounding like I'm really clueless.
3. Panel Presentation with Jennifer Flores, Scott McGillvray, Monika Hibbs, and Leigh-Ann Allaire
I am generally a fan of panel presentations. You get to hear from several speakers and panels present a variety of points of view within a dedicated time period. I have been attending BlogPodium since it began, and Leigh-Ann Allaire Perrault has often moderated the panel presentation. Half the reason why I enjoy the panels is because Leigh-Ann is such a quick-witted, smart, and on-the-ball moderator. She asks intelligent questions, keeps the discussion moving, and always always makes the audience laugh. She didn't fail us this year. She worked her magic and the panel presentation was informative and entertaining.
This year's panel was made up of BlogPodium founder Jennifer Flores, Income Property whiz Scott McGillivray, and fashion blogger extraordinaire Monika Hibbs. They have three very different backgrounds, which made for an interesting presentation. Jennifer's spoke intelligently about the importance of collaboration and networking in blog life, Scott encouraged bloggers to set achievable goals, and Monika generously shared her secrets to gorgeous photography (apps to try: SnapSeed, WhiteaGram, AfterLight, PicTapGo).
Jennifer, Scott, Monika, Leigh-Ann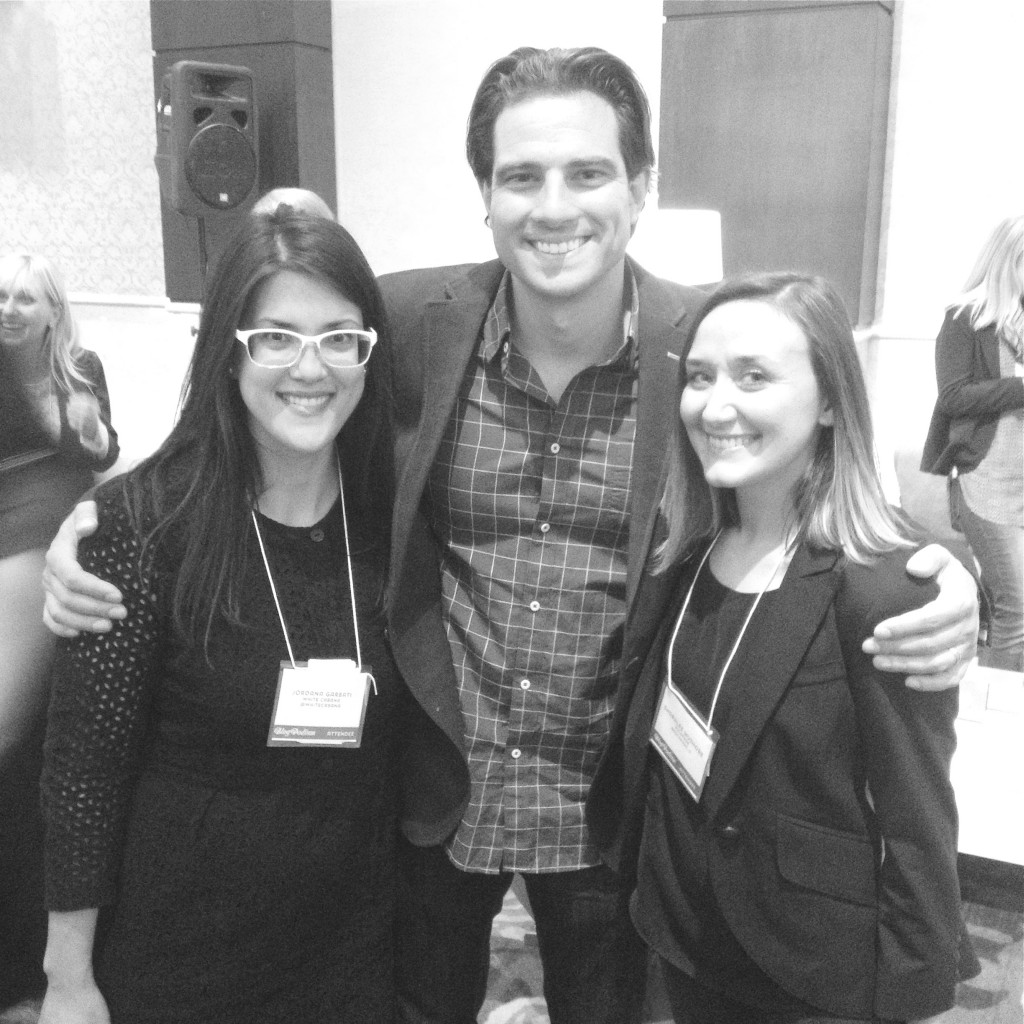 4. Working with Brands
Fortunately, I have had some really positive experiences working with brands and PR agencies over the last 4 years. In my case, brand collaborations have evolved rather organically and they continue to do so. I do really enjoy learning about people, what they do, their products, and their stories. I think Рand I hope Рmy readers appreciate when I share others' stories, and draw a personal connection to them.
Brand-Blog-Fit continued to be a theme at this year's BlogPodium. If you're a blogger, why should a brand work with you? If you're a brand, what blog fits your mission? How do you go about making the partnership work for both sides?
I was pleased to see some long-time blog supporters at BlogPodium (e.g., Delta, FirstAlert, UrbanBarn, GlucksteinHome, Chapters-Indigo, Etsy, ParaPaints), and I was thrilled to have the opportunity to speak with newcomers as well (e.g., LinenChest, Metrie). Brands and bloggers are really learning how to work together, how to speak the same language, and how to create mutually beneficial and long-lasting relationships. I have been fascinated by the partnership opportunities, and I'm interested in seeing how these partnerships will evolve.

cookie jar from Urban Barn

home decor items from Chapters-Indigo
5. The Venue РFairmont Royal York Hotel, Toronto.
Oh, the Royal York. It's a classic. I wanted each and every chandelier.

Having a beautiful backdrop for BlogPodium is essential. We are design bloggers after all! The food, decor, and service at the Fairmont Royal York was top-notch. I have pretty high expectations of fancy high-end places, and the Royal York did not disappoint.
6. Bonus: Taking Friendships Offline
One of the things that I value most about blogging is the chances I've had to meet new people. The Canadian design blogging community is full of people who are hard working, committed, interested, friendly, and dedicated. I have reached out to other bloggers on numerous occasions asking them for advice, and others have reached out to me. Our community is strong and helpful, and I think we should be really proud of the work that we do on and offline. We are a group that is committed to learning, sharing, and engaging with others.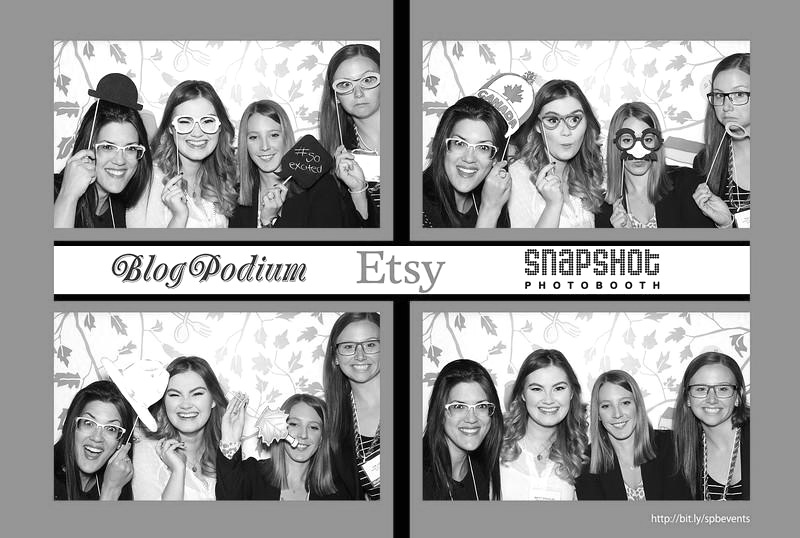 having fun in the Etsy photobooth with Brittany, Brittany, and Tia
And there you have it – my BlogPodium 2014 update in a few short paragraphs.
Thanks especially to Jennifer and her hard-working team for making BlogPodium another event to remember. You successfully brought a group of 300 friends together for a day of fun and learning! Thanks also to the many sponsors and exhibitors who filled our day with contests, giveaways, and beautiful products.
Photos by Flow Photo and Jordana.