Phew. I think I'm just about over jet-lag. Took almost 6 days! The snowy cold weather is certainly not helping. Doesn't matter, spring is almost here. I have loads of photos and stories from Paris to share, and I thought I would start with the absolutely gorgeous apartment we stayed in. It. Was. Perfect.
As we were staying in Paris for 8 days, and we knew we wanted a bit of space to spread out, my colleagues and I decided that an apartment rental would be the best option for us. I started the apartment search on sites like AirBNB, VRBO, and new-to-me sites Haven in Paris and Time and Place. After the first apartment we wanted to book got snatched up, I landed on this apartment via RentAVilla.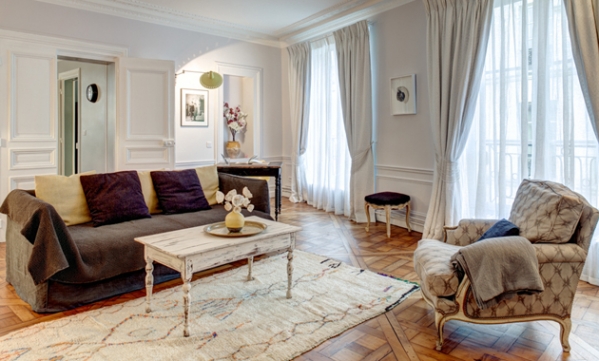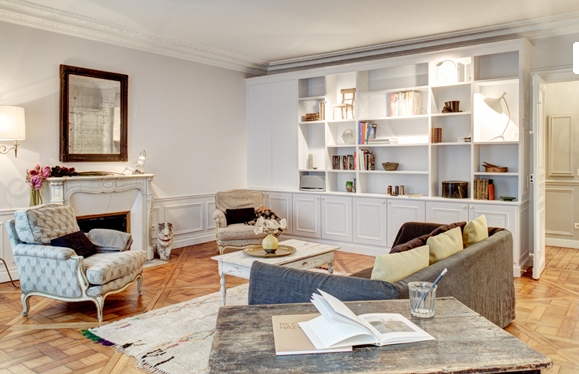 Gorgeous, right? Yes! And this Rue Bonaparte apartment was just as beautiful in person. It was large, comfortable, clean, and the location in St. Germain des Prés could not have been beat.
The design details in this apartment had me staring. The artwork was creative, the lighting was unusual, and the kitchen was so high-tech and functional. So functional in fact that my colleagues and I ended up hosting a dinner party one night. Yes, a dinner party in our Parisian rental apartment. It was hilarious and fun!
 There are two bedrooms (4 twin beds), two bathrooms (including 2 separate showers, one tub, and a separate toilet room), a large living room, and a large kitchen. The apartment has all the conveniences of home – laundry, dryer, dishwasher, wi-fi, a Nespresso maker (is that what people like these days?), and plenty of comfortable pillows and blankets. Fixtures and appliances include some of our favourite names in design – Franke, Liebherr, Miele, and Gaggenau. It was such an pleasure to spend 8 days in this 6th arrondissement beauty.
I want to go back! Can you blame me?
This was the first apartment rental I've done in Europe, and I would definitely opt for another one. It was really nice to have a decent breakfast at home before spending the day exploring the city (or conference, in my case). It was also really special to host guests in Paris. Finally, it felt like we lived like normal Parisians for a week rather than always-on-the-go tourists.
Over the next week or so, I'll continue to share more photos and stories from my trip, including my recap of this exhibit and my final decision about the circle ring (any last minute guesses?).
For now, I'm wishing you all a most wonderful (and warm?) weekend. Thanks always for stopping by White Cabana!