As if my fondness for Brian Gluckstein could grow? Well, it did. Last week. Let me tell you about it.
I drove to Oakville one evening after work to attend a preview of the Oakville show home for the Princess Margaret Cancer Centre Welcome Home Sweepstakes. The house – from top to bottom – is pretty darn gorgeous. While it wasn't all white, there was a lot of white and I was happy to see it. The open concept kitchen, family room, office, and a few bathrooms (I lost count of them, to be honest) were quite white. The other spaces were full of muted blue, grey, violet, and yellow. Each room was quite beautiful. It wasn't the "don't touch this because it's so precious" kind of beautiful but more like the "have a seat, stay a while, get comfy, can I get you a coupe of champagne" beautiful. Ok, that's kind of fancy too; but it didn't feel untouchable.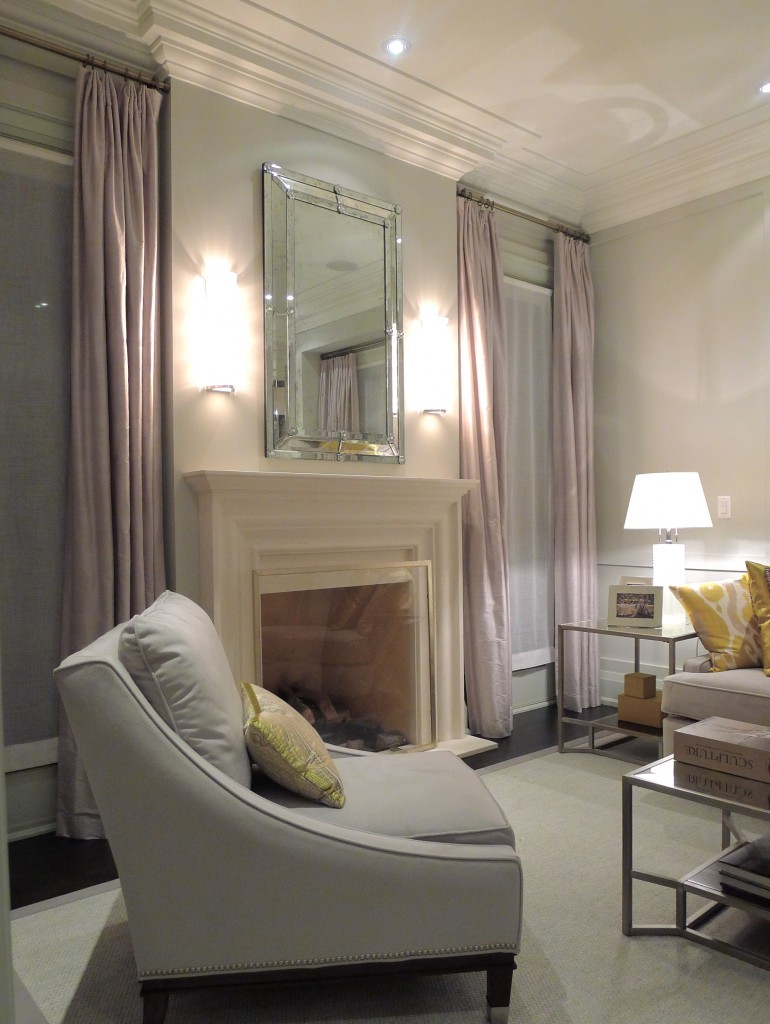 main floor living room
upstairs grand hall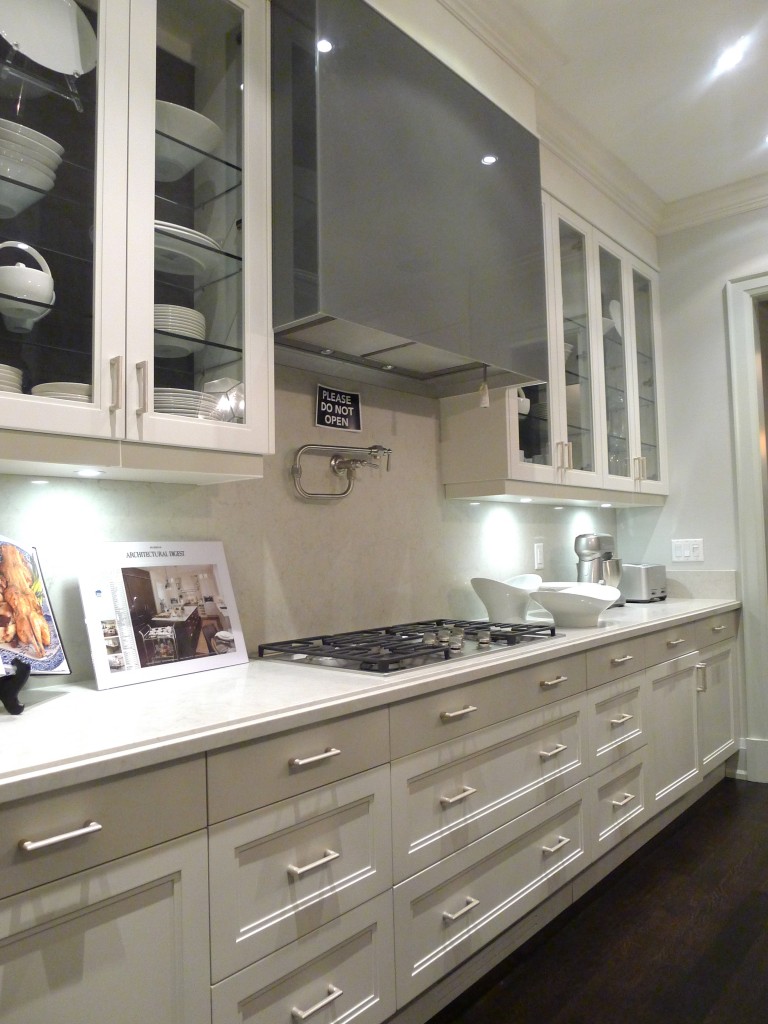 kitchen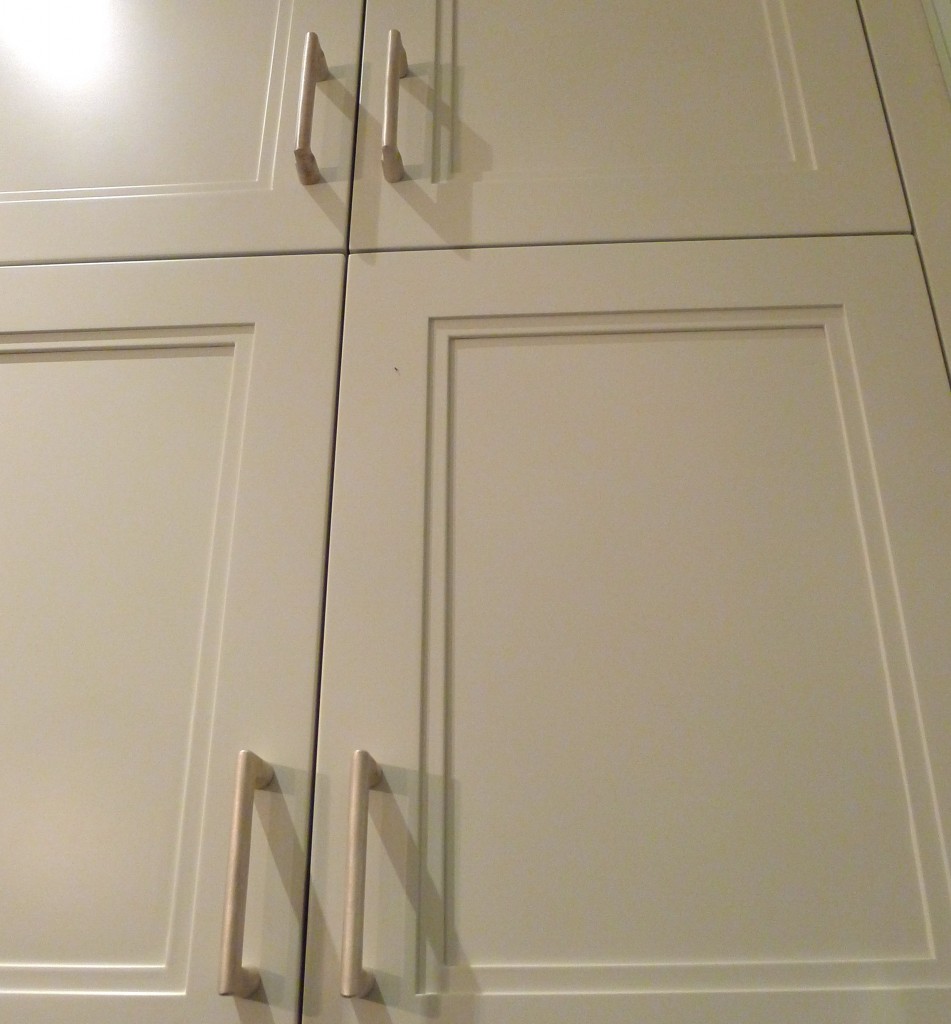 kitchen cabinet detail
The furniture and many of the accessories is all from the Brian Gluckstein collection and the art was sourced from around the world. I didn't sit on any of the furniture out of fear that I'd mess up a pillow and Brian would have to come and expertly re-chop it (chopping pillows is still in style, in case anyone wanted to know). But if he wasn't around, I probably would have tested out every seat in the house.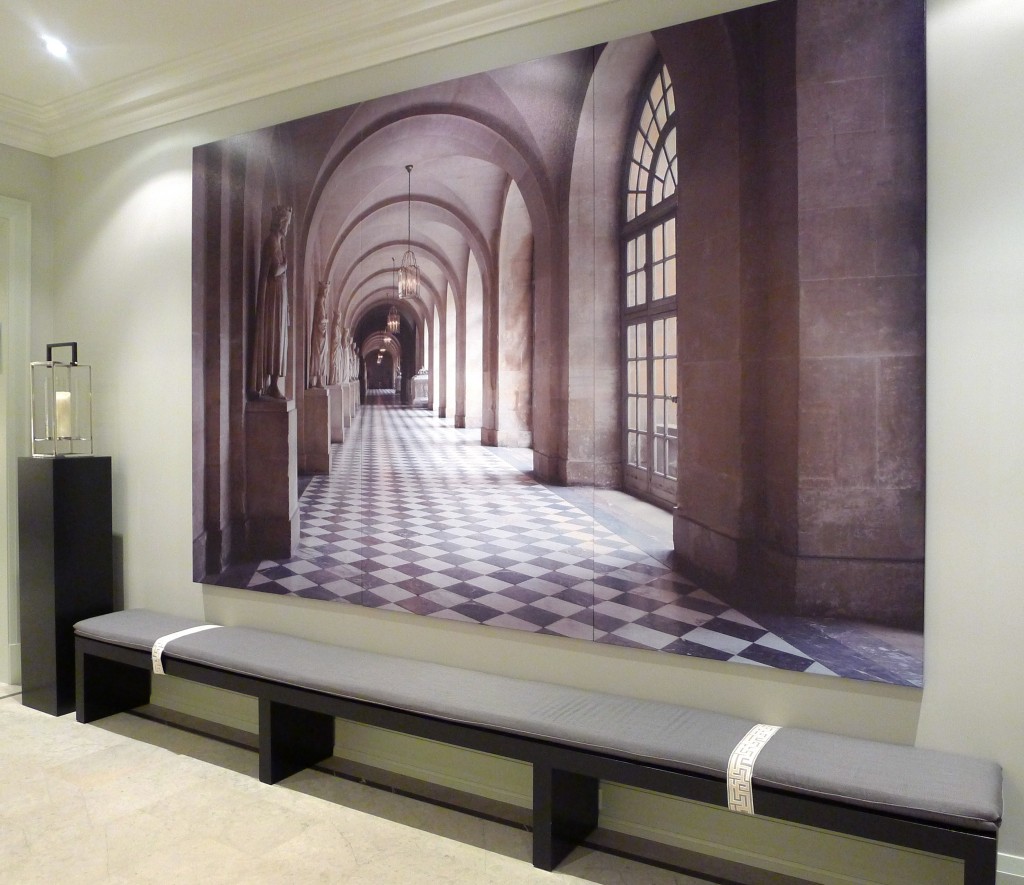 main floor – grand hall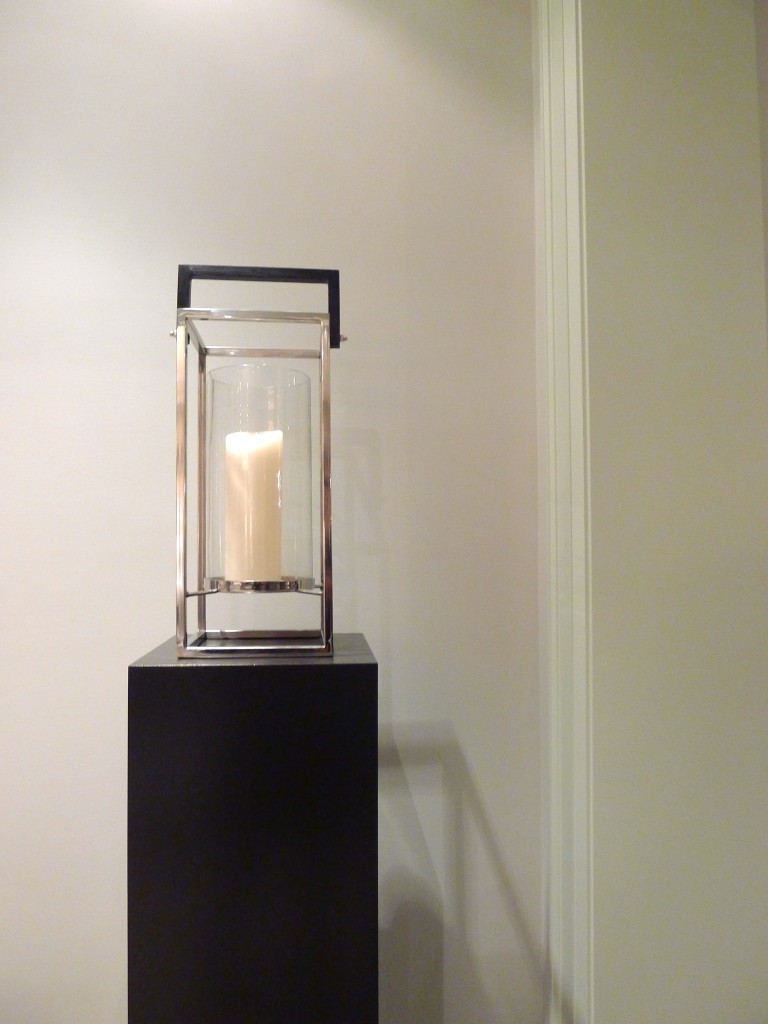 GlucksteinHome details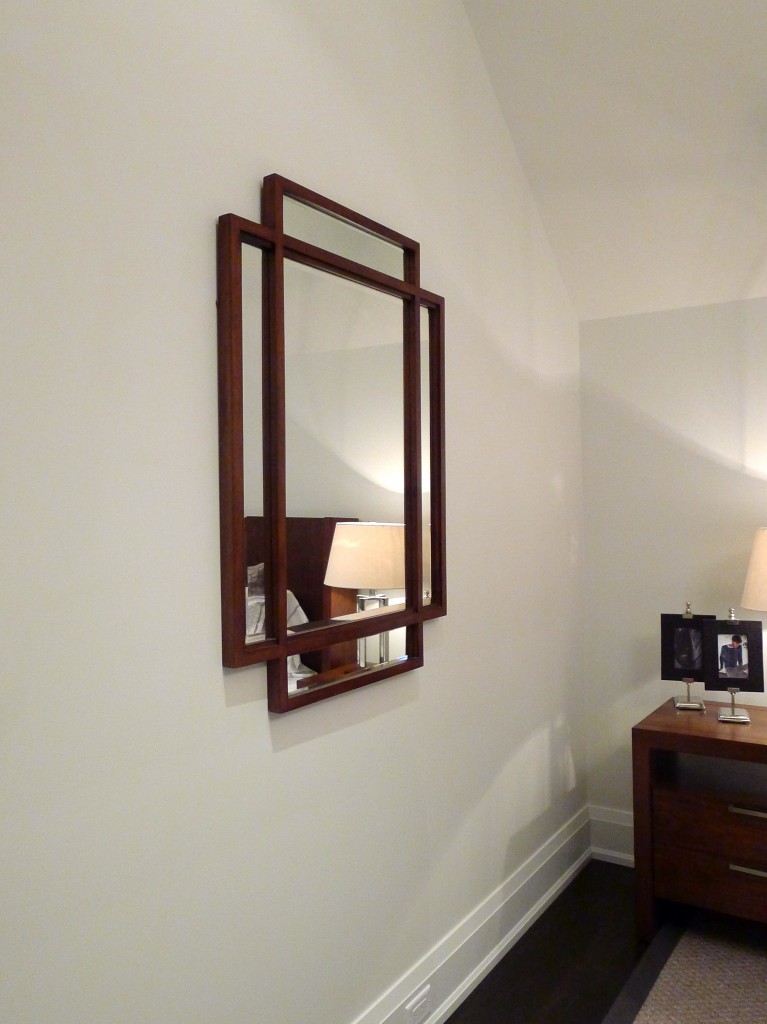 upstairs bedroom mirror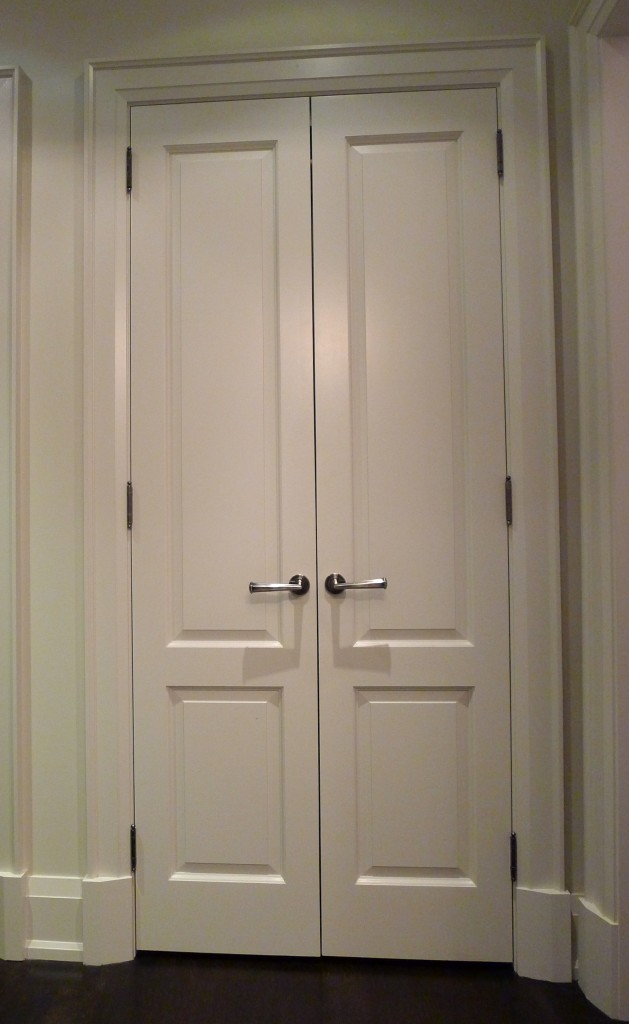 substantial doors in a bedroom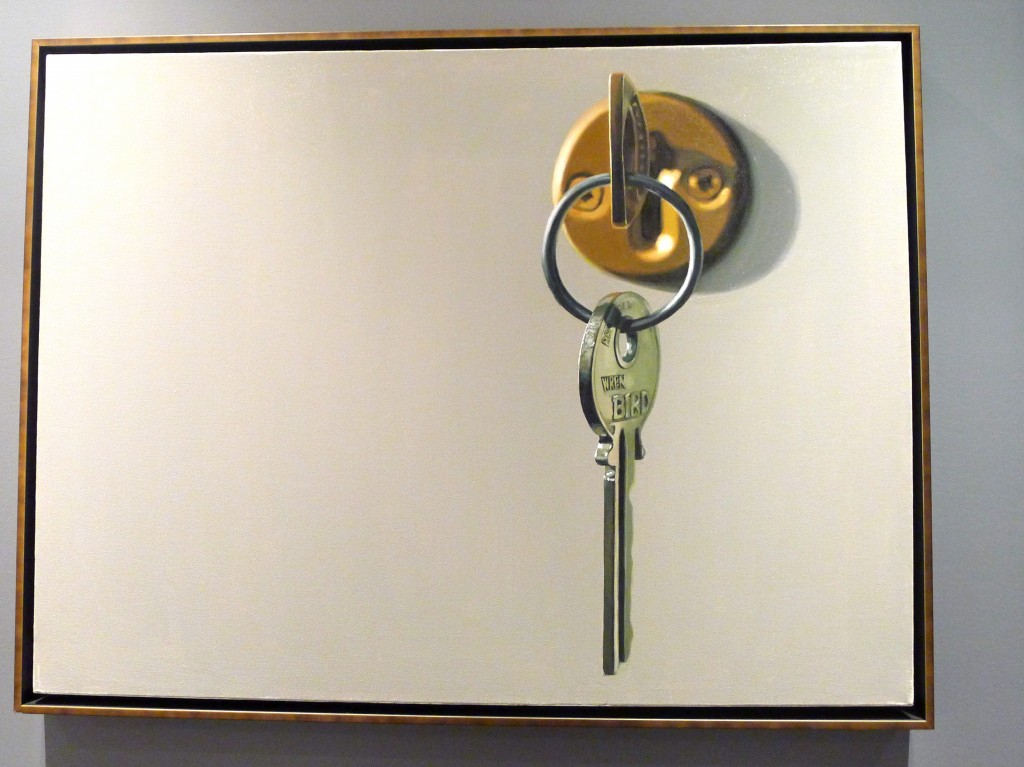 possibly my favourite piece of art in the house; Key by Tritan Braho
pear art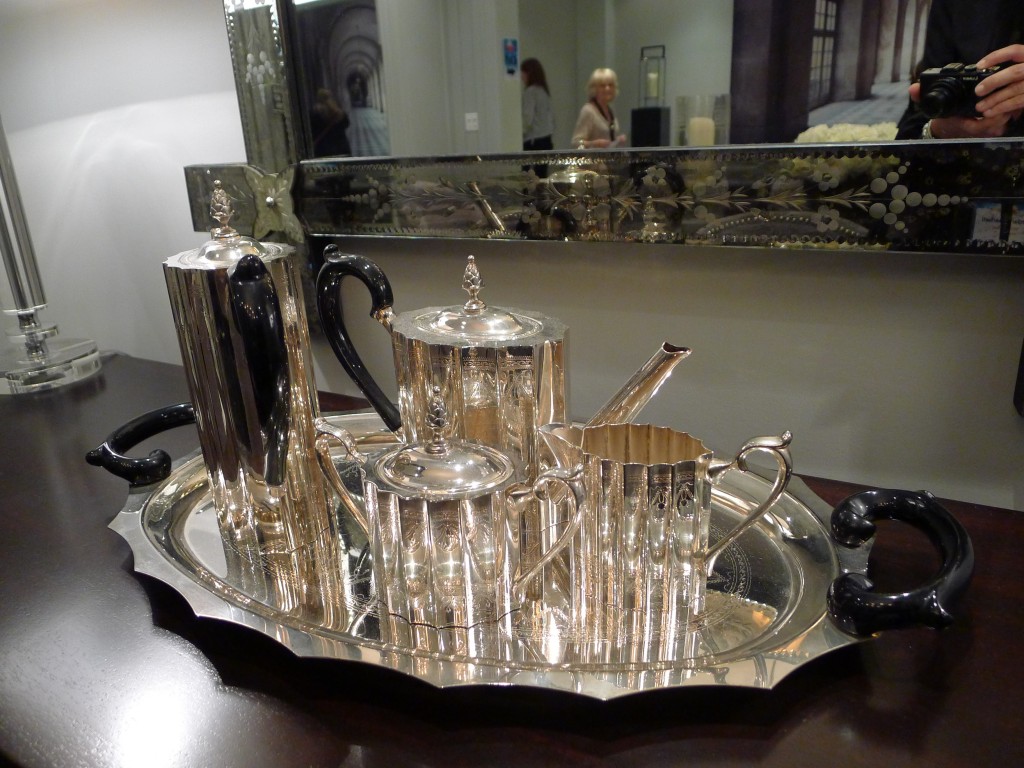 dining room details; my mom has this same antique tea set
I really eyed the details in all the bathrooms to see what details I could translate into my own home. The tile work and use of mirrors was lovely. And the towels were so new and fluffy.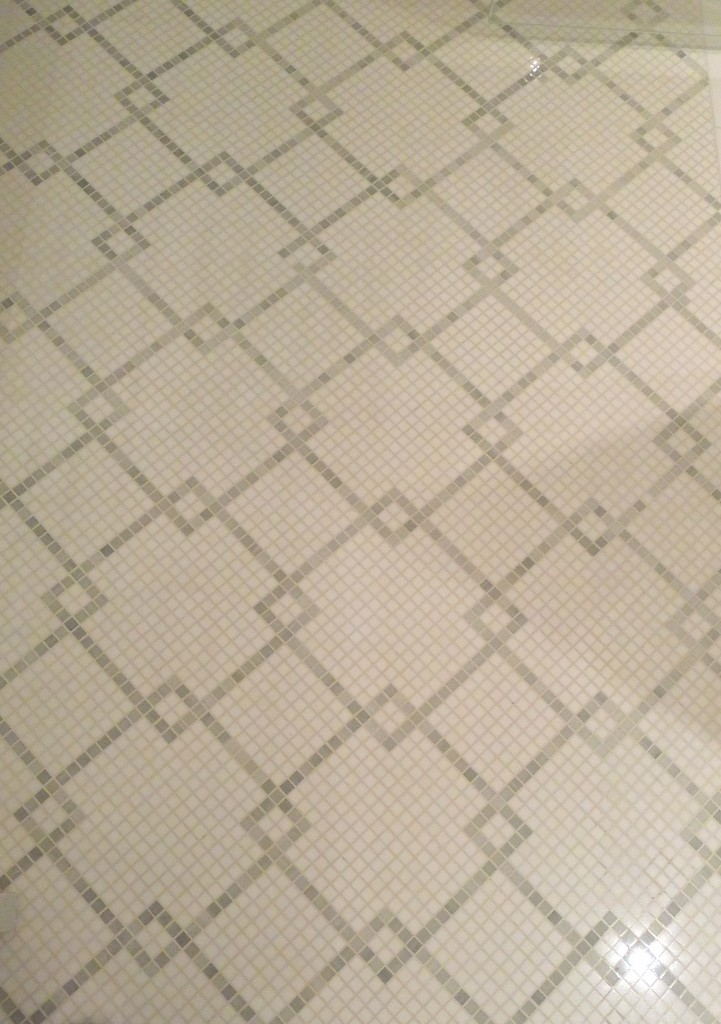 tile floor in the master bathroom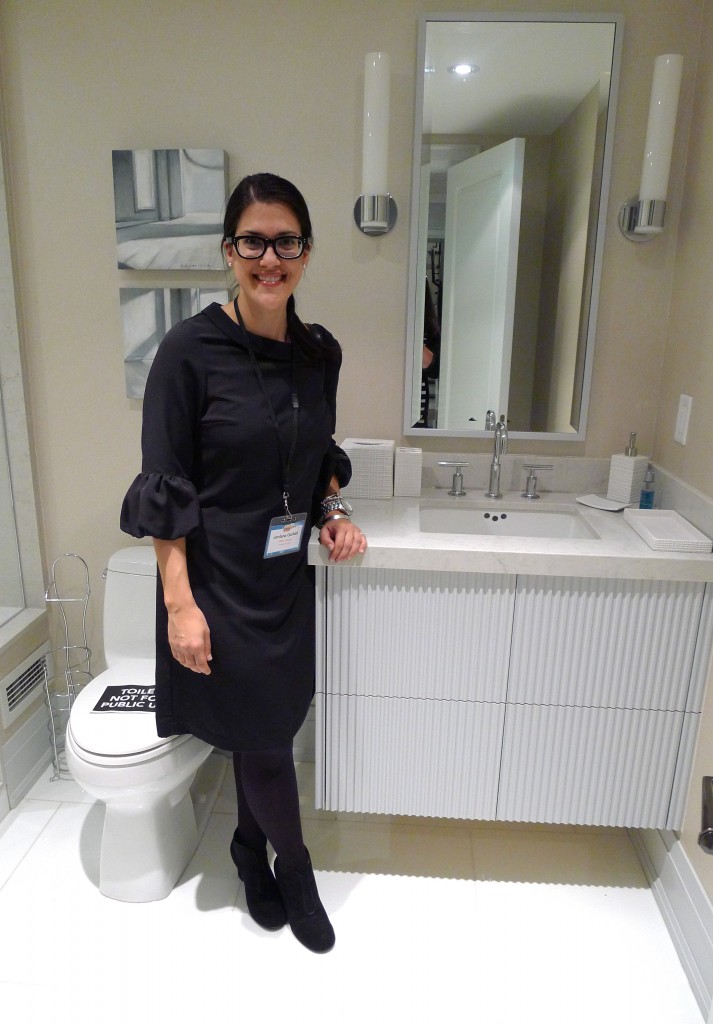 basement bathroom; photo snapped by April
Ever the academic, I had to check out the office. I loved that it had a great big cork board (old school Pinterest) and a wall-to-wall desk. I'd really put that thing to work.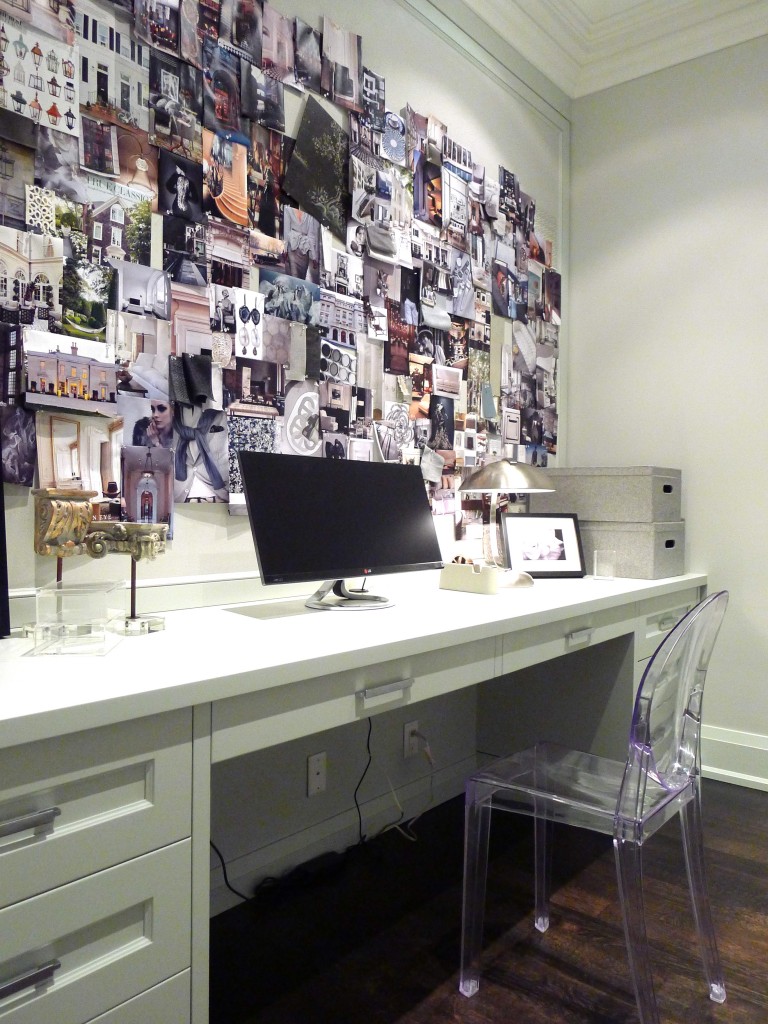 main floor office
The mouldings, the fireplaces, the tiles, and the lighting were all very impressive.

 lighting around the house
fireplace in the main floor living room
So is there anything I don't like in the home? Yes – two things. One:Â The wine cellar was a nice addition but I probably would have cut out the exercise room and made the wine cellar a whole lot bigger. Two:Â What really annoyed me as I walked through the house were all the TVs. Oh my goodness. There were a gazillion TVs in the house. They drove me crazy! Brian, Brian, Brian – why? How many TVs does one beautiful house need?
Overall, the house is really beautiful and the work that went into building it (in only 5 months) is incredibly impressive. Brian, the architect, the tradespeople, and all the other people who had a hand in this really did a phenomenal job.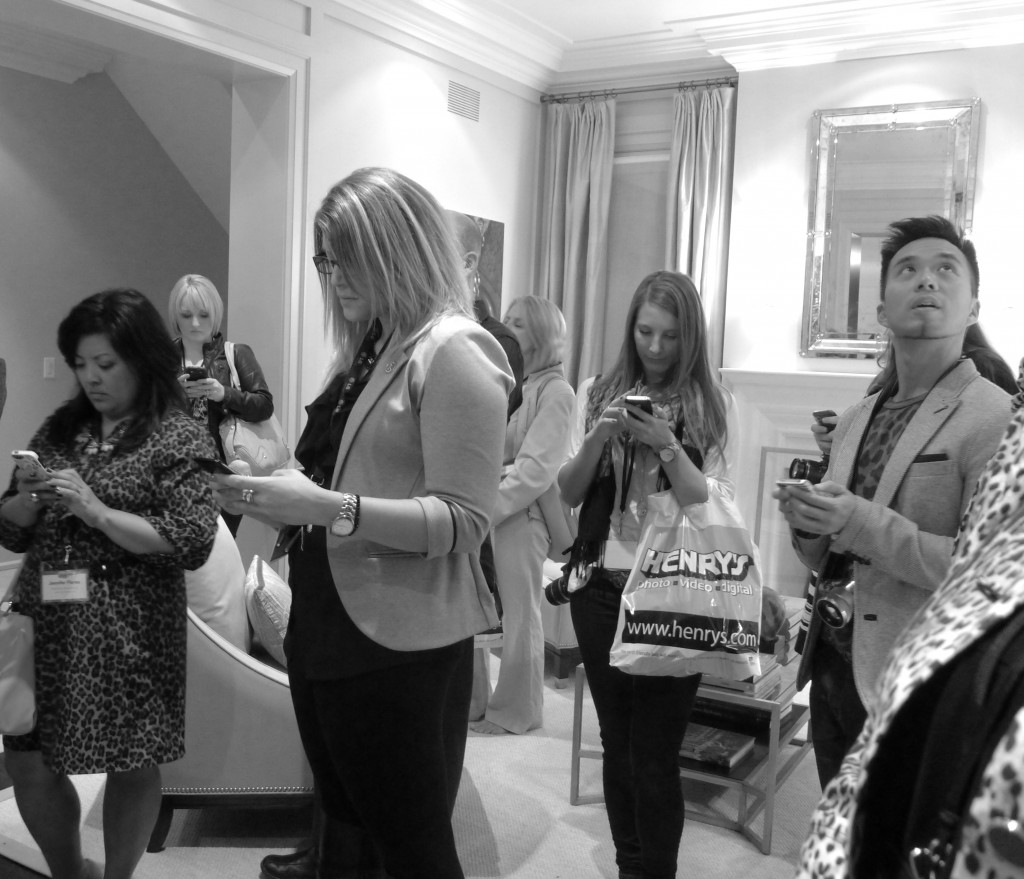 Did all bloggers listen to Brian Gluckstein and tweet at the same time? (I spy Jennifer, Leigh-Ann, Brittany, & Tim)
Mr. Brian Gluckstein remained friendly, warm, and funny as he talked about the house and his design career with all the guests. Oh – and I couldn't leave the home without taking a photo with him. I also took the opportunity to ask him if the bathroom in his own home is still as beautiful as it was when it was photographed for House & Home. The answer? Yes. The books are all real and they're still there.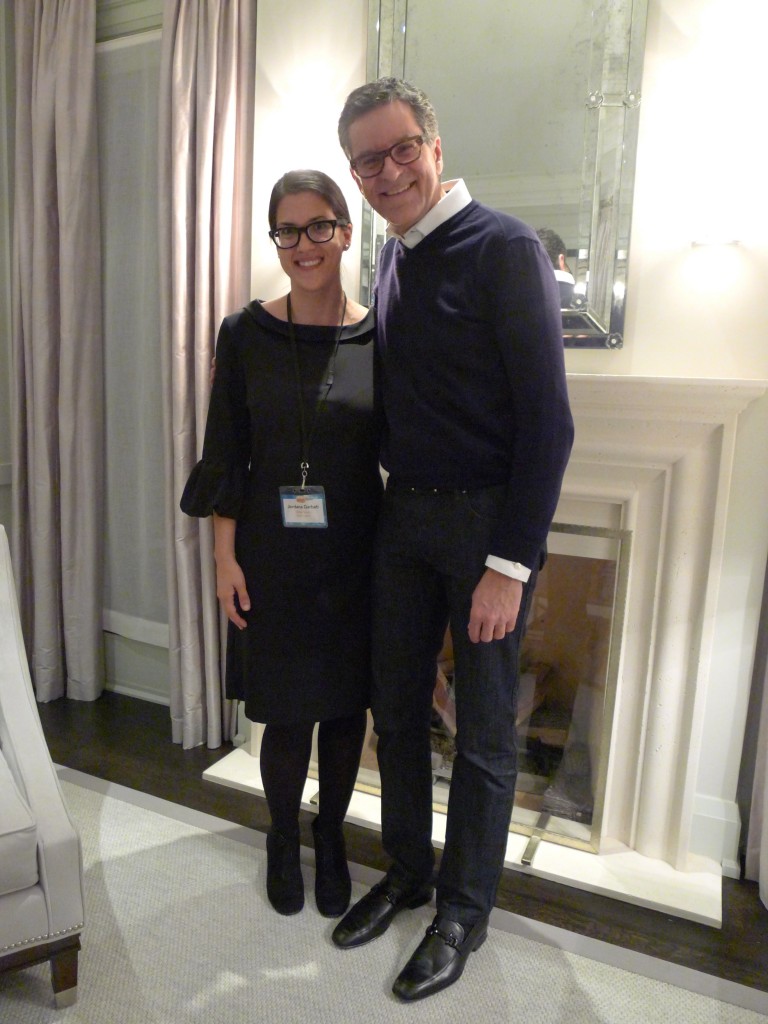 Me and Brian; photo snapped by Leigh-Ann
So? Did I convince you to buy your ticket? Good luck!
Many thanks to Brian, Cheryl, and the Princess Margaret Oakville show home team for welcoming us so warmly!
Related posts:
1. Remember when I toured the product design office of GlucksteinHome? That was fun!
2. Did you see that Brian Gluckstein was featured on The Coveteur? 
Photos by Jordana.