Last weekend, a bunch of bloggers got together at Melissa's (The Sweet Escape) fun and colourful loft for a wine tasting event sponsored by local favourites Union Wines and Linda Modern Thai. Lucky us, right?
The first wine was Union Gold and this stack of white plates didn't stay empty for long.
Andrew von Teichman from Union Wines was on hand to teach us about four varieties of wines (gold, white, noir, & red) and to make sure our glasses were never empty! Union is a virtual winery owned and operated by Andrew and his partner Allan Jackson (former owner of Jackson-Triggs), and it sources all grapes from the Niagara region. All Union wine varieties are less than $20 a bottle and are available at select LCBO stores.
The chefs from Toronto's Linda Modern Thai served up some delicious nibbles that paired extremely well with the four wines we tasted over the course of the afternoon.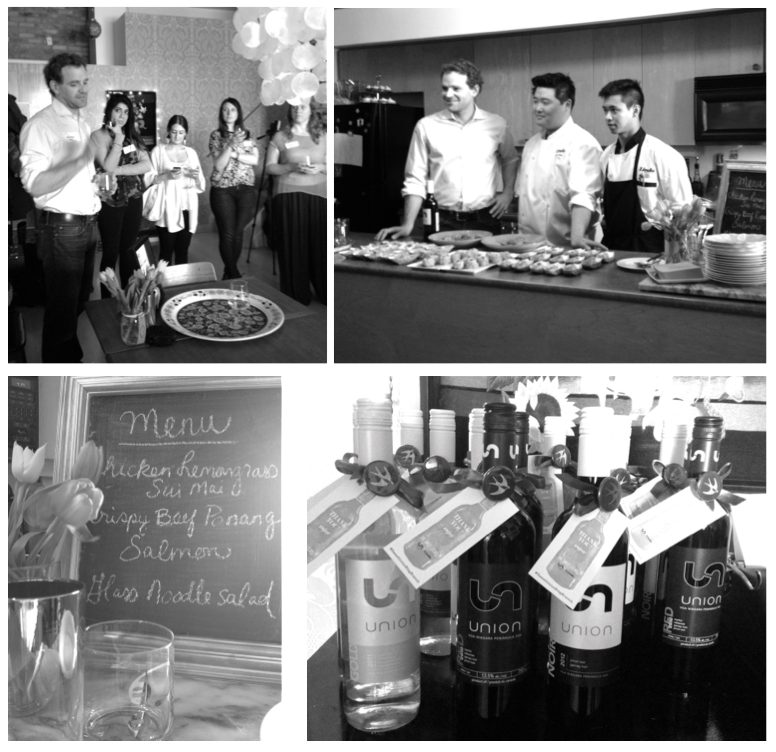 Union Wines and Linda Modern Thai made an excellent pair.
Melissa's home has so many beautiful vintage details.

Melissa's milk glass collection looks amazing on her floor-to-ceiling bookshelves.
Read Melissa's recap of the afternoon (her photos are much more colourful than mine) and see her beautiful home in Covet Garden Home. Thanks for hosting, Melissa, and thanks for spoiling us, Union & Linda!
Photos by Jordana.