Yes, yes, I'm back with more news from Langdon Hall. I could easily start a regular Langdon Hall series on White Cabana. The place is amazing, and I've recently been calling it My Langdon Hall. Yes, I am totally biased and also completely smitten by the place.
Anyhoo – a few months ago, the team at Langdon Hall invited me to interview Executive Chef Jason Bangerter and Pastry Chef Rachel Nicholson. An interview, I asked? About what? Chocolate! Tough gig, I know.
You see, Langdon Hall decided that they should have their own signature chocolate (as if the place wasn't special enough), and they wanted some help to get their story out.
You may have seen this post on Instagram recently if you follow me or @LangdonHall or @LangdonHallChef: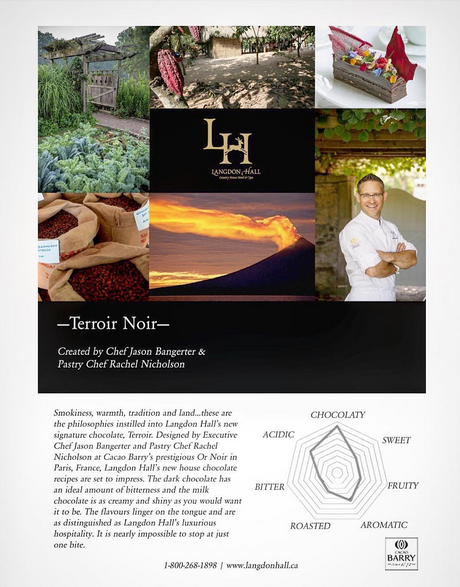 via @LangdonHallChef
You see those words right there? Yeah, I wrote them (with some edits from LH)! So cool! Since that paragraph only provides a glimpse into LH's chocolate, I was given permission to share the full story here on my blog. Read on if you'd like to learn more about how this chocolate came to be.
***
Making of Langdon Hall's Signature Chocolate: The Beginning
Jordana Garbati
Being whisked away to France on a highly unique chocolate mission seems like an incredible experience to add to one's bucket list. For Langdon Hall's Executive Chef Jason Bangerter and pasty chef Rachel Nicholson, this experience turned from dream to reality in February.
Jason and Rachel were invited to Cacao Barry's prestigious Or Noir in Paris to develop a signature chocolate recipe for Langdon Hall. Only a few Canadian chefs, and only about 200 chefs around the world, have developed a signature chocolate recipe! Armed with a few goals in mind and a clear idea of the flavours the chefs wanted to include in Langdon Hall's future house chocolate, the duo zipped off to Paris for a three-day chocolate adventure.
At Or Noir, Jason and Rachel were confronted with cacao beans from around the world and wasted no time working with Or Noir's highly-qualified team to begin the process of developing Langdon Hall's distinct chocolate.
Chef Jason wanted to ensure that Langdon Hall's philosophy was well represented in its chocolate. He wanted the chocolate to instill ideas of the land, smokiness (we all know about Langdon Hall's divine fireplaces), warmth, and tradition. Chef Rachel was on the same page and wanted to ensure that the final chocolate recipe would not only work beautifully on its own, but also become that more memorable when transformed into a chocolate ganache or pain au chocolat.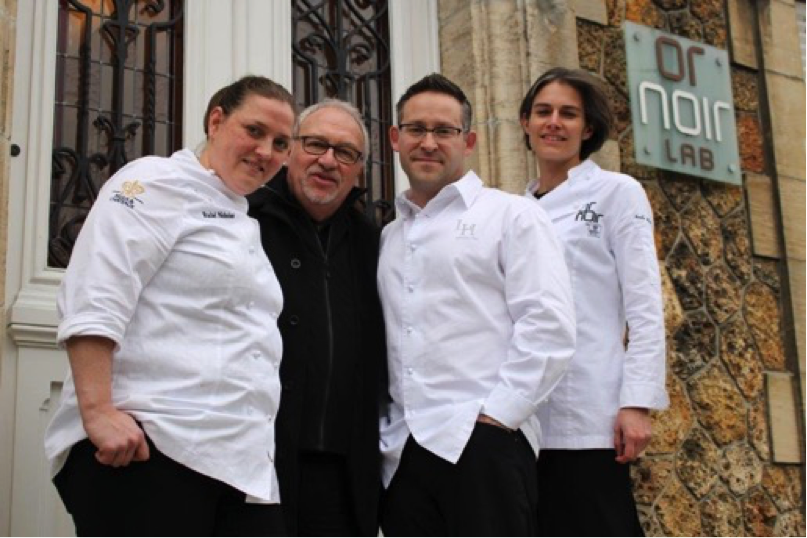 Chefs Jason and Rachel and the French team at Or Noir
The chefs went through Or Noir's chocolate recipe development process whereby they explained their desired taste profile, explored cacao pastes from around the world, blended flavours, and tasted multiple production samples.
After a few gruelling days in the Parisian chocolate laboratory (as much as crafting a chocolate recipe can be gruelling), the chefs settled on the perfect recipes for dark and milk chocolate that are set to impress.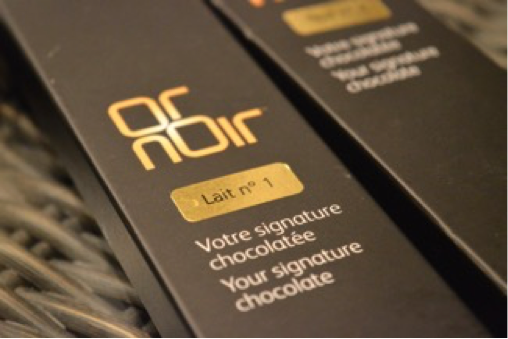 Langdon Hall chocolate samples – some of the first pieces Langdon Hall's dark and milk chocolates – ready for a taste test
The dark chocolate has an ideal amount of bitterness. It's great paired simply with an after-dinner espresso, and it is sure to increase the quality of Langdon's popular chocolate-filled pastries and desserts. The flavour lingers on the tongue and is of beautiful texture and consistency. The milk chocolate is as creamy and shiny as you would want it to be, and it is sure to be a crowd-pleaser. Both chocolate recipes are as distinguished as Langdon Hall, they embody luxurious hospitality as much as a chocolate could, and they are yet one more piece that will raise guests' experiences to another notable level.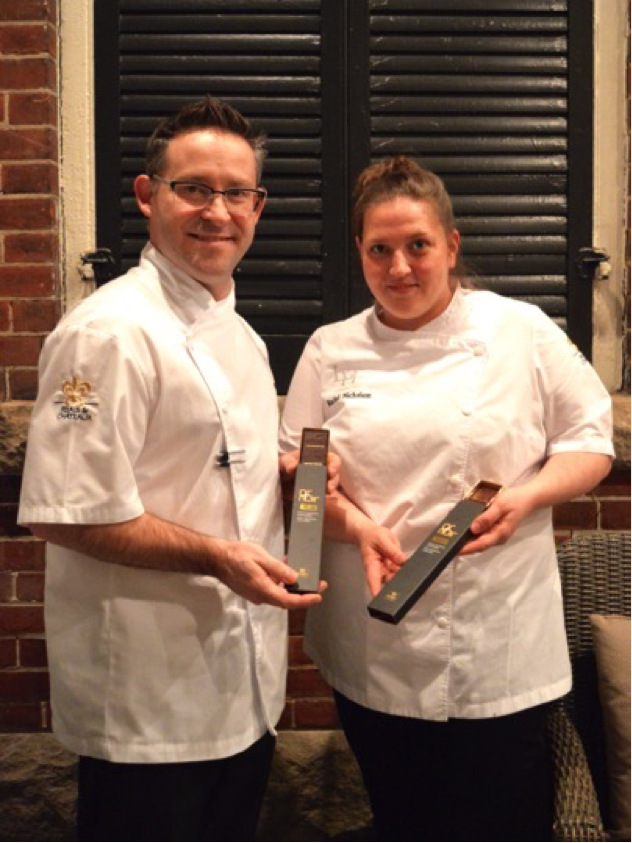 Executive Chef Jason Bangerter and Pastry Chef Rachel Nicholson with the first chocolate production at Langdon Hall
For chefs Jason and Rachel, the signature chocolate brings prestige and innovation. The creation of the Langdon Hall chocolate brings outside-the-box thinking and creativity. This addition to the existing repertoire of phenomenal recipes will entice new and returning guests to visit Langdon Hall to experience its inimitable chocolate.
After the recipe was created in February, the chocolate went into production in France. Since the arrival of the first shipment of chocolate, the chefs have been busy in their kitchen creating new decadent recipes.
On April 25th, Executive Chef Jason Bangerter will travel to the Art Gallery of Ontario to launch Langdon Hall's chocolate and its top-secret name at the Terroir Symposium, which is an event that brings together top chefs, sommeliers, and artists with the goal to promote innovation, collaboration, and creativity in the field of hospitality. Industry leaders will no doubt be enthralled by the story of how Langdon Hall's chocolate came to be and I challenge them to stop at just one bite.
***
I should say that Chef Jason did make sure I had my fair share of chocolate during the interview (Thanks, Jason.) I preferred the dark, but the milk was so darn smooth. I know, such a tough gig. Hanging out at Langdon Hall eating chocolate – life. is. good.
p.s. In recent news, did you see that Drake went to Langdon, too? Cool.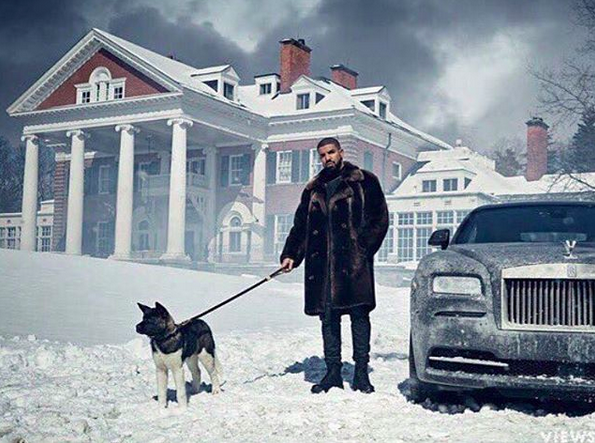 via @ChampagnePapi, photo by @CaitCronenberg