How fancy are you getting these days?
Some of us are fighting the winter blues by buying spring clothes that  barely hit the retail floor, and some of us are getting into upscale fragrances. Do you know about Lucky Scent? It's a shop with a scent bar specializing in top and otherwise uncommon fragrances from all over the world. Last week I splurged and ordered the L'Artisan Parfumeur Samples Pack– a great way to try 10 of the top phenomenal creations of all time at a fair price.
This caught my eye, too: fancy incense papers. I never liked the smell of incense before but, I have a feeling that its just like the difference between burning a fancy candle and a not so fancy one. Big difference.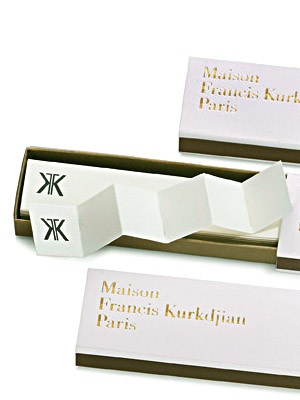 Today I'm featuring these lovely incense papers that come in one of three signature fragrances by Maison Francis Kukdjian, Paris. At $25 for a pack of 20, these incense papers are either in notes of rose or orange blossoms and lily of the valley. I have a feeling that they are divine- a user review on Lucky Scent's site gave these full marks. They are decadently scented with only the best. This isn't a fortune-teller's sandalwood stick: this is expensive in a way that is refined and crafted with nuances and pure extracts. Paris! Come on, you'd love trying one of these, wouldn't you?