I'm so happy to welcome fellow Waterloo-region-based blogger, Rox-Anne from Celebrating This Life, to White Cabana this Monday morning! Rox-Anne and I met via Twitter, then in person, and we've been having fun every since. We were fortunate to explore Scandinave Spa and Langdon Hall together, and we always seem to have loads to talk and laugh about when we're together. I also absolutely love that Rox-Anne and her family do so much traveling both near and far. They always have fun stories to share!
We're all in luck today because Rox-Anne is bringing us into her home and showing off her white Christmas decor. So, enough of my voice, let's hear from Rox-Anne…
***
Hello! I'm Rox-Anne, the blogger behind Celebrating this Life, a travel and lifestyle blog. I love styling my home for the holidays and decided to take a page from Jordana's book and try an all white décor theme for my kitchen. I recently painted my cabinets Cloud White from Benjamin Moore. They were originally a light coloured wood, and I am just so amazed at how much the white brightens the room! I also installed some shelving, bought a wine rack, and installed a backsplash and a marble window sill. I still have a few more projects lined up (is any home décor update really ever done?). Kitchen lighting is first on my list.
Jordana was kind enough to let me take over White Cabana today to show you how I have been able to incorporate more white into my holiday décor.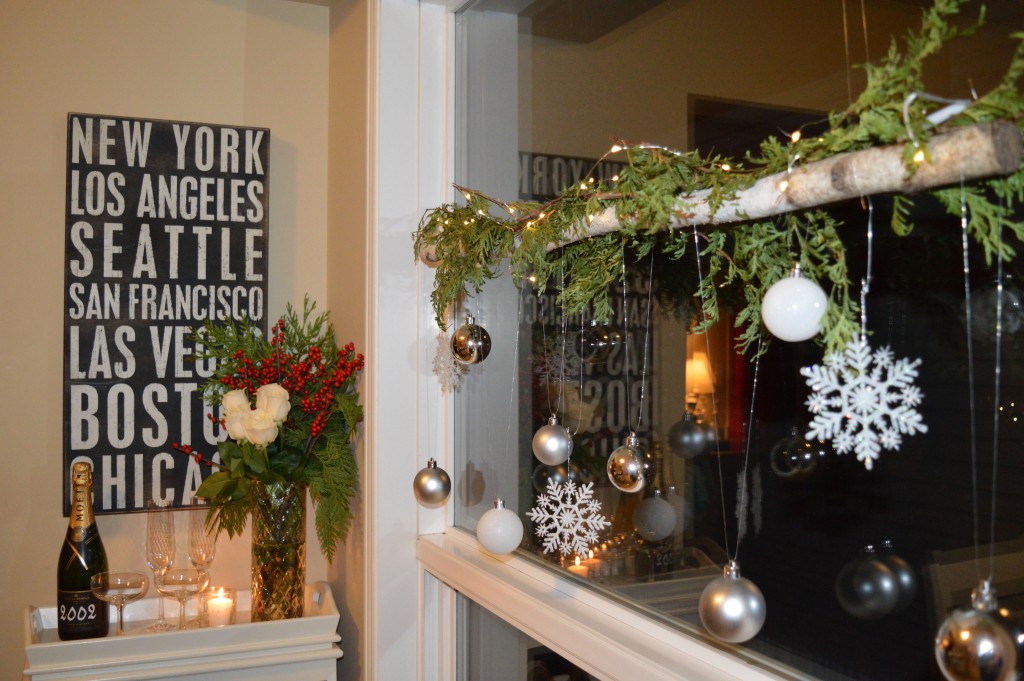 I came up with this window treatment after finding some birch logs in my garage. I used two pieces of fishing wire and using gold push tacks, attached them to my window trim. I very carefully added some greenery (make sure to mist to prevent the greenery from drying), attached a few white and silver Christmas ornaments with fishing wire, and carefully arranged a few sets of 12 wire lights on top.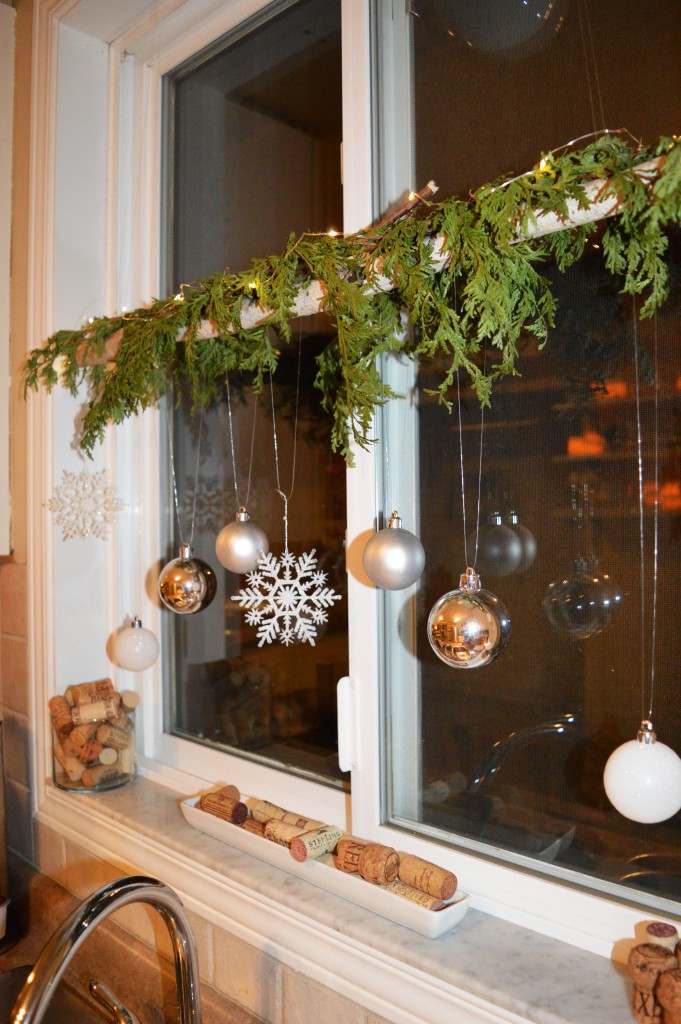 These lights are great for adding a little sparkle and they run on a watch battery. Just make sure to tuck the on and off switch under some greenery. ($5.99 each at Sheridan Nurseries) I used two sets on my larger window and one set for my smaller kitchen window.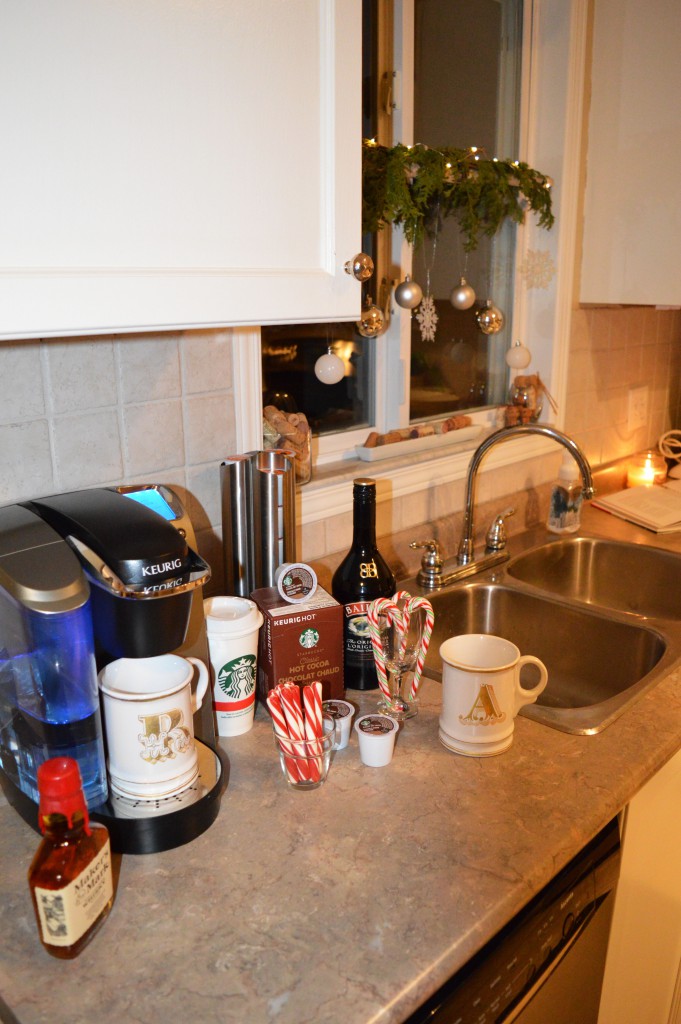 An adult hot chocolate bar, with my white and gold monogrammed mugs from Williams Sonoma, was a great way to fend off the cold air this weekend.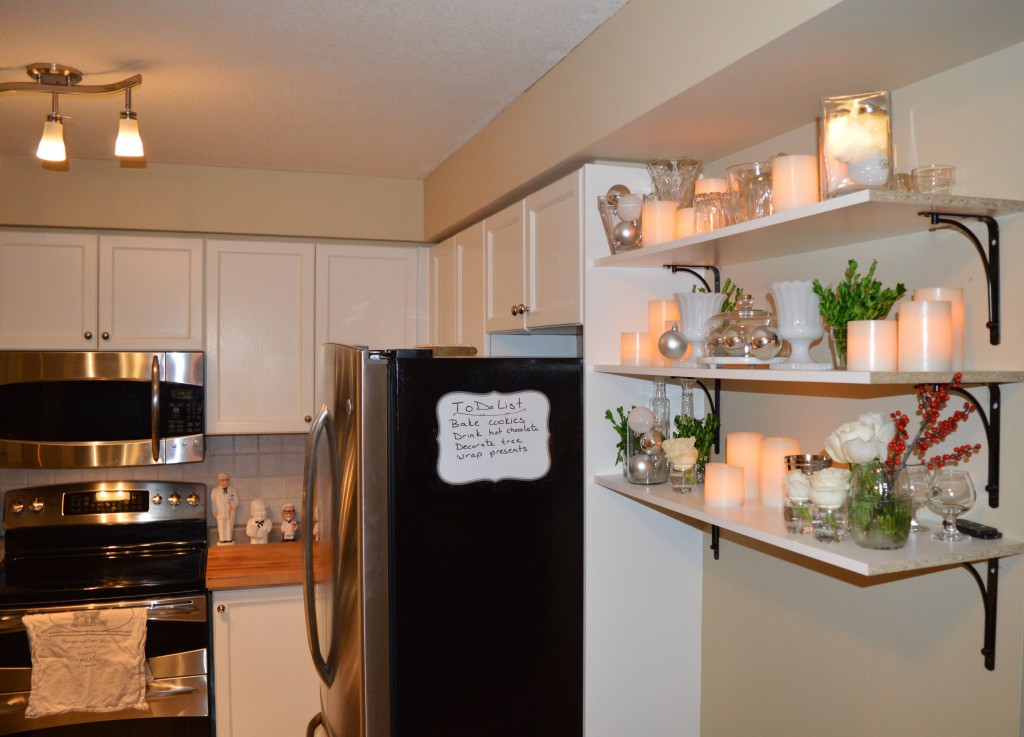 I recently installed these simple kitchen shelves made with cut MDF board from Lowe's. It's a great place for displaying my collection of milk glass, and the remote control candles I bought from Costco two Christmases ago add a nice glow to the room. Oh, and yes that is my ever-growing collection of Colonel Sanders dolls beside the stove. It started as a joke and is now a prized collection!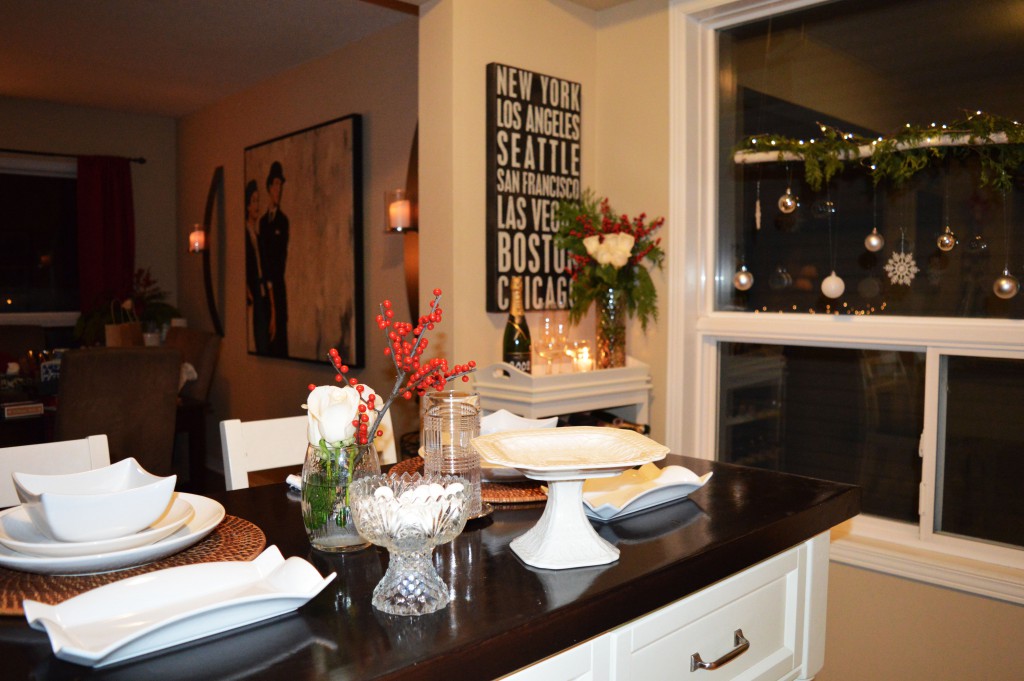 My boys (I have two teenage sons) were out for the night so that left AMH (my hubby) and I on our own for dinner. I set the kitchen island for dinner for convenience but that didn't mean I skimped on my tablescape!
I started with a set of rattan chargers from Target and added a dinner plate, salad plate, also from Target, with an angular soup bowl and small appetizer plate I purchased at a dollar store. My favorite Ralph Lauren water glasses, purchased at HomeSense, added a touch of sparkle to the table. Some white napkins, my everyday cutlery, a few white roses with red berries (a farmer's market find), and a candy dish of scotch mints (I always have a dish of scotch mints in the kitchen) completed the simple, elegant all white look.
Thanks so much for reading and thank you to Jordana for having me. I hope you have enjoyed this little peak into my attempt at adding more white into my décor! Feel free to visit me at Celebrating This Life.
Cheers!
Rox-Anne
 ***
Thanks, Rox-Anne! Your house is perfectly festive, and I'm impressed by how much white you have in your kitchen. I'm always on the lookout for Colonel Sanders figures for you, but they're tough to find!
And for White Cabana readers who want to see how I decorate for Christmas, hop on over to Celebrating This Life today as I took over the blog!