At the end of July, for a couple of reasons, I started to incorporate meditation into my day. I began using the Headspace app for 3-, 5-, and 10-minute meditation sessions. The 5-minute guided sessions were the easiest to incorporate into my end-of-day routine, so I went through (and then repeated) the free 10-day cycle. At the end of each day, the guided meditation session helped me to calm down and think about my mind and body.
Because I wanted to learn more about meditation, and because a couple of friends added "silent retreat" to my 40th-year-challenges list, I signed up for a 1-day silent meditation retreat here in Waterloo. Silent. Yes, silent. As in…no talking from 9am to 3pm. Curious about this experience? Read on!
While friends and family were curious about if I could stay quiet for the full day, I knew that wouldn't be a problem. I was more concerned about being bored and sitting in one spot for six hours. An experienced friend prepped me a bit, but we never chatted about the possible schedule of the day.
My 1-day silent retreat was led by Sue of the Waterloo Riverview Dharma Centre. The Cedarcliffe location was serene with a lush garden and plenty of beautiful views of the Grand River. I walked into the space and felt excited to learn. After a few minutes of mingling while we waited for all the participants to arrive, Sue explained the organization of the day. We'd participate in a variety of meditations – silent, guided, movement, walking. Lunch, too, would be in noble silence. As soon as Sue tapped the singing bowl, silence was expected.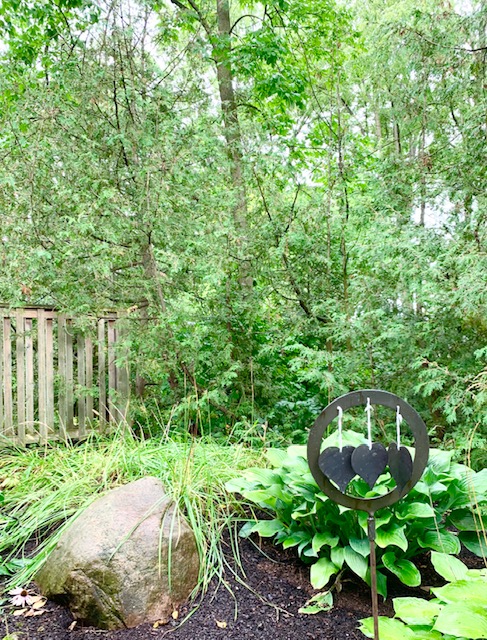 The day looked something like this:
guided meditation
movement meditation
silent meditation
walking meditation (short path)
lunch – mindful eating, rest, walk
guided meditation
silent meditation
walking meditation (wandering)
metta (loving-kindness) meditation
Each meditation session was between 30 minutes and 1 hour in length (e.g., lunch). In between, we took short breaks to stretch, go to the bathroom, and drink water. The day went by quickly. I thought a lot…and I didn't think at all. I was challenged by mindful eating. I took a brief nap after lunch. I noticed things in the garden – leaves, shapes, plants, sounds – that I hadn't ever paid attention to. Towards the end of the day, I spotted branches on a bush that, if you looked at them in just the right way, they formed the shape of a heart. I was so calm. Truly calm. The day was a welcome pause.
I'm glad I signed up for the 1-day meditation. I learned more about the practice of meditation, and I challenged myself. Did my never-ending to do lists cross through my mind at all during the day? Of course! But the guided meditation sessions helped me bring my mind back to thinking about my breathing and my body. My to do lists could wait for another day!
To continue my meditation practice at home, I have since moved from using the Headspace app to using the Insight Timer app (thanks for the recommendation, Chris!). It has the largest free library of free meditations, and you can filter by type (e.g., learning to meditate, coping with anxiety, improving your sleep) and by time (e.g., 5 minutes to 30+ minutes). I have listened to a 4-minute sleep meditation before bed a few times, and I have had the deepest sleeps.
Do you practice meditation? Any advice?